A good Macro Photography session in the Trunk of Happiness [EN] // [ES]
I remember that some years ago to see flowers in my garden was something almost impossible, first because the few plants that were there were not the type that blooms, and second because the amount of Amazon turtles that were in the same was very large, not allowing almost nothing even grow, which is why seeing a plant blooming in the garden, for me is a source of excitement, Even more so when it is a tree so big that we did not think it would bloom, the Palo de Brasil or Tronco de la Felicidad as it is called here, an indoor and ornamental plant that grew at home in my garden, and that only a couple of years ago began to bloom, giving us beautiful flowers that open in the evenings and flood the whole garden and part of the house with a delicious aroma similar to jasmine.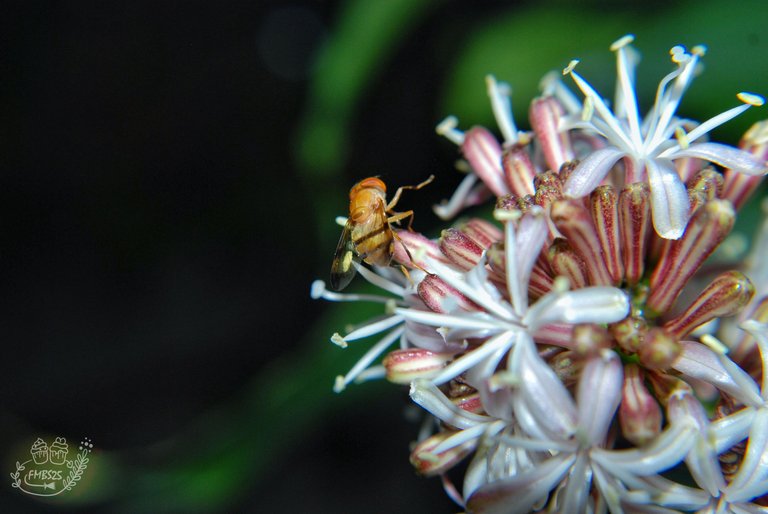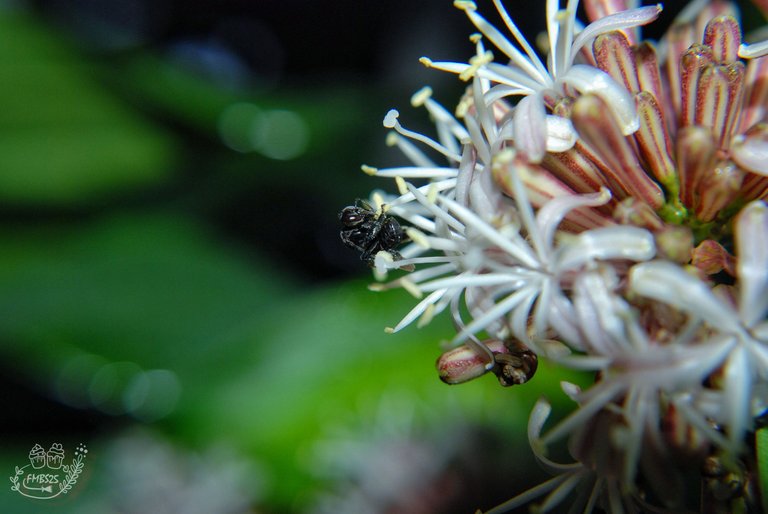 Both during the day and at night these flowers are the residence of stingless bees, wasps, flies, and some wasps, not to mention the ants, which roam these bouquets of tiny flowers extracting their honey, the truth is that I have been captivated by these flowers to the point of spending a good time admiring them and enjoying their delicious aroma, which is why I set out yesterday to take some macro photographs, which today I come to show you.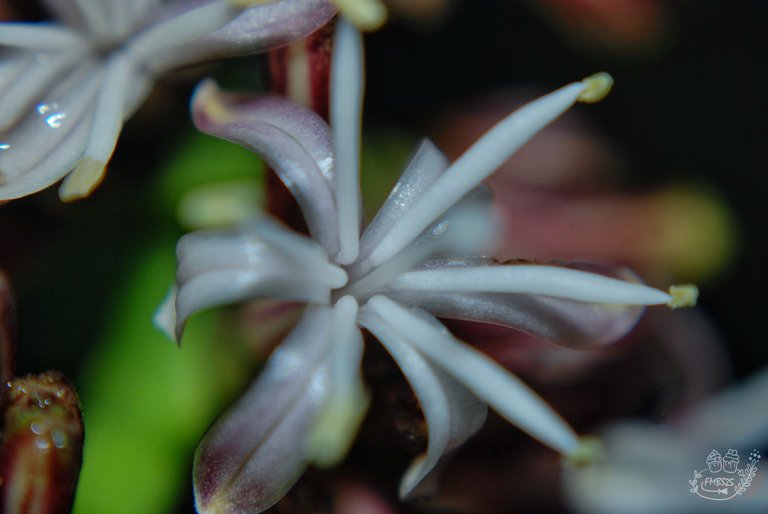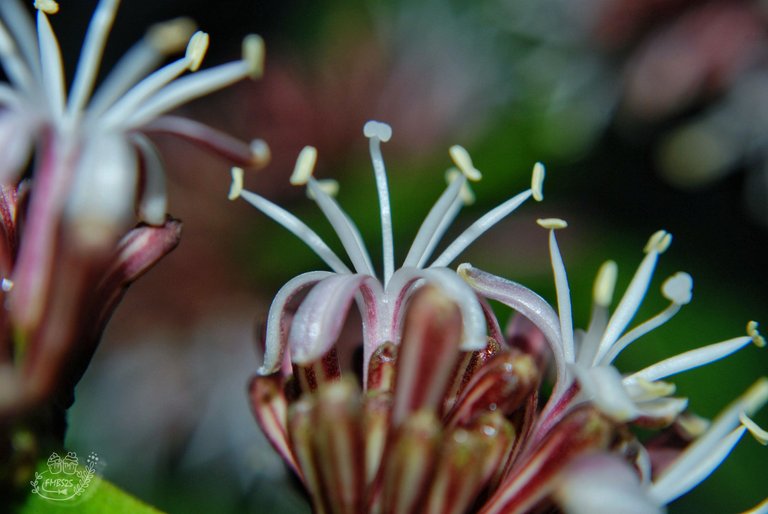 Small flowers that give us tiny pistils and petals with very faint colors that we can only detail when we see them in great detail, because from afar it is not possible to capture in detail the beauty that they have, and is that even when these beautiful flowers are closed, they are a bunch of very beautiful mystery, to tell the truth.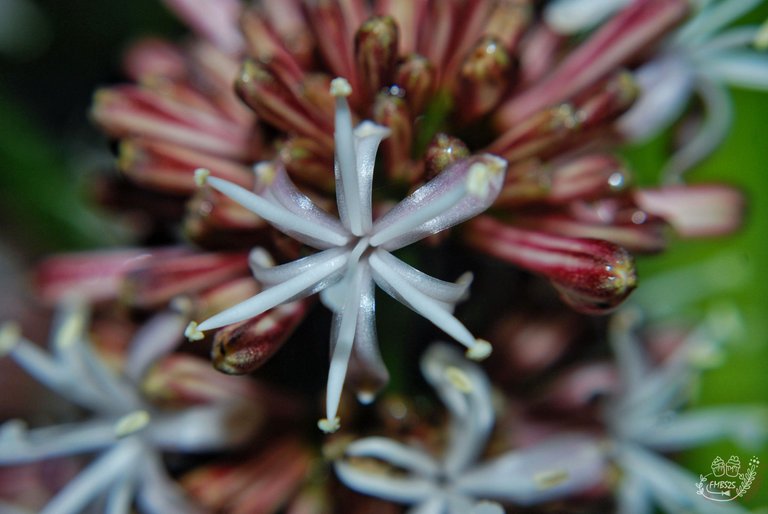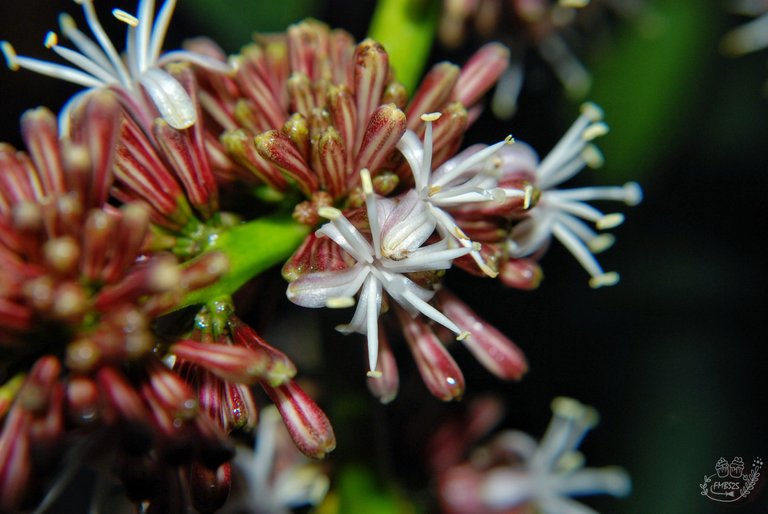 I was tempted to use selective coloring to highlight the beautiful tones of these tiny beauties, but the truth is that I liked them in full color, probably later I will take other good shots to play a little more with the editing, because for the moment I only adjust a little the contrast, lighting and brightness, because, although the pictures were taken almost at night the flash of my camera gave me a satisfactory result, not always happens.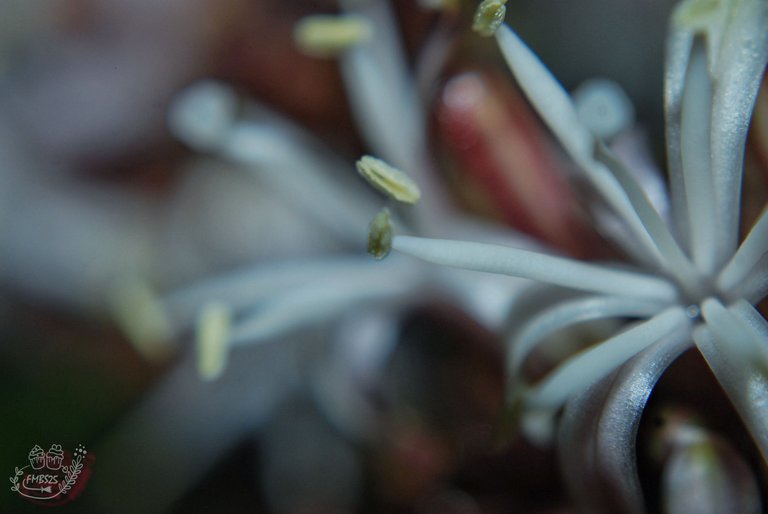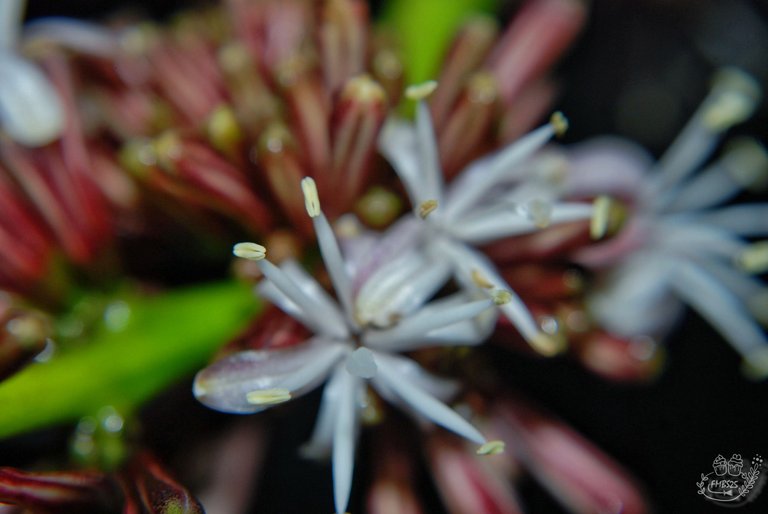 One of the things I love about photography, apart from the fact that it helps us capture moments and memories, is that it helps me escape from reality for a moment, even if it's just photographing some tiny flowers in the garden, or the tiger spiders that are always among the branches of the plants, for those moments I can clear my mind and forget anything that is happening that is not to my liking, the truth is that it is something that helps me so much to forget the negative things that I doubt very much that at some point I will stop doing it. I hope you liked these little beauties that I wanted to share with you today.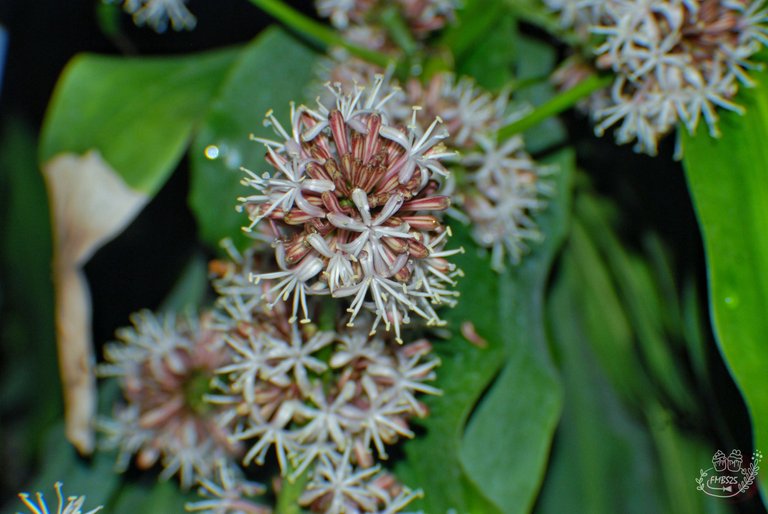 Images owned by me, taken with my Nikon D80 camera and edited with Snapseed and PicsArt.
Thank you for taking the time to read this post, if you have any questions, criticisms or suggestions, I would appreciate it if you put them in the comment box, and remember, you too can do magic on the kitchen and wherever you go!


[ES]

Recuerdo que hace algunos años lograr ver flores en mi jardín era algo casi imposible, en primera porque las pocas plantas que habían no eran del tipo que florece, y segundo porque la cantidad de tortugas del amazonas que había en el mismo era muy grande, no permitiendo que casi nada incluso creciera, es por ello que ver alguna planta floreciendo en el jardín, para mi es motivo de emoción, más aún cuando es un árbol tan grande que no pensábamos que floreciera, el Palo de Brasil o Tronco de la Felicidad como le llaman aquí, una planta de interior y ornamental que creció a sus anchas en mi jardín, y que hace solo un par de años comenzó a florecer, regalándonos unas hermosas flores que abren en las tardes e inundan de un delicioso aroma similar al jazmín todo el jardín y parte de la casa.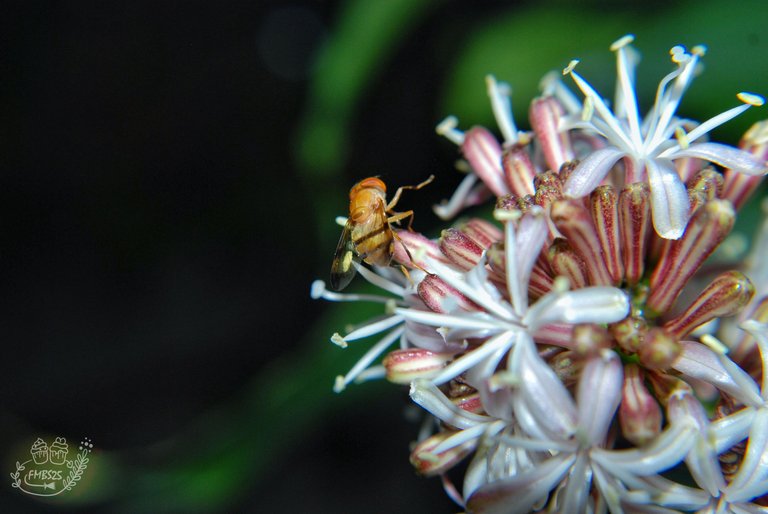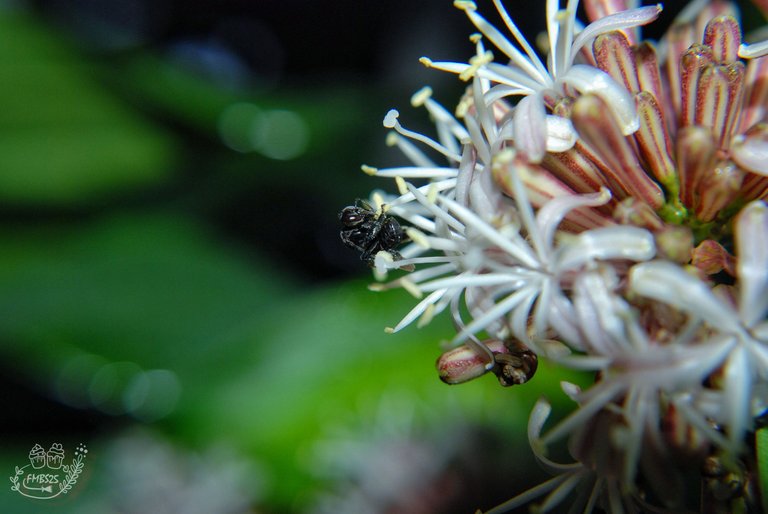 Tanto de día como enterando la noche estas flores son la residencia de abejas aricas o abejas sin aguijón, avispas, moscas, y algunas avispas, sin dejar de lado las hormigas, que deambulan por estos ramilletes de diminutas flores extrayendo sus mieles, la verdad es que me han cautivado estas flores al punto de pasar un buen rato admirándolas y disfrutando de su delicioso aroma, motivo por el que me dispuse ayer a tomar algunas fotografías macro, que hoy vengo a mostrarles.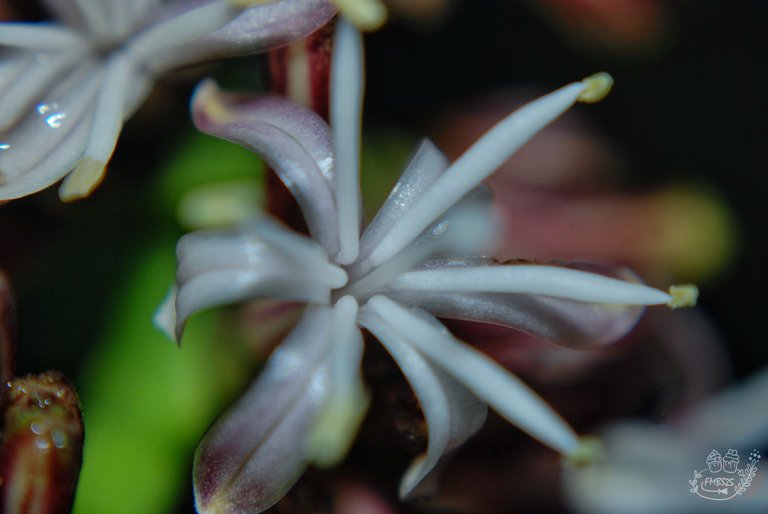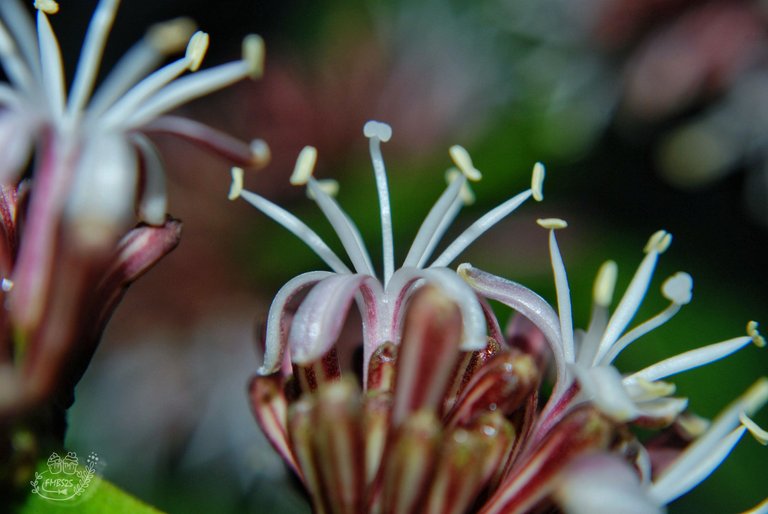 Pequeñas flores que nos regalan diminutos pistilos y pétalos con unos colores bastante tenues que solo podemos detallar cuando las vemos en gran detalle, pues desde lejos no es posible captar con detalle la belleza que tienen las mismas, y es que aun cuando están cerradas estas hermosas florecitas, son un manojo de misterio muy bello, a decir verdad.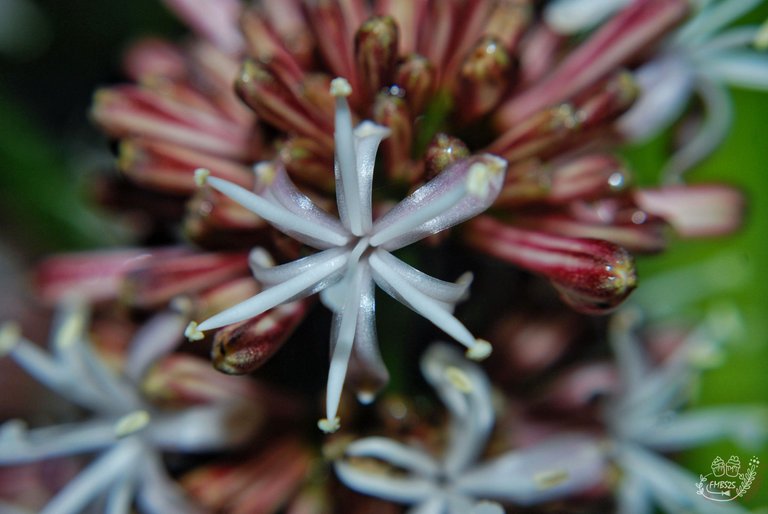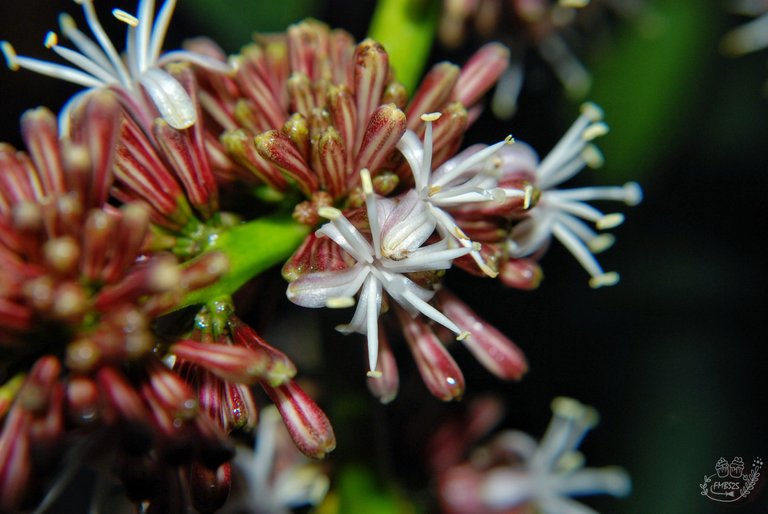 Me vi tentada a utilizar el coloreado selectivo para resaltar los hermosos tonos de estas diminutas bellezas, pero la verdad es que me gustaron así a todo color, probablemente luego haga otras buenas tomas para jugar un poco más con la edición, pues por el momento solo ajuste un poco el contraste, la iluminación y el brillo, pues aunque las fotografías fueron tomadas ya casi de noche el flash de mi cámara me dio un resultado satisfactorio, no siempre suele suceder.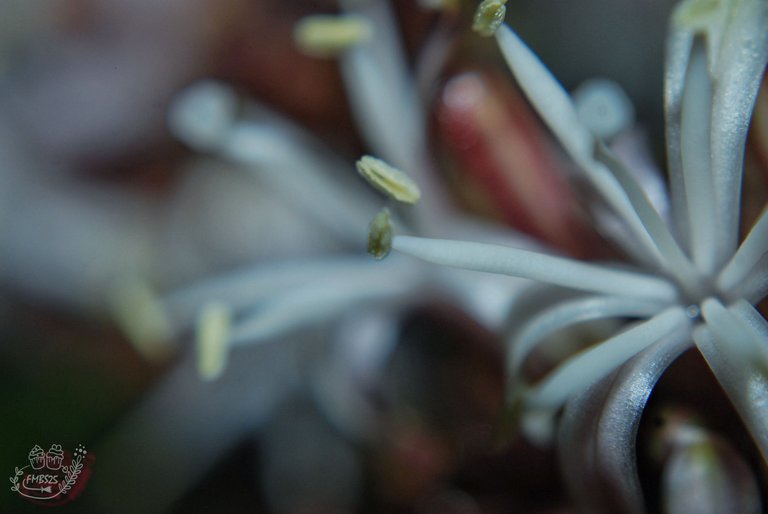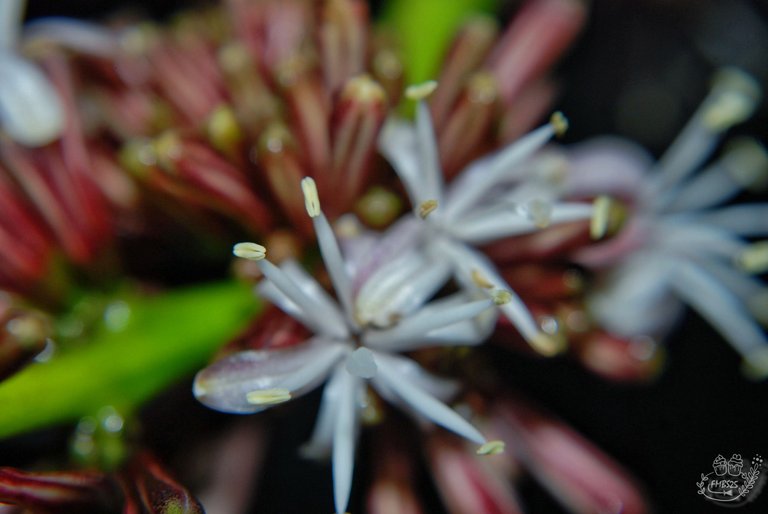 Una de las cosas que amo de la fotografía aparte de que nos ayuda a capturar momentos y memorias, es que me ayuda a escapar por un momento de la realidad, aunque sea fotografiando unas diminutas flores en el jardín, o las arañas tigre que siempre suelen estar entre las ramas de las plantas, por esos instantes puedo despejar mi mente y olvidar cualquier cosa que este sucediendo que no sea de mi agrado, la verdad es que es algo que me ayuda tanto a olvidar las cosas negativas que dudo mucho que en algún momento deje de hacerlo. Espero que les hayan gustado estas pequeñas bellezas que les quise compartir hoy.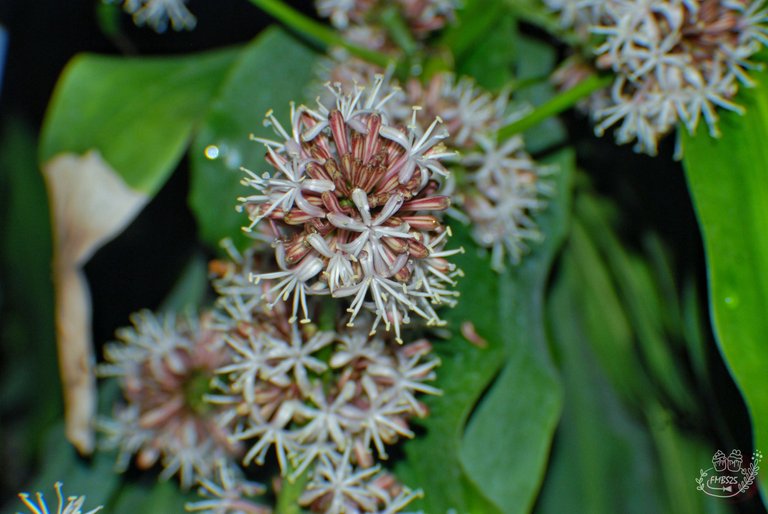 Imágenes de mi propiedad, tomadas con mi cámara Nikon D80 y editadas con Snapseed y PicsArt.
Gracias por tomarse el tiempo de leer esta publicación, si tiene alguna pregunta, crítica o sugerencia, la agradecería que la pusiera en la caja de comentarios, y recuerda, ¡Tú también puedes hacer magia en la cocina ya dondequiera que vayas!



Created by @robinsonlgil


Created by @derangedvisions
---
---