Pork Chili Stir Fry for this Weekend ❤️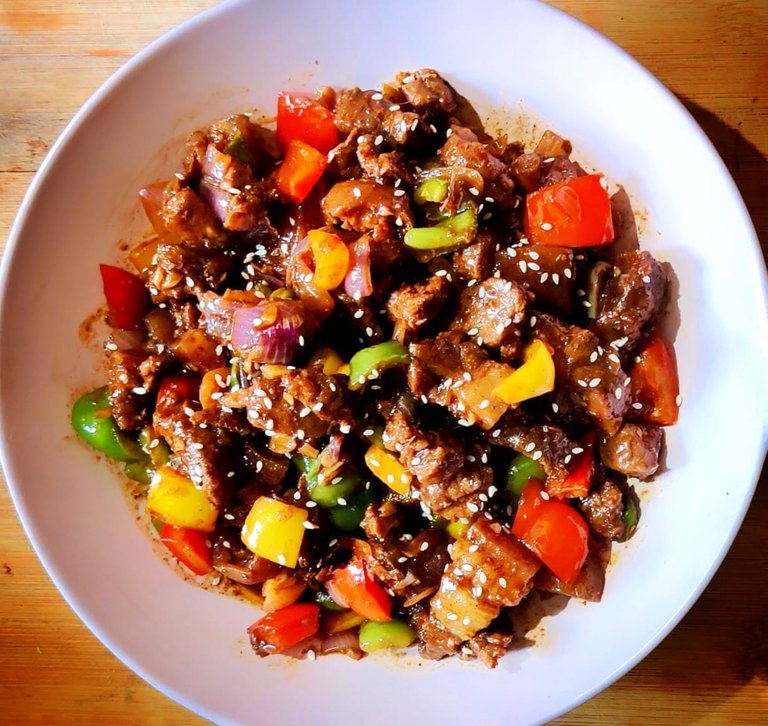 Hello! Here's me writing yet another post from my grandmum's home where my sole job is to eat 24*7. This is not an exaggeration. The lady forces food on me every 30 minutes and how do you say no to her ? 😅 Either way, given that it's finally the weekend, I thought I'd get off my ass and cook for her (and the family), for a change.
With some fresh pork meat delivered right in the morning and some cheerfully colorful veggies to go with it, my brain instantly decided on a tangy, fun recipe: Pork Chili Stir Fry. Here's what you would require:

Here's what you'll need:




1kg Pork meat (cut into bite-sized cubes)
For the Marinade Sauce:
2 tbsp Soy sauce
2 tbsp red chili sauce
2 tsp red chili powder
2 inch ginger (grated)
Salt to taste
For the Pork Stir Fry
2 tbsp oil
10-15 cloves of garlic (cut into slices/flakes)
2 onions
Bell peppers (red, yellow, green- 1 each)
3-4 green chilies (julienned)
2 tbsp soya sauce
2 tbsp red chili sauce
2 tsp pepper (freshly ground)
2 tbsp White Vinegar
Spring onions (for garnish, optional)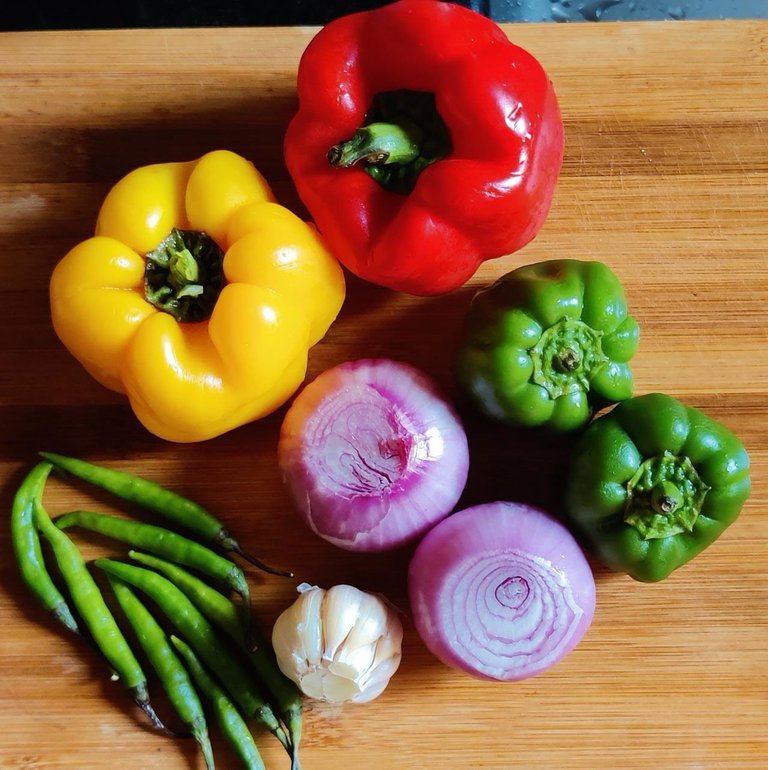 RECIPE:
Wash the pork and cut the meat into bite sized pieces.

Add some salt to season the meat. Let it sit for 10 minutes.

Add all the ingredients for the marinade sauce: soy sauce, red chili sauce, red chili powder and grated ginger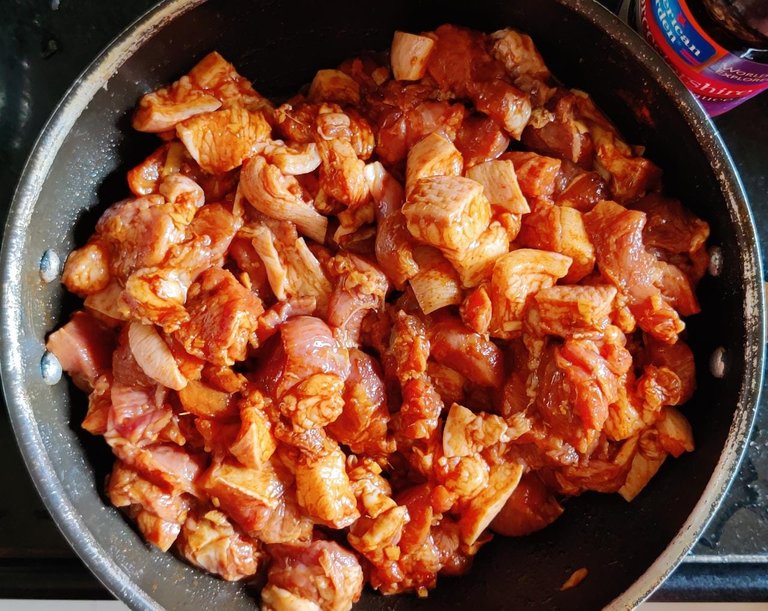 Mix well and let the meat marinate for at least an hour.

Brush a thick bottomed utensil with oil, on a medium flame, let the meat cook.

In the meanwhile, lets chop our stir fry veggies.

Chop 2 onions into cubes, dice bell peppers, cut the garlic into flakes and julienne the green chilies.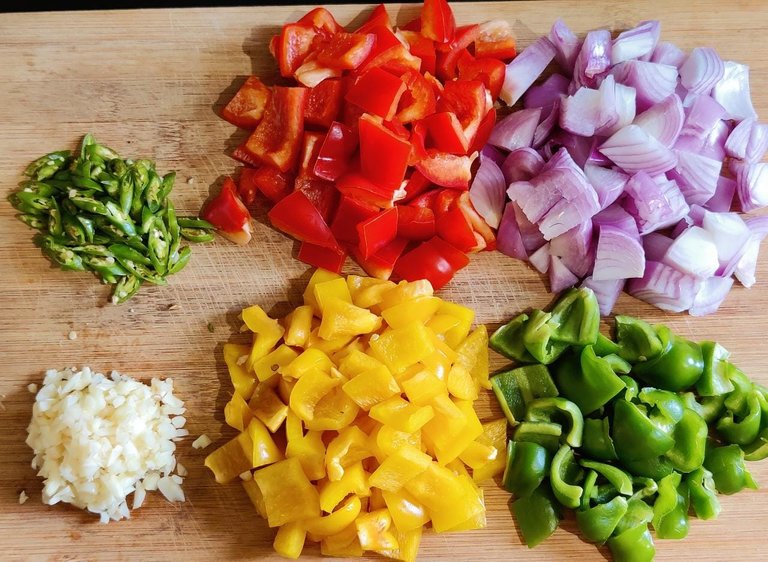 Once the pork is cooked, set it aside. During the cooking process, there would be some liquids released, crank up the heat and dry up these liquids so that it is re-absorbed by the meat.

Pick out a wok and add 1-2 tbsp of oil. Once the oil is hot, add the flaked garlic and fry till golden.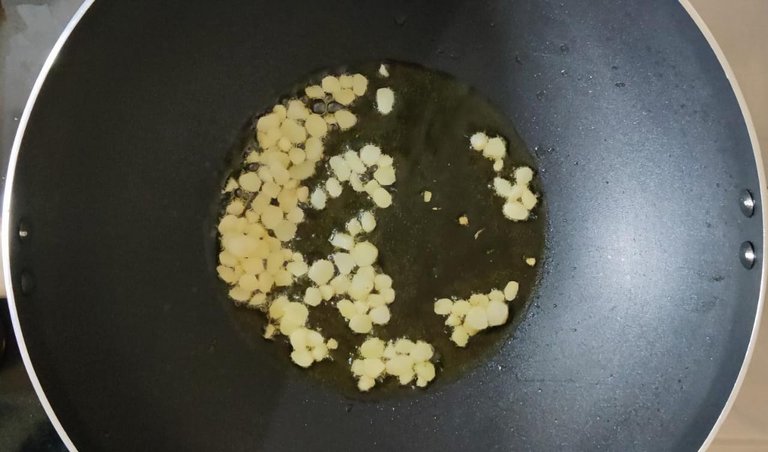 Now add the onions and fry till light pink, then add the green chilies and toss for a minute.
Add the bell peppers and sauté for another 3-4 minutes.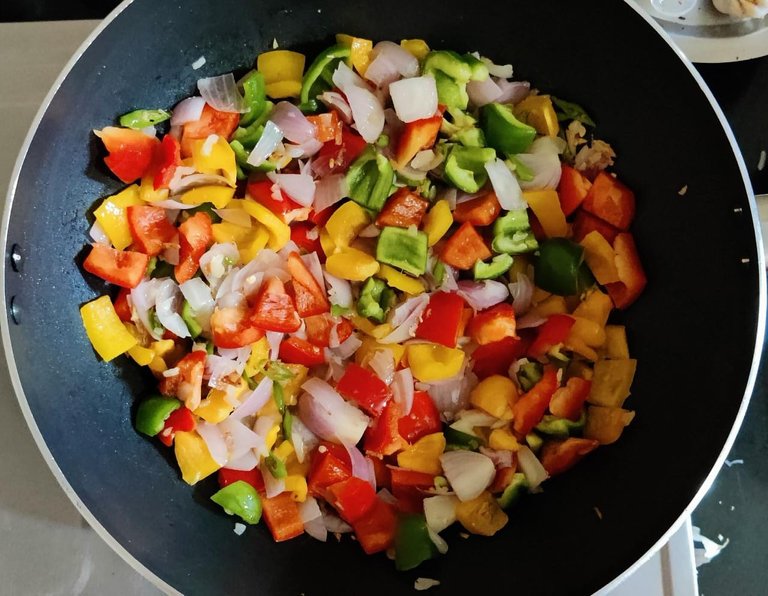 Add the soy sauce, red chili sauce and white vinegar. Add some salt if required.

Add the cooked pork cubes and mix well.

Add some freshly ground pepper.

Garnish with spring onion greens.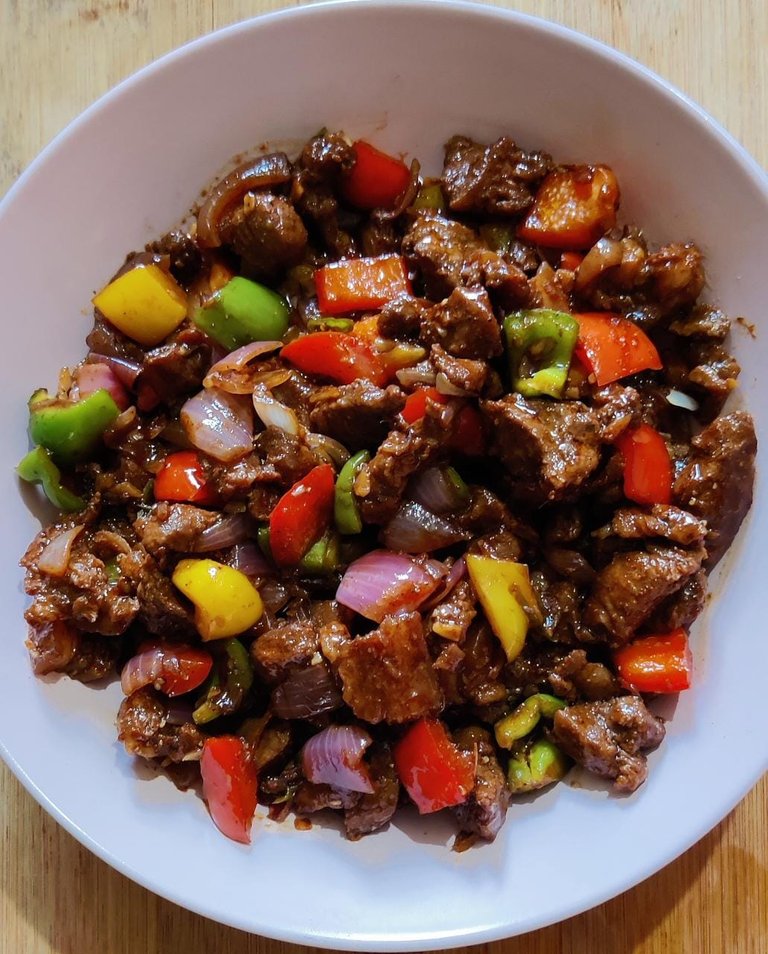 POINTERS:
Okay so for a fairly simple recipe, there's a lot of pointers involved. It's very easy to turn this into a soggy mess and I have screwed up this recipe more times than I can count. For best results, I would recommend keeping the following in mind:
The pork needs to be cut into bite sized pieces or smaller because it needs to cook quickly. Making a stir fry is a lot like making some fried rice- you need to toss all ingredients in quickly- so as to fry them and retain the crunch. Not cook it into a mushy mix.

The pork can be cooked in a pressure cooker, but it releases a lot of oil so if that is something you could be on board with, cook the meat in the pressure cooker for 20-25 minutes.

Any liquids released needs to be reduced by increasing the flame, set it on high to re-absorb all the flavorful juices.

Keep the veggies chopped and ready to pop into the wok, I cannot stress enough on how quick you need to be once we get started on the stir fry.

Be careful with the amount of salt added into the stir fry. Remember that the pork is already seasoned and there is soy sauce (which lends saltiness) included in the stir fry.

You can increase or decrease the quantity on the basis of the meat quantity. Half it or double it, as per your requirement.

You can adjust the spice factor by increasing/ decreasing the number of green chilies and the red chili sauce.

Please add freshly ground pepper to this dish, it makes all the difference in the world. I usually dry roast the pepper for a minute or two. Then using a mortar and a pestle and a pinch of salt, I coarsely ground it. This will surely elevate the dish and make it so much more aromatic.

I was out of spring onions, but the times I have made it with spring onions, I have added the white onion part of it at the same time as the red onions, and the greens have been used as garnish at the end.

Since there were no spring onion greens, for a nice crunch, I topped the stir fry with some toasted white sesame seeds.
SERVING SUGGESTIONS:
It makes for a great appetizer so grab a cold beer and fill your plate with this delicious stir fry.

The leftovers make for great pork sliders. You can slather some mayo or some mustard on the bun and add the meat. Top it with pickled onions or jalapenos or gherkins.

Similarly, it can be added to hot dog buns to make a nice quick snack.

Dig your fork into the wok and get munching.
This dish was one hell of a winner at home and I couldn't even get decent pictures because everyone kept eating it, either straight from the wok or the serving bowl. I hope y'all have a great bonding time with family over this absolutely smashing dish. Until next time, cheers!
---
---