Blogging on Hive as a crypto n00b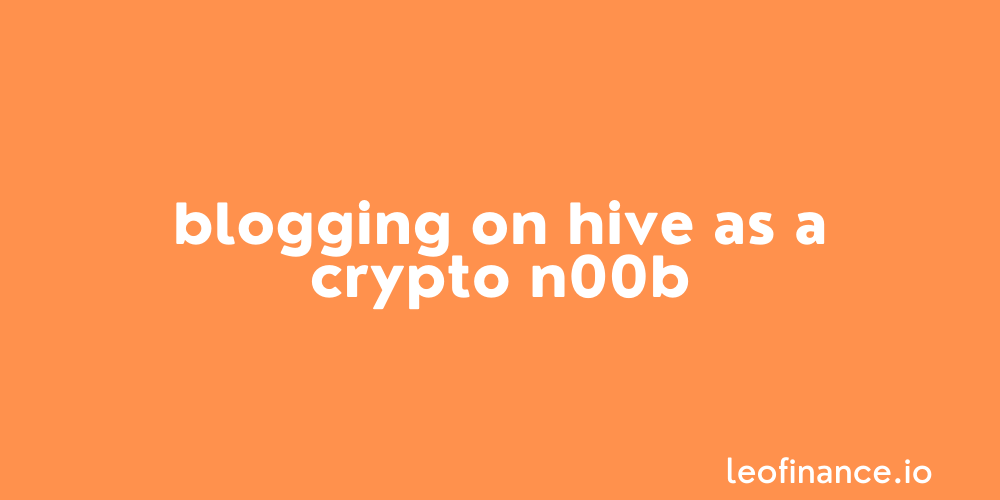 Direct from the desk of Dane Williams.
---
Even as a crypto n00b you can and should start blogging on Hive.
How many times has this happened to you?
You sit down in front of the computer screen with your Hive front-end of choice (obviously it's leofiance.io) open.
Blink...
Blink…
Blink… flashes the cursor at the top left hand corner of that white screen.
No matter how hard you try to twist your brain, you just can't think of what to blog about on Hive.
Frustration, anxiety and imposter syndrome sets in.
By this point, you're not even kidding yourself anymore.
Nothing is getting published on your blog today and all that momentum you've built up, quickly dissipates.
Start documenting your Web3 journey on Hive
But I'm here today to tell you that it doesn't have to be that way!
One of the coolest things about creating content via the LeoFinance Web3 blogging platform is that you can change everything…
…without actually changing anything at all.
Hear me out here.
You see, by choosing to participate in our beautiful Web3 ecosystem, you're already right on the cutting edge of both finance and tech.
By showing up and participating in the community every day, you already have everything you need to write great content and ultimately make money blogging on Hive.
Stop fretting about what you know or most likely don't know, and simply start documenting your own crypto journey on Hive.
When you stop and think about it, some of the best content creators aren't even trying to create at all.
All they're doing is simply documenting the journey that they're on.
Can you do that, even as a n00b?
Of course you can!
An argument could even be made that you can do it in an even more relatable fashion than someone further along their own journey.
Shock horror, but whales telling people how rich they are in a weekly update just doesn't do it.
But listening to someone come across extremely relatable roadblocks that you've faced or are still facing, now that's content that resonates.
As a crypto n00b you're actually more relatable
The most exceptional bloggers on Hive and LeoFinance actually aren't the technical wizards who write posts full of jargon.
They're not crypto pros or any different to you at all.
They're the ones simply sharing personal experiences.
Humanising the crypto journey and creating content that people can relate to.
If you're a crypto n00b who is just starting out on their journey, you actually have some of the most valuable insights to share.
You can literally save people's lives!
Okay, that's a little dramatic.
But you can most certainly help them save time and money as they make their way forward on a journey of their own.
That's pretty damn valuable if you ask me.
Final thoughts about Blogging on Hive as a crypto n00b
I want you to stop viewing the multitude of activities, communities, tokens and pages that make up Hive's Web 3 ecosystem as distractions.
Instead, just start documenting the way you use and interact with them.
Share YOUR experiences.
No matter how much of a n00b you think you are, people can and will relate to you if you're open and honest about the journey you're on.
Flip your mindset and staring at that bloody blinking cursor at the top left hand corner of your screen will become a thing of the past.
Best of probabilities to you.
Dane.
PS. When I say some of the most exceptional bloggers on Hive and LeoFinance aren't the technical wizards who write posts full of jargon and are simply the ones sharing personal experiences, who comes to mind?
Tag them in a comment and let's see what happens.
Posted Using LeoFinance Beta
---
---