Can I still get the Dogechain airdrop?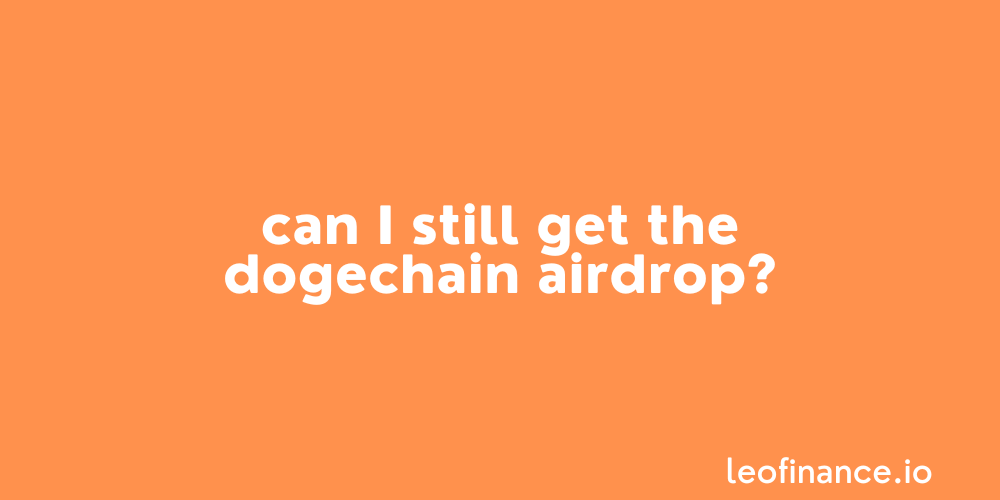 Direct from the desk of Dane Williams.
---
While the claim time limit has passed for Early Shibes, Loyal Shibes can still get the Dogechain airdrop.
While the homepage of the official Dogechain website still states that more information on the snapshot will be coming soon, phase 1 of the airdrop has actually already passed.
But if you're a Loyal Shibe wondering if you can still get the Dogechain airdrop, then you're most certainly in luck.
Yes, you can still get airdropped DC tokens for your DOGE.
Here's how.
How to get the Dogechain airdrop
There was an initial airdrop of 12% of the total supply to holders of wDOGE coins.
If you're a Dogecoin (DOGE) holder that has used the Dogechain bridge in the past, then you've not only now received your first tokens, but are still due more airdropped Dogechain (DC).
To get your Dogechain airdrop, all you need to do is go to the Dogechain Bridge page each month and click the claim button.

Easy, right?
So there have already been 5,031,251,768 DC tokens distributed in the first 2 airdrops.
As a result of the completed airdrops, that means 968,748,232 DC tokens remain, just waiting to be given away to those Loyal Shibes amongst you.
If you're eligible, you will receive DC tokens proportionally to your Dogecoin holdings on Dogechain during the snapshot.
You will be able to claim your tokens each month, across the next 6 months.
Just keep going back to the Bridge Dogechain airdrop page linked above and click the button.
If you miss a month, your tokens will be forfeited.
So don't forget to make that simple click and claim your Dogechain airdrop allocation!
Dogechain is a scam
With so much talk about Dogecoin happening in crypto circles once again thanks to our old friend Elon buying Twitter, you could be forgiven for missing this one.
When it comes to crypto airdrops, the fact of the matter is that we just can't get them all.
But in the case of Dogechain…
I actually wouldn't be too worried if I missed out.
I've made my position on what this team is doing quite clear and 100% view Dogechain as a scam.
While they portray themselves as such, just remember that this is NOT the official Dogecoin team adding to the original blockchain.
Dogechain is a third party project that could very well rugpull tomorrow, simply trying to ride on the coattails of the Dogecoin Shiba Inu branding.
Fuck these guys.
But free money is free money.
So take it while it's on offer.
Best of probabilities to you.
Posted Using LeoFinance Beta
---
---