Can what happened to UST happen to HBD? - More HBD FAQs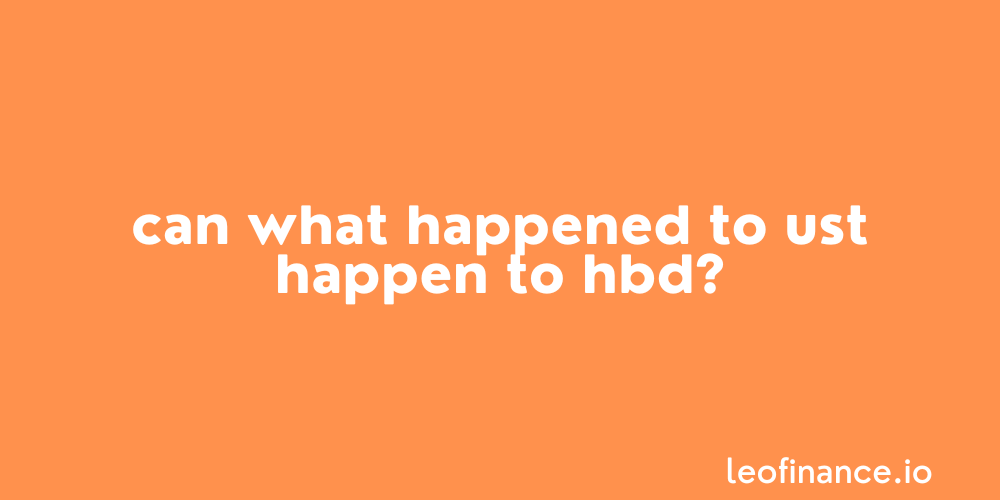 Direct from the desk of Dane Williams.
---
More answers to your most frequently asked questions around Hive's algorithmic stablecoin, HBD.
When it comes to HBD FAQs, there is one that comes up more than any other.
That obviously being can what happened to UST happen to Hive Backed Dollars (HBD)?
In this follow up to the main Hive Backed Dollars (HBD) FAQ, I start by answering this question and then continue on from where we left off in the comments section yesterday.
Let's dive right in.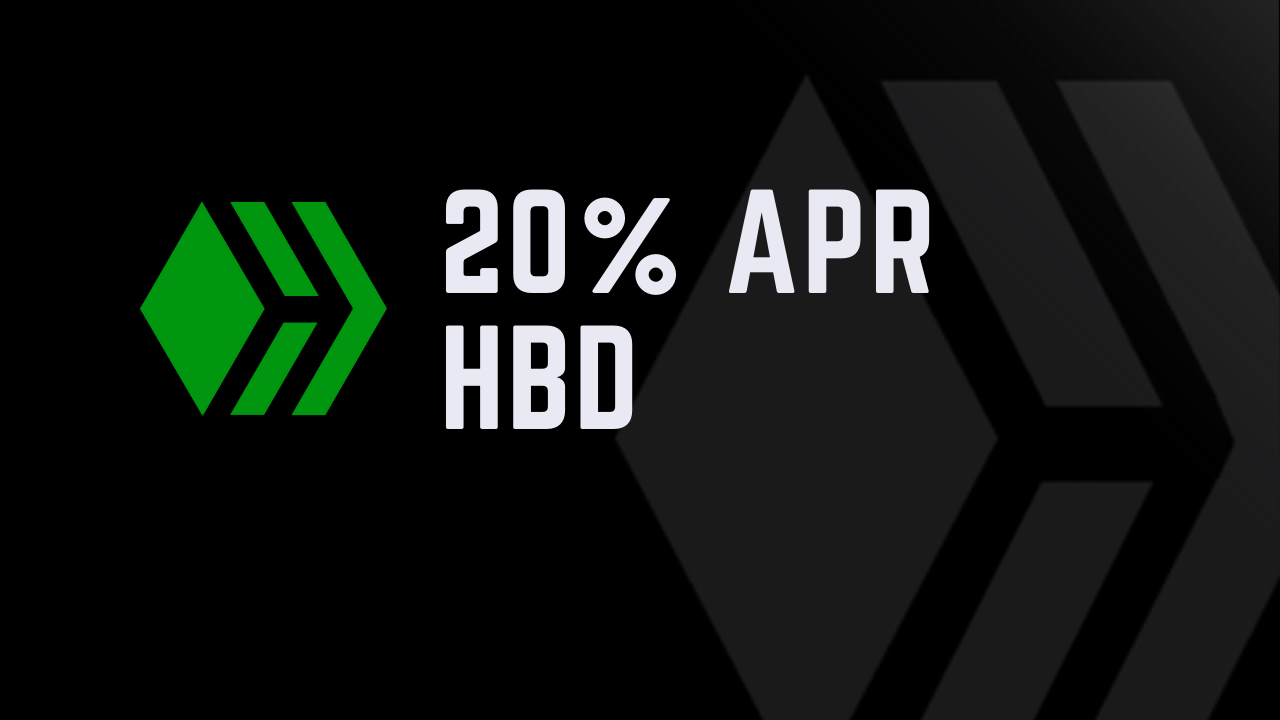 Can what happened to UST happen to HBD?
No, the death spiral that spelt the end of UST, CANNOT happen to HBD.
The two algorithmic stablecoins are actually designed completely differently and as such, the comparison is not a like for like.
The biggest difference between the two is that HBD uses a 3.5 day average price when doing conversions.
This makes arbing in this manner a little harder, but is much more secure.
The second major difference preventing what happened to UST happening to HBD is the "haircut" rule.
Remember, HBD remains stable by being redeemable for $1 worth of HIVE - Essentially hard coded 'debt' creation.
But to prevent the blockchain taking on an unsustainable level of debt, the blockchain has a level where it stops creating new HBD.
Once the haircut level has been hit, the amount of HBD generated is halted until the ratio falls back underneath.
You can view how close HBD is to the current haircut limit of 30% here.
How is the 20% HBD interest rate determined?
Hive's elected witnesses signal their desired rate and HBD's interest rate is set by the majority.
You can check the APR that each Hive witness is signalling via PeakD's witness voting section:
Don't like the APR that the elected witness have chosen?
You're free to buy more HIVE, power it up and vote for witnesses more aligned with your personal views around what's best for the chain!
Where can I spend HBD?
In my opinion, the key to HBD isn't that you can spend them.
It's that you have a permissionless, censorship-resistant alternative to storing your US dollars.
While you can spend them via some Hive-linked services like Hivelist and ListNerds, I don't think being able to spend HBD is that big of a deal.
Honestly, I don't even think of them as a cryptocurrency in their own right.
Instead, I see them as nothing more than US dollars.
Use HBD to safely store the value of USD with no counterparty risk such as banks or collateralized stablecoin options, then swap them to other coins/withdraw them back to fiat in order to spend.
Is there a market for HBD holders to buy and sell? If not, what projects are building one?
Check out what HiveList is doing in terms of allowing any eComm store to accept HBD.
"The Hivelist.store is the online retail and services marketplace where anyone can shop and hire services using cryptocurrencies - Including HBD!"
Super underrated project that deserves more recognition.
Where can I sell HBD and HIVE for fiat currencies?
Don't have a KYC account on Bittrex or Upbit?
LeoFinance has set up the ability to bridge your HBD to a BSC based derivative called bHBD.
They have then built liquidity pools on the Cub Finance platform for bHBD:BUSD and bHIVE:bHBD.
Meaning that you can now permissionlessly swap between HBD and anything traded against BUSD via a DEX.
Once you have BUSD, you can easily swap it to your coin of choice, or simply send it as is to your non-KYC CEX of choice to withdraw into fiat.
Check out my how to buy HIVE without KYC tutorial for the process (and obviously just change bHIVE to bHBD)
What non-KYC exchanges allow HBD trading?
Yeah, none.
I really just think HBD is a regulatory and administrative landmine for centralised exchanges.
Nobody is going to want to touch a truly decentralised, permissionless alternative that is obviously going to face media scrutiny in the future (gotta take the good with the bad when it comes to censorship-resistance).
So honestly, we just need to forget about them and focus on building out functionality on the internal market to trade HBD against HIVE and then DEXs to permissionlessly swap to whatever else.
Why should I hold HBD instead of HIVE?
You should hold HBD instead of HIVE if you think that the price of HIVE won't go up by 20% in the next 12 months.
So you can earn 20% on HBD in savings with zero price risk.
Or you can expose yourself to price risk (both up and down!) on HIVE, and only earn 10ish% via curation.
Obviously there are some other social advantages to powering up HIVE, but if you're approaching it purely from an investment point of view, that's how you've gotta think.
—
Okay…
I have tried in my drafts, but I really need your help answering the technical questions of HBD.
Hey @dalz and @taskmaster4450, can you maybe comment a paragraph answering:
Where does the 20% HBD interest come from?
Is HBD's 20% interest sustainable?
What HIVE price will the haircut likely kick in?
@dalz, your is HBD sustainable post is great, but just too complex for me to effectively re-word for us dummies ;)
Any help simplifying would be much appreciated!
Best of probabilities to you.
Posted Using LeoFinance Beta
---
---