Is AAVE blocking wallet addresses?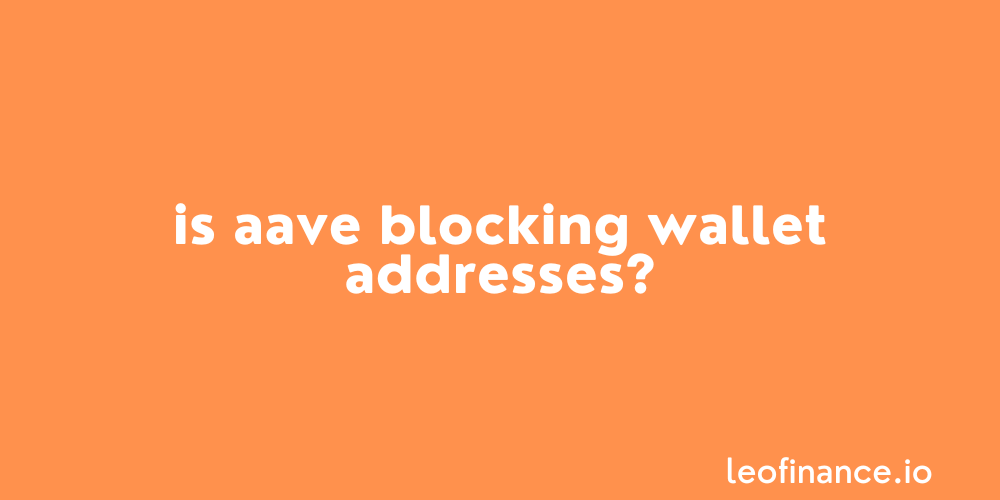 Direct from the desk of Dane Williams.
---
Wallet addresses can only be blocked by the AAVE front-end, NOT the protocol itself.
Social media is abuzz with discussion around the news that AAVE is blocking wallet addresses simply because funds sent to them have previously interacted with Tornado Cash.
But unfortunately, most seem to be missing the real point here.
That being that US regulators only have jurisdiction over a single locally based and hosted front-end.
NOT the AAVE protocol itself.
With that in mind, let's talk about what happened and why in my opinion, regulators responding this way is a monumental waste of everyone's time.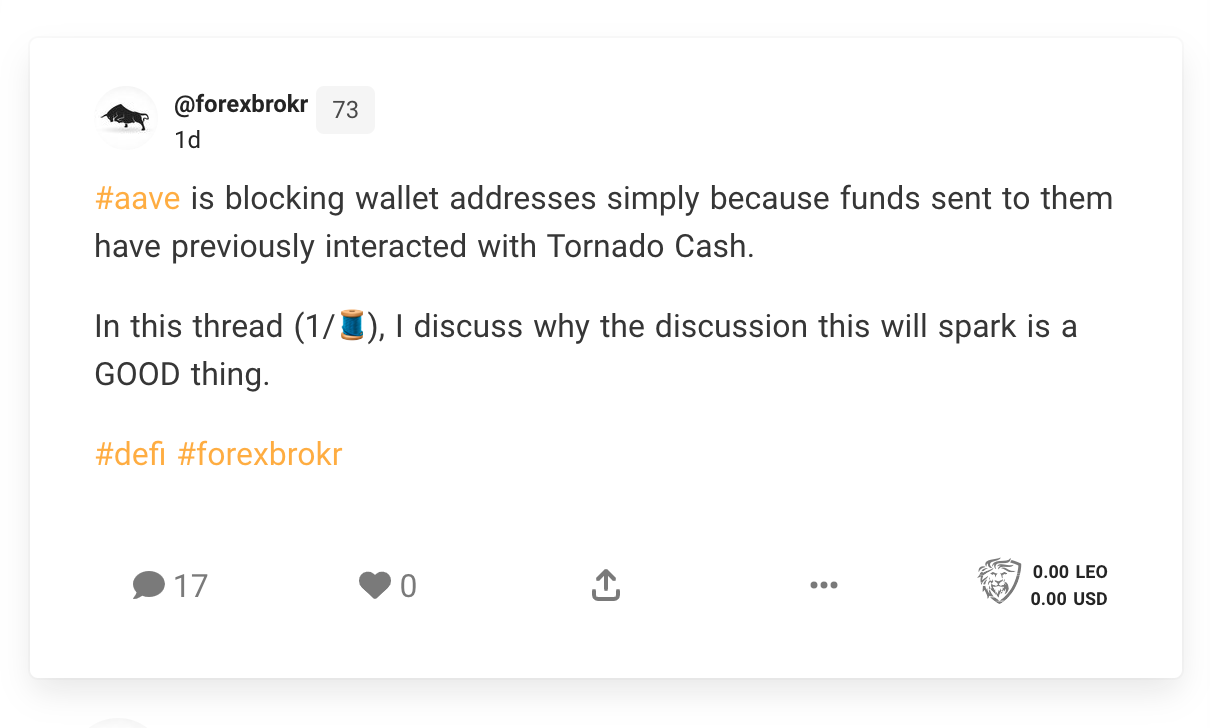 AAVE LeoThread
Background on the US regulator's recent sanctions
Let's start with some background on what led to AAVE blocking wallet addresses.
So this week, the United States Treasury Department's Office of Foreign Assets Control (OFAC), announced sanctions against crypto mixing service Tornado Cash.
OFAC cited AAVE's use by money launderers and North Korean hackers.
...Kay.
If you want to waste your time reading a bunch of out of context jargon for jargon's sake, you can find the full official release here.
But honestly I wouldn't advise wasting your time…
This ultimately meant that in order to comply, US-based DeFi platforms such as AAVE have now blocked wallet addresses who have interacted with Tornado Cash in any way shape or form.
Including if they've randomly been sent 0.1 ETH from Tornado Cash (lololol).
HILARIOUSLY, 'celebrities' such as our old friend Justin Sun have had their wallets blocked because randoms are sending them mixed ETH in protest.
Whether you agree it's funny or not is a matter of opinion, but this certainly proves that if projects have a founder's door which a regulator can kick down…
…you better believe that they will kick the fucker down!
Regulators are wasting everyone's time and money
Now that we have gone over some background, let's move onto why I'm of the opinion that regulators responding in this manner is a monumental waste of everyone's time and money.
The thing is, their addresses are NOT actually blocked.
Yep, chillax people.
You see, the only place the US government can force to block wallets, are via the official AAVE front-end.
And the only reason they can block that single website used to access the protocol is because it is maintained by a centralised, US-based company.
Again, AAVE wallet addresses are NOT being blocked by the protocol itself.
These are only front-end blocks.
This means that all the so called 'blocked' wallets are still free to interact with the protocol at the smart contract level and therefore not blocked at all.
We actually have already seen an example of this play out before when UniSwap Labs (the company, NOT the protocol), restricted trading of certain security tokens via their front-end.
To summarise, when it comes to these DeFi platforms, front-ends are NOT the protocol.
In my opinion, a much clearer distinction needs to be made between blocking locally hosted front-ends and actually still being able to interact with the protocol.
Those of us here on Hive seem to be able to understand the concept of a decentralised back-end, accessible via a network of centralised front-ends, better than most.
Simply because it's exactly the same as how we run our social networks.
But if this story was reported more responsibly or from an actual tech perspective, then the reaction by the general public on social media would have been entirely different.
Instead of losing their absolute minds at cEnTrAliSaTiOn iN dEfI, people could have better focused their outrage to where it should be pointed:
Toward the monumental waste of time that these sorts of regulatory decisions actually are.
Final thoughts on whether AAVE is blocking wallet addresses
I just want to wrap up by once again highlighting just how ridiculous these OFAC sanctions really are.
As they have no jurisdiction at the protocol level, they don't actually stop money launderers, North Korean hackers or terrorists - Like they try to justify them by name dropping.
All they actually do in reality is inconvenience their own people searching for privacy…
Yep, the same people that they're meant to be protecting via regulation.
Go figure.
If anything good is to come of this time and money wasting nonsense, it should be this:
That we're encouraged to reconsider the role of national financial regulators within this globally decentralised future.
Regulators need to start understanding that when it comes to decentralisation, the cat is well and truly out of the bag.
People can and will continue to use DEXs that are outside of their control, whether they like it or not.
Therefore, shouldn't they instead be helping to facilitate access and educating their people on the merits of both systems?
NOT simply regulating because that's what they've always done?
Ffs, give your people some credit.
Best of probabilities to you.
Posted Using LeoFinance Beta
---
---