Is Dogechain a scam?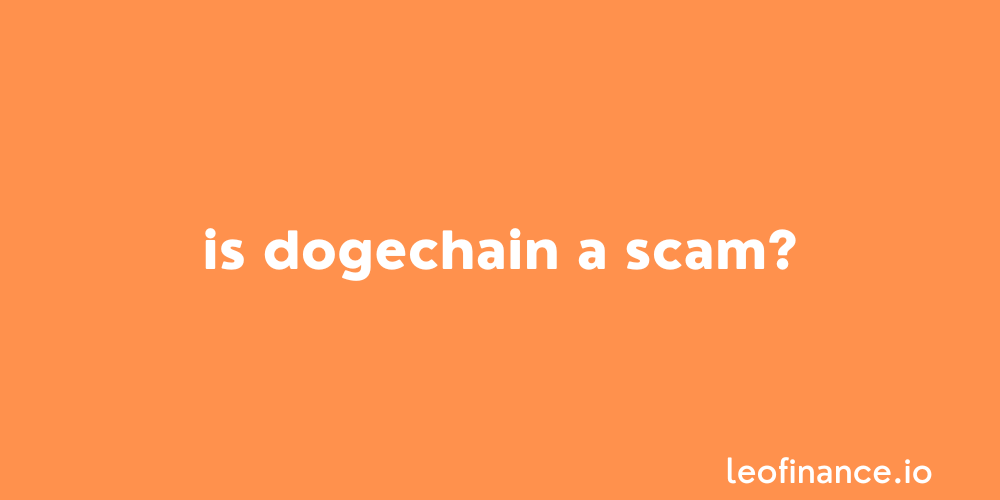 Direct from the desk of Dane Williams.
---
Yes, Dogechain is a scam. Honestly, there is no other way to put it.
Shock horror, Dogechain is NOT what it is being made out to be.
To start with, nope, it is definitely not the layer 2 Dogecoin (DOGE) network that it is being marketed to n00bs as.
Dogechain is not built on top of the Dogecoin blockchain and is not integrated or associated with the original in any way shape or form.
Instead, Dogechain is actually just nothing more than its own separate network based on Polygon custom blockchain software.
While it's this relationship to the completely separate, Ethereum-compatible code called Polygon Edge that means DOGE can be wrapped and used in the network's DeFi protocols, you are putting your native DOGE in the hands of a scammy sidechain copy.
There is no other way to put it other than that the Dogechain project is a scam.

How does Dogechain work?
Think about a separate blockchain built using Polygon Edge in the exact same way you see the endless scam projects building on BNB Smart Chain.
It's super simply for anyone to spin up a new, scammy project like this.
The Dogechain guys were just smart enough to use the Dogecoin branding that normies and the crypto mainstream seem to lap up.
Scammy as fuck.
Anyway, how Dogechain works is that it allows you to wrap your native DOGE into an EVM compatible, Dogechain version that they all wDOGE.
The smart contract holds the native DOGE at 1:1, ensuring that the value of 1 wDOGE always remains equal to 1 native DOGE.
For now…
By wrapping your DOGE into an EVM compatible token, this means that you will be able to stake your tokens on a yet to be copied… err, I mean developed, DeFi platform.
And eventually mint NFTs on their blockchain.
But I can't stress enough that this is NOT on the Dogecoin blockchain.
Dogechain is a completely separate, scammy project that is designed to suck people who recognise the Dogecoin branding, into handing over their tokens.
What is Dogechain promising?
On their website, Dogechain is promising a number of things to unsuspecting n00bs, eager to get scammed.
The biggest being an initial airdrop of a new DC token (different again to DOGE and wDOGE), to all DOGE holders.
Somehow, they're even claiming that those who hold their DOGE on Robinhood will receive the airdrop.
Umm okay, good luck with that.
Another being the ability to use your wDOGE to earn insanely high yields on future DeFi projects.
As those of us here on LeoFinance know better than anyone, the classic DeFi models that these scammy copies all use, just aren't sustainable.
Honestly, what do you think is going to happen to the price of these tokens once insiders start dumping the shit out of them?
Final thoughts on whether Dogechain is a scam
If I haven't made it clear enough yet, let me write it in caps in the hope that it saves you money:
YES, DOGECHAIN IS A SCAM.
AVOID THE SCAMMY DOGECHAIN PROJECT LIKE THE PLAGUE.
Best of probabilities to you.
Posted Using LeoFinance Beta
---
---