The Metaverse and Web3 - Intertwined at their core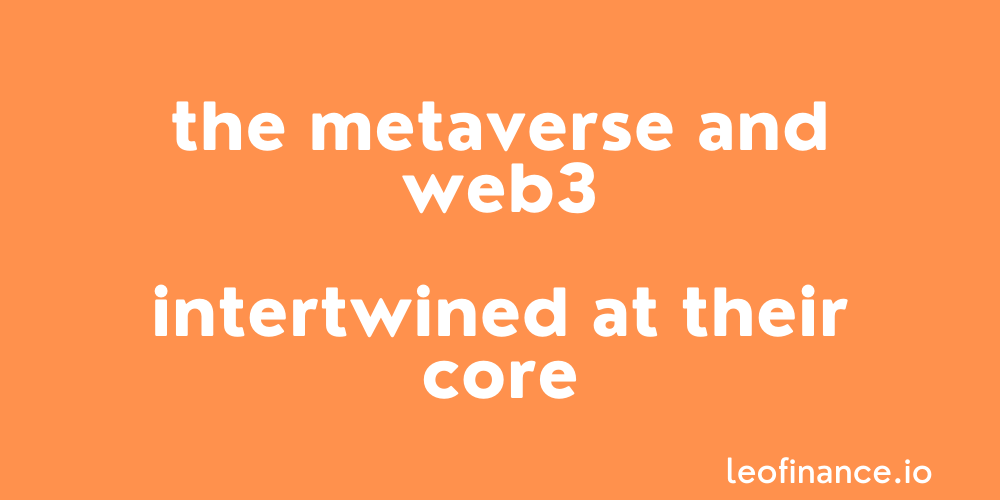 Direct from the desk of Dane Williams.
---
Contrary to what Facebook wants you to think, the decentralised Metaverse and Web3, are thoroughly intertwined.
With Facebook rebranding to Meta, they're essentially trying to change the future of how Web3 will look and operate.
But don't fall for it.
Just like Web3 will ensure freedom of speech and movement of money for all, the Metaverse will operate in exactly the same way.
The Metaverse
You see, the Metaverse is nothing more than a series of different virtual places, platforms or worlds.
The ideal version built across various decentralised online protocols will be free for anyone to create, interact, conduct business and move between.
However, instead of facilitating this free, open and decentralised vision of the Metaverse, Facebook is trying to create their own closed shop.
The China of Metaverses if you will.
Where you're walled in by your Facebook overlords, only interacting with the specific worlds $anctioned by god himself, Dear Leader Zuckerberg.
But the thing is, the writing for Facebook is on the wall.
I mean Facebook can and will build their own closed metaverse.
They will pay the brightest developers, all the money in the world to build some pretty cool shit quicker than anyone else.
All for the price of your data to sell to advertisers.
What a bargain!
But at the same time, a series of interoperable, free, open and decentralised worlds will be built where the individual retains control and profit.
These two Metaverses will essentially run parallel with one another and you, the user, will ultimately decide which worlds you interact with.
With a lack of centralised direction however, the latter will be slow, inefficient and frustrating to deal with in the short term.
But in the long term, people will always choose what benefits them the most.
And in this case, that's being able to truly own and profit from the various universes and associated economies within the decentralised version of the Metaverse.
Web3
Sure, Facebook will use all their wealth and power to try and quash them, in exactly the same way we see legacy social media trying to shut down Web3.
But how is that working out for Facebook and Twitter?
Facebook has already seen the Web3 shaped writing on the wall and seemingly given up on their future place as the premier social media network in favour of the Metaverse.
While Twitter has tasked their Blue Sky division with creating Hive.
But in a way they can still control.
Yeah, naa - It doesn't work that way guys.
So if you want a taste of what the future of a decentralised Metaverse could look like, you need look no further than what's already being built on the Hive blockchain.
A working ecosystem of applications like social front-ends, gaming platforms and communities.
Accessible by all via a single Web3 Hive account that is used to plug, play and earn wherever you go.
You want out and to be able to move to another ecosystem?
It's your money, you can do as you please.
There are numerous centralised and decentralised bridges now available for you to cash out and move your Hive elsewhere.
Don't get left behind as the digital world shifts from Web2 to Web3.
Use your Web2 Twitter account to onboard into a true Web3 ecosystem like Hive.
Simply head to leofinance.io, click the get started button at the top and create your account using your Twitter login.
Best of probabilities to you.
Posted Using LeoFinance Beta
---
---