What is meant by an NFT "community"?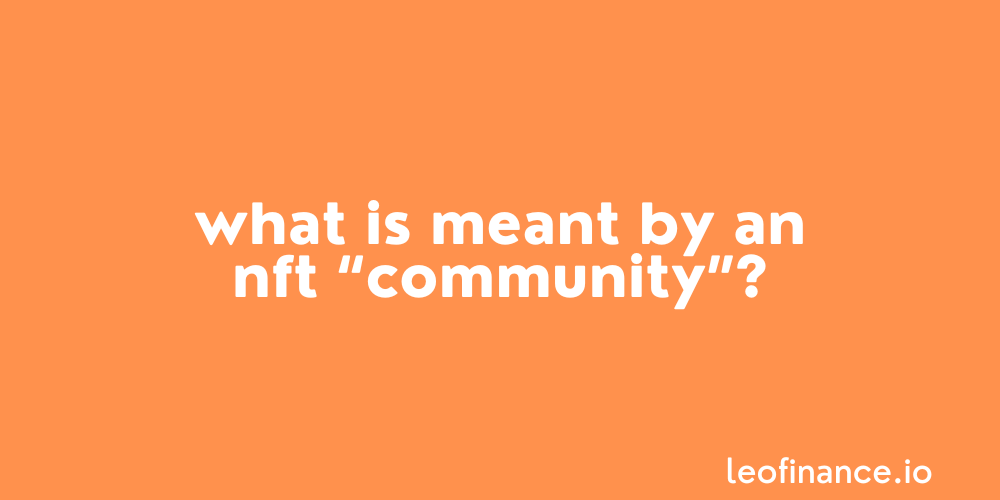 Direct from the desk of Dane Williams.
---
An NFT community features those who have bought an NFT relating to a particular project.
Today we've seen Ronaldo launch NFTs on behalf of Binance (yeah, I'm not giving those clowns a link, Google it if that's your thing).
But a little closer to home for me in Aus, it was actually Queensland rugby league player Cameron Munster talking at the launch of his own NFT collection that really pushed my buttons.
Straight up, there is a fundamental misunderstanding in the mainstream around what is meant by the word community when it comes to NFT projects.
And quite frankly, the way that these people in the public eye incorrectly speak about the community aspect of their NFT collections is what gives the entire industry a bad name.
Let's take a look at what Munster had to say and then go over the real meaning of community in an NFT project.
Celebrities don't seem to get what the NFT community refers to
Take what Munster had say in regards to the NFT collection's he's currently peddling:
"I'm in the NFT space as owner of Dead Diamond Society – we're already doing really great things for things for the community..."
"...and The Ultimate Queenslander NFT with the greats will also assist our grassroots community across the state."
Munster's quotes… err, I mean they're definitely footyhead Munster talking about tech and not his PR guy putting Cam's name to a perfectly crafted marketing quote, right…?
Well, they show the fundamental misunderstanding around the word community in NFT projects that I'm referring to.
Munster is referring to his NFT drop helping the local community of footy players coming through in the state.
Yep…
That the money going directly into Munster's pockets from randoms buying pieces of digital art featuring his face, will somehow help the literal local community of people living in the state of Queensland.
I just want to make it clear that people with more money than sense buying NFTs from a rich professional athlete will in no way shape or form, help the wider grassroots community of Queensland.
They help Cameron Munster and his company, nobody else.
Referring to the grass roots community of the state in manner is reckless and quite frankly gross.
What is community in terms of an NFT project?
So with marketers trying to spin the meaning of community, let's go over what is actually meant by an NFT community.
When an NFT project talks about the community they're referring to those who have bought and hold an NFT relating to a particular project in a wallet they own the keys to.
When it comes to NFT projects, all that matters are those holding assets.
Certainly not the local community of footy players in an entirely insignificant part of Australia.
What we most commonly see is those who purchased and hold NFTs, often able to use them as a type of ID card allowing access to other members of the community (other owners) via chat groups.
But using NFTs as an ID card to access a community where other owners hang out, also opens up a huge can of worms.
When you consider that holders of NFTs on this particular blockchain are identifiable by nothing more than the string of numbers that make up their address, this makes forming a community bond built on reputation hard.
We see a prime example of this playing out in the BAYC, where they don't care if members hold stolen NFTs.
So if this is the case, does that really make them a valuable community at all?
I would argue that the answer is no and that there are so many better ways of forming communities than using community NFTs like Munster's project here.
Final thoughts on what is meant by an NFT community
As you can see, grasping the concept of community NFTs is hard enough without footy players muddying the waters in their marketing efforts.
I like sports memorabilia as much as the next guy and fully understand the concept of using NFTs as a more interactive alternative.
But I find it super gross that Munster's PR people (let's be frank and just say of course he doesn't understand the difference let alone actually say the line found in the press release) are saying that buying NFTs from his company will somehow benefit the grassroots footy community.
Just be up front that this is an athlete cashing in on their name by selling digital products and NOT about the local grassroots footy community of Queensland.
Best of probabilities to you.
Posted Using LeoFinance Beta
---
---