Who is Andrei Jikh? - Age, net worth and portfolio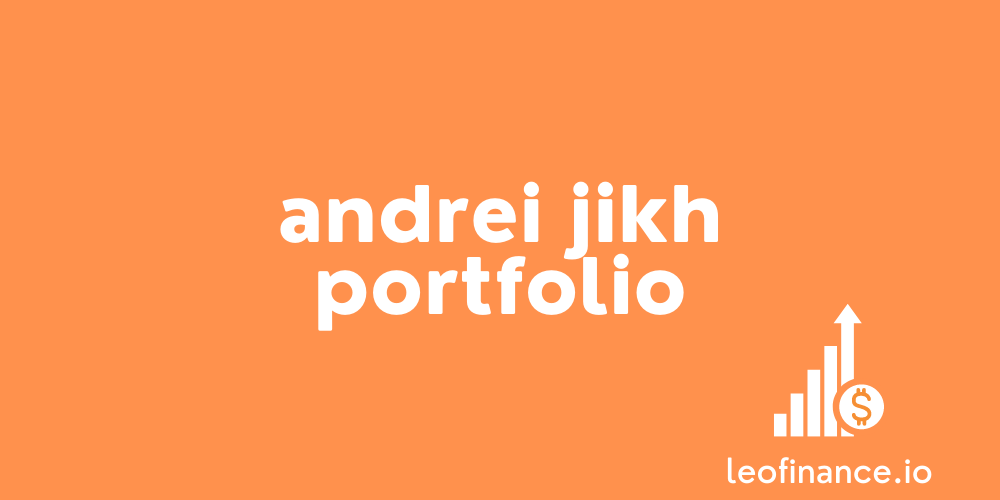 ---
A look at Andrei Jikh's bio, the crypto influencer who has captured the imagination of our community.
After the LeoFinance community has previously broken down some of the problems with Andrei Jikh's all dividend portfolio, let's now take a deeper look at the man himself.
This section of the post will act as a guide to Andrei Jikh and his portfolio.
Who is Andrei Jikh?
Born in Russia but now based in the United States, Andrei Jikh is a cardistry performer and personal finance YouTuber.
Andrei's birthday is on January 4 1989, making him just 32 years old.
With a net worth of $3.5 million in 2021, Andrei obviously has his own skin in the game when it comes to investing.
But really, who is Andrei Jikh?
The Cardistry Performer
Andrei first got his break as an online influencer performing a certain genre of magic, using playing cards.
The art form known as cardistry uses playing cards to perform to an audience.
Keep in mind that cardistry on its own is not actually magic.
This is because the art form doesn't actually involve any illusion or sleight of hand and is all about skill and showmanship.
A visually impressive form of entertainment, Andrei mastered this extremely hard art form from a young age and went on to create educational content on the topic.
Andrei's cardistry videos are the ideal introduction to anyone interested in learning this subtle artform.
He happily shares all the methods and tricks that he uses while performing to live audiences.
But while Andrei kickstarted his online profile thanks to cardistry, it's his personal finance and stock trading videos that took him to the next level.
The Personal Finance YouTuber
Andrei Jikh is a YouTuber and social media influencer within the personal finance niche.
Since quitting his day job in 2019 to focus on his videos full time, Andrei's channel has gone from strength to strength.
In his first year, he earned over $100,000 in ad revenue just from YouTube, while picking up over 300K subscribers.
That number has since ballooned to 1.61M, highlighting just how popular his content has become.
But it's Andrei who probably sums it up the best in his channel bio:
"I'm like Harry Potter - if he was a financial minimalist, did card tricks and worried about money."
Good, right?
Let's just say that it's definitely worth checking out the Andrei Jikh YouTube channel and taking a look at some of his videos for yourself.
What's in Andrei Jikh's Portfolio?
Now we know who Andrei Jikh is, it's time to take a deeper look at what's in his portfolio.
While Andrei started as an equities investor focused on stocks that pay dividends, he's since embraced cryptocurrencies by taking a huge $100K position.
Stocks
Andrei Jikh focuses on a dividend growth portfolio with around 100 individual stocks in a Robinhood account.
Yes, that's a huge number but diversification has always been a part of Jikh's strategy.
Andrei's strategy means he doesn't invest in any stocks that don't offer dividends and receives dividend payments of about $6.8K annually.
While this means he may miss out on some larger capital gains in other stocks, his recent diversification into cryptocurrencies has taken care of this.
Cryptocurrencies
Without being burdened by only investing in dividend paying stocks, Andrei Jikh's cryptocurrency portfolio on the other hand, is a little more narrow in focus.
Andre's cryptocurrency portfolio consists of the following:
Dogecoin
Bitcoin Gold
Litecoin
Dash
Ripple
IOTA
Bitcoin Satoshi's Vision
Bitcoin Cash
Bitcoin
Ethereum
In his portfolio, he's previously detailed the purchase of 7.5 BTC ($130,195) and 120 ETH ($63,044).
Bitcoin and Ethereum are obviously the 2 largest cryptocurrencies by market cap and can be compared to the types of blue chip stocks that he likes to invest in.
But going away from this strategy, Andrei has started to release new videos that explain to his subscribers that he's also investing in Cardano (ADA) and Ecomi (OMI).
The reasons behind investing in Cardano revolve around the chain's popularity and relatively cheaper fees when compared to Ethereum.
His opinion is that ADA is more likely to become the best platform for smart contracts.
Ecomi on the other hand has a platform called Veve where you can buy, sell, and trade digital collectibles in the form of NFTs.
Andrei Jikh teams up with fellow YouTuber Logan Paul to discuss this investment, which should make you a little nervous about investing.
Is Andrei Jikh legit?
Yes, cardistry performer and personal finance YouTuber, Andrei Jikh, is legit.
While primarily he's a YouTube marketer rather than an investor, Andrei tries to be as transparent as he can on his videos and doesn't take advantage.
Enjoy Andrei's content for the entertainment purposes that it was created for and he's a highly entertaining follow.
Best of probabilities to you.
---
Direct from the desk of Dane Williams.
Why not share a chart or leave a comment with your opinion on who Andrei Jikh really is. All comments that add something to the discussion will be upvoted.
This Andrei Jikh blog is exclusive to leofinance.io.
Posted Using LeoFinance Beta
---
---