Your true APR in the SWAP.HIVE:SIM LP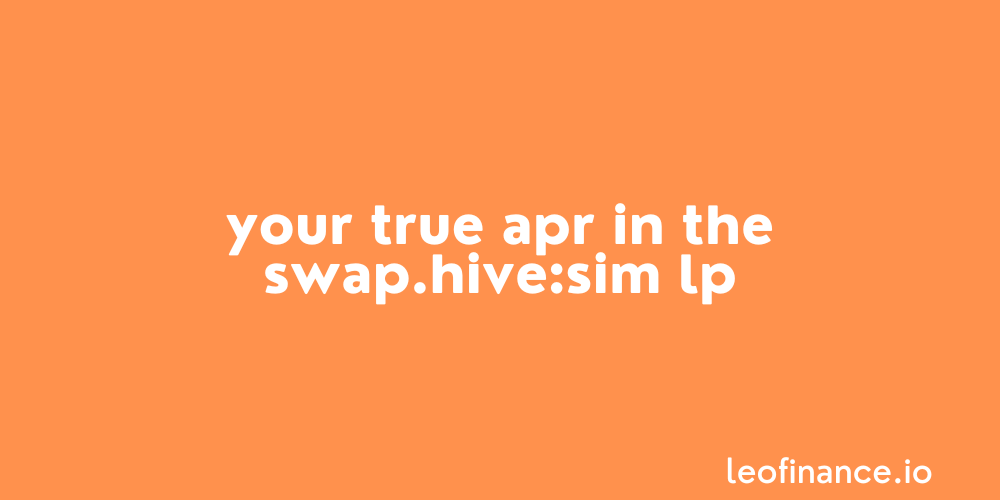 Direct from the desk of Dane Williams.
---
dCity's SWAP.HIVE:SIM LP actually pays out a much higher APR than the 25% advertised.
With Hive's multi-layer system, you should know by now that not everything is always as it seems on the surface.
This is certainly also true when it comes to the DeFi liquidity pools on Hive known as Diesel Pools, and the true APR you will earn in the SWAP.HIVE:SIM LP.
As you'll see, it's actually much higher than the 25% advertised as diesel pool rewards.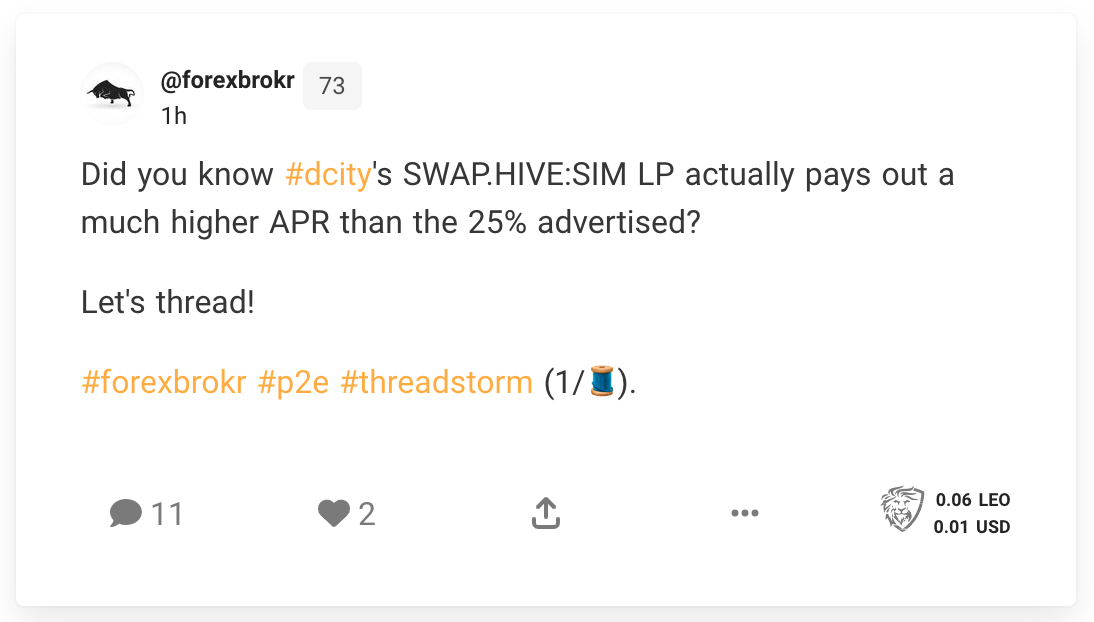 LeoThread alternate version.
BXT Rewards
Let's start with the extra APR you will earn paid in BXT.
Start by bringing up the BeeSwap interface and searching for the SWAP.HIVE:SIM LP.
Here you can see that not only does the LP pay an average APR of 25% in diesel pool rewards.
But that there's also an extra 8% paid out in BXT rewards.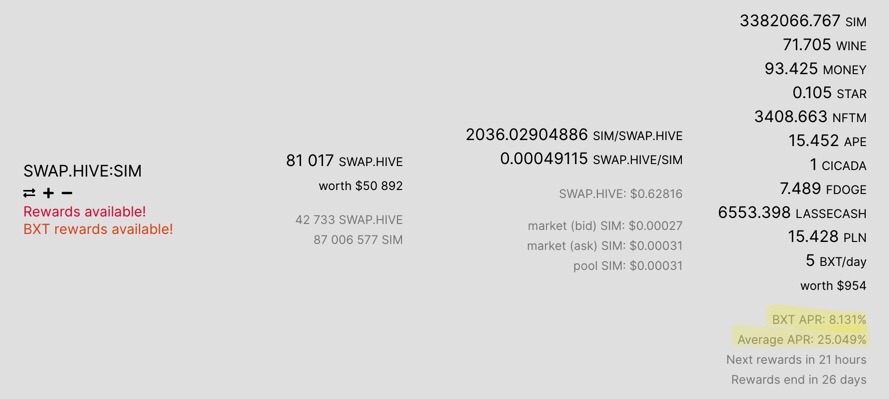 Adding these together, we've already gone up from a 25% to 33% APR.
Nice, right?
But wait.
There's more!
SIM Holding Rewards
You see the dCity game itself offers what it calls SIM holding rewards, of which depend on your account's SIM Power.
On the dcity.io game interface, that's this number here: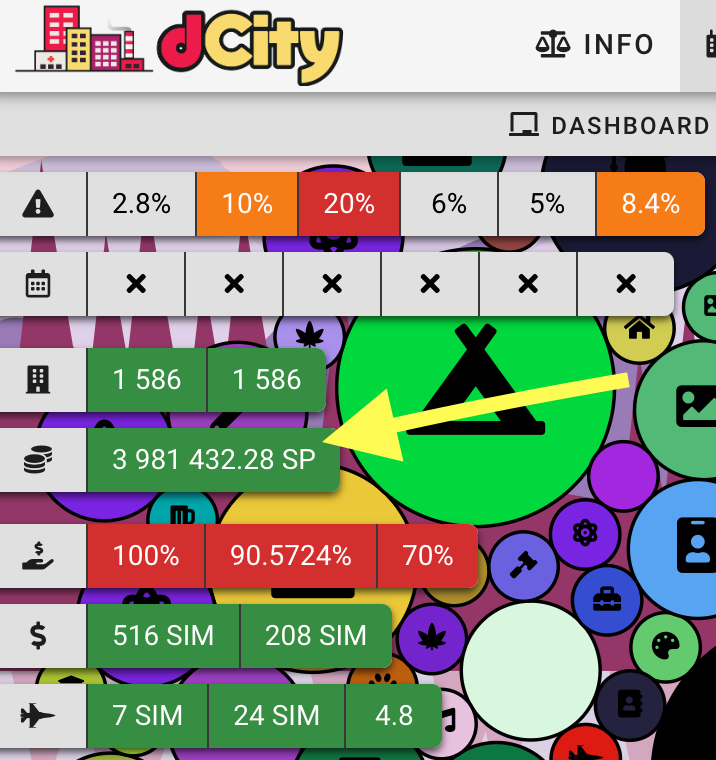 SIM Power is calculated from average 30 days SIM holdings and is used to vote on president, ranking rewards plus lobbying.
Additionally, with over 8000 SIM Power you will receive holding rewards (in HIVE) every day.
So assuming that your LP position is large enough, the current price of SIM is adding an extra 52% APR on your SIM!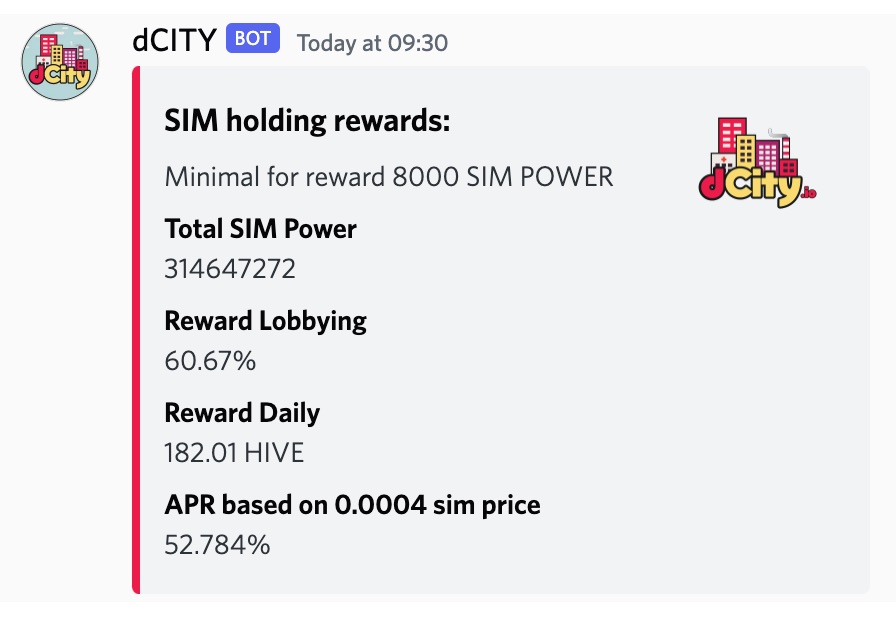 Once again nice, right?
The kicker here is that the SIM side of your SWAP.HIVE:SIM LP position counts toward SIM power.
So once that 30 days goes by, you will also receive 52% on half your position (let's just say 26% for simplicity).
Not to mention that if the price of SIM goes down, impermanent loss means the SIM side of your position gets bigger.
As the SIM side of your LP position still counts, this actually increases your SIM Power and thus your SIM holding rewards increase too!
A really cool, additional quirk in the tokenomic design of SIM that is often overlooked.
Final SWAP.HIVE:SIM LP APR calculations
So with that we've come time to add up all three of the rewards on offer in the SWAP.HIVE:SIM LP and determine the true APR on offer.
Adding the following:
25% diesel pool rewards
8% BXT rewards
26% in SIM holding rewards
You actually earn a grand total total of 59% APR for being in the SWAP.HIVE:SIM LP!
With that, I stand by my previous statement that this LP is the best Diesel Pool available.
Leave a comment and let me know if you're in or now planning to get into the SWAP.HIVE:SIM LP.
Best of probabilities to you.
PS. I also want to encourage you to go and check out gadrian's post talking about dCity that inspired me to come here and run the numbers.
Posted Using LeoFinance Beta
---
---