SPLINTERLANDS DAILY QUEST REWARDS | 11/16/2021 -- Silver I <<4 Chests>>

Hello Everyone, ForsakenSushi Reporting In!!!
I hope you are all having a wonderful day. I am super excited today for second day of the season and enjoying my life here in splinterlands a lot. It's Tuesday, November 16th 2021 here in the United States. Today I am sharing my daily quest rewards in the Splinterlands with you and my season Rewards from Silver I. Today's quest was to use a snipe monster and win 5 times. I completed my quest while making quite a lot of DEC earning between 50 to 70 DEC per win, this is quite amazing! Currently, I am playing in the Silver 1 league and I was rewarded with 4 loot chests for my daily. The beginning of the season always has lots of pro players with amazing decks because everyone gets dropped down, so dont be discouraged!!


So lets get to the Rewards!!

Daily:


Total Loot
2 commons
1 potions
4 DEC

Situation: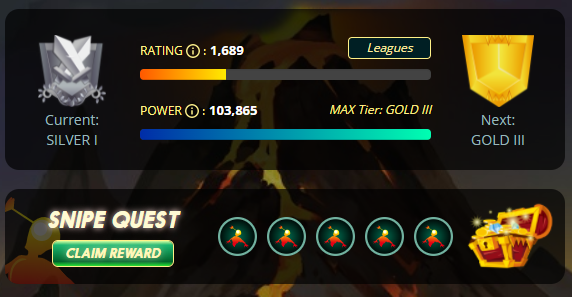 This was not an overly amazing pull, but I gotta say I am very happy with how fast I was able to get my rating back to Silver I after dropping down from gold III. Also the Pelacor Conjurer and Pelacor Mercenary are both cards im currently acquiring, I think both will have much higher value when they are out of print. Im amazed with how much ive been able to learn while playing about crypto and also been able to utilize my market skills in a game to make real money. Thanks for taking the time to read today! Hope you have great luck also.
---
---