SPS OUTLOOK and SPLINTERLANDS DAILY QUEST REWARDS | 11/21/2021 -- Gold 3 <<6 Chests>> SPS is cheap at approx $0.50 USD Hive is spiking upward at $1.20 USD per HIVE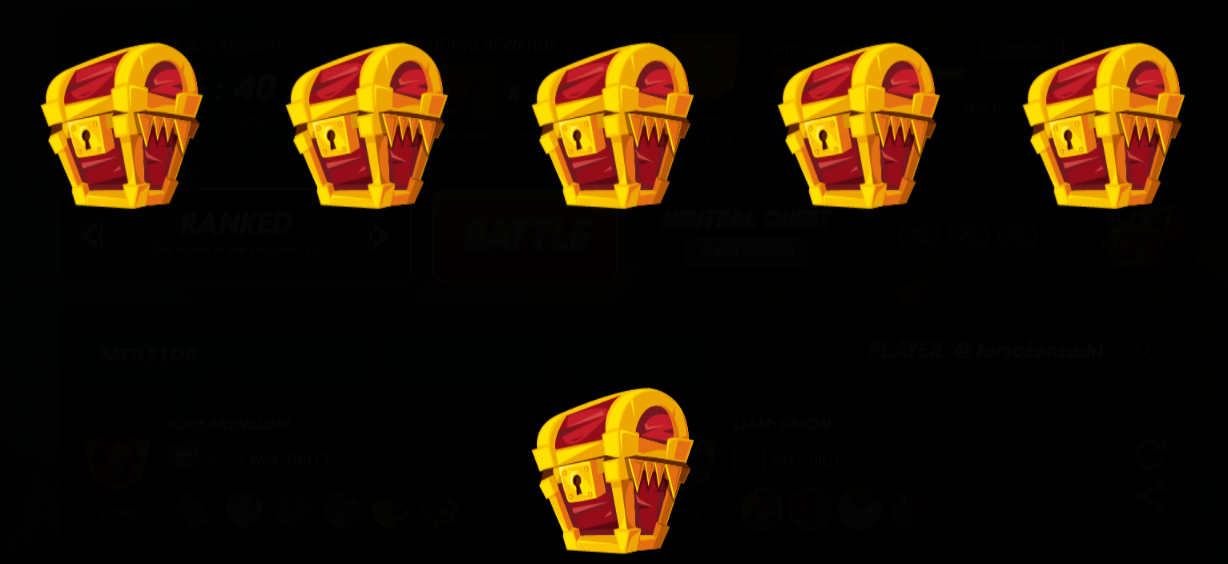 Hello Everyone, ForsakenSushi Reporting In!!!
I hope you are all having a wonderful day. It's Sunday, November 21st 2021 here in the United States. Today I am sharing my daily quest rewards in Splinterlands with you in addition to an update on SPS personal holdings, market outlook, and Hive price update. Today's quest was to win with a death splinter 5 times, i refreshed that since I have no upgraded death summoners and luckily recieved the win 3 games with no neutral cards quest. I completed my quest while making very little DEC today I went overboard yesterday and farmed down to nearly 50% ECR because DEC per win was so nice but today im letting it regenerate I just did the quest! I am earning around 20 DEC a win today but only around 60% ECR so earnings havent declined too much! Currently, I am playing in the Gold III league and I was rewarded with 6 loot chests for my daily. The beginning of the season always has lots of pro players with amazing decks because everyone gets dropped down, so dont be discouraged!! I was able to recapture Gold III and pick up some nice cushion rating, one of the days I didnt blog I actually couldnt get back to Gold, just back to back to back legendary summoners.

So lets get to the Rewards!!

Daily: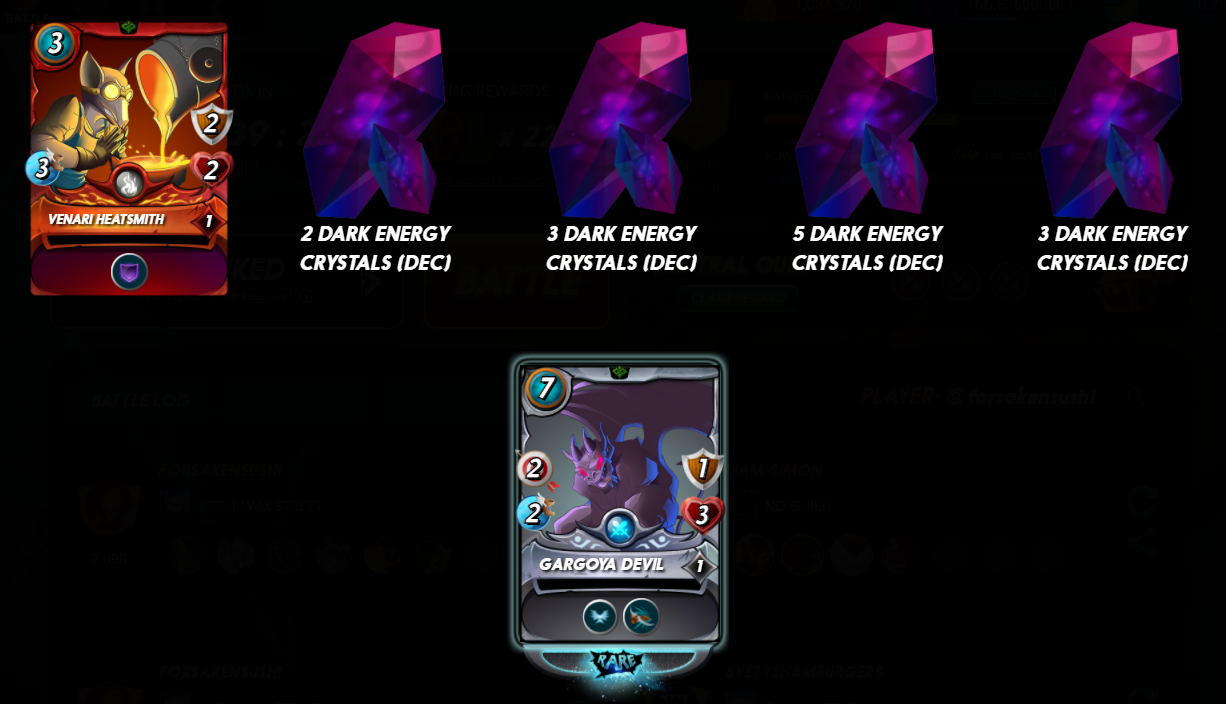 Total Loot:
1 rare
1 common
13 DEC

Situation: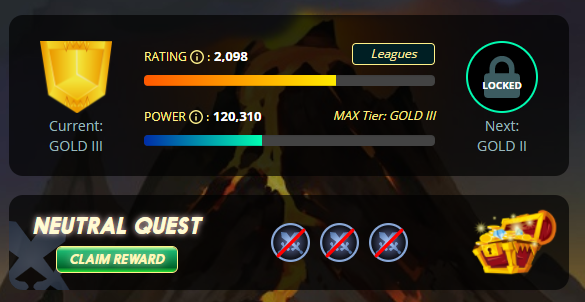 The Daily rewards were rather weak today, and also the last 3 or 4 days which is why I didnt post. Ive been focused on accumulating as much as I can of the reward cards of the new set that are below $0.30 each like Pelacor Mercenary, Pelacor Deciever, Pelacor Bandit, Pelacor Conjurer, Venari Heatsmith. When the new chaos legion packs are opened some of these cards will find synergy with the new meta, how do I know? just the odds are that at least 1 of them will become much more important and useful than it is now with current set of cards, in my opinion. Impossible to determine which one though so I will buy approximately 50-100 of each is my goal, by the time Chaos Legion packs can be opened. Im amazed with how much ive been able to learn while playing about crypto and also been able to utilize my market skills in a game to make money.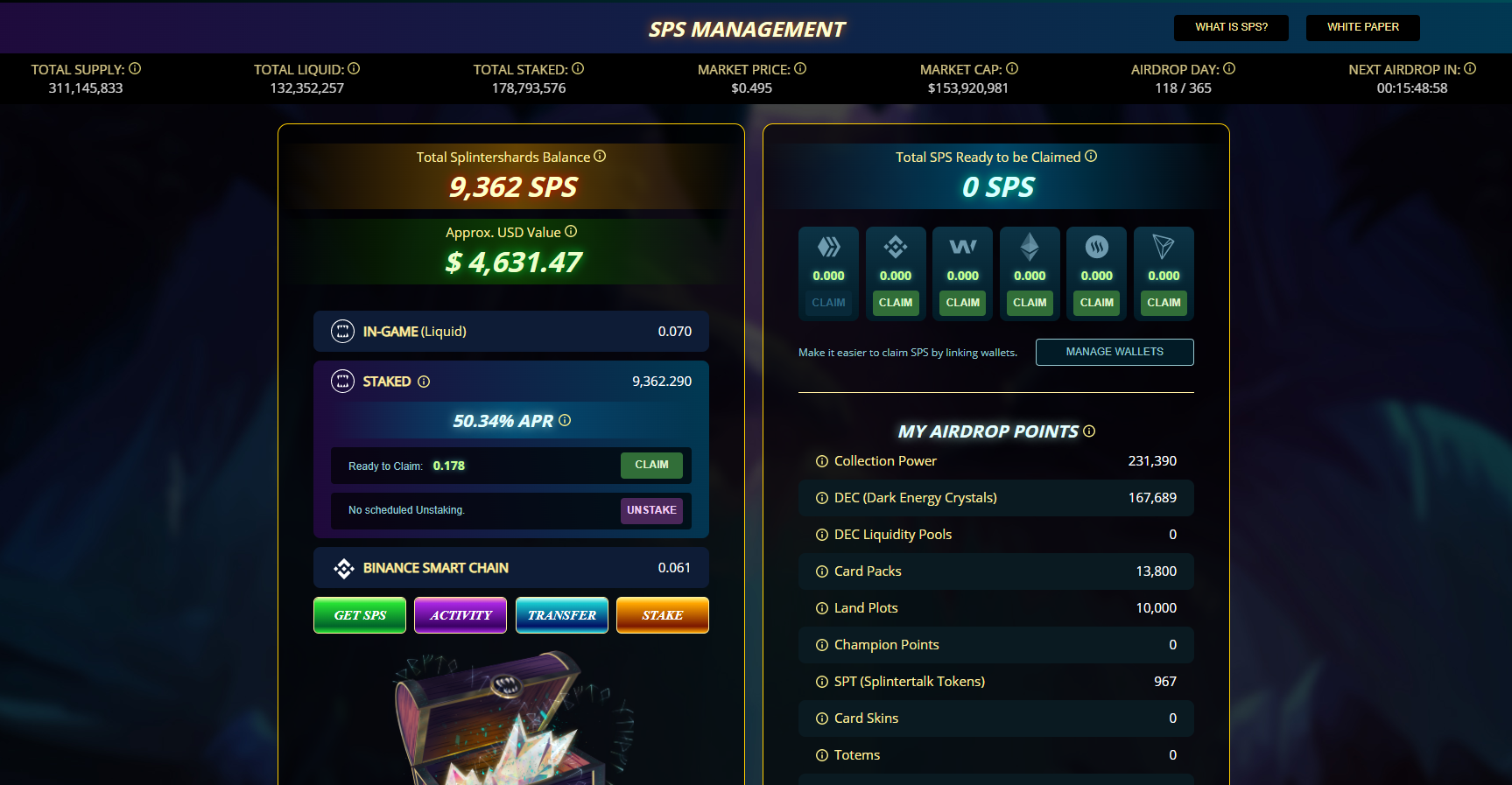 When I started the game in late August and heard about SPS and the plans of the devs at Splinterlands, I knew I wanted in especially after seeing the results of everyone else who had believed in the devs since 2018. I saw the price was dropping. I knew that was the time to buy in, when the utility wasnt clear yet and while massive supply was coming on the market, the conditions were perfect: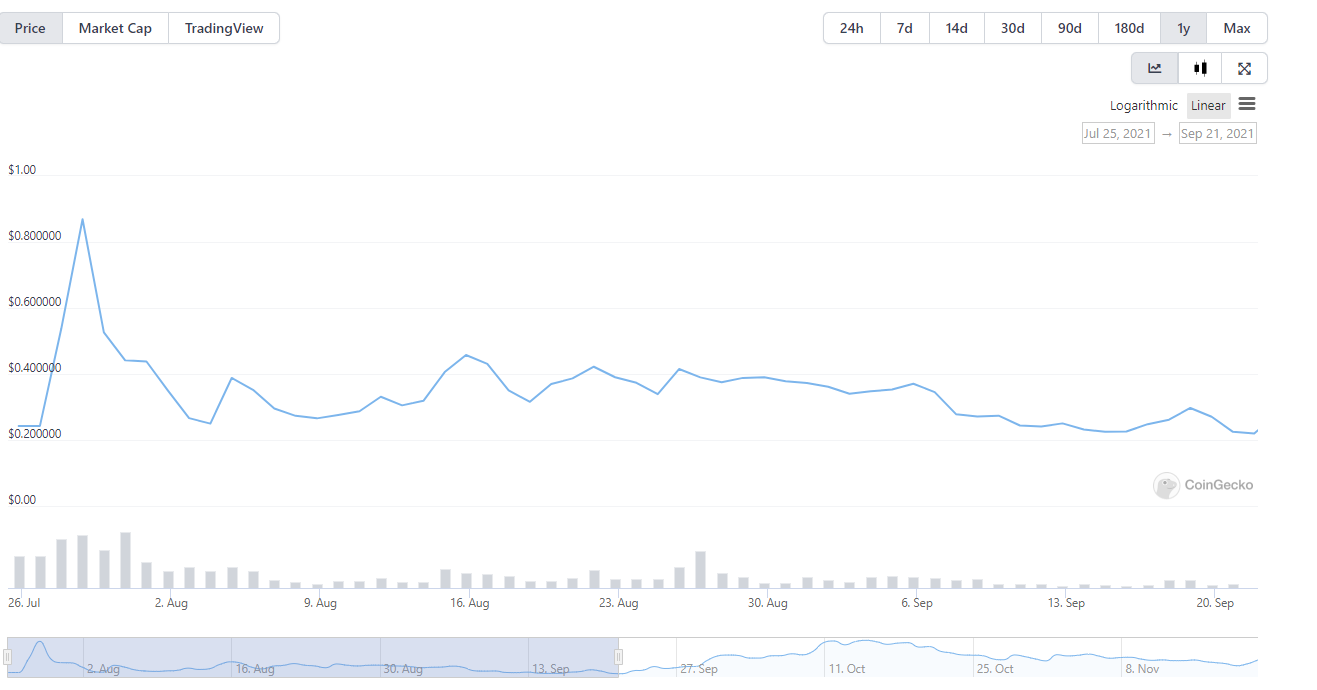 The above chart shows the time from SPS token launched till the end of September of 2021. So I knew SPS was being airdropped every day to everyone with dec and cards and a decent chunk of these players use splinterlands as an income source so this SPS given to them is largely sold every day. This leads to the slow but steady death by a thousand cuts that you can feel when you look at the SPS chart after the initial run up to 0.80 post launch. After the FOMO died out, the continual selling by play to earners slowly took the price down to a low of approximate $0.24 right before Chaos Legion presale final announcement. I was able to acquire about 6000 SPS between 0.24-0.37 during these times. Since then through Staking and Airdrop Im up to 9362 SPS today!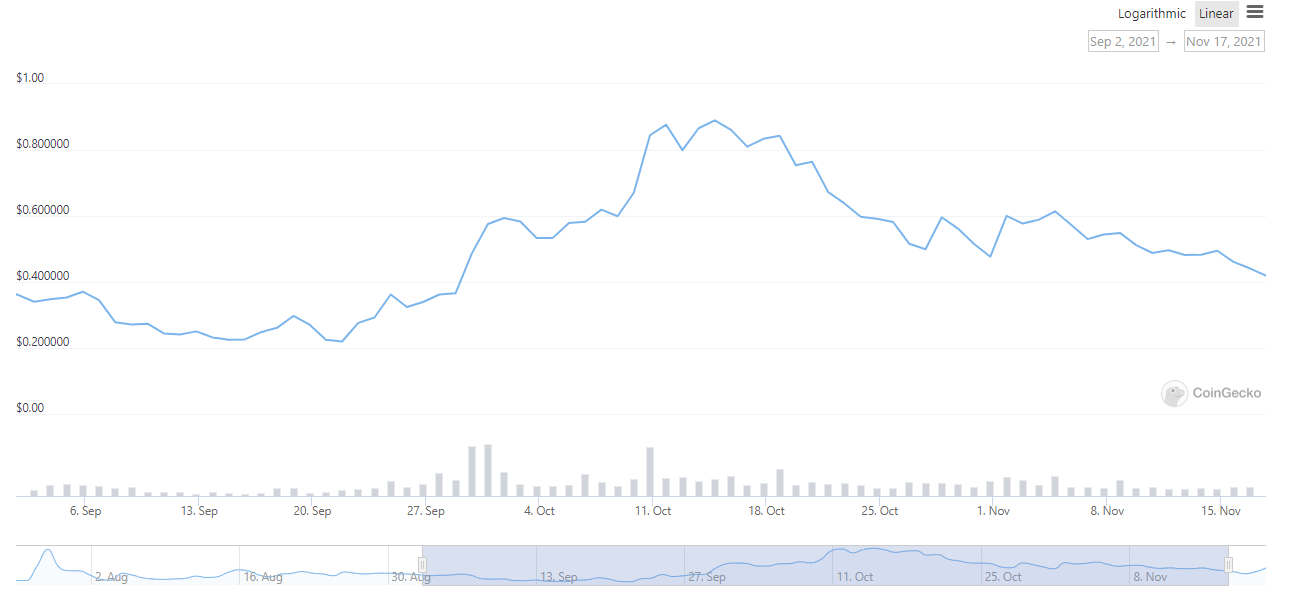 As you can see the price shot up after the Chaos Legion announcement to a peak of Approximately $0.90 USD each. Since then a combination of merchers who bought sps prehype to sell to FOMO crowd sold following Chaos Legion and our buddies the play to earn income sellers, met with added selling pressure of Liquidation of SPS on open market by the team for all SPS used to purchase Chaos Legion packs. Some people felt some type of way about this but lets be clear: Those who used SPS got a 10% discount so they did well, and the team was clear the proceeds of Chaos Legion would fund general corporate purposes so how did people expect them to accept SPS or DEC and not liquidate it, yet fund corpoate purposes? Another Opportunity! Looks like we are already bouncing off the bottom in the 40s currently approaching $0.50. Buying now still yields nearly a double on your money when we go back to $0.90. This is my opinion and not financial advice please always do your own research always!

Hope you all have a great night thanks for reading!
Feel free to comment if you have any questions or thoughts I always try to upvote any comments and now ill be giving !PIZZA, !LUV, !BEER, and !LOLZ to my commentors.


P.S.
As a new player we all know how annoying Yodin is, so here please enjoy my victory against Yodin today, I will post one if I beat him that day! Enjoy!!
Die Yodin 11.21.21 1st Glorious Victory
---
---