Winners🎉 of the HiVE 💪Power 🔥🔥🔥Up 😎Day - Intergalactic Giveaway!
(the winner's announcement of this giveaway)
Congratulations 🤑🤑🤑 and many thanks!
I think it went very well if we compare it against the previous one I did. As usual some little details to massage, but overall I think it did mostly what I envisioned.
Understanding how important this can be for recent users was the priority and even if the 3rd prize was not a very easy option, it was an important experiment to test the skills of the community.

(by @themanualbot)
The Twitter (POSH) winner?
This was a very successful one, and I am going to use a version of this at the @atexoras.pub because it makes sense, time to time.
From all the valid participants (@forkyishere does not count), effectively counted by the POSH bot, the one that had more likes+retweets+quote_retweets on sharing this giveaway was:
Two persons! We have a tie, @ervin-lemark, and @tawadak24! Therefore this post will have 50% of my rewards to each of them (a total of 100% rewards that would go to me, will go instead to them). Thanks for helping out by sharing this giveaway. This post is obviously to help power-up, so rewards will be 100% power up.
Twitter accounts details after post curation:
Emevele_ (2 Likes)
vv_gm2 (1 Like)
tawadak24 (3 RTs + 1 QT + 8 Likes)
zulfianfajri97 (none)
ErvinLemark (3 RTs + 9 Likes)
NIRLYNETTO (2 RTs + 6 Likes)
HiveMenzo (1 Like)
imfarhad (2 RTs + 7 Likes)
Winners of the 🥇🥈🥉 Giveaway 😱
Now is when things get real.
🥇 Prize - 9999 HIVE Delegation for 2 weeks!!! Goes to @new.things! Enjoy the next two weeks.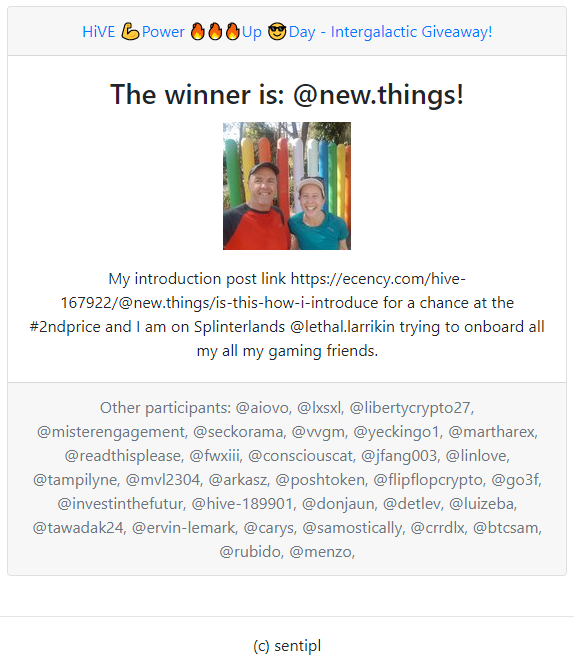 He powered up at least 100HP on the 1st day of October. His partner also participated in this giveaway, so I guess you can both celebrate the prize.
Little note, you accidentally wrote "for a chance at the #2ndprice" which put you out of the second prize, but either way, you won the first one, so you wouldn't be eligible for another prize.
🥈 Prize - 500 HIVE Delegation for 1 month! Goes to @flipflopcrypto!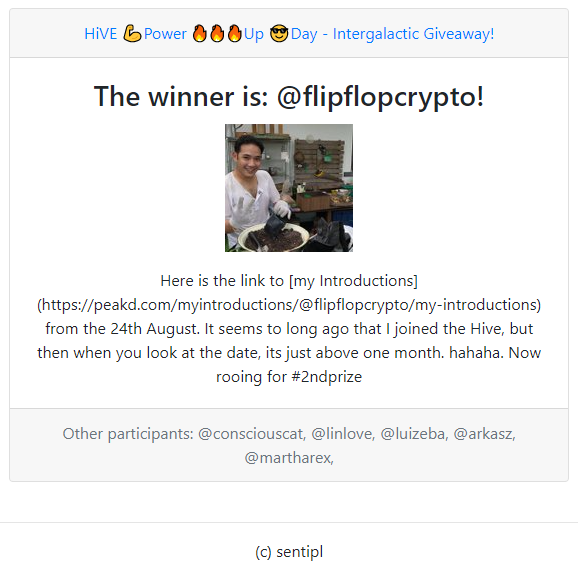 He powered up at least 10HP on the 1st day of October... Sounds like you are going to explode with happiness for this one! So lucky!
🥉 Prize - 100 HIVE Delegation for 1 month too. Goes to no one. 🙁
It's mostly me to blame because of how hard this sort of was for many. Either way, lesson learned.
Lots of Misses!!!
That's right, lots of people that could have won the 1st prize, but because they didn't power up at least 10HP on the 1st of October, they didn't get the prize! And it was hilarious, the number of times that people that didn't power up and got drawn... just some examples:
First, it was @fwxiii (not sure if you responded with that intention =), but probably not), then @martharex (you went for the 2nd prize, but if you would have powered up on the 1st of October too, you could have won this 9999 HP), then @tampilyne... I was like, come on guys, don't make this harder!
On the second prize, it was on the first draw, and @flipflopcrypto was very lucky.
The impact of this?
Feedback will be appreciated! 😋
The 3rd prize did not go as well as I predicted and maybe it was a big ask, but I have learned from it and will make it different on another occasion.
The first prize is quite a step up in my view because the person receiving it will have a huge power for a couple of days. It's sort of a free pass for you to experience how it looks like to have way more HIVE powered up. Hopefull will only pump your ego even more than what already is. But remember, that it's also my responsibility to make sure what you do with it, is fair and responsible for the entire community.
Apologies if anyone didn't quite understand some of the rules/eligibility criteria, and please let me know if so. I want to improve the message and facilitate the learning process.
I will definitely use hashtags like #1stprize, #2ndprize, etc... this worked great (I guess?).
Thank you, token creators!
None of these tokens used on the initiative were results of any agreements, they were all tokens I hold and/or purchased. The idea was sort of a self-promotion and I did and do not expect anything in return. This was just a nice way to both show around how these work and if possible to make things more interesting for the new people.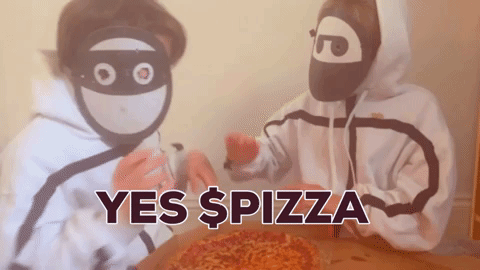 (pic by @stickupboys)
---
Thank🙃You😎All😜
Feeling proud for this one... more to come in the future!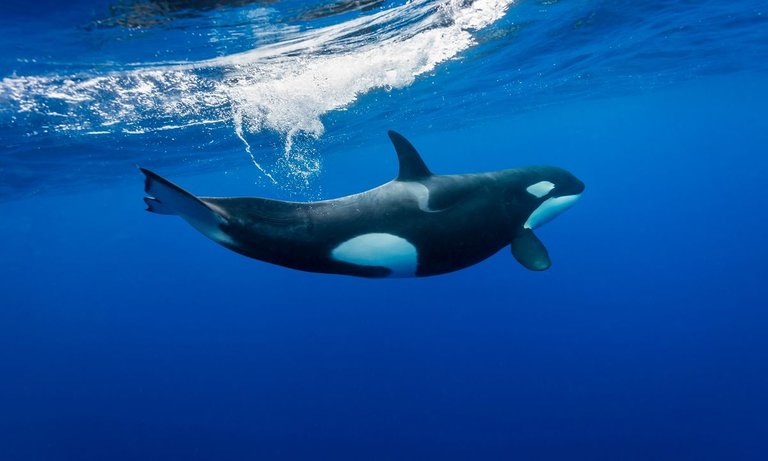 Amazing things become wild the moment you embrace them as your own... this is my HIVE making a difference! What's yours?
---
🖐️HIVE5's!
Have fun, good luck on all the gaming, and lots of teaching "how to play" to new players.
For #news about the #HIVE blockchain, and other stuff. I am following all users!
In addition, if you are looking for a nice place to either reach out, share or just have a great time, come along to @atexoras.pub gatherings. We welcome everyone on the HIVE blockchain.
👉 Vote for Witnesses
@forykw is running 😎 @atexoras.witness
Hive-Engine here (voting uses staked WORKERBEE)
Hive here (voting uses staked HIVE)
---
🐝 Hive Blockchain Games 🎮
| Year | Title | Post link (👆4+ℹ️nfo) |
| --- | --- | --- |
| 2021 | The ecosystem is expanding! | (credit @solymi) |
| 2020 | The power of having fun! | (credit @doze) |
---
💳 Cryptocurrency Cards
---
---