(Esp/ Eng) Deliciosa receta de chocolate caliente estilo gourmet / Delicious gourmet style hot chocolate recipe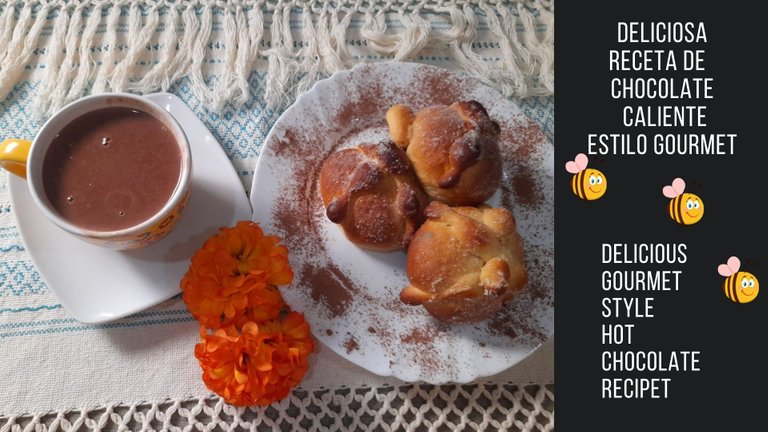 (Esp/ Eng) Deliciosa receta de chocolate caliente / Delicious hot chocolate recipe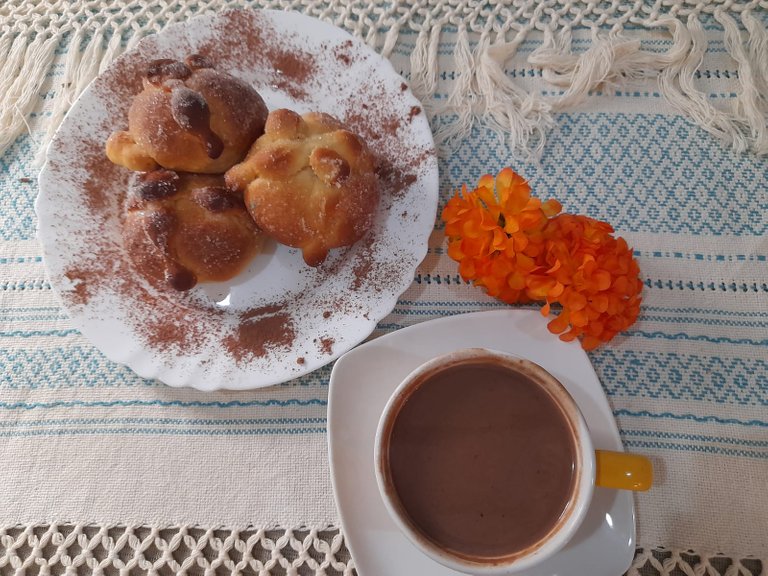 Hello my dear readers, I am pleased to write this new post.
Today I bring you an excellent recipe for a hot and delicious drink, it is nothing more and nothing less than a creamy chocolate made my way. I love chocolate in all its presentations, but when it comes to a good cup of hot chocolate, it is like pleasing my soul.
I make it once a month and my kids love it.
For this recipe use the following ingredients:
2 liters of water
8 tablespoons of powdered milk.
1/2 cup sugar
1/2 tablespoon salt
7 tablespoons of cornstarch.
2 chocolate bars of 90 gr each (nestle abuelita).
3 tablespoons of HERSHEY'S COCOA chocolate plus an additional cup of hot water.
This recipe yields 12 cups of chocolate.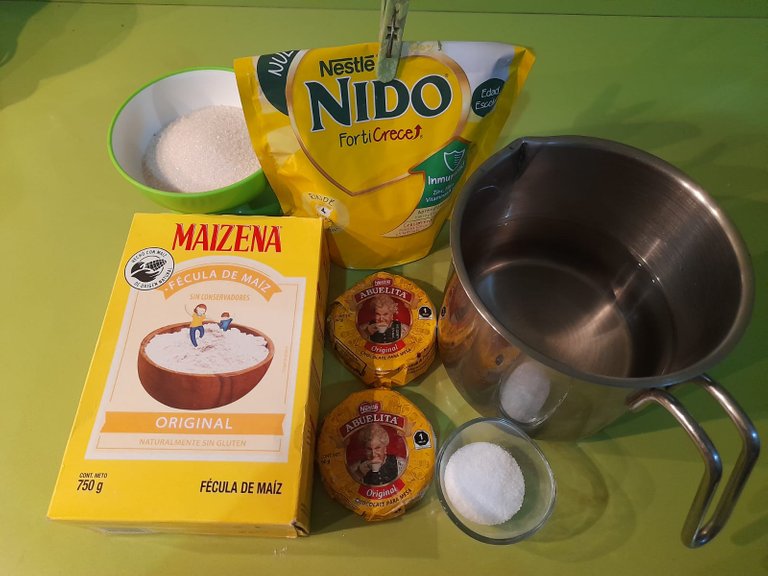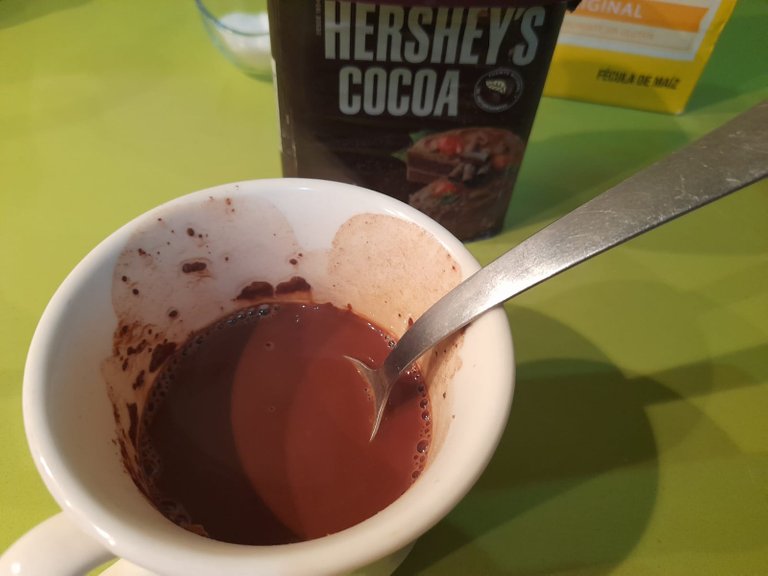 Implements used.
1 large saucepan
1 hand mixer.
2 spoons
1 measuring cup.
1 pitcher
Procedure:
Dissolve the cornstarch in 2 cups of water at room temperature, stirring continuously so as not to form lumps. If lumps are formed, strain.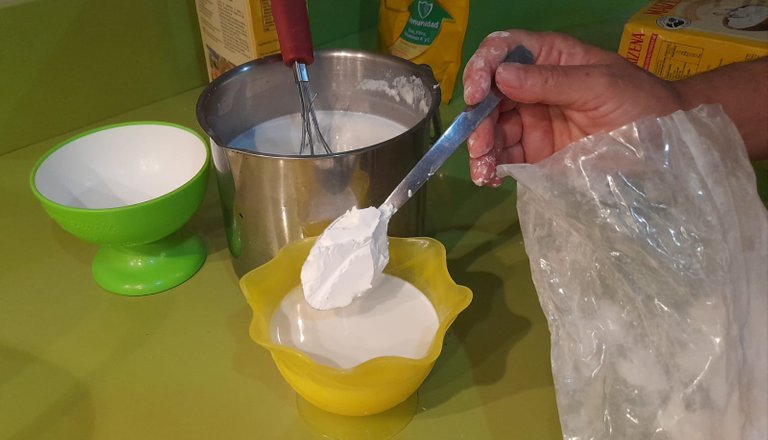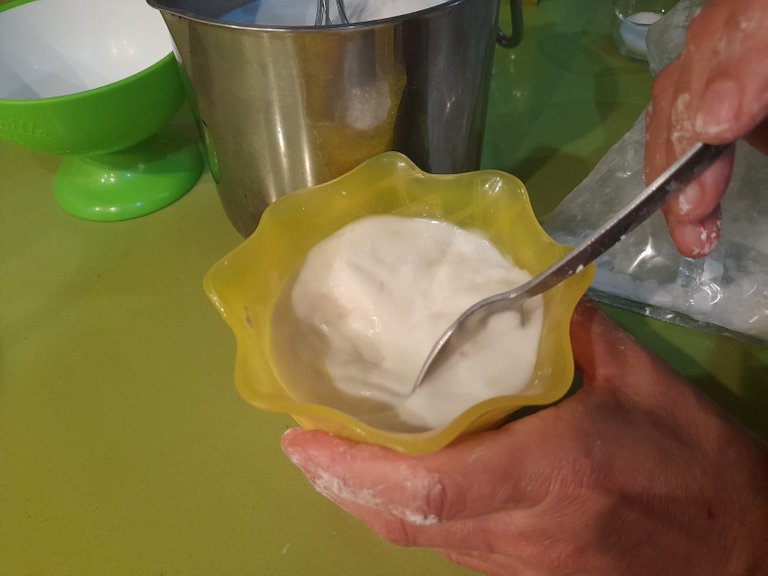 In a separate pot place a liter of water and when it starts to boil, add the chocolate bars.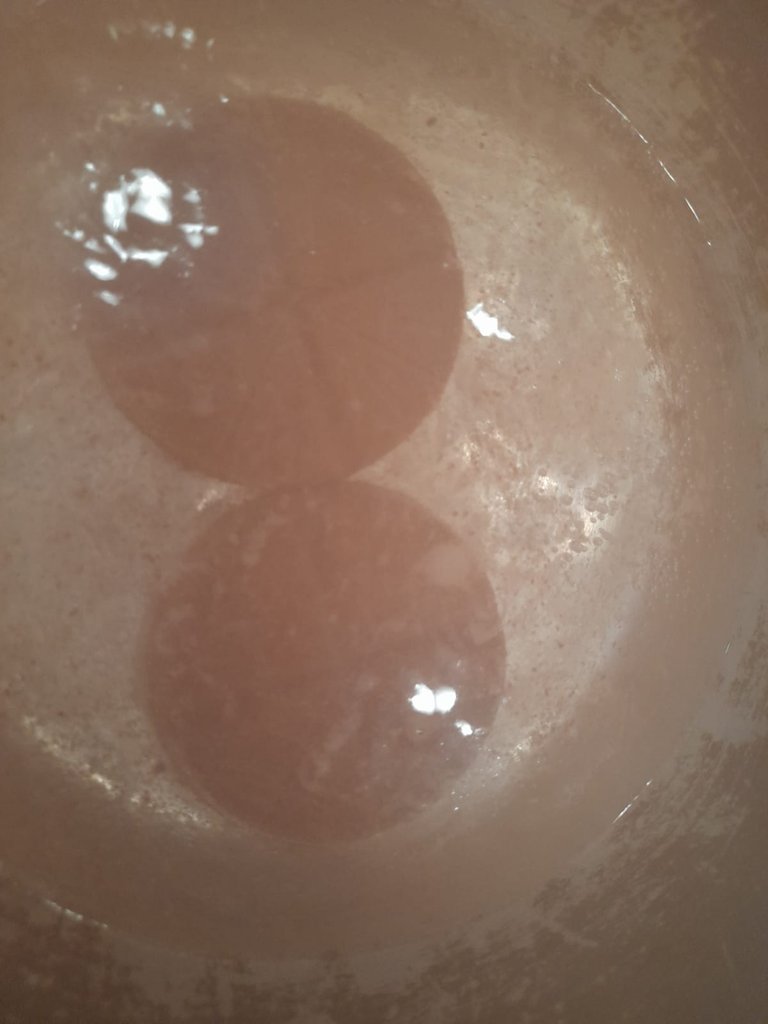 Separately, prepare the powdered milk with the rest of the water (500 ml) and set aside.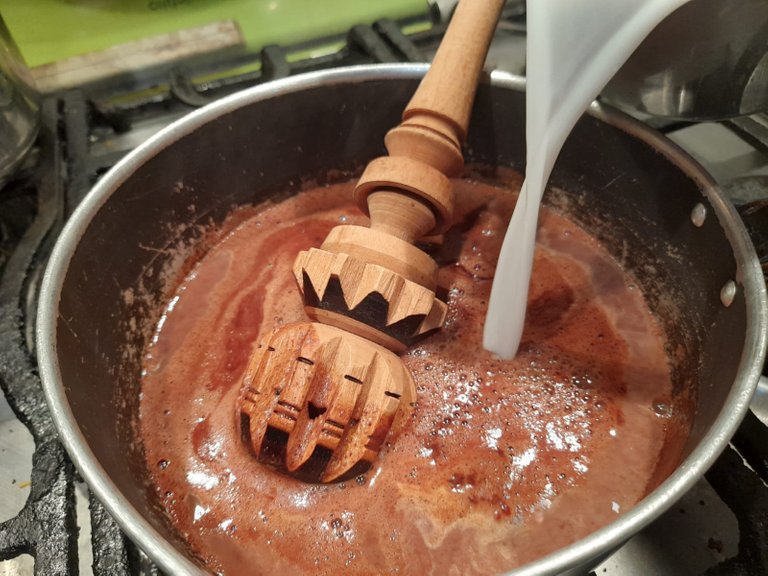 Once the chocolate bars are dissolved in the water, add the prepared milk, mix and integrate. When it starts to boil add the sugar, salt, cornstarch and the HERSHEY chocolate previously hydrated in the cup of hot water. I had to change the pot to a larger one to move more easily to integrate the ingredients.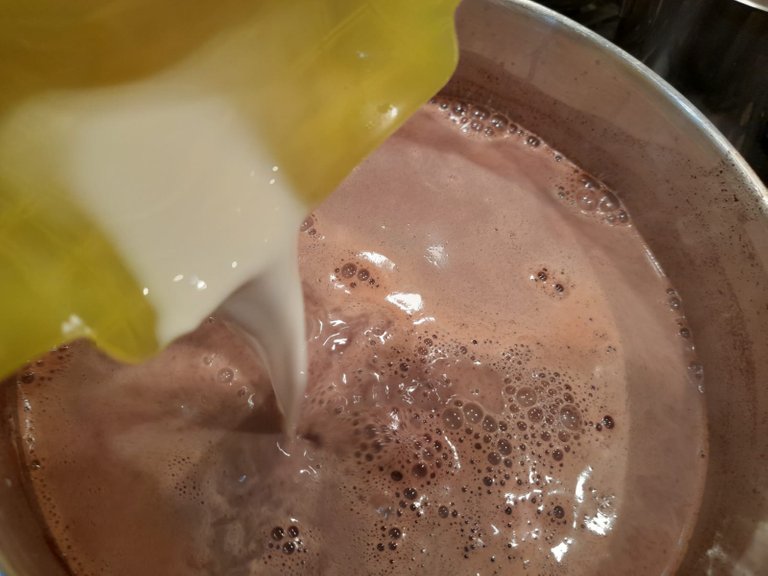 .
Stir eventually to prevent it from sticking to the pan. Once the chocolate starts to become slightly thick, turn off the stove because it will thicken a little more as it cools down.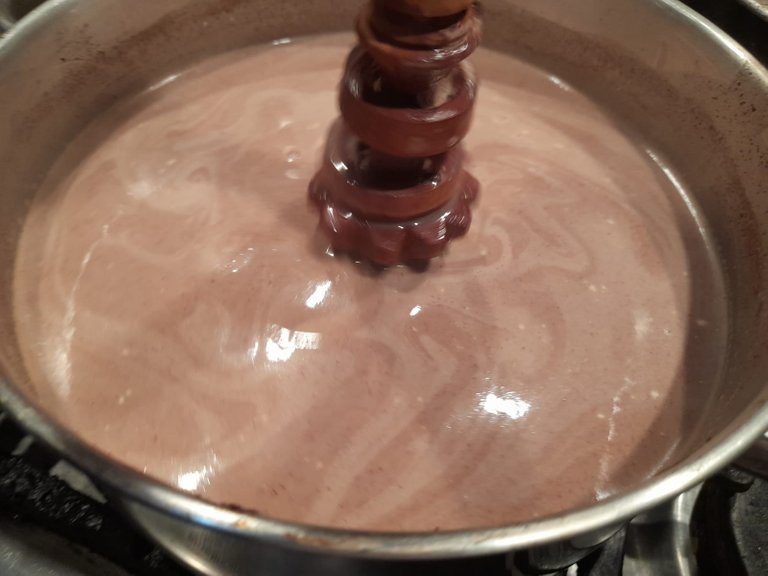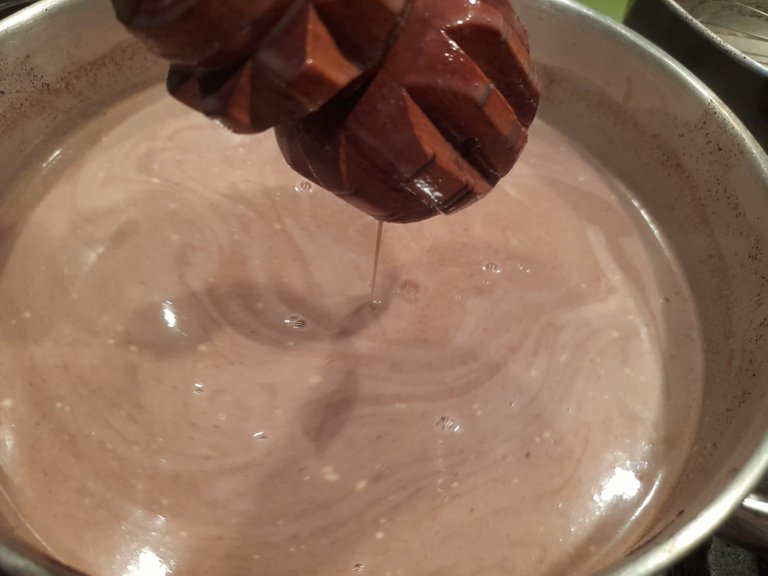 This chocolate is very delicious when these two varieties are combined as it acquires an intense brown color with a gloss and a creamy and smooth texture that allows the gradual enjoyment of the chocolate flavor providing a slight acidity and detecting the bitterness of the chocolate which is softened by adding sugar and the touch of salt achieves the balance for this purpose.
I love chocolate is one of my favorite foods, it has a high nutritional level as it provides the body with minerals such as phosphorus, magnesium, iron, potassium, zinc, copper, manganese, vitamins A, B1, B2, B3 and C, caffeine and natural antioxidants, etc.
If you want to know more about the benefits of chocolate I leave you the following link source
The health benefits it brings are extensive, among them, according to studies, it reduces cholesterol levels, prevents cognitive deterioration, etc.
I hope that soon you will be encouraged to make this excellent and delicious recipe, it is well worth enjoying a good hot chocolate.
In this opportunity we enjoyed this hot chocolate on family with a delicious traditional pan de muerto for these dates in November.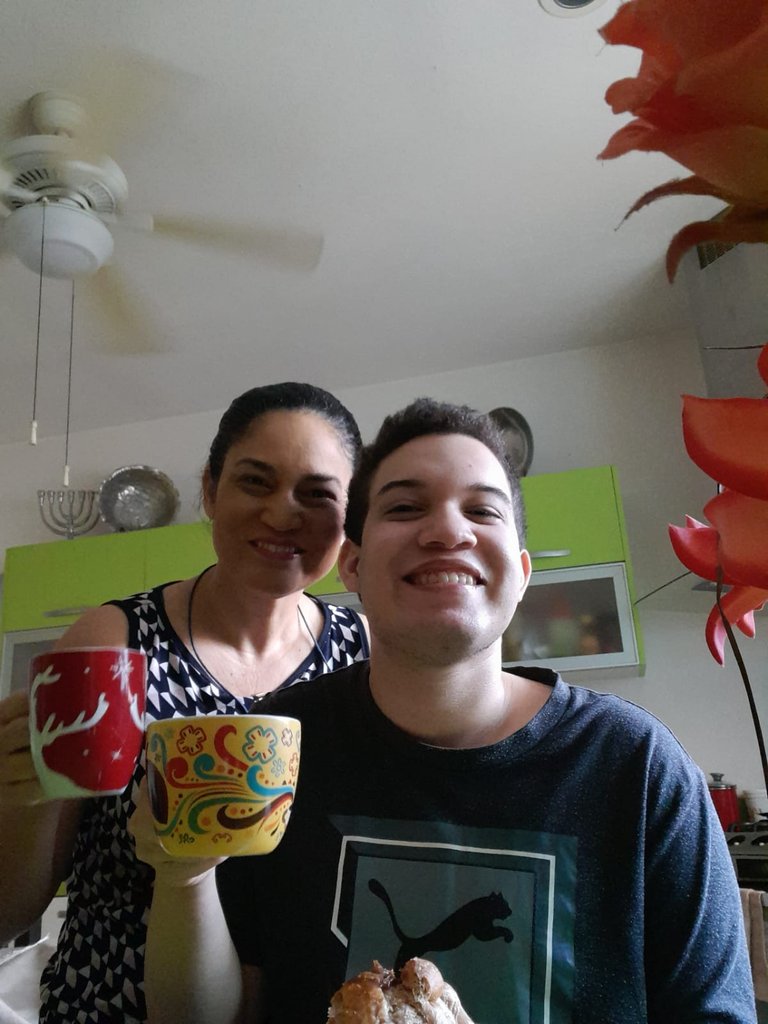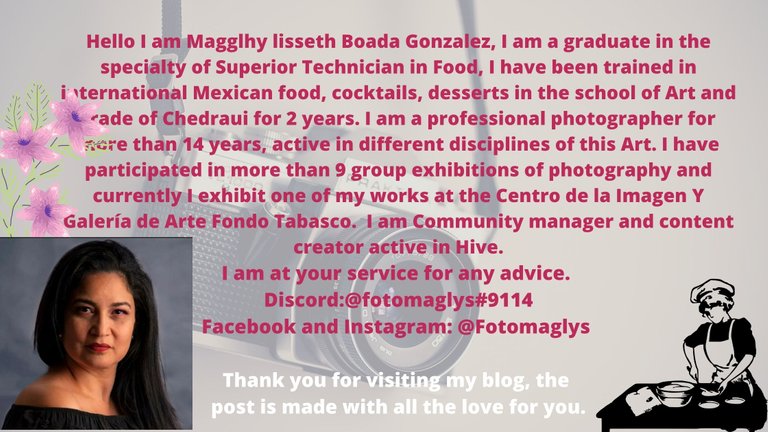 You are opening an external link. Please double check the link before you proceed.

Hola mis apreciados lectores, me da gusto escribirles este nuevo post.
Hoy les traigo una excelente receta de bebida caliente y deliciosa, se trata nada más y nada menos que de un chocolate cremoso hecho a mi manera. Me encanta el chocolate en todas sus presentaciones, pero cuando se trata de una buena taza de chocolate caliente , es como complacer a mi alma.
Acostumbro una vez al mes a prepararla a mis hijos, les encanta.
Para esta receta use los siguientes ingredientes:
2 litros de agua
8 cucharadas de leche en polvo.
1/2 taza de azúcar
1/2 cucharada de sal
7 cucharadas de maicena.
2 tabletas de chocolate de 90 gr cada una (nestle abuelita).
3 cucharadas de chocolate HERSHEY´S COCOA mas una taza de agua caliente adicional.
Esta receta rinde para 12 tazas de chocolate.
Implementos utilizados
1 olla grande
1 batidor de mano.
2 cucharas
1 taza para medir.
1 jarra
Procedimiento:
Disolver en 2 tazas de agua a temperatura ambiente la maicena, revolviéndola continuamente para no formar grumos, en caso de que se formen debe colarse.
En una olla aparte colocar un litro de agua y cuando empieza a hervir, colocarles las tabletas de chocolate.
Aparte con el resto del agua (500 ml) preparar la leche en polvo y reservar.
Una vez que este disuelta la tabletas de chocolate en el agua, agregar la leche preparada, mezclar e integrar. Cuando comience a hervir agregar el azúcar, la sal, la maicena y el chocolate HERSHEY previamente hidratado el la taza de agua caliente. Tuve la olla a una mas grande para mover con mayor facilidad integrar los ingredientes.

Mover eventualmente para evitar que se pegue de la olla. Una vez que el chocolate comience a ponerse ligeramente denso se procede a apagar la estufa ya que al ir enfriándose va ir espesándose un poco mas.
Este chocolate es muy delicioso al combinarse estas dos variedades ya que adquiere un color marron intenso con un brillo y una textura cremosa y suave que permite el disfrute gradual del sabor del chocolate aportando una ligera acidez y detectando el amargo propio del chocolate el cual se suaviza al agregarle azúcar y el toque de sal logra el equilibrio para este fin.
Me encanta el chocolate es uno de mis alimentos preferidos, tiene alto nivel nutricional ya que aporta al organismo minerales como el fosforo, magnesio, hierro potasio, zinc, cobre manganeso y vitaminas A, B1, B2, B3 y C, cafeína y antioxidantes naturales, etc.
Si deseas saber mas de los beneficios del chocolate te dejo el siguiente link fuente.

Los beneficios que aporta a la salud es extenso entre ellos según estudios reduce los niveles de colesterol, previene el deterioro cognitivo, etc.
En esta oportunidad disfrutamos en familia de este chocolate caliente con un rico pan de muerto tradicional para estas fechas de noviembre.
Espero que pronto te animes a realizar esta excelente y rica receta , bien vale la pena disfrutar de un buen chocolate caliente.
Apreciado lector gracias por leer este post el cual es 100% original, la redacción, contenido y fotos son de mi autoría, las cuales fueron tomadas con la cámara del Smartphone Samsung A21s.
Traducción realizada con DeepL y realice los Separadores de texto en canva.


---
---