17 euros well spent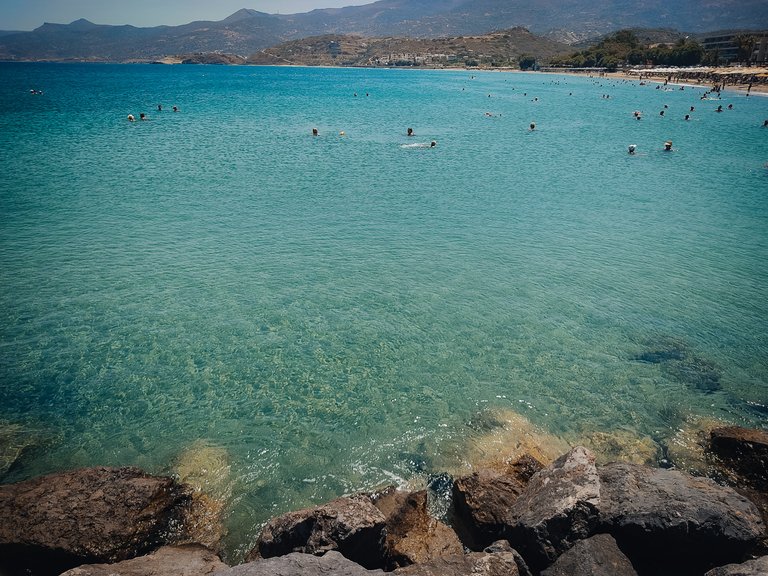 Today we had an appointment to wash the car at the nearby town. This is not something we usually do, @traisto and myself prefer to do it ourselves, but it is the big cleaning of the year just before the transformation from a farmer's car to a leisure vehicle for our vacation, so we figured that some professional help is in order :)
It turned out that the guy at the car wash was very busy and we had to wait around 4 hours before we take our van back. And what's the best way to spend a few hours at a seaside small town on a Greek island?
But of course going to the beach! This delay may turn out quite pleasant, after all :)
---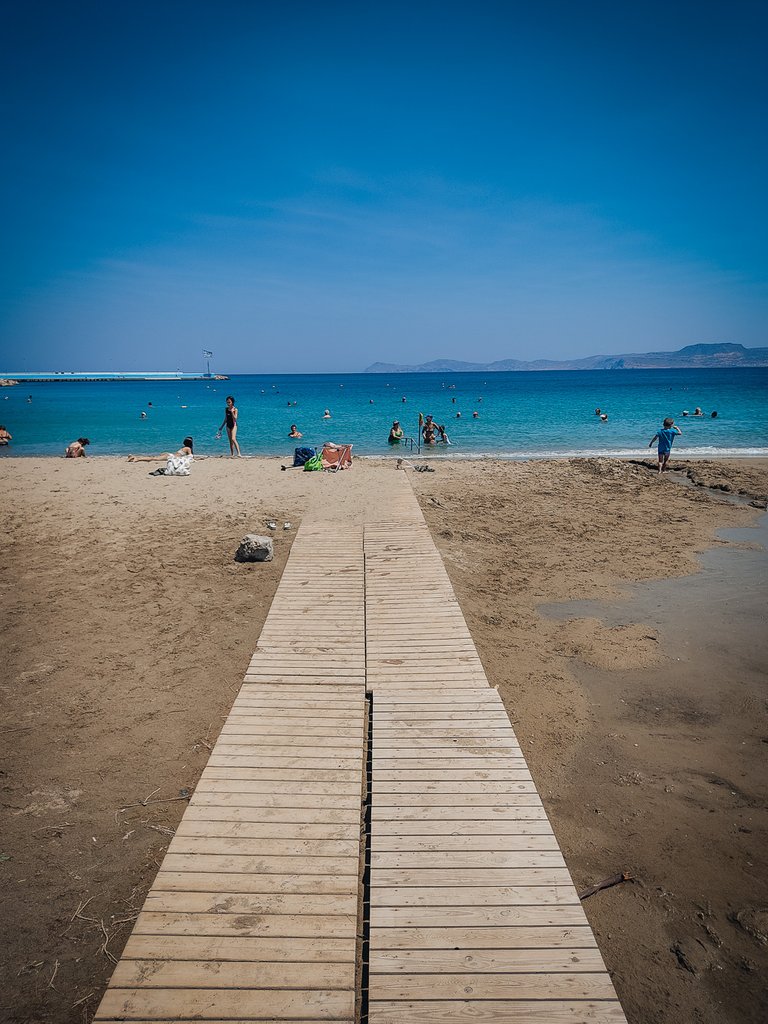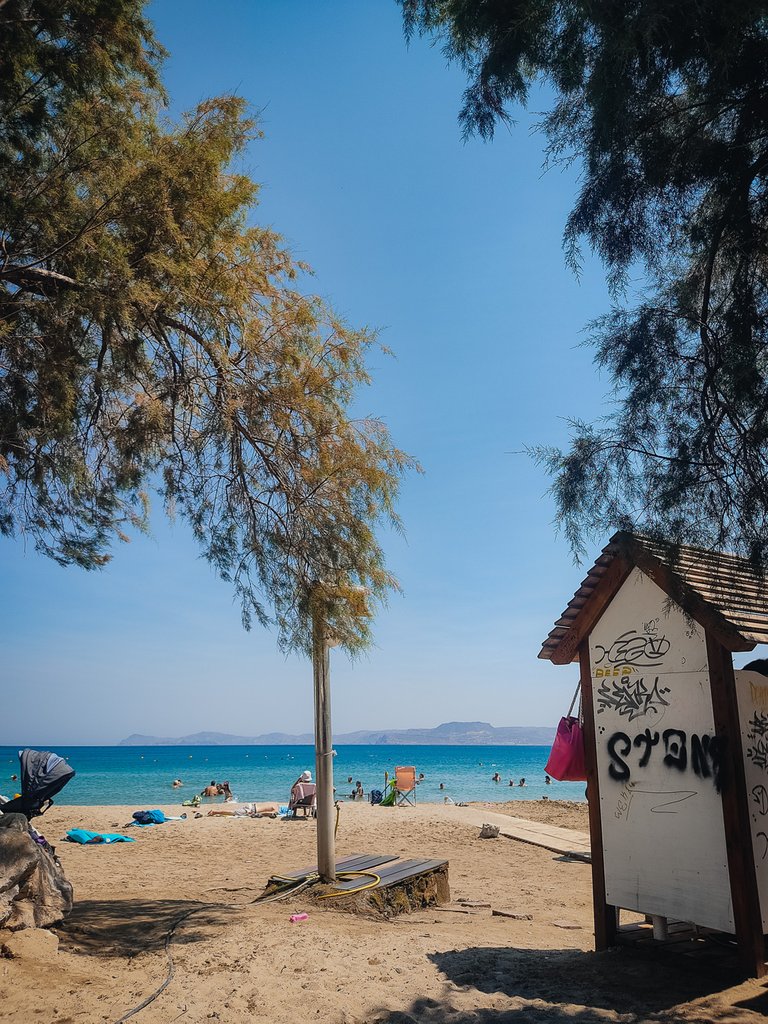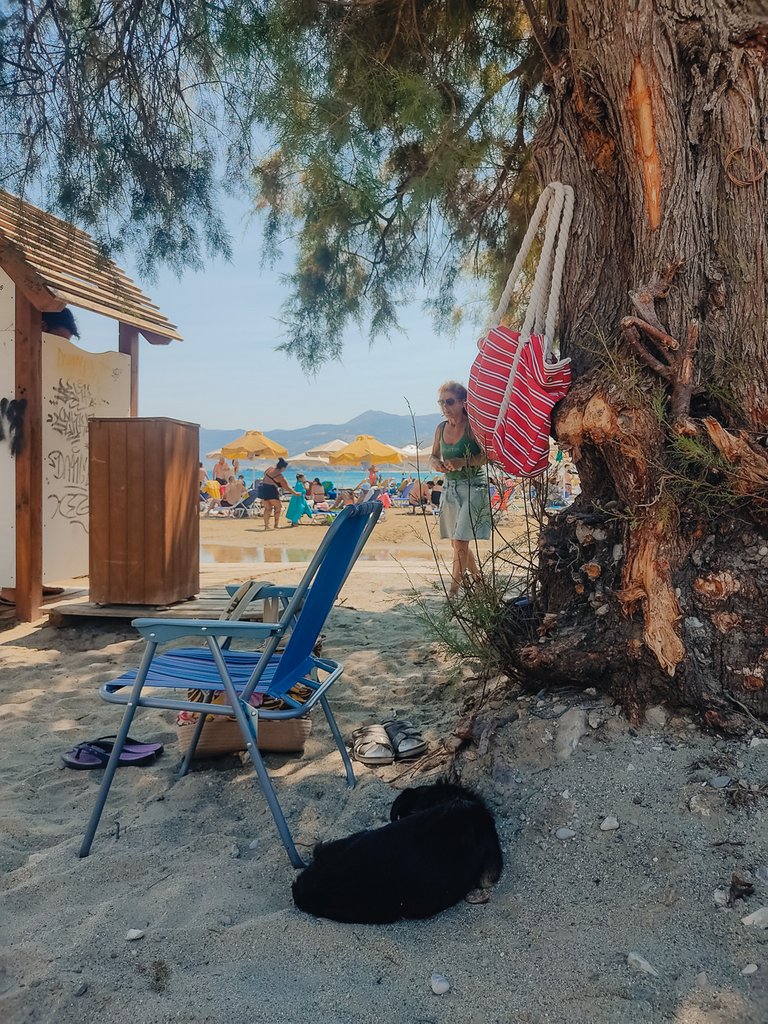 ---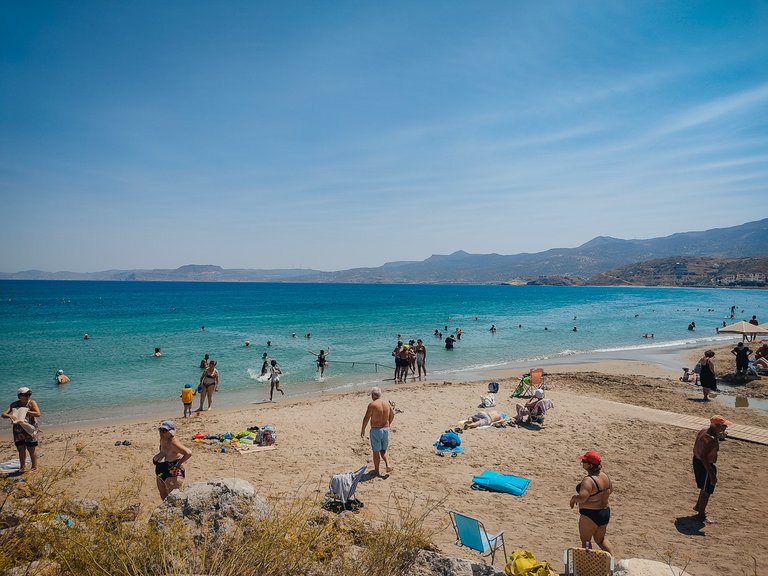 It is the busiest time of the year for the beaches, especially the ones that have a whole town to serve but this time we didn't mind. We usually choose remote and isolated places to enjoy the sea but today it was just a very nice way to spend the extra time that we had! Actually we went to the edge that the locals prefer, which is like been in a village's square. Almost everybody knows everybody, the kids are playing in an almost frantic way and an endless buzzing of talking, laughing and occasionally screaming, reminds you that you are in the middle of a very vivid community.
Just for one time it was fun :)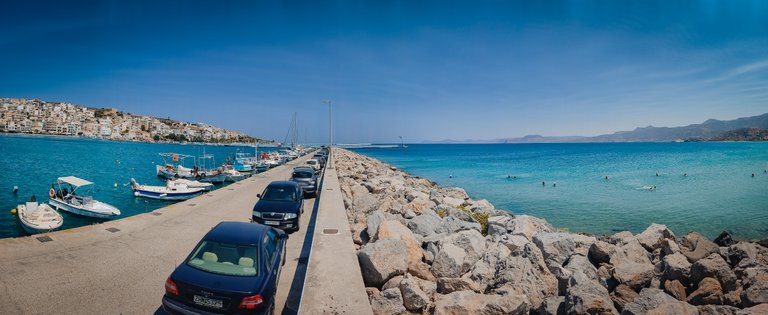 All the pictures are taken with my mobile so they have not the best possible quality but you get the picture! Those two panoramas are stitched by the phone too. Again not perfect but you can get a pretty good idea of the location. The beach is right outside of the harbour and a few minutes walk from the town centre! I like swimming next to the pier. That way I can be away from the coast and still have solid ground next to me if I ever need it. Actually that's what most of the locals, that want to swim a little further, do :)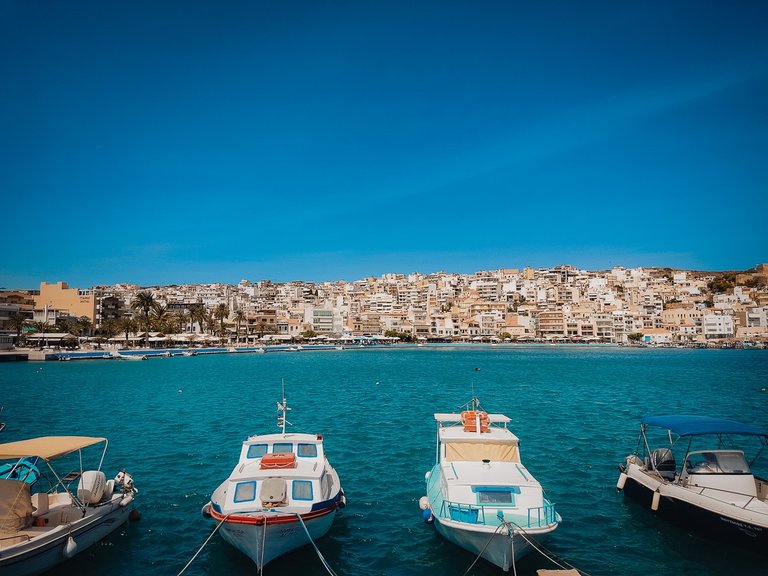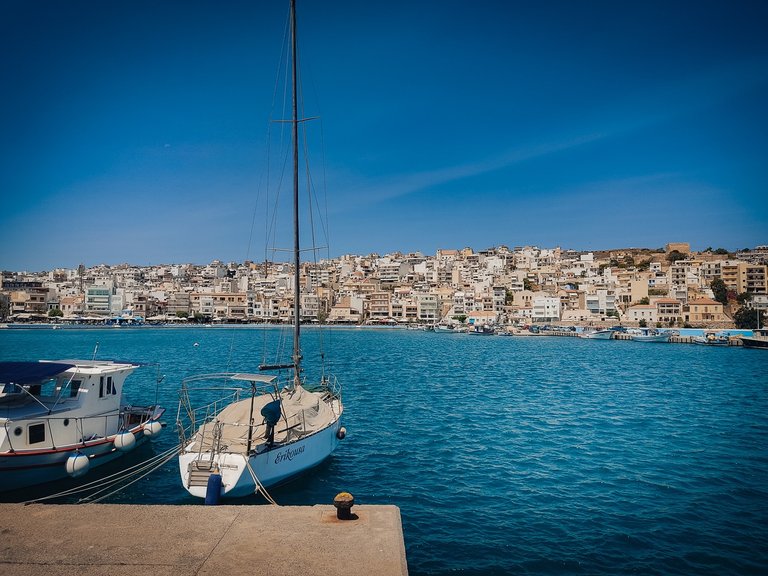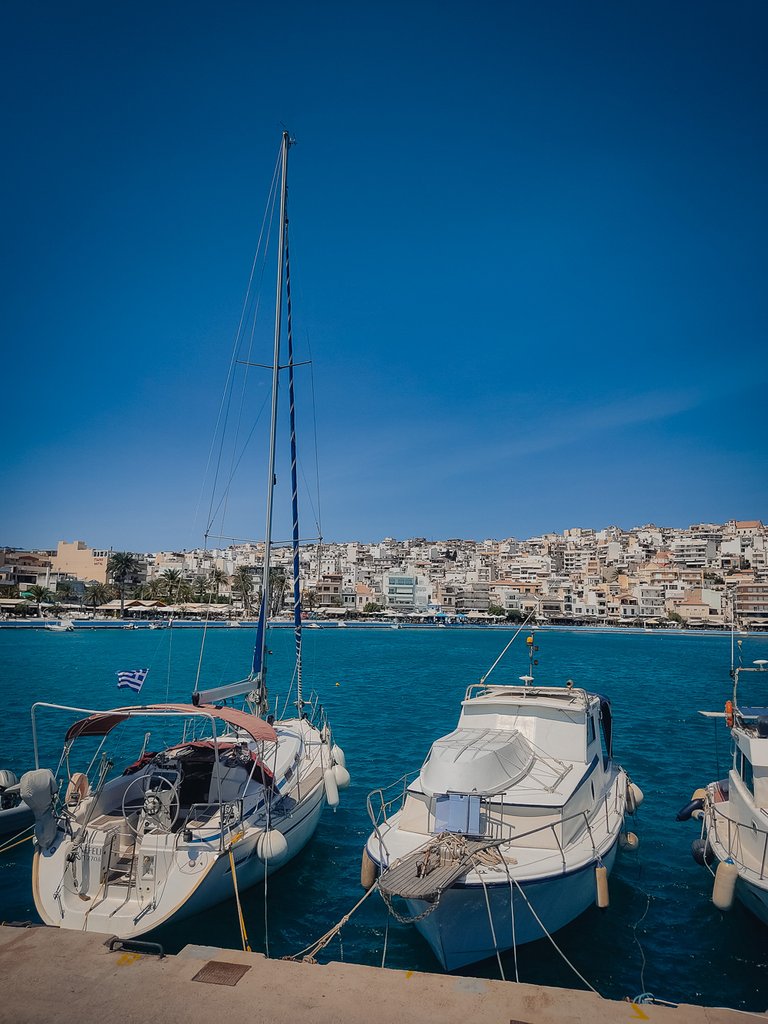 ---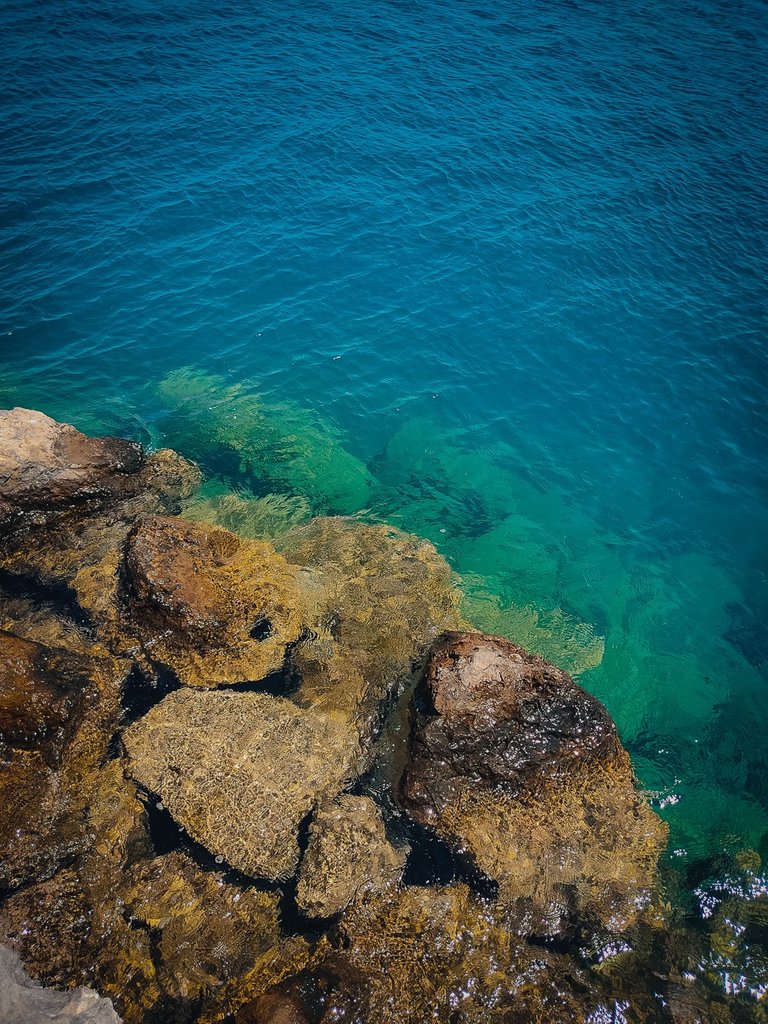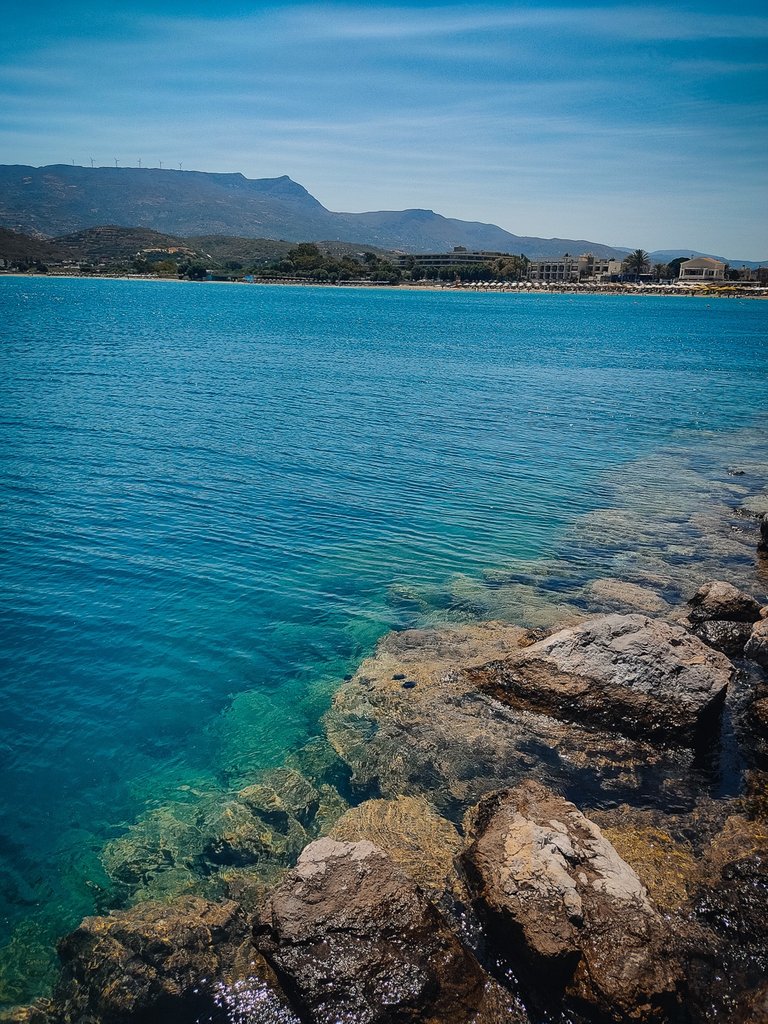 ---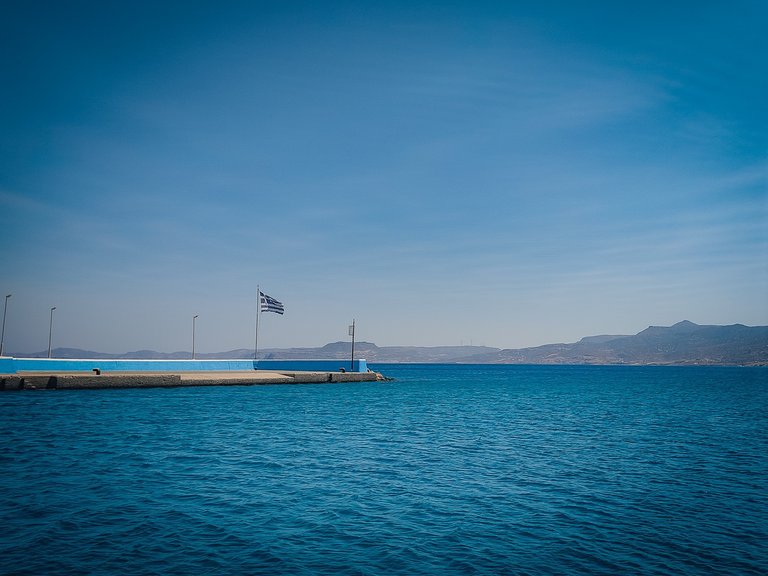 And if the word harbour, that I used above, brings in your mind, huge ships and dirty water, let me correct this misunderstanding. The harbour is used mainly by small fishing boats and a few sailing boats. The water is crystal clear even inside the port and if it wasn't forbidden for safety reasons, I am sure that the locals would have used it as a huge swimming pool :)
Although they seem to have a great time outside of it, too!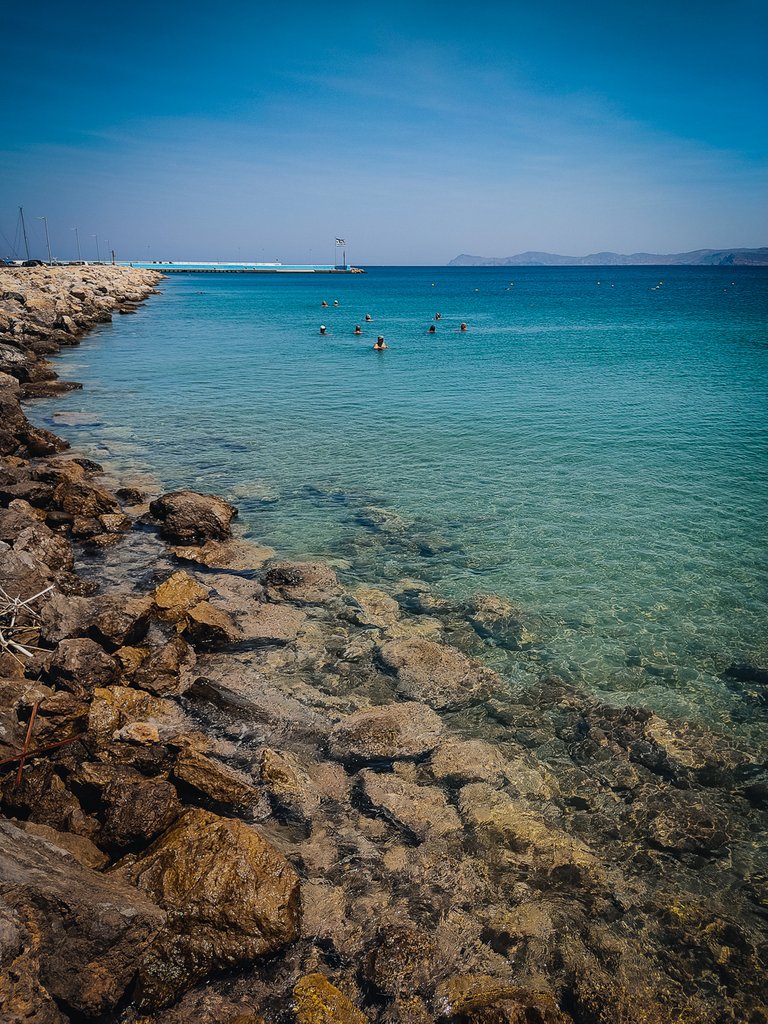 ---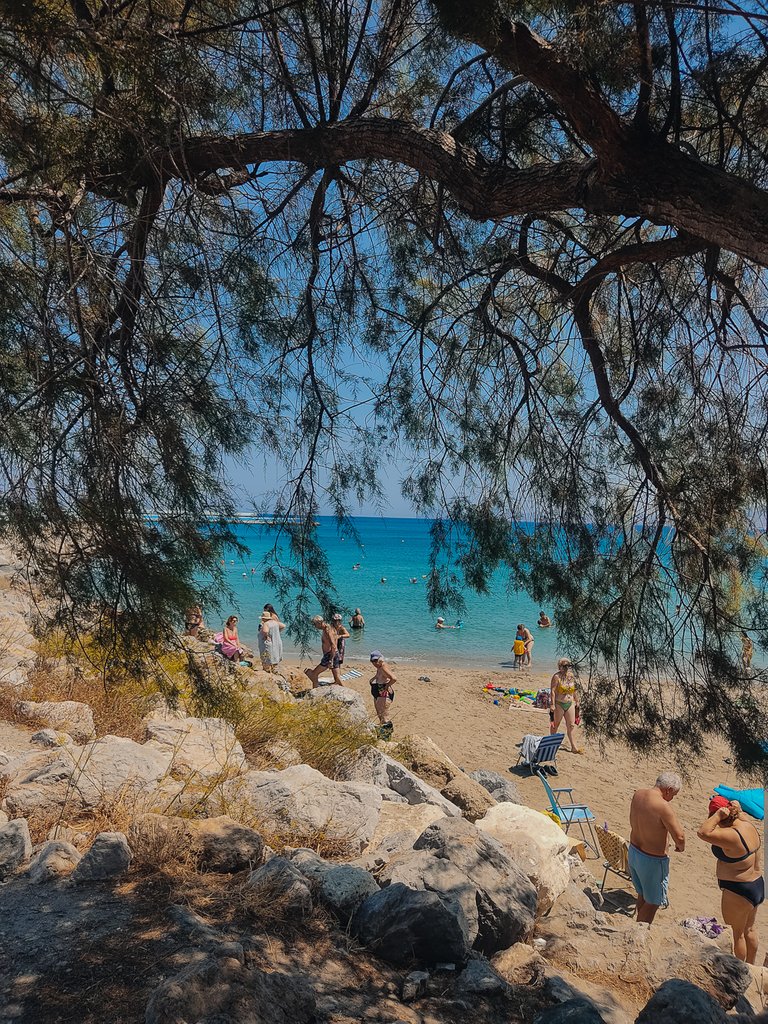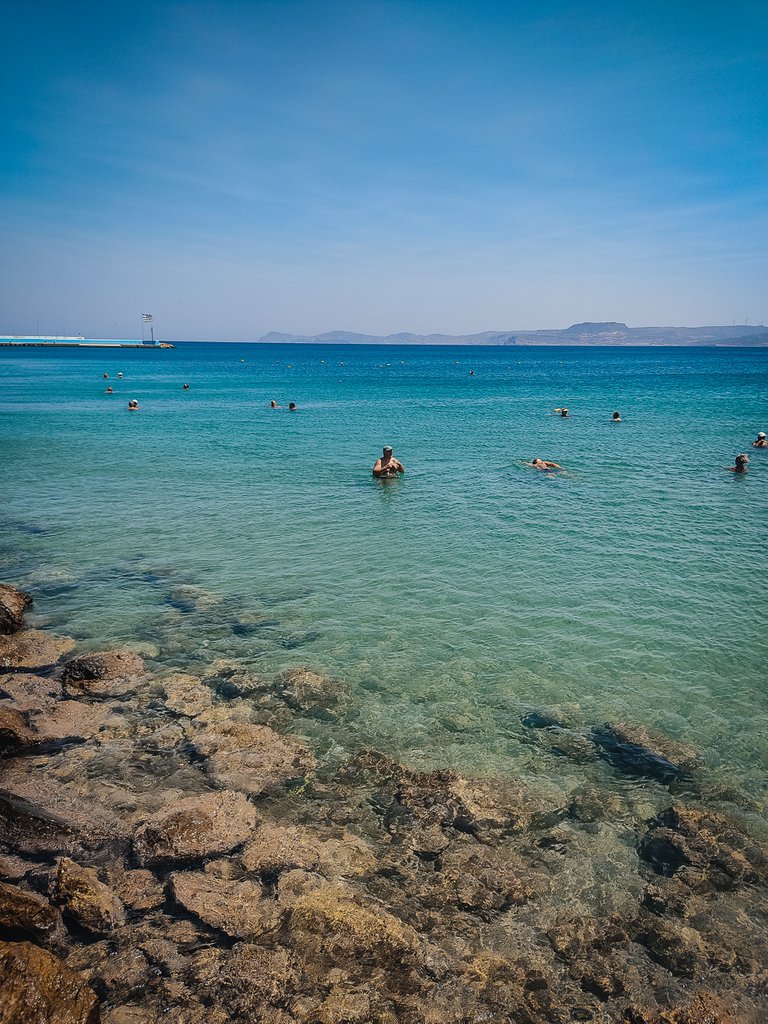 ---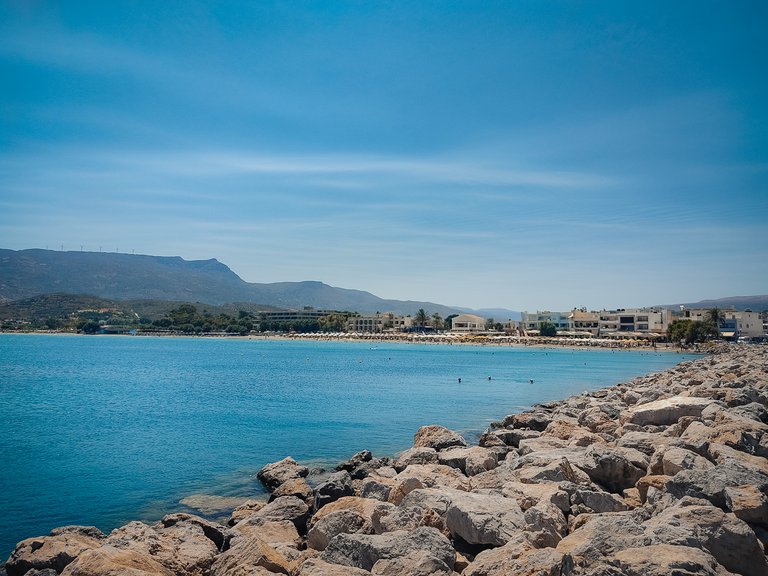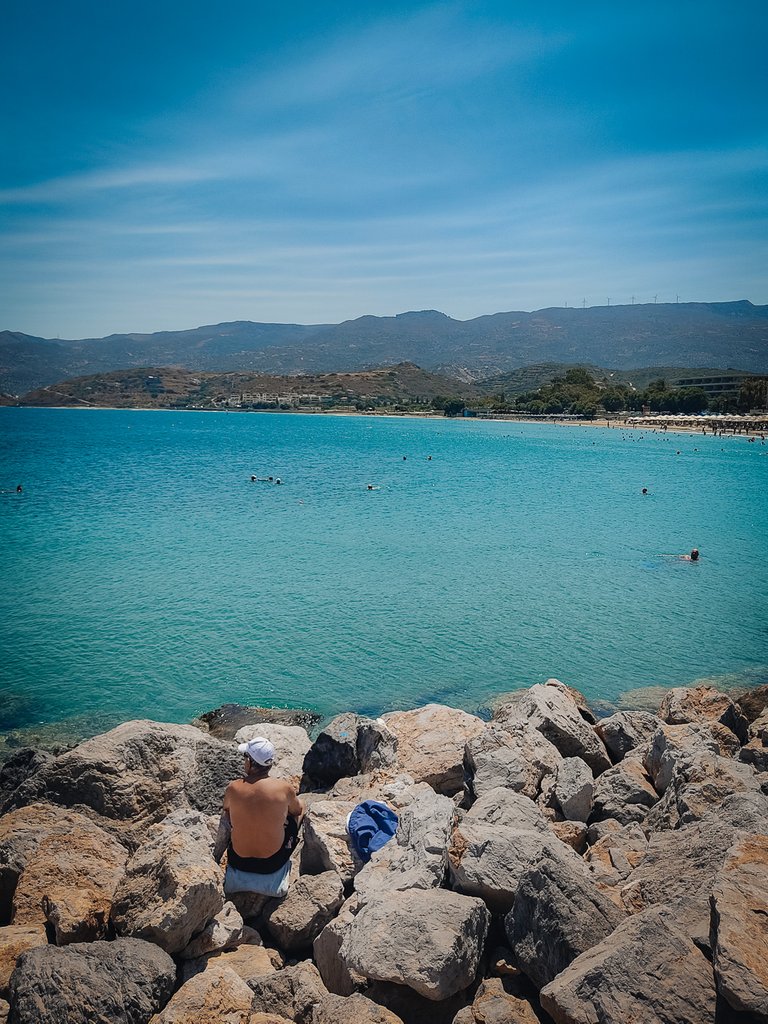 I would like to make a special mention to the little guy at the picture below. I am a sucker for large dogs but this one was the cutest companion during our time there! The funny thing that he (or she, I didn't check) come on its own, without a human that is, found a nice spot and just sat there, a couple of meters next to us!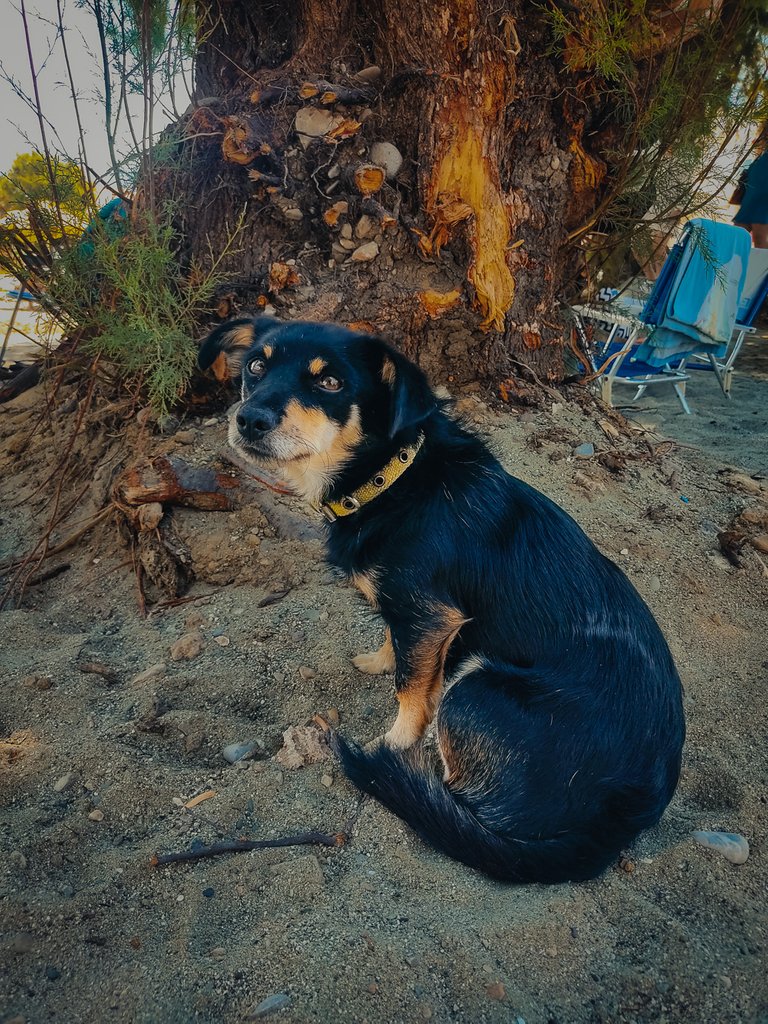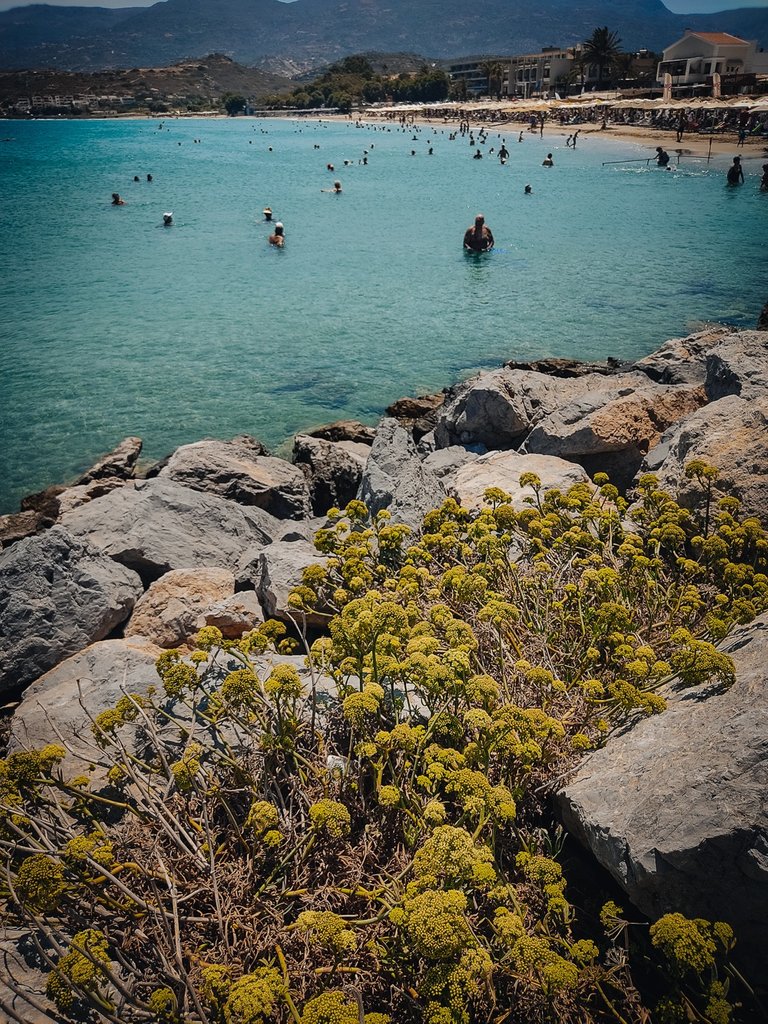 And while we were having a great time the charming guy at the car wash did his best to bring our car from this condition...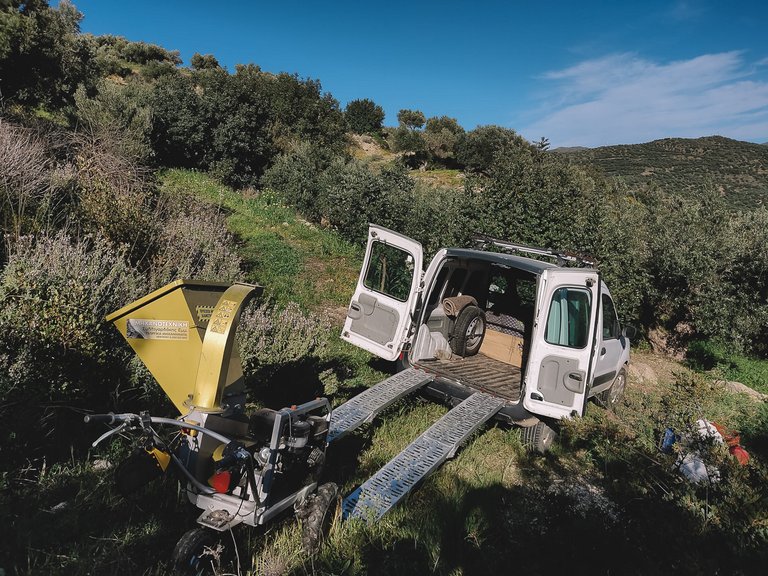 ...to that!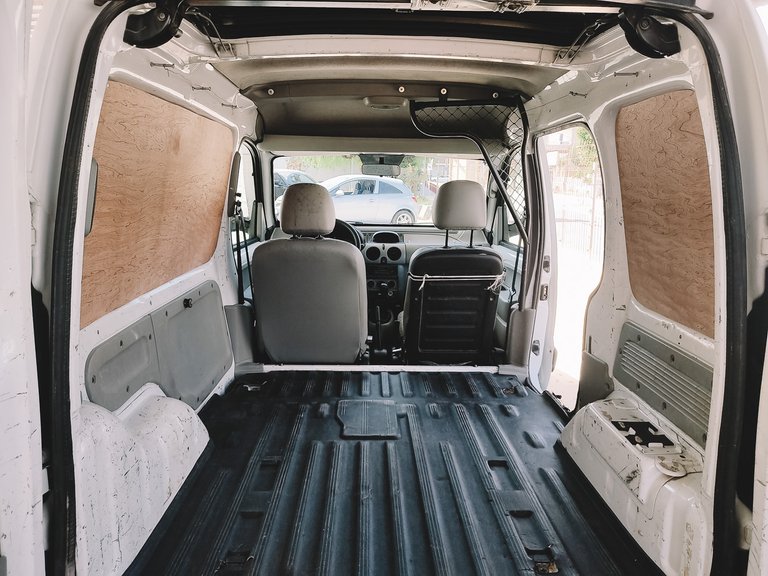 I would say that it was 17 euros well spent :)
---
This is my contribution to #MarketFriday, initiated by @dswigle!
Not much of a market but I hope you'll enjoy it Denise :)
---
All the pictures and the words are mine.
Thank you for reading and if you want to know more about me you can check out my introduction post.
Commenting, upvoting and rebloging are highly appreciated!
---
---