Chess Heart Part II [ENG - ESP]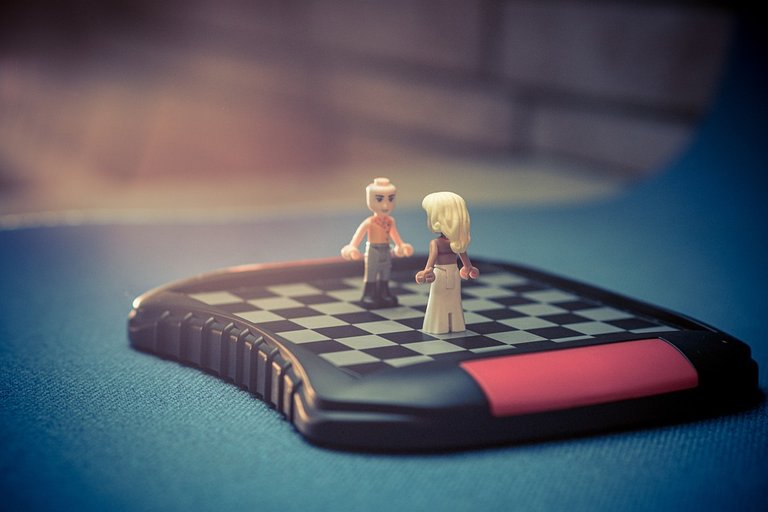 — How is it that you know how to play Chess and you make such an absurd move? —asked Sir Andrés in an arrogant tone —not even the worst beginner would do it.
— And what do you know about Chess? —I asked, feigning disinterest —You don't even know what move I'm about to make.
—! Of course I do! I was state champion 2 years in a row —his tone seemed to be more relaxed and his attitude had changed completely at that moment.
— There was no way I was going to find out — I said in a very childish tone —you won't even talk to me, so....
— ¿Cómo es que sabes jugar Ajedrez y haces esa jugada tan absurda? —pregunto Don Andrés en tono arrogante —ni siquiera el peor de los principiantes lo haría.
— ¿Y qué sabe usted de Ajedrez? -pregunto fingiendo desinterés —ni siquiera sabe que jugada estoy por realizar.
—! Claro que lo sé! Fui campeón estatal 2 años seguidos —su tono parecía ser más relajado y su actitud había cambiado por completo en aquel momento.
— Ni modo no había forma de que me enterará —dije en un tono muy aniñado— usted ni siquiera me dirige la palabra así que...
It was there where he started to talk a lot of things about his life and then I saw it, in his eyes there was an incessant passion when he explained to me how successful he had been as a Chess player. He told me all that afternoon that he had played since he was right and that not even if I was born again could I beat him in a game.
That prediction was true, even playing with a certain advantage I could not beat him but I assure you that since then our afternoons would become the best gift we both could have, there was no more rudeness or tantrums. It was a slow process but with time I came to understand Sir Andres.
He had been a physically very active man and as he grew older he was confined to a chair due to the constant dizziness he suffered but that never stopped the youthful spirit that kept him alive for so long. As soon as he came to love me, he confessed that I had been a light at the end of the tunnel in his path but the truth is that Don Andres was the one who became my guardian angel and I always thank God for having crossed his path.
Fue allí donde comenzó a hablar un montón de cosas acerca de su vida y entonces lo vi, en sus ojos se atisbaba una pasión incesante cuando me explicaba lo exitoso que había sido como jugador de Ajedrez. Me contó durante toda aquella tarde que había jugado desde que tenía razón y que yo ni volviendo a nacer de nuevo podría ganarle una partida.
Aquel augurio fue cierto, ni siquiera jugando con cierta ventaja pude vencerlo pero algo si les aseguro desde entonces nuestras tardes se convertirían en el mejor regalo que ambos pudimos tener, ya no hubo más groserías ni tampoco rabietas. Fue un proceso lento pero con el tiempo llegué a comprender a Don Andrés.
Él había sido un hombre físicamente muy activo y cuando envejeció se vio confinado en una silla, debido a los constantes mareos que sufría pero eso nunca hizo que cesará ese espíritu joven que lo mantuvo con vida tanto tiempo. En cuanto llegó a quererme, me confesó que yo había sido una luz al final del túnel en su camino pero la verdad es que Don Andrés fue quien se convirtió en mi ángel de la guarda y siempre agradezco a Dios por haberme cruzado en su camino.
Time passed and after 3 years working for the Saez family, Sir Andres became seriously ill and very soon he died leaving me a beautiful memory and the best thing a human being can leave you: his legacy, which inspired me to continue my life despite how difficult it was for me to go back to my afternoons without chess or deep conversations.
Sir Andrés taught me not to be a conformist and that to win another person's heart you only have to be sincerely interested in what they are passionate about and for their part they will always have a place in their life for you.
El tiempo pasó y luego de 3 años trabajando para los Sáez, Don Andrés enfermó gravemente y muy pronto murió dejándome un hermoso recuerdo y lo mejor que un ser humano puede dejarte: su legado, que me inspiró a continuar mi vida a pesar de lo difícil que fue para mí volver a mis tardes sin ajedrez, ni conversaciones profundas.
Don Andrés me enseñó a no ser conformista y que para ganarte el corazón de otra persona solo tienes que interesarte sinceramente por lo que les apasiona y por su parte ellos siempre tendrán un lugar guardado para ti en su vida.
---
𝐀𝐧𝐨𝐭𝐡𝐞𝐫 𝐩𝐨𝐬𝐭𝐬 𝐨𝐟 𝐦𝐲 𝐚𝐮𝐭𝐡𝐨𝐫𝐬𝐡𝐢𝐩 | 𝐎𝐭𝐫𝐚𝐬 𝐩𝐮𝐛𝐥𝐢𝐜𝐚𝐜𝐢𝐨𝐧𝐞𝐬 𝐝𝐞 𝐦𝐢 𝐚𝐮𝐭𝐨𝐫í𝐚:
---
---

GIF elaborated by @equipodelta
---
---