Haute Couture Fashion Week 2023 [ESP/ENG]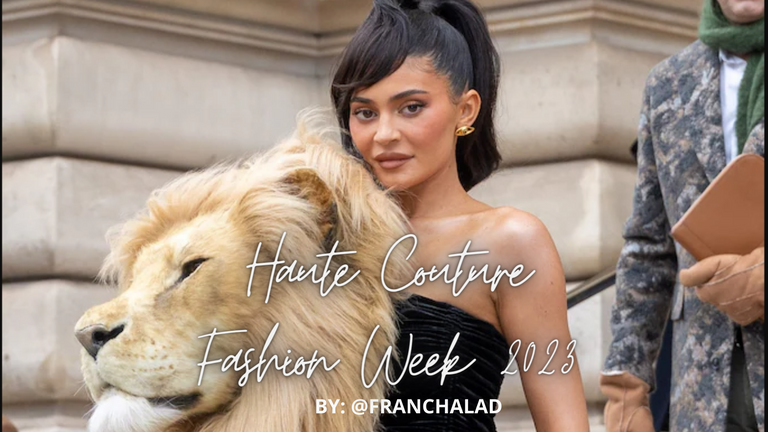 ---
La mejor cobertura de semana de la moda de la Alta Costura en París, casi que desde el Musée Rodin de la capital de la moda, está aquí. Me disfruté mucho este post y me he quedado corto, porque si, hay mucha tela que cortar…
The best coverage of Haute Couture fashion week in Paris, almost that from the Musée Rodin in the fashion capital, is here. I really enjoyed this post and I've been short, because yes, there's a lot of fabric to cut....


La semana de la moda de la Alta Costura en París, es un evento que, como el nombre dice, reúne a lo mejor de lo mejor en cuanto a moda se refiere. Son 3 días: del 23 al 26 de enero, en los cuales la moda es la protagonista de la pasarela en el Musée Rodin. La capital de la moda lleva más de un siglo, dándonos "haute couture" de la mano de casas como Coco Chanel, Christian Dior o Karl Lagerfeld.
Hasta ahí todo va bien, sin embargo, la polémica que se ha armado por el vestido sin tirantes negro, qué lucio la influencer estadounidense Kylie Jenner este primer día, ha traído como consecuencia el repudio de muchos de sus casi 380 millones de seguidores en Instagram.
El vestido no tiene nada en especial, de no ser porque lleva una cabeza de león, superrealista colgando de su hombro. Pero, esto solo era el preámbulo del desfile de alta costura de Schiaparelli diseñada por Daniel Roseberry, como adelanto de la colección primavera verano 2023. Antes de que el shock general que sentimos por el bestial atuendo de la Jenner, se esfumara, tuvimos que ver ese mismo vestido en pasarela.

The Paris Haute Couture fashion week is an event that, as the name says, brings together the best of the best in fashion. There are 3 days: from January 23 to 26, in which fashion is the protagonist of the catwalk at the Musée Rodin. The fashion capital has been giving us "haute couture" for more than a century by the hand of houses like Coco Chanel, Christian Dior or Karl Lagerfeld.
So far so good, however, the controversy that has arisen over the black strapless dress, which wore the American influencer Kylie Jenner this first day, has resulted in the repudiation of many of his nearly 380 million followers on Instagram.
The dress is nothing special, except that it has a lion's head, super-realistic hanging from her shoulder. But, this was just the preamble to the Schiaparelli couture show designed by Daniel Roseberry, as a preview of the spring summer 2023 collection. Before the general shock we felt at Jenner's beastly outfit wore off, we got to see that same dress on the runway.

Iconic #KylieJenner . pic.twitter.com/vsBvEc5fcg

— حَنِـين ☂️ (@IIUMBRELLA_) January 23, 2023

No sería ese solo modelo el que causaría terror. Otros dos modelos con cabezas de leopardos y lobos, nos dejaron boquiabiertos. La polémica, estaba asegurada desde antes. Esta colección está inspirada en su conjunto por la famosa obra de Dante Alighieri, La divina comedia. Para ser más específicos, esta obra está inspirada en los 9 círculos del infierno de Dante.
Inferno Couture, es el nombre de esta colección que ha contado además con la participación en pasarela de Naomi Campbell. Aunque la controvertida colección de Roseberry, ha causado revuelo por el uso de animales o su representación como accesorios, creo que eso era precisamente lo que el creativo quería. Aun cuando la caza indiscriminada de animales siga generando aluviones de críticas.
Kylie Jenner ha tenido que restringir los comentarios en sus redes sociales, luego de que muchos fans la criticaran por usar a los animales como accesorios y hacer apología a la caza. Pero, más allá de eso, la marca se ha defendido de las críticas alegando lo que ellos llaman una "taxidermia de imitación" con fines netamente creativos. Los vestidos debo decir, que son aterradores y causan repulsión. Pero, asimismo, creo que la moda es lo que debe trascender, ¿Qué piensan ustedes?
It wouldn't be that one model alone that would cause terror. Two other models with heads of leopards and wolves, left us speechless. The controversy was assured from before. This collection is inspired by the famous work of Dante Alighieri, The Divine Comedy. To be more specific, this work is inspired by the 9 circles of Dante's inferno.
Inferno Couture, is the name of this collection that has also counted with the participation of Naomi Campbell on the catwalk. Although Roseberry's controversial collection has caused a stir because of the use of animals or their representation as accessories, I think that was precisely what the creative wanted. Even if the indiscriminate hunting of animals continues to generate a barrage of criticism.
Kylie Jenner has had to restrict comments on her social networks, after many fans criticized her for using animals as accessories and making an apology for hunting. But, beyond that, the brand has defended itself from criticism alleging what they call a "imitation taxidermy" for purely creative purposes. The dresses, I must say, are terrifying and repulsive. But I also believe that fashion is what should transcend, what do you think?

Aquí podemos ver la imagen del infierno de Dante de donde nace la colección de Schiaparelli Spring 2023 pic.twitter.com/c0STkoPRXY

— Gerard Cortez (@SoyGerardCortez) January 23, 2023

El front row del desfile contó además con la presencia de la rapera estadounidense Doja Cat, en la que es su primera aparición pública de 2023. Ataviada con 30.000 cristales de Swarovski pegados a mano por la firma Schiaparelli, se robó las miradas de miles de internautas que no sabíamos cómo reaccionar a esta rara creación. Parecía un vestido para la categoría Ébola realnessy debo confesar que me provocó mucha ansiedad.
Cuatro horas pasó sentada para que pegaran cada uno de los cristales ¿Y me preguntó que estaban pensando?, es un vestido perturbador, pero los cristales Swarovski brillaron en la pasarela de Schiaparelli. Hiperrealismo, minimalismo o masoquismo, lo que sea que haya sido, al parecer les ha funcionado porque estamos hablando la colección de esta firma, que estoy seguro se va a ganar el repudio de las asociaciones protectoras de animales.
The front row of the fashion show also featured American rapper Doja Cat, in what is her first public appearance of 2023. Dressed in 30,000 Swarovski crystals hand glued by Schiaparelli, she stole the eyes of thousands of internet users who did not know how to react to this rare creation. It looked like a dress for the Ebola realness category and I must confess that it caused me a lot of anxiety.
Four hours was spent sitting for each of the crystals to be glued on and I wondered what they were thinking, it's a disturbing dress, but the Swarovski crystals sparkled on the Schiaparelli runway. Hyperrealism, minimalism or masochism, whatever it was, it seems to have worked for them because we are talking about the collection of this firm, which I'm sure is going to win the repudiation of animal protection associations.

doja cat parece personaje del universo de hellraiserpic.twitter.com/073hPOgnuN

— Ar-ael ⛥ (@arycarangi) January 24, 2023

Anya Taylor-Joy, sí que nos ha cautivado con un corsé y una falda fabulosa de terciopelo, que ha lucido siendo embajadora de Dior. La firma francesa propuso una colección inspirada en los años 20, que me pareció sencillamente aesthetic. Jisoo de Blanpink, también sirvió moda con un vestido blanco maravilloso, que acompañó con un cabello recogido y flequillos. Este vestido me dio todo lo que necesitaba y no sabía. Madre mía, esto apenas comienza. Ya veremos que nos trae el resto de la fashion week.
Anya Taylor-Joy has captivated us with a corset and a fabulous velvet skirt, which she has worn as an ambassador for Dior. The French firm proposed a collection inspired by the 20s, which I found simply aesthetic. Jisoo from Blanpink, also served up fashion with a wonderful white dress, which she paired with an updo and bangs. This dress gave me everything I needed and didn't know. My goodness, this is just getting started. We'll see what the rest of fashion week brings.

her pic.twitter.com/KuaOlcpPtR

— best of anya taylor-joy (@anyafolders) January 23, 2023

Lo hermosa que se veía 🤍

JISOO AT DIOR COUTURE SHOW#LadyJisooxDiorCoutureSS23pic.twitter.com/HvqOmXheco

— alessa✧༶⁠⁴ (@95fairyroses) January 24, 2023


---
---
La imagen de la portada fue recortada de esta fuente y editada con Canva - The image on the cover was cropped from this source and edited with Canva

---
---