MY MYSTICAL PARAGON WARRIOR BIRD (A BIRD WARRIOR CHALLENGE I JOINED)
Hi guys! I hope we're all doing well and standing strong dealing with our life problems.
So, I was on Instagram sometime ago, came across this Challenge called "Bird Warrior". Aim was for Artists to get as imaginative as they can to illustrate Birds that can be used in battle, like in the Old days.
I jumped on this challenge. It looked so cool and exciting. I was initially clueless as to what to do even while I was sketching. I just trusted the process (one thing I've learned) and kept scrambling until the complete picture started falling into my brain in little blocks.
My completed work.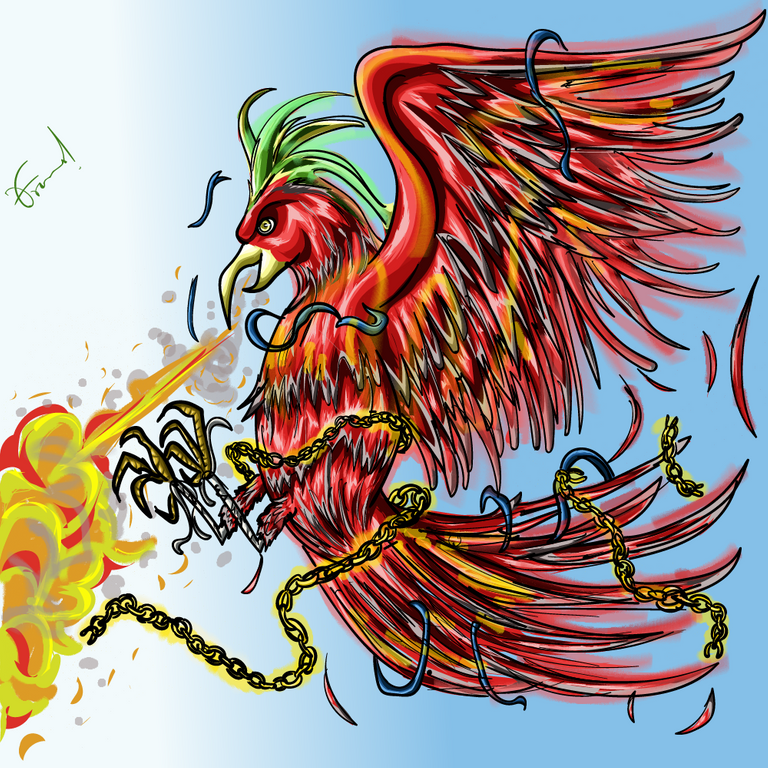 After I came up with some sketch that was now seeming to make sense, have a look below.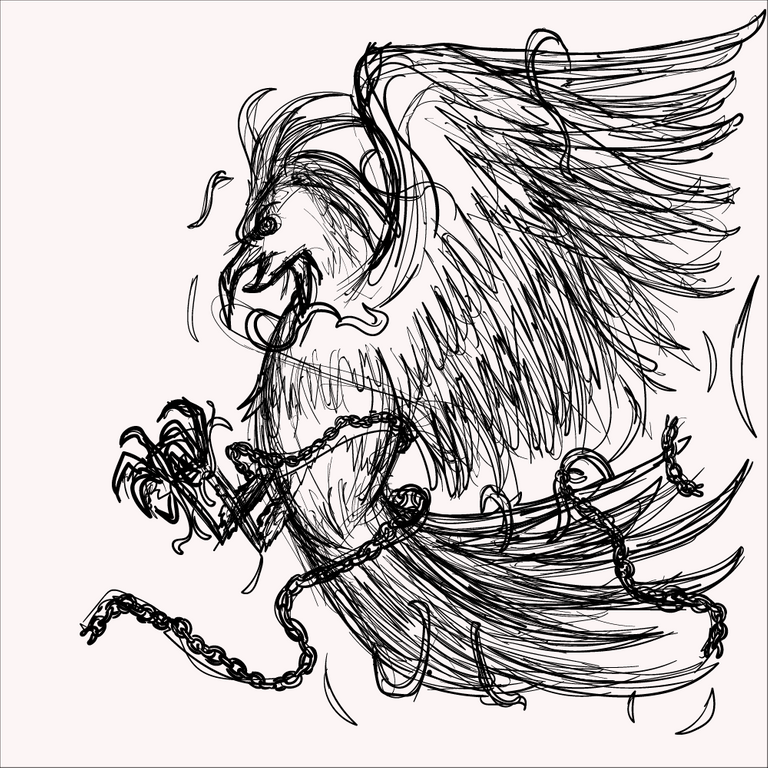 I decided to neatly create my line Art by lowering the opacity of the sketch layer, tracing out only important lines.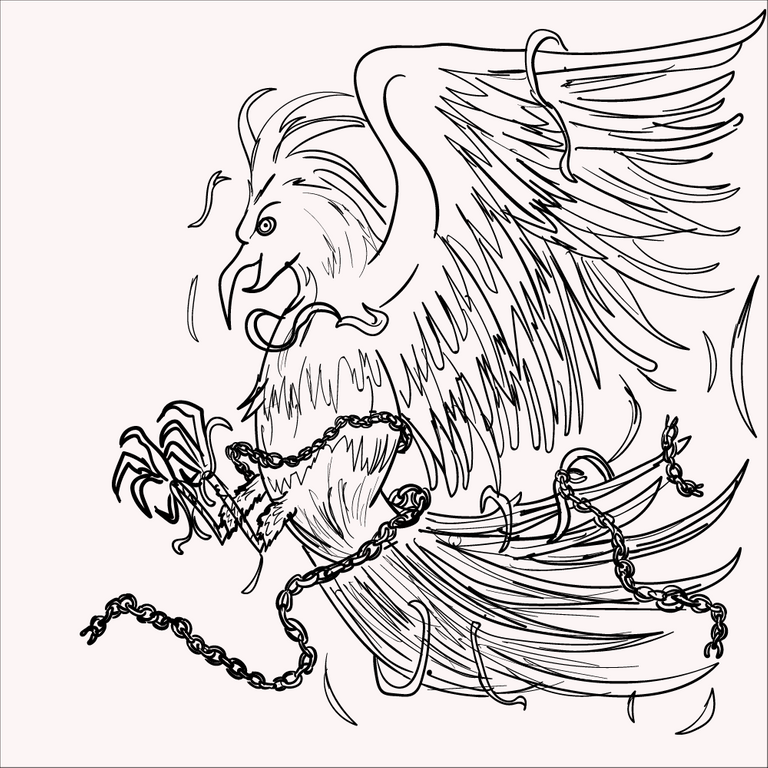 At this point, I was so happy with the outcome of how it was starting to make some sense, I was also looking forward to the turnout after the coloring. You definitely are aware bad coloring can ruin some meant-to-be beautiful work. Not like I was confident enough to colour, it was more like being scared but was eager to explore how this one was gonna go.
Next step, I moved to for the base colour. Picked red cause it probably will make the bird look more dangerous, fearless and battle-like.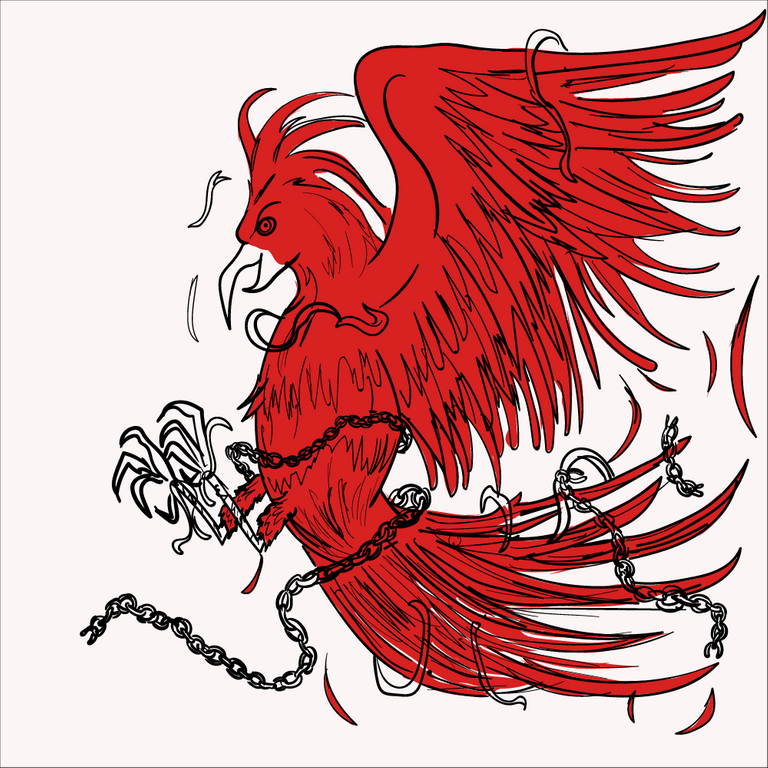 I added darker shades of the base color to specific areas of the feathers to give it character. The darker shade I added, the more I was being specific as to which areas will have very little or no exposure to light.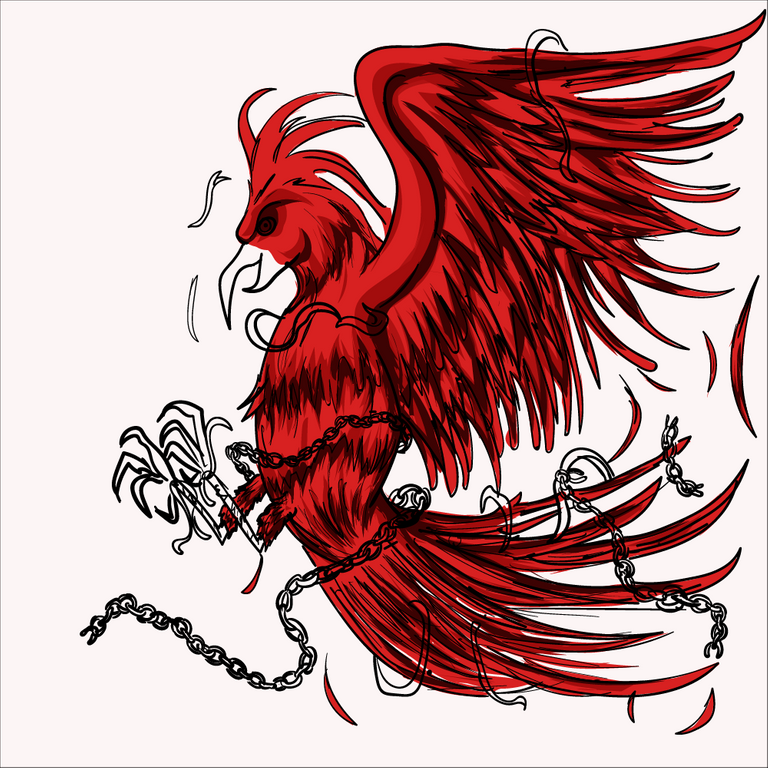 Guess what was next ? Yeah, you guessed right. It was to add lighter shades this time. As I did while applying the darker shades, but this time, it was the opposite. I started with areas with less exposure to light and then lightest shades for areas most exposed to light.
This created this contrasting color effect between the dark and light part. It also helped in making the work look more detailed.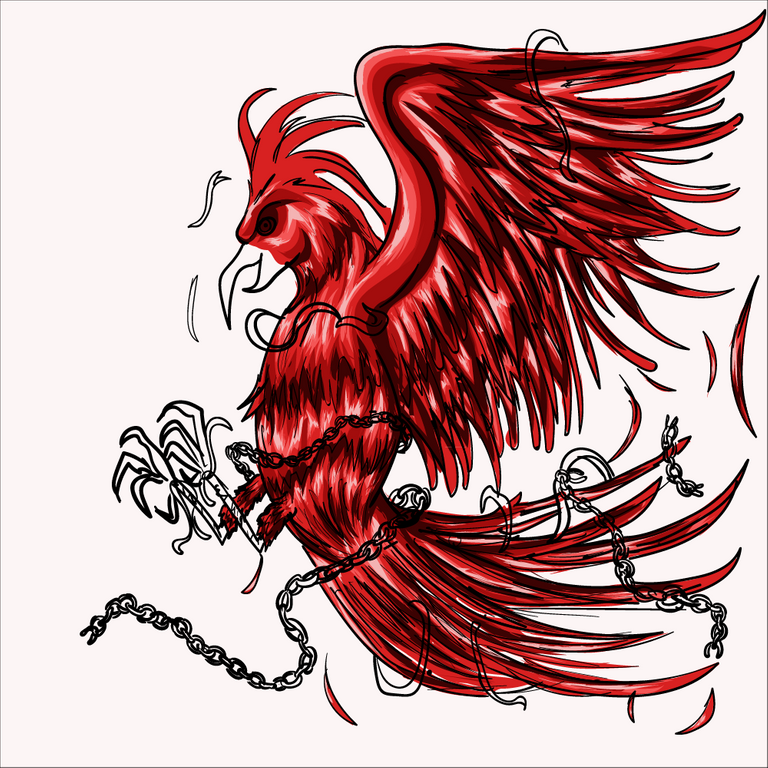 Next was coloring the beak, fangs and feet, feathered tips, its comb and eyes. Starting from the beak, the most exposed part to light was the top of the beak. Beneath - close to the roof of its mouth was the darkest.
The fangs, had to color them patiently and singly, so they could appear so dangerous and rough.
The feathered tips was to further beautify this bird. I chose a completely different color to come in as a complementary one.
Yellow and green does go together ! This was what I thought before I applied the green color its comb. Trust me, it definitely turned out more beautiful and amazing than expected.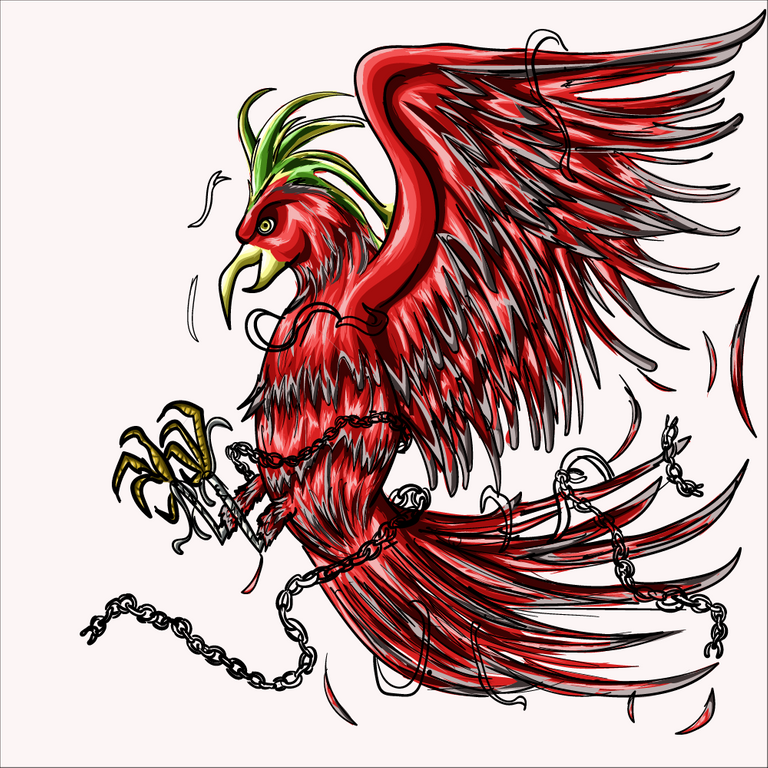 I did a couple of several things next. I added some color radiating effect around the body to make it look more fierce and interesting, I also colored the cloth that torn to pieces and also the broken chain. I've said that for the last.
I added those to communicate how strong this bird is, to show that in this scene, it was actually trapped but broke out angrily , to burn everything around it and whatsoever that provoked its wrath.
Illustrating the fire it breathed was one of the hardest and most interesting part. I wanted people to easily identify that this was a fire, but I didn't know how to achieve that in coloring. I decided to play around with 3 main colors: red, yellow and a grey - to give it this smoky effect.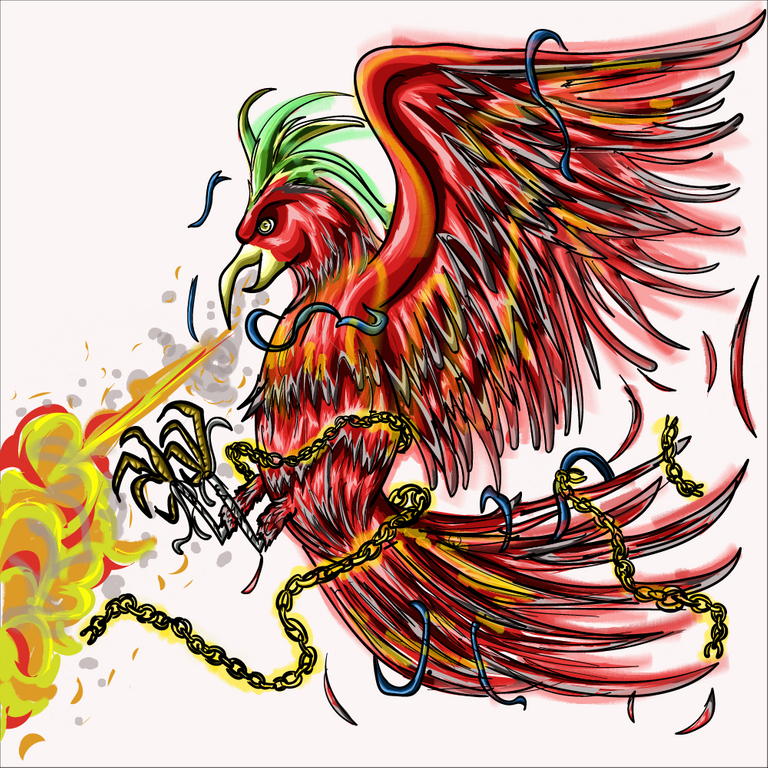 Last step was to add a background color. Definitely it had to look like the skies, because the bird is obviously in air.
As always, last thing to do was to sign my Artist Signature! - this was something that looked so off when I initially began signing on all my works, but now it has become that last piece that must be added to complement the work, and without it, it seemed the work was never complete.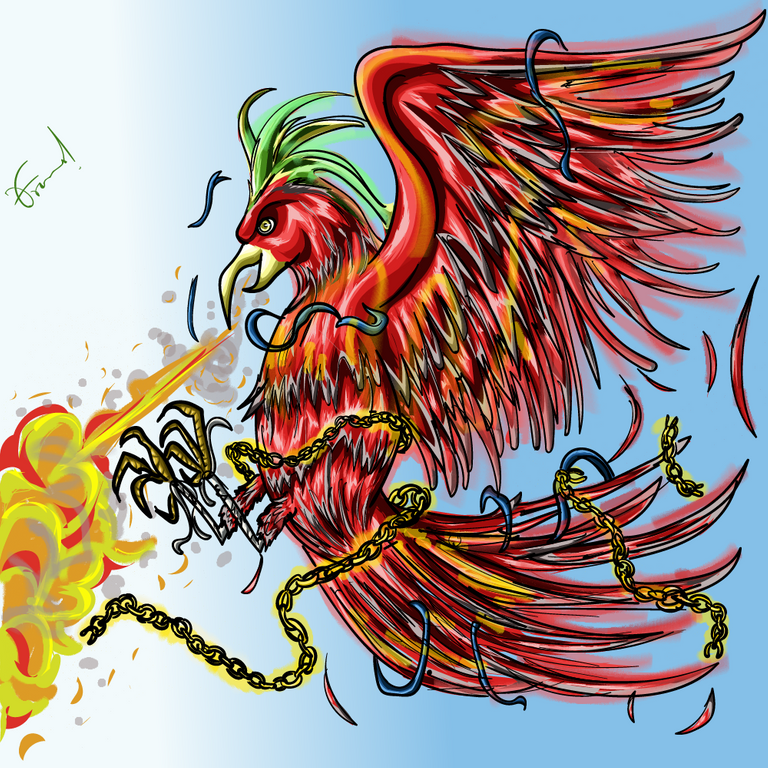 Aaand it's a wrap.Thank you so much for your time! Lemme know what you think about this work?
---
---