PUBG Mobile ~ Analizando los Rifles de Asalto ~ [ENG|ESP]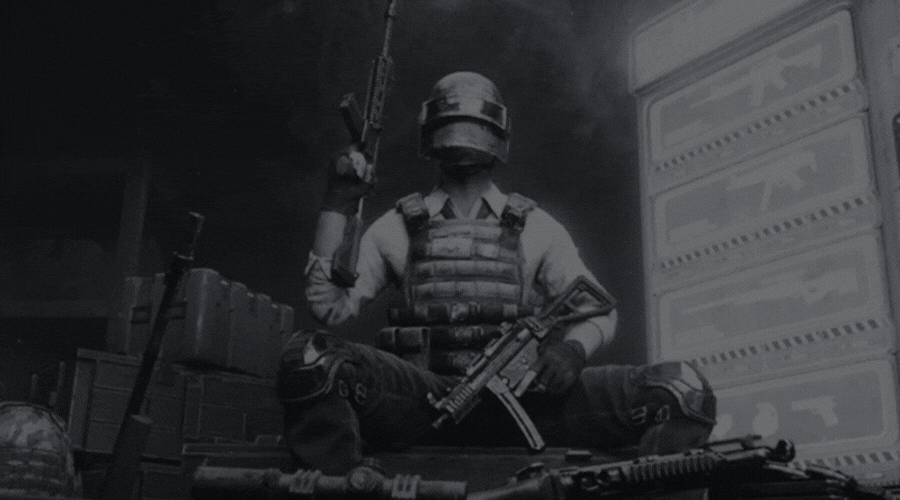 Cover Made in Canva
---
¡Buenas mis panas geeks y gamers! ¿Como están? espero de corazón que muy bien, como de costumbre, seguiremos de Pubg hasta que termine de solucionar mis problemas memoristas relacionados con mi pc, en esta ocasión, pretendo compartirles mis experiencias utilizando distintas armas que encaja en las categorías de rifles de asalto y algunos que son en realidad más emparentados con francotiradores, pero sin perder mucho en sus cualidades que los hace entrar también en la familia de los rifles de asalto, como las armas suelen variar un poco entre mapa y mapa, hablare primeros de las que son más comunes, jugando en el gigantesco mapa de Erangel y siendo este también el más popular hasta ahora, dejando de lado algunos otros rifles que espero cubrir en otra ocasión, dicho esto, ¡Comencemos!
Hello my fellow geeks and gamers! How are you? I hope very well, as usual, we will continue to Pubg until I finish solving my memory problems related to my pc, this time, I intend to share my experiences using different weapons that fit into the categories of assault rifles and some that are actually more related to snipers, but without losing much in their qualities that makes them also enter in the family of assault rifles, as weapons tend to vary a bit from map to map, I will talk first of those that are more common, playing in the gigantic map of Erangel and this also being the most popular so far, leaving aside some other rifles that I hope to cover another time, that said, let's start!
---
AKM - Retroceso & Potencia
AK47 - Recoil & Power
---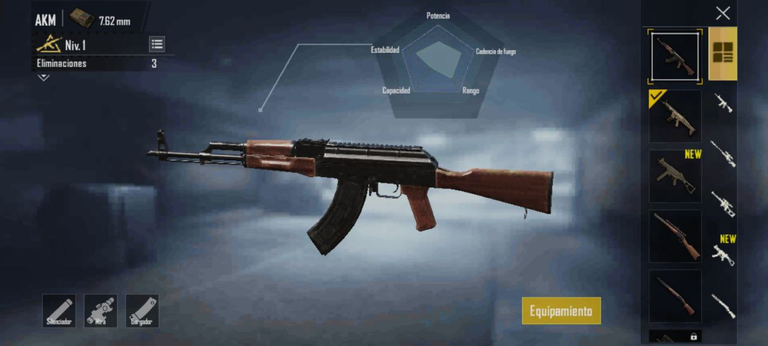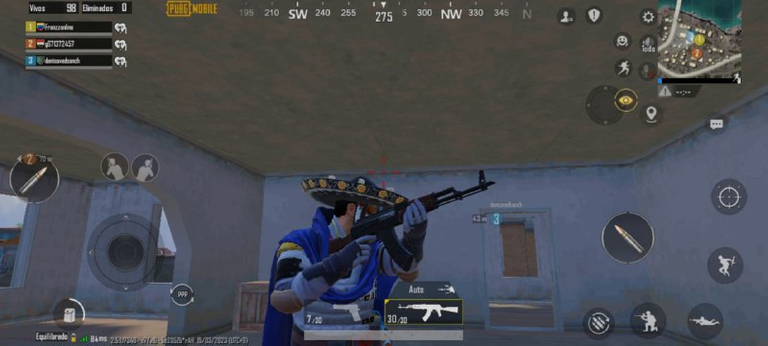 ---
Empecemos con un clásico de toda la vida en los Shooters, la AKM, este rifle de origen soviético es prácticamente una obligación que este en todo obra que pretende complacer a aquellos que son fans de armamento en los videojuegos, y en Pubg no es diferente, esta arma es uno de los rifles de asalto más potentes que uno se quede encontrar al revisar las casas, pero tiene varios "Detalles" que hace que muchos jugadores descarten armarse con este rifle, y hablo por su puesto, de su nefasto retroceso, tanta inestabilidad a la hora de disparar es uno de los factores que causan una imprecisión gigantesca, que hagas que falles mas tiros de los que aciertas, a o que se le suma que no es un arma qeu haya sido hecha para darle colocarle muchos añadidos, como culatas que le brinden más estabilidad o empuñaduras que garanticen un mejor agarre, pese a todos sus detalles, el AKM es una de las pocas armas que cuentan con el calibre más poderoso del juego, cosa que justifica tanta potencia, aquel que pueda dominar esta arma, seguramente sera capaz de adaptarse a cualquier rifle similar o mejor, yo la recomendaría solo en caso que ya tengas experiencias y conozcas tus capacidades entro del juego, si no, probablemente dejará insatisfecho a más de uno.
Let's start with a classic of all life in the Shooters, the AKM, this rifle of Soviet origin is practically an obligation that this in all work that aims to please those who are fans of weaponry in video games, and Pubg is no different, this weapon is one of the most powerful assault rifles that one is left to find when reviewing the houses, but it has several "Details" that makes many players discard to arm themselves with this rifle, and I speak of course, of its nefarious recoil, so much instability when shooting is one of the factors that cause a gigantic inaccuracy, that make you miss more shots than you hit, to which is added that it is not a weapon that has been made to give it many additions, such as stocks that provide more stability or grips that ensure a better grip, Despite all its details, the AKM is one of the few weapons that has the most powerful caliber in the game, which justifies so much power, those who can master this weapon, surely will be able to adapt to any similar or better rifle, I would recommend it only if you already have experience and know your capabilities in the game, otherwise, it will probably leave more than one unsatisfied.
---
M16A4 - Confiable pero sin rapidez
M16A4 - Reliable but not fast
---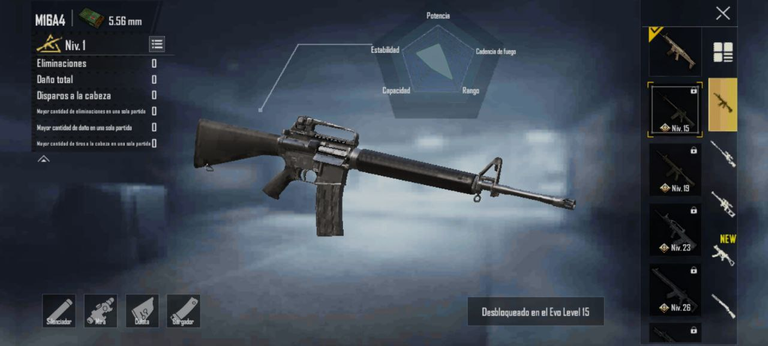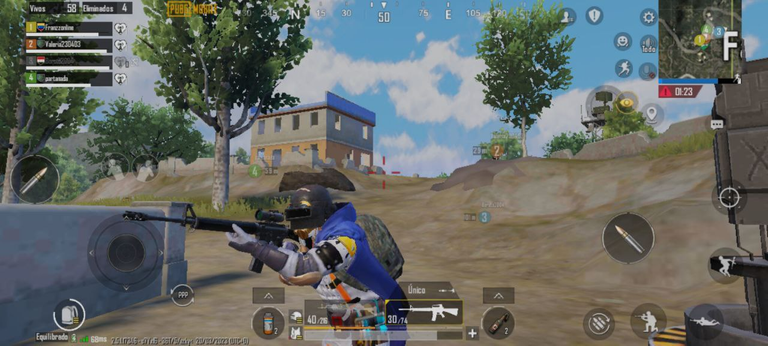 ---
Otro que puede ocasionar un resultado final similar es su rival histórico más grande, el M16A4, un arma iconica gracias a las peliculas y a los conflictos mundiales, tambien hace acto de presencia en Erangel, en el juego, es u rifle de asalto que sirve como una excelente primera arma para tomar en cuenta, capaz de disparar en ráfagas y a tiro único, con un retroceso sumamente manejable y que no afecta a la hora de mantener disparos sostenidos en una posición, sin embargo, en enfrentamientos de corto alcance, pierde completamente casi cualquier arma, al no contar con el codiciado disparo automático, por lo que esta más asociado a francotirador de lo que uno puede creer al principio, no obstante, el M16A4 cuenta con las suficientes ventajas en escenarios tan extensos como Erangel, que se puede trabajar con ella desde que se la adquiere hasta el final de la partida, también es capaz de contar con algunas modificaciones que le agregan más personalización a un arma cuya precisión además es envidiable, característica que no comparte con su potencia de fuego lamentablemente que no logra hacer tanto daño como uno quisiera ante chalecos de altos niveles, nada que un tiro bien colocado en el casco no solucione claro esta, pero este rifle, es más adecuado para situaciones en las que se pretende emboscar desde la distancia y no para situaciones de corto alcance o más tensas, donde seguramente, uno termine perdiendo ante armas con cadencia de disparo o potencia más amenazantes.
Another that can cause a similar end result is its biggest historical rival, the M16A4, an iconic weapon thanks to movies and world conflicts, also makes an appearance in Erangel, in the game, is an assault rifle that serves as an excellent first weapon to take into account, capable of firing in bursts and single shot, with an extremely manageable recoil that does not affect the ability to maintain sustained fire in a position, however, in close-range engagements, it completely loses almost any weapon, as it does not have the coveted automatic fire, so it is more associated with sniping than one might think at first, however, the M16A4 has enough advantages in scenarios as extensive as Erangel, that you can work with it from the moment you acquire it until the end of the game, it is also capable of having some modifications that add more customization to a weapon whose accuracy is also enviable, a feature that is not shared with its firepower unfortunately that fails to do as much damage as one would like against high level vests, nothing that a well placed shot in the hull does not solve of course, but this rifle is more suitable for situations in which it is intended to ambush from a distance and not for short-range or more tense situations, where surely, one ends up losing to weapons with more threatening rate of fire or power.
---
MK47 Mutante - El más infravalorado
MK47 Mutant - The Most Underrated
---
---
El MK47 Mutante, es probablemente el patito feo de los rifles de asalto del juego, y pese a todo, es uno de los pocos rifles que además de contar con el calibre más pesado del juego, también es una de las pocas armas que tiene tantas opciones para ser modificable, la razón por la que casi nadie usa esta arma, presumo, es por la existencia de rifles francotiradores que hacen el mismo trabajo pero provocando más daño y manteniendo una equiparable cadencia de fuego, no podría hablar mucho de mi experiencia usando porque no suelo tomarlo mucho para ser totalmente honesto, pero las veces que lo he usado, no me parece un descarte total, como todo en el juego, dependerá de la situación de la partida y de la experiencia del jugador manejando rifles de este estilo.
The MK47 Mutant, is probably the ugly duckling of the assault rifles in the game, and despite everything, is one of the few rifles that in addition to having the heaviest caliber in the game, is also one of the few weapons that has so many options to be modifiable, the reason why almost no one uses this weapon, I presume, I could not talk much about my experience using it because I do not usually take it much to be totally honest, but the times I have used it, I do not find it a total discard, like everything in the game, it will depend on the situation of the game and the experience of the player handling rifles of this style.
---
Mini14 - Un Sniper de bolsillo
Mini14 - A Pocket Sniper
---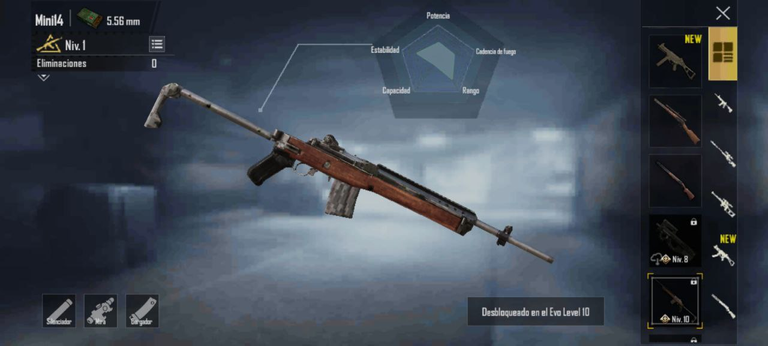 ---
Contrario a la MK47, la Mini14 es uno de los favoritos entre los jugadores, es comun encontrarse jugadores en el equipo portandolas e incluso yendo de frente hacia el enemigo con ellas, sirve tanto para situaciones de mediano alcance como de de un rango mucho más lejano, a su vez, cuenta con un respetable daño al cual hay que tenerle cierto respeto, pues puede que no te derribe de un solo tiro, pero su gran estabilidad disparando ofrece al tirador más de una oportunidad para acertar al objetivo, quizás la mayor critica que se le puede hacer es que es un arma que cumple con lo mínimo en cuanto a modificaciones, tan solo con posibilidades de mejorar el cargador, la mira y la boquilla del arma, pero teniendo en cuenta que su uso más común es como un mini francotirador, me parece suficiente, la recomendaría llevarla en caso de necesitar algo que disparé a largas distancias y claro, teniendo miras para colocarle.
Contrary to the MK47, the Mini14 is one of the favorites among the players, it is common to find players in the team carrying them and even going head on towards the enemy with them, it is useful for both medium range situations and a much more distant range, at the same time, it has a respectable damage to which you have to have some respect, because it may not knock you down with a single shot, but its great firing stability offers the shooter more than one opportunity to hit the target, Perhaps the biggest criticism that can be made is that it is a weapon that meets the minimum in terms of modifications, only with possibilities to improve the magazine, the sight and the nozzle of the weapon, but considering that its most common use is as a mini sniper, I think it is enough, I would recommend it in case you need something that shoots at long distances and of course, having sights to place it.
---
FAMAS - Sacreblú que es este retroceso
FAMAS - Sacreblú what is this recoil
---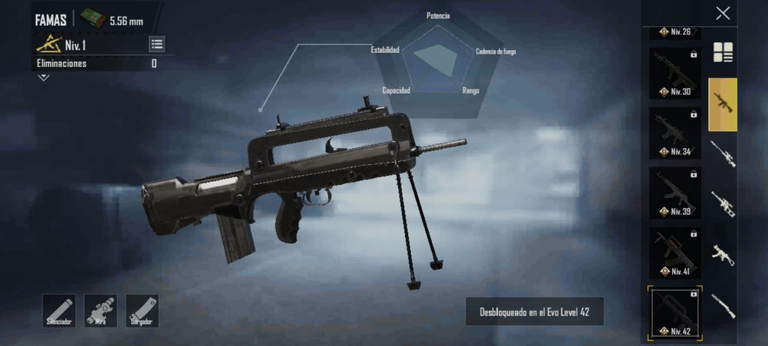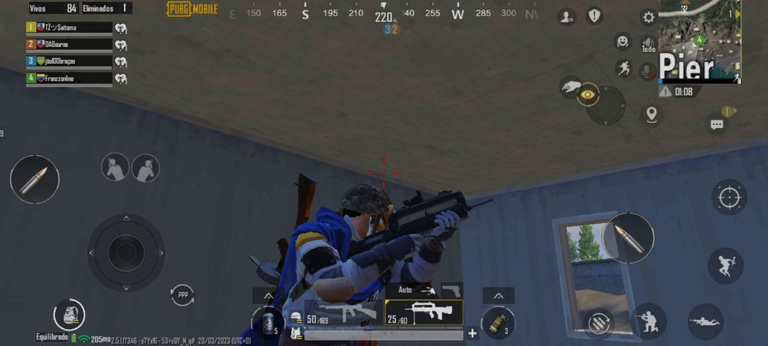 ---
Ahora hablemos del FAMAS, por lo que se darán cuenta por el titulo, mucho aprecio a esta arma no le tengo, y es principalmente porque no he encontrado un punto medio con este rifle, por un lado, o disparas tan bien que te terminas bajando a una escuadra entera con un cargador, o literalmente vas a sufrir intentado atinarle a algo que se mueva, encima, el FAMAS cuenta con menos munición en el cargador, menos estabilidad, y bueno, es un menos de todo en verdad, sin embargo, si hay algo que he percibido de este exponente, es que su daño es bastante bestial, tal vez incluso mas que el resto de rifles que utilizan el mismo tipo de bala pero no lo puedo confirmar, sin embargo, creo que no se los puedo recomendar, especialmente no puedo hacerlo a los que están más nuevos en el juego, porque en serio, la van a pasar mal a menos que tengan un control excelente de este rifle.
Now let's talk about the FAMAS, as you will notice by the title, I don't like Now let's talk about the FAMAS, as you can tell by the title, I don't like this gun very much, and it's mainly because I haven't found a middle ground with this rifle, on the one hand, you either shoot so well that you end up taking down a whole squad with one magazine, or you are literally going to suffer trying to hit something that moves, or you are literally going to suffer trying to hit something that moves, on top of that, the FAMAS has less ammo in the magazine, less stability, and well, it is a less of everything really, however, if there is something that I have perceived of this exponent, is that its damage is quite beastly, maybe even more than the rest of the rifles that use the same type of bullet but I can not confirm it, however, I think I can not recommend it, especially I can not do it to those who are newer to the game, because seriously, they will have a hard time unless they have excellent control of this rifle.
---
M762 - La Evolución de una AK
M762 - The Evolution of an AK
---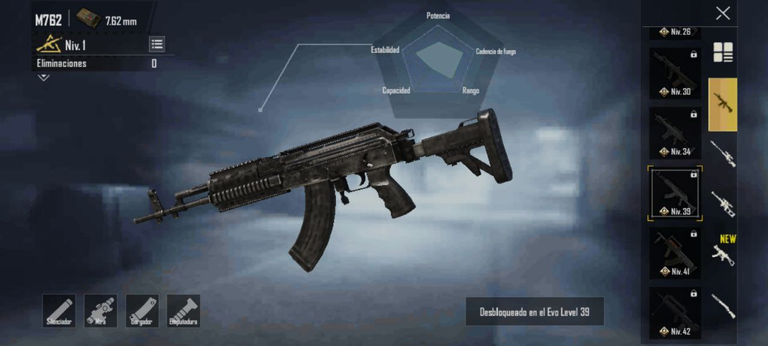 ---
Como mencione al principio, la AK es una opción poco fiable si se pretende tener estabilidad en el disparo, la M762, aunque sigue teniendo bastante retroceso, me resulta más manejable, y contiene más añadidos que se le pueden incluir al arma para dejarla lo suficientemente equipada para que sea mortal ante cualquier enemigo, esta por lejos es la opción que más recomendaría si pretendes jugar una partida utilizando el calibre 7.62mm pues tiene todo lo necesario para llevarte a la victoria, no obstante, no culpo a quienes este rifle, les sigue pareciendo demasiado difícil de ocupar, pues te tienes que acostumbrar primero a usarlo para decidir si va contigo o no.
As I mentioned at the beginning, the AK is an unreliable option if you intend to have stability in the shot, the M762, although it still has enough recoil, I find it more manageable, and contains more additions that can be included to the weapon to leave it sufficiently equipped to be deadly to any enemy, this by far is the option that I would recommend if you intend to play a game using the 7. 62mm as it has everything you need to lead you to victory, however, I do not blame those who still find this rifle too difficult to use, as you have to get used to it first to decide if it suits you or not.
---
SCAR-L - Mi opción preferida
SCAR-L - My preferred choice
---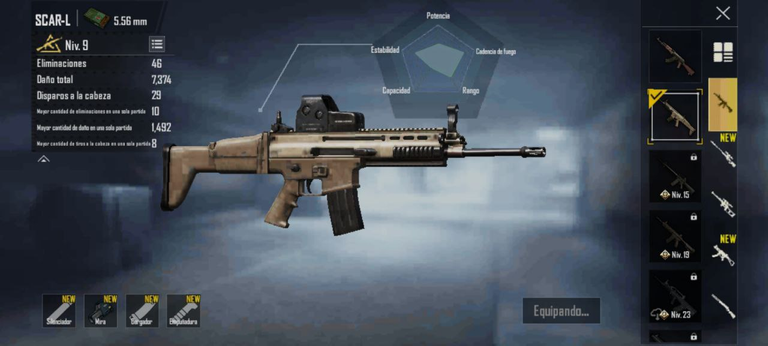 ---
La SCAR-L, en cambio, es uno de esos rifles en los no creo que ninguno vaya a encontrar dilemas serios de los cuales quejarse, potente, manejable, con suficientes añadidos, y con un estilo tremendo, la SCAR-L es uno de eoss rifles que intento casi siempre de tener en mi arsenal cuando voy en partidas largas, esto quizás les parezca extraño a algunos, pues estoy seguro que pensaban que diría que la M4 era mi preferida hahah, pero lo cierto es, que en el jueog, he tenido muchos menos problemas manejando este exponente, que el descendiente de la M16 clásica, creo que la SCAR-L puede ser recomendada a casi cualquier jugador, pues es letal tanto en manos inexpertas como en los dedos de un profesional del tiro, me cuesta encontrarle seriamente problemas a este rifle, pero si hay algo que se tiene que decir, es que no es la opción más popular entre los jugadores, ese puesto le corresponde a nuestro ultimo puesto.
The SCAR-L, on the other hand, is one of those rifles in which I don't think anyone will find serious dilemmas to complain about, powerful, handy, with enough additions, and with a tremendous style, the SCAR-L is one of the rifles that I try almost always to have in my arsenal when I go on long games, this may seem strange to some, as I'm sure they thought I would say the M4 was my favorite hahah, but the truth is, in the game, I've had far fewer problems handling this exponent, I think the SCAR-L can be recommended to almost any player, as it is lethal both in inexperienced hands and in the fingers of a professional shooter, I find it hard to find serious problems with this rifle, but if there is something that has to be said, it is that it is not the most popular choice among players, that place belongs to our last post.
---
M416 - La indiscutible favorita... y con razón
M416 - The undisputed favorite... and with good reason
---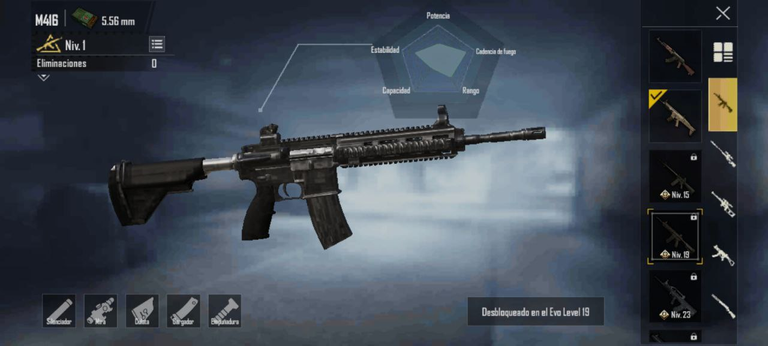 ---
La M416 es prácticamente la más codiciada entre ls jugadores, y afortunadamente, no es tan complicado conseguirla, tampoco es que el arma te otorgue ventajas sobre los demás, pero si es cierto que es una de las armas, más iconicas, más modificables y con mayor estabilidad en el juego, no sufre de un retroceso espantoso ni tampoco limitado su cadencia de tiro negando el modo automático, es un arma que esta hecha para todo tipo de enfrentamientos, desde los lejanos hasta los cercanos, claro, esta demás decir que un arma que tiene más efectividad en ciertas áreas, hará que el M416 pierda su impacto en combate, por ejemplo, no sera competencia en sitios cerrados contra un buen tiro de escopeta, pero lo que si se mantendrá, es que podrá facilitar a los jugadores de muchas maneras de enfrentarse al enemigo, tanto de distancias largas como en distancias cortas, sin perder demasiado en el proceso, además, es una de las más queridas en la comunidad de Pubg por lo que le termina sumando los puntos necesarios para considerar una de las mejores, si no es que la mejor arma de Erangel en cuanto rifles de asalto.
The M416 is practically the most coveted among players, and fortunately, it is not so complicated to get it, it is not that the weapon gives you advantages over others, but it is true that it is one of the most iconic weapons, more modifiable and with greater stability in the game, it does not suffer from a dreadful recoil nor limited its rate of fire denying the automatic mode, it is a weapon that is made for all types of confrontations, from the distant to the close, of course, is not to say that a weapon that has more effectiveness in certain areas, will make the M416 lose its impact in combat, for example, will not be competition in close quarters against a good shotgun shot, but what will remain, is that it can provide players in many ways to engage the enemy, both long distances and short distances, without losing too much in the process, in addition, it is one of the most beloved in the community of Pubg so it ends up adding the necessary points to consider one of the best, if not the best weapon of Erangel in terms of assault rifles.
---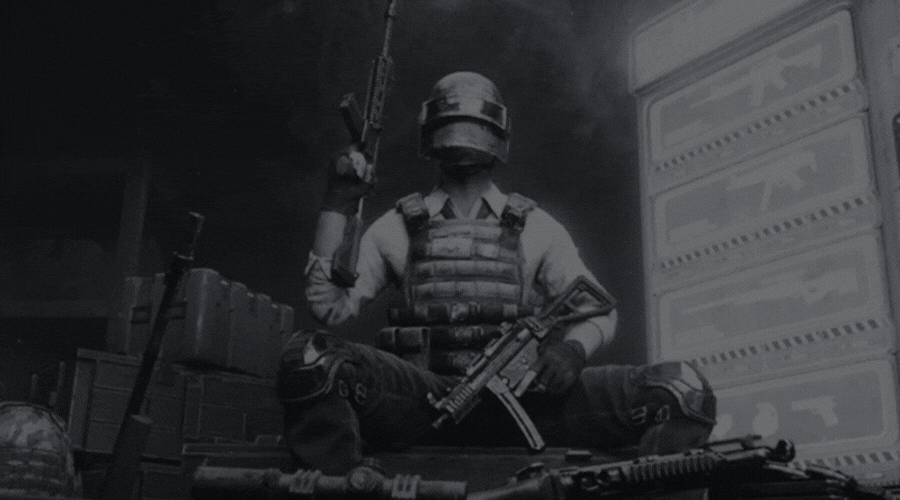 Cover Made in Canva
---
¡Muchas gracias por leer! demás esta decir que esta es meramente mi opinión y experiencias utilizando estos rifles, cada uno tiene sus preferencias mis panas, y su estilo de jugar también, espero que este nuevo "enfoque" hablando de las armas del juego les haya parecido como mínimo interesante y a tomar en cuentas para sus futuras partidas, yo por lo pronto, me siento contento de traerles este contenido, sugerencias y comentarios más que agradecidos mis panas, hasta una próxima oportunidad, no se olviden que los quiero :)
Thank you very much for reading! I have to say that this is merely my opinion and experiences using these rifles, everyone has their own preferences my friends, and their style of playing too, I hope you found this new "approach" talking about the weapons of the game at least interesting, and to take into account for your future games, I for one, I am happy to bring you this content, suggestions and comments more than grateful my friends, until next time, don't forget that I love you :)
---
Todas las imágenes son capturas de pantalla tomadas desde mi telefono, un Redmi 9C de 64 GB
All images are screenshots taken from my phone, a 64 GB Redmi 9C.
---
---
---