Ozark - Season I: My personal REVIEW. [ENG/ESP]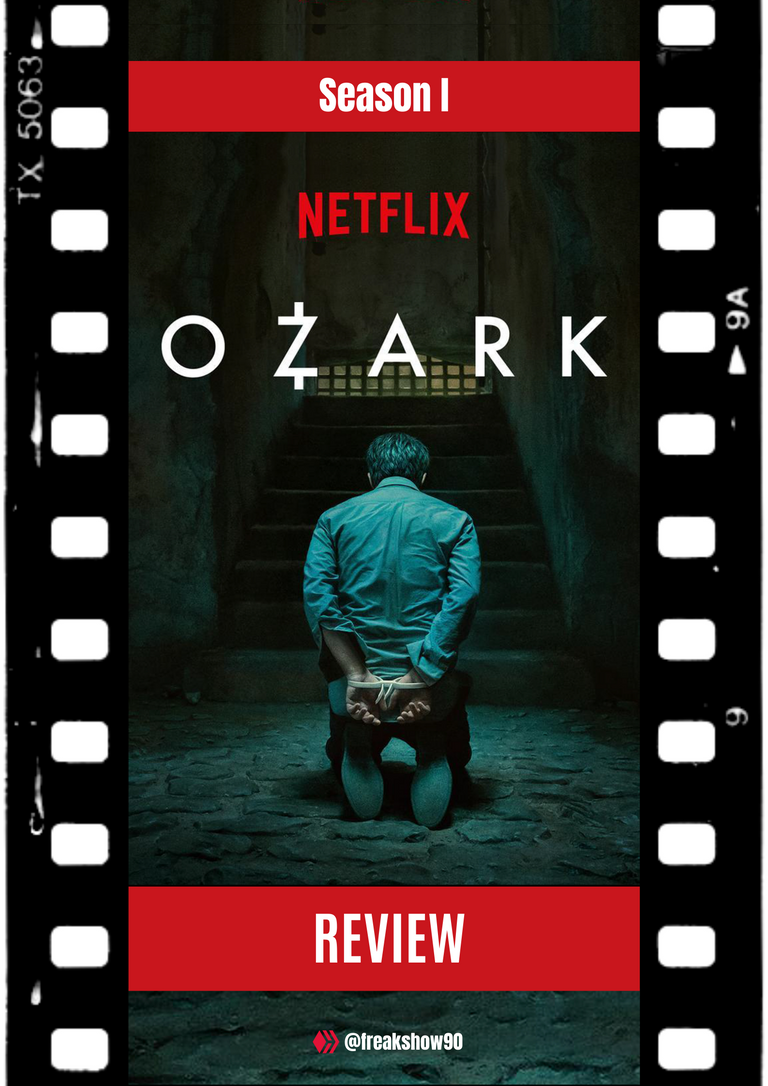 Americans have a rather mercantilist sense of life, that's undeniable. To the point that when you watch Ozark for the first time, and especially in its first season, you may find yourself (as an audience) with certain conflicts. Not the kind related to morals or ethics, but to ambition and greed. A lot of "wanting more and finding ways to get it" is what we see in the background of this Netflix series.
Although it is based on a fictional script, it has some interesting parallels with Breaking Bad. The protagonist is again a family man in his 40s, with an apparently controlled, middle-class life typical of the suburbs. Both series deal with drug trafficking and money laundering but in very different ways. And for me, this is the marvellous thing about this enthralling story that I am reviewing today, and although I didn't have much confidence in it to begin with, it simply ended up surprising me, but above all, it had an impact on me.
Los estadounidenses tienen un sentido bastante mercantilista de la vida, éso es innegable. Al punto, que cuando observas Ozark por primera vez, y en especial en su primera temporada, puedes encontrarte (como audiencia) con ciertos conflictos. No del tipo relacionado con la moral o la ética, sino con la ambición y la avaricia. mucho de "querer más y encontrar las formas para obtenerlo" es lo que vemos en el trasfondo de esta serie de Netflix.
Si bien está basada en un guión de ficción, no es menos cierto que guarda unos paralelismos interesantes con "Breaking Bad". El protagonista, es de nuevo un hombre de familia, en sus 40 y tantos años, y con una aparente vida bajo control y de clase media típica de los suburbios. Ambas series guardan, tratan el tema del narcotráfico y el lavado de dinero pero de formas absolutamente distintas. Y para mí, esto es lo maravilloso de esta atrapante historia que hoy reseño, y que si bien al empezar, no le tenía demasiada confianza, sencillamente terminó sorprendiendo pero sobre todo impactándome.
Martin Byrde is not Walter White. And I make this comparison because there are those who find too many similarities. To the point that they find Ozark to be a "copycat" production of the AMC classic. Personally, I don't find it at all similar. No more than "Narcos" would be to "Better Call Saul". While there are certain characteristics, which may be similar, it's also fair to say that they are elements of the show's subject matter. Such as: cartels, somewhat over-the-top violence, individualism, characters scarred by haunting pasts, and I would say filters. The latter is no small thing.
If we remember well, in Breaking Bad we can see the inexhaustible and always remembered yellow filter when the scenes are recreated in Mexico, as opposed to when they are filmed in Albuquerque. On the other hand, something that caught my attention was that from the scene with which the series opens in its first episode, called "Sugarwood", the colours in the cinematography palette are absolutely "cold"; dark. In a tonality that reminds me of the psychological thriller style of the great David Fincher, but with the particularity that this series has an action/drama/black comedy style. The truth is that its forms, and above all the incidental music, are the icing on the cake for this great Netflix production.
Y es que, Martin Byrde, no es Walter White. Y hago esta comparación porque hay quienes les encuentran demasiado similitudes. Al punto que, encuentran a Ozark como una producción "imitadora" del clásico de AMC. Personalmente, no la hallo nada parecida. No más de los que "Narcos" sería de "Better Call Saul". Si bien hay ciertas características, que pueden ser parecidas, también es justo decir que son elementos propios de la temática de la serie. Tales como: carteles, violencia algo desmedida, individualismo, personajes marcados por pasado que les atormenta, y yo diría que los filtros. No es poco cosa, esto último.
Si recordamos bien, en Breaking Bad podemos ver el inagotable y siempre recordado filtro amarillo cuando las escenas son recreadas en México, a diferencias de cuando son rodadas en Alburquerque. En cambio, algo que me captó poderosamente la atención, fue que desde la escena con la abre la serie en su primer capítulo, llamado "Sugarwood", los colores en la paleta de la cinematografía son absolutamente "fríos"; oscuros. En tonalidad que me recuerdan el estilo de thriller psicológico del gran David Fincher, pero con la particularidad de que esta serie tiene un corte de acción/drama/comedia negra. Lo cierto es que sus formas, y sobre todo la música incidental son la cereza del postre para esta gran producción de Netflix.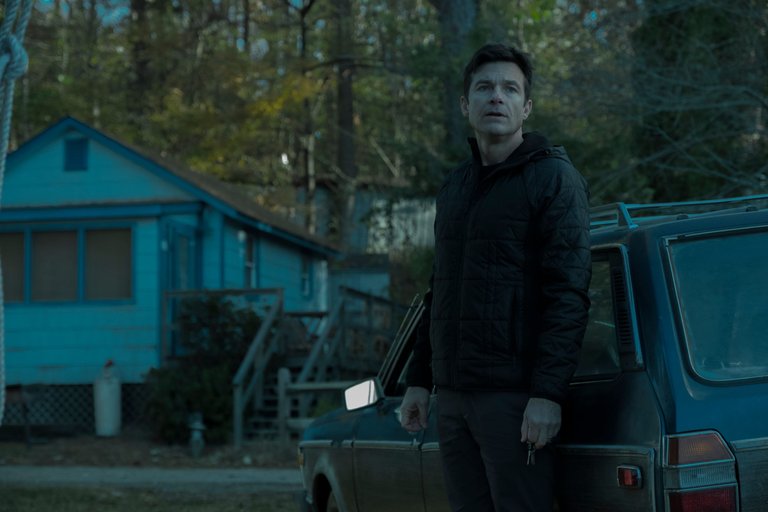 However, another bewitching aspect of the series created by Bill Dubuque is that from chapter one it keeps you in a tension that is difficult to explain. While it's true that you don't easily empathise with either the main character or his tangled and rather strange family, on the other hand, the circumstances that "Marty" has to face are absolutely horrifying and highly charged with that sweet mix of gore violence and psychological drama of tension that has made Netflix such a successful company in this area.
A quiet guy from a quiet town, in a stable, well-paid job, suddenly finds himself face to face with the consequences of his actions. Marty's partner, for years (if that wasn't enough) has been stealing from the Cartel on which the firm depends, and which acts as a front to evade taxes in the United States illegally and thus provide his "employer" with clean money. Until one day he "receives" a visit to settle a score, late at night, with the incidental music simulating the beating of an agitated heart, the central denouement of the story begins.
Ahora bien, otro aspecto hechizante de la serie creada por Bill Dubuque, es que desde el capítulo uno te mantiene en una tensión difícil de explicar. Si bien es cierto, que no empatizas fácil ni con el protagonista ni con su enredada y bastante extraña familia, por otro lado, las circunstancias a las que tiene que "Marty" tiene que plantar cara son absolutamente horrorosas y sumamente cargadas de esa dulce mezcla entre violencia gore y drama psicológico de tensión que han hecho a Netflix, una empresa exitosa en ese rubro.
Un tipo tranquilo, de un ciudad tranquila, en un trabajo estable y bien remunerado; que de pronto se halla a sí mismo cara a cara con las consecuencias de sus actos. El socio de Marty, por años (por si fuera poco) ha venido robándole al Cartel de donde depende la firma, y que funciona de tapadera para evadir impuestos en los Estados Unidos de manera ilegal y así proveer a su "empleador" de dinero limpio. Hasta que un día "recibe" una visita para ajustar cuentas, tarde en la noche, con la música incidental simulando los latidos de un corazón agitado, da comienzo al desenlace central de la historia.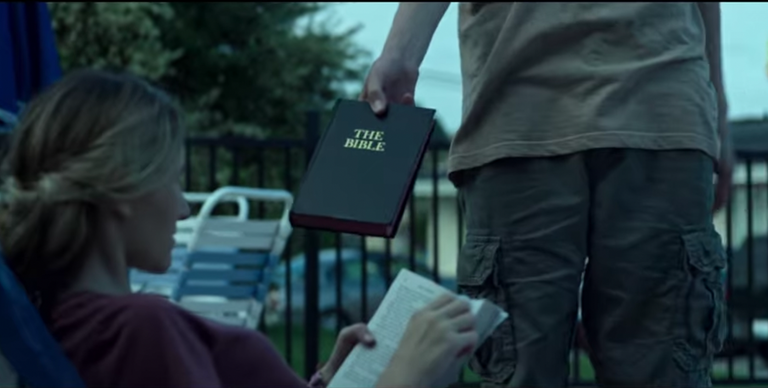 Here, on Ozark, the problem is not laundering money for a highly dangerous and unscrupulous Mexican cartel. In fact, the real drawback is the "infinite" problems, imponderables and obstacles that the protagonist encounters throughout the series (I suspect, I haven't seen it all) and which in its first season do not bring him any peace. Added to this, his wife, a typical American mother, not only lies to him but for years has been having an affair with a guy Marty didn't even know about but suspected.
There are things that are difficult to put into words, but if there is one thing I must highlight to the scriptwriters it is the atmosphere charged with heaviness, tension and above all the way in which the resolution of the problems takes on a fundamental weight within the story of the series. In this type of story, the events that emerge as problems are the ones that will later bring more and more consequences. In addition, personally, I am grateful that Radiohead's "Decks Dark" song closes the first episode. That touch couldn't have been better, because we would be referring to something simply impossible. A great series, so far, and with an addictive hook and at the same time introspective vibe that is impossible not to point out.
Aquí, en Ozark, el problema no es lavar dinero para un Cartel mexicano altamente peligroso y sin escrúpulos. De hecho, el real inconveniente son los "infinitos" problemas, imponderables y trabas que se haya el protagonista a lo largo de la serie (sospecho, no la he visto toda) y que en su primera temporada no le hace encontrar algo de paz. Añadido a esto, su esposa, típica madre americana, no solo le miente sino que por años ha estado teniendo un affaire con un sujeto del cual Marty ni sabía pero que sí sospechaba.
Hay cosas que son difíciles de poner en palabras, pero si hay algo que debo destacarle a los guionistas es la atmósfera cargada de pesadez, tensión y sobre todo la forma en que la resolución de los problemas toma un peso fundamental dentro de la historia de la serie. Y es que, en este tipo de historias, los acontecimientos que surgen como problemas son los que más adelante traerán más y más consecuencias. Además, personalmente, agradezco que Radiohead con "Decks Dark" cierre el primer episodio. Ese toque no pudo haber sido mejor, porque estaríamos refiriéndonos a algo sencillamente imposible. Una gran serie, hasta ahora y con un gancho adictivo y al mismo tiempo con una vibra introspectiva que es imposible no destacar.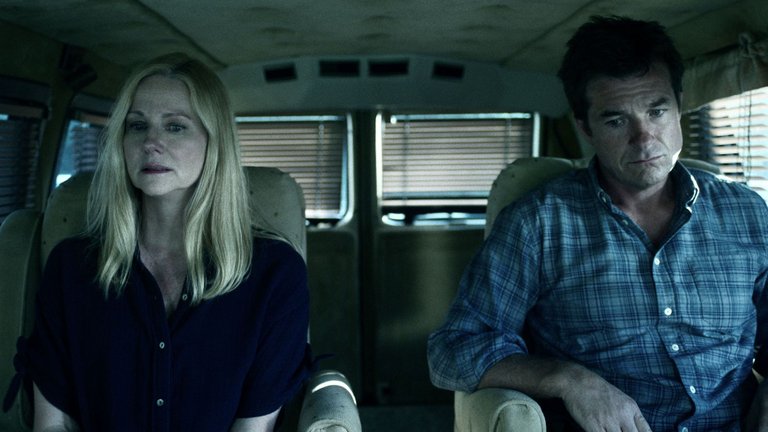 ---
---