The True "Unknown" Killer of Grunge: Heroin (Dope) [ENG/ESP]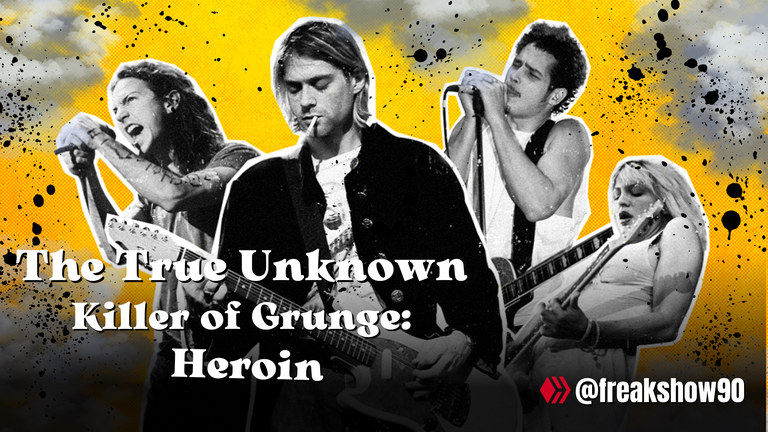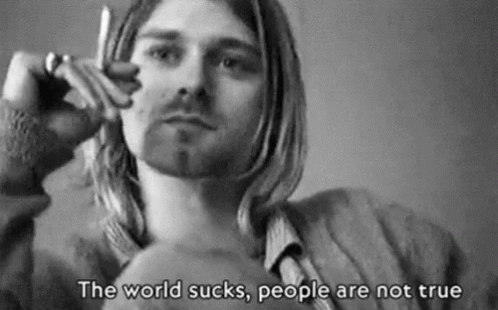 Grunge, what a genre full of emotions... Where to start? I guess at the beginning, how it came about, and how rare it is in the history of music for an entire generation to coincide in time, space, form and, above all, a little known aspect: similarity in age. Let's not forget that all the icons of the bands we all love and, above all, admire (Soundgarden, The Melvins, Nirvana, Alice in Chains, Pearl Jam, Mother Love Bone, Hollow, Sonic Youth) shared the same age. Look it up for yourself and you'll see that I'm right. Just imagine, your friends on the block, in the neighbourhood, wherever you're from, and they all marked a before and after in alternative music. It's just mind-blowing, that simple coincidence.
Now, we are all aware of the scope they had in the history of rock and roll. We all saw how the anger, the non-conformity, the traumas of destroyed homes and a childhood full of abuse made these guys. How they transformed that pain into art. But if you think hard enough, why is this sub-genre no longer relevant to music as such? In other words, what "killed" Grunge? In retrospect, the answer to both questions seems absolutely simple, and falls into place: substance abuse, with a clear and undeniably sinister antagonist: heroin. This drug, which in less than 10 years took away a generation of brilliant musicians who fell into its clutches and were never able to get out once they were in.
El Grunge, qué género tan lleno de emociones... ¿Por dónde empezar? Supongo que por el principio, por cómo surge, y cuán poco frecuente es dentro de la historia de la música que una generación entera coincida en tiempo, espacio, forma y sobre todo un aspecto poco conocido: en similitud de edades. No olvidemos que todos los íconos de las bandas que todos amamos y sobre todo, admiramos (Soundgarden, The Melvins, Nirvana, Alice in Chains, Pearl Jam, Mother Love Bone, Hollow, Sonic Youth) compartían la misma edad. Búsquenlo ustedes mismos y verán que tengo razón. Tan solo imaginen, a sus amigos de la cuadra, del barrio, del lugar de donde sea que son, y todos marcaron un antes y un después en la música alternativa. Es sencillamente alucinante esa simple coincidencia.
Ahora bien, todos somos conscientes del alcance que tuvieron dentro de la historia del rock and roll. Todos vimos como la ira, la inconformidad, los traumas de hogares destruídos y una niñez cargada de abusos hizo en estos muchachos. Como transformaron ese dolor en arte. Pero si lo piensan lo suficiente bien, ¿por qué ya este subgénero no tiene relevancia en la música como tal? Dicho de otro modo, ¿qué "mató" al Grunge? Viéndolo en retrospectiva, la respuesta a ambas preguntas se antoja absolutamente sencilla, y cae por sí sola: el abuso de sustancias, con un claro e innegable antagonista siniestro: la heroína. Esta droga, que se llevó en menos de 10 años a una generación de músicos brillantes pero que cayeron en sus garras y que jamás pudieron salir una vez dentro.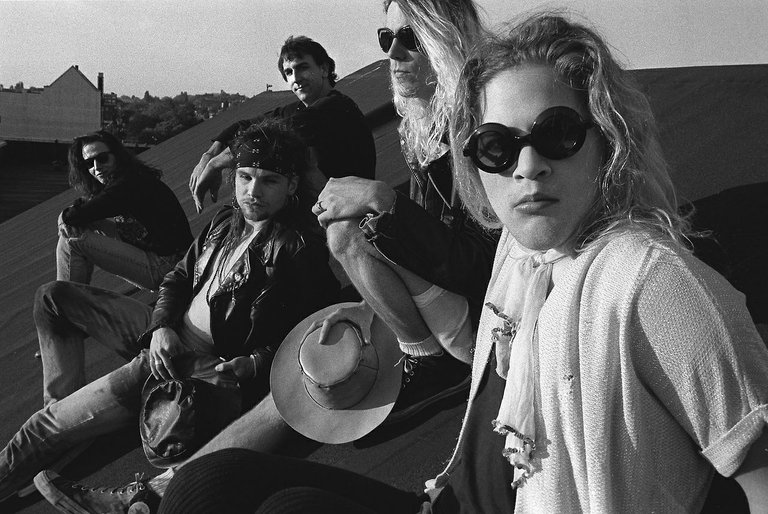 For many years it was thought that Chris Cornell (Frontman of Soundgarden) and Eddie Vedder (Frontman of Pearl Jam) were the only ones who had been saved. But in 2017, Cornell left us. Cause of death? At first it was a premeditated suicide but with years of analysis and searching for the origin of that "decision", and in the words of his wife (paraphrased) the abuse (by Chris Cornell) of fentanyl (a super addictive opiate) was what led him to his grave. A true plague that has plagued the United States of America forever, but not with the forcefulness and notoriety that it had with an entire generation of artists who simply perished in the cruelest and deepest addiction.
Perhaps the first of them all, Andrew Wood, (musician and vocalist of Mother Love Bone) was one of the first to fall into this plague. And I mean it when I say "plague". Let's not forget that heroin as a drug, not only ended up being incredibly addictive but is also easy to make, and in a country consumed by the disaster of "the war on drugs", the debacle was impossible to sustain. Stories of Kurt Cobain "almost dying" after a particular concert are all too familiar. In fact, weeks before he actually died, Nirvana was on tour in Europe, promoting their third studio album "In Utero" and there, in Rome, at what was one of the most horrendous concerts in Nirvana's history, he almost died from a cocktail of drugs (including our notorious "villain", heroin).
Por muchos años se pensó que Chris Cornell (Frontman de Soundgarden) junto a Eddie Vedder (Frontman de Pearl Jam) habían sido los únicos que se habían salvado. Sin embargo en 2017, Cornell nos dejó ¿Causa de muerte? En principio se trató de un suicidio premeditado pero que con el años de análisis y buscando el origen de esa "decisión", y en palabras de su esposa (parafraseadas) el abuso (por parte de Chris Cornell) del fentanilo (un opiáceo súper adictivo) fue lo que lo llevó a la tumba. Una verdadera plaga que ha azotado a los Estados Unidos de América desde siempre, pero no con la contundencia ni la notoriedad que tuvo con una generación entera de artistas que sencillamente perecieron en la más cruel y profunda adicción.
Quizá el primero de todos ellos, Andrew Wood, (músico y vocalista de Mother Love Bone) fue uno de los primeros en caer en esta plaga. Y digo bien cuando la tildo de "plaga". No olvidemos que la heroína como droga, no sólo acabó es increíblemente adictiva sino que es de fácil elaboración, y en un país consumido por el desastre de "la lucha contra las drogas", la debacle era imposible de sostener. Son hartas conocidas las historias donde Kurt Cobain "casi moría" después de un determinado concierto. Es más, semanas antes de efectivamente consumarse su muerte, Nirvana estaba de gira en Europa, promocionando su tercer álbum de estudio "In Utero" y allí, en Roma, en lo que fue uno de los conciertos más horrendos de la historia de Nirvana, casi muere por un cóctel de estupefacientes (incluida, nuestro conocido "villano"; la heroína).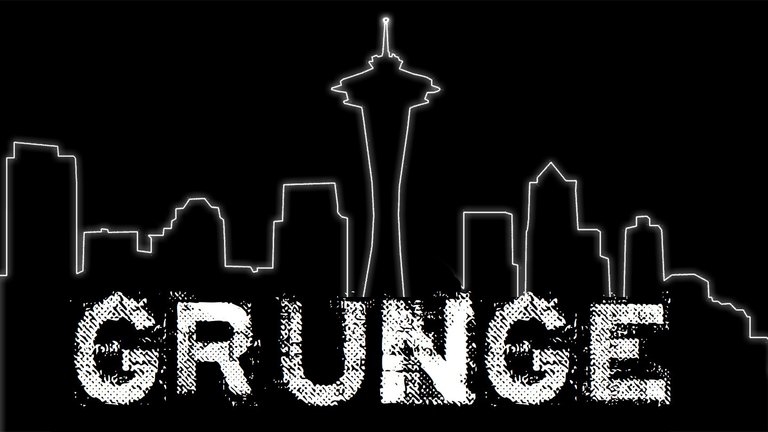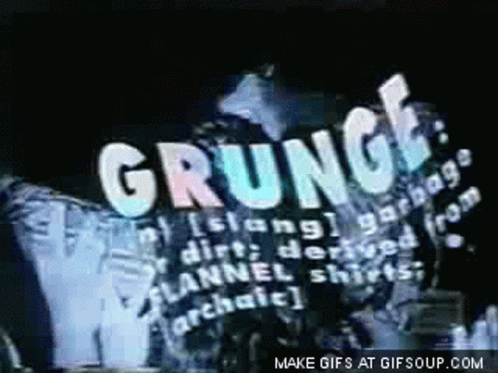 The record labels themselves (Sub.Pop and Geffen Records) are not exempt from this little-known story of the death of a genre of music. In fact, the executives of these labels (who, before signing these guys, were practically unknown) exploited the image of Grunge bands, selling the stereotype of non-conformist, rebellious and angry kids. The same that we could see on the famous covers of Rolling Stones and Billboard magazines. Without going any further, the fashion industry itself, spared nothing and emulated the carefree, rural and archly known look of the American youth generation of the late 80's and during almost the entire decade of the 90's.
Returning to the subject, the case of Scott Weiland (Stone Temple Pilots frontman) is even more revealing. Like Vedder and Cornell, he also survived the first wave of heroin in the 90's within Grunge, but paradoxically, he died of heroin abuse well into the second decade of this new century. In a band that was a marvel, like Velvet Revolver, and without ever overcoming the powerfully destructive scourge of addiction. And, I want to be emphatic, no other drug has taken so many artists of the same genre, of almost the same age, in less time than heroin itself. Clearly, there is a rampant and incorrigible public health problem. Something that many seem not to really want to see.
Las mismas disqueras, (Sub.Pop y Geffen Records) tampoco escapan a esta entramada y poco conocida historia de la muerte de un género de la música. De hecho, los ejecutivos de estos sellos (que antes de firmar a estos chicos, eran prácticamente desconocidos) explotaban la imagen de las bandas de Grunge, vendiendo el estereotipo de chicos inconformes, rebeldes y llenos de ira. El mismo que podíamos ver en las famosas portadas de las revistas Rolling Stones y Billboard. Sin ir más lejos, la mismísima industria de la moda, no escatimo en nada y emuló el look despreocupado, rural y archi conocido de la generación de jóvenes estadounidenses de finales de los 80's e durante casi toda la década de los 90's.
Volviendo al tema, el caso de Scott Weiland (Frontman de Stone Temple Pilots) es aún más revelador. Al igual que Vedder y Cornell, también sobrevivió la primera ola de heroína en los 90's dentro del Grunge, pero paradójicamente, murió a causa del abuso de esta sustancia, bien entrados la segunda década de este nuevo siglo. En una banda, que era una maravilla, como Velvet Revolver, y sin jamás superar ese flagelo tan poderosamente destructivo como es la adicción. Y es que, quiero ser enfático, ninguna otra droga se ha llevado a tantos artistas de un mismo género, de casi la misma edad, en menos tiempo que la mismísima heroína. Evidentemente, hay un problema de salud pública incorregible y desbocado. Algo que muchos parecen no querer ver realmente.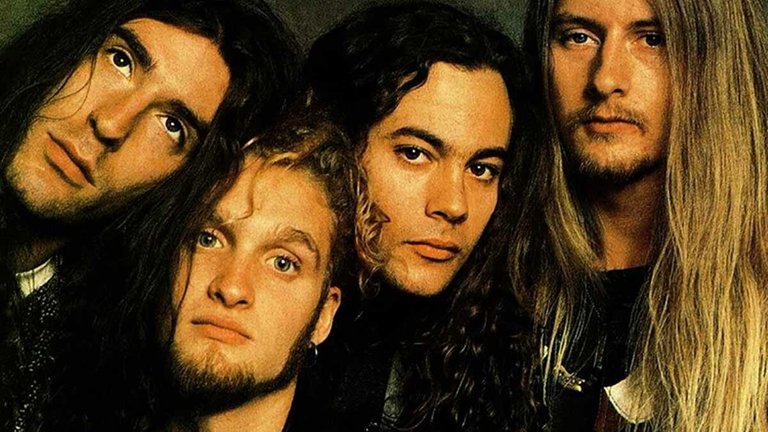 According to estimates made after the famous lawsuit against the pharmaceutical company that had the rights to a powerful opiate, which was prescribed by prescription, and which has killed a lot of artists (Michael Jackson, Whitney Houston, Prince, Chris Cornell, among many, many more), the number of people addicted to fentanyl by prescription is alarmingly high: more than 72 thousand people, and we are talking about figures from 2016! If we put it into context, as many people have already done, the numbers show us what a legal, easy to make, and pyrrhic-cost drug can do to an entire population. More people have died as a direct or indirect result of this drug than died on European soil during the Second World War, or on the shores of Asian beaches during the same war.
And so we come, on the other hand, to another heartbreaking story: Mike Starr and Layne Staley, (founding bassist and original frontman of Alice in Chains), a story that is catastrophic by any standards. Staley had passed away in 2002, weighing a fraction of what he should have weighed for his height and age. The last person who had been with him in his voluntary cloister had been Mike Starr, his best friend, who at the time was no longer part of Alice in Chains. According to Starr's account, the last time he saw Layne he looked like a walking corpse. Yet he did not call the emergency services (not because he didn't want to, but at the explicit request of Layne Staley, who threatened to stop talking to him if he did) and shortly afterwards he died, alone, and was found more than two weeks later...
Según estimaciones hechas, después del famoso juicio contra la farmacéutica que tenía los derechos de un poderoso opiáceo, que se recetaba con prescripción médica, y que se ha cargado a un montón de artistas (Michael Jackson, Whitney Houston, Prince, Chris Cornell, entre muchísimos más), la cantidad de personas adictas con prescripción médica al fentanilo es exageradamente alarmante: más de 72 mil personas ¡Y estamos hablando de cifras del 2016! Si lo ponemos en contexto, como mucha gente ya lo ha hecho, los números nos muestran lo que un fármaco de uso legal, sencillo de elaborar y con un coste pírrico puede hacer a una población entera. Más personas han fallecido a causas directas o indirectas de este fármaco de las que murieron en suelo europeo durante la Segunda Guerra Mundial, o el las costas de las playas de Asia, durante el mismo conflicto bélico.
Y así llegamos, por otro lado, a otra historia desgarradora: Mike Starr y Layne Staley, (Bajista fundador y Frontman original de Alice in Chains), una historia que es catastrófica por donde se analice. Staley había fallecido en 2002, pesando una fracción de lo que debía pesar según su estatura y edad. La última persona que había estado con él en su claustro voluntario había sido Mike Starr, su mejor amigo, y que en ese momento ya no era parte de los Alice in Chains. Según el relato de Starr, la última vez que lo vio a Layne parecía un cadáver ambulante. Aún así no llamó a los servicios de emergencias (no porque no quisiera, sino por pedido explícito de Layne Staley que lo amenazó con dejarle de hablar si lo hacía) al poco tiempo después murió, solo, y fue encontrado más de dos semanas después...
This fact, upset a guy (Starr) who already had serious problems with alcohol and abuse (also heroin and other drugs), which made him famous in a reality show, where he confessed that after learning of the death of his best friend, the circumstances in which he saw him for the last time and his inaction, he simply fell into a guilt from which he never recovered and ended up dying in 2011 Cause of death? Pretty obvious, isn't it? If we compiled the individual stories of every great musician, artist, songwriter who has had to pay with his life for abuse with this substance, I'd honestly end up doing some of the saddest posts I've ever done. And that's not the idea, but to shed light on a subject that seems controversial but is not at all.
Grunge as a sub-genre no longer exists, or at least, it doesn't have the magic, the creativity or the strength it had before, because it depended on a generation that was too specific. It cannot be reproduced, as it can be done with what they did as musicians (their records, songs, compositions, contributions). Many rock and roll historians label this generation as "cursed". I strongly disagree. I believe that although they all, or almost all of them, came from broken homes, it is no less true that drug abuse, but especially heroin abuse, was the catalyst to take them to their graves in the alarming, categorical and singular way that they ended up being. They were aggressive, authentic but also victims of a horrendous evil.
Este hecho, trastornó a un sujeto (Starr) que ya venía con serios problemas con el alcohol y el abuso (también de la heroína y otras drogas), mismas que lo hicieron célebre en un reality show, donde confesó que después de enterarse de la muerte de su mejor amigo, de las circunstancias en cómo lo vio por última vez y en su inacción, sencillamente cayó en una culpa de la que jamás se recuperó y terminó muriendo en 2011 ¿Causa de muerte? Pues bastante evidente, ¿no? Si recopilamos las historias individuales de cada gran músico, artista, compositor que ha tenido que pagar con su vida el abuso con esta sustancia, honestamente terminaría haciendo unos de los posts más tristes que jamás haya hecho. Y ésa no es la idea, sino brindar luces antes un tema que parece controvertido pero que en nada lo es.
El Grunge como subgénero no existe más, o al menos, no tiene la magia, la creatividad ni la fuerza que tenía antes, porque dependió de una generación demasiado específica. Misma que no se puede reproducir, como sí se puede hacer con lo que hicieron como músicos (sus discos, canciones, composiciones, aportes), Muchos historiadores del rock and roll catalogan a esta generación como "maldita". Yo estoy en absoluto desacuerdo. Considero que si bien, todos o casi todos, venían de hogares destrozados, no menos cierto es que el abuso de drogas pero en especial el de heroína fue el catalizador para llevárselos a la tumba del modo tan alarmante, categórico y singular que efectivamente, terminó siendo. Fueron agresivos, auténticos pero también víctimas de un mal horrendo.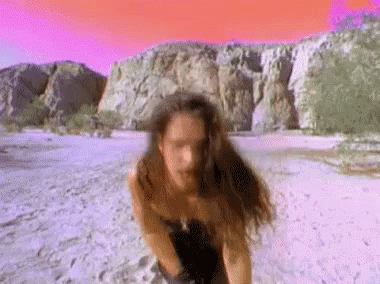 "Grunge is Dead", read a famous photo of Nirvana, where Kurt Cobain wore a flannel with this inscription embroidered on it. I couldn't agree with that more. But not for the reasons they try to sell. Things have to be placed in their proper place, and with truth always as the exercise. The reason why we have not been able to see more of the energy of this style of rock again is because its best and most important representatives lie several feet below the ground because of a substance that has not stopped destroying all the populations where it still performs. I won't deny that it's a shame that this is the way it is, but this is how a style, a whole generation, a sound, a way of doing rock dies.
"Grunge is Dead", rezaba en una famosa foto de Nirvana, donde Kurt Cobain vestía una franela con esta inscripción en ella, bordada. No podría estar más de acuerdo con éso. Pero no por las razones que se intentan vender. A las cosas hay que ubicarlas dentro de su justo momento, y con la verdad siempre como ejercicio. La razón por la cual no hemos podido volver a ver más de la energía de este estilo de rock, es porque sus mejores y más importantes representantes yacen varios pies por debajo de la tierra a causa de una sustancia que no ha parado de destrozar a todas las poblaciones donde aún actúa. No voy a negar que es una lástima que ésto sea de este modo pero es así, como muere un estilo, una generación entera; un sonido, un modo de hacer rock.
All GIFs used on this post are available in PeakD Platform
---
---