Glamorous makeup in red and gold tones - Step by step | Maquillaje glamuroso en tonos rojo y dorado - Paso a paso [ENG/ESP]
Happy Friday to all the Makeup Power community, welcome once again to my blog! Today I will be sharing a glamorous makeup done with three shades of shadows, it is super easy and simple to perform, I hope and you can enjoy it, below are the cosmetics to use and step by step:
¡Feliz viernes a toda la comunidad de Makeup Power! ¡Bienvenidos una vez más a mi blog! Hoy estaré compartiendo un maquillaje glamuroso realizado con tres tonos de sombras, es súper fácil y sencillo de realizar, espero y puedan disfrutar de la misma, a continuación los cosméticos a utilizar y paso a paso:
---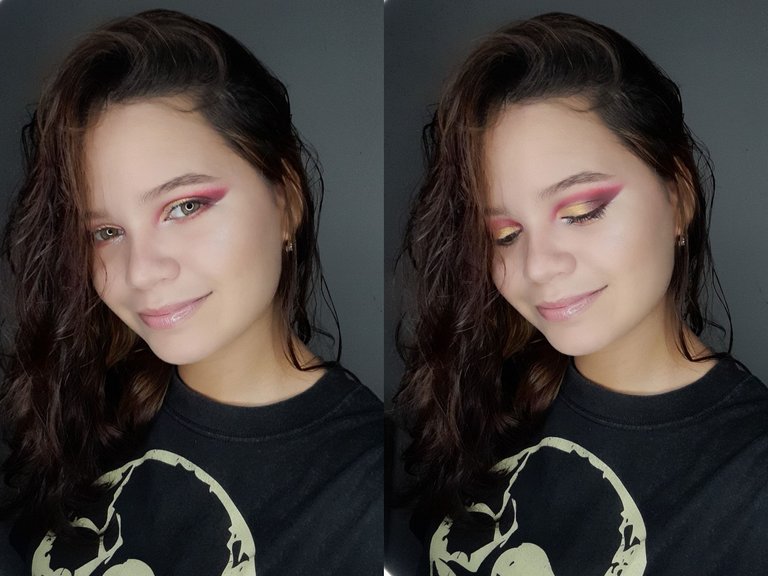 Photographs taken by /
Fotografía tomada por @freidimar18
---
Cosmetics to be used
Cosméticos a utilizar:
- Ordinary's Hyaluronic Acid 2% +B5 Serum
- Serum de Ácido hialurónico 2% +B5 de Ordinary
- Proofreader
- Corrector de Maybelline
- Pink, red, brown and gold shadows
- Sombra rosada, roja, marrón y dorada
- Brushes
- Brochas
- Maybelline Mascara
- Máscara de pestañas Maybelline
- Maybelline foundation
- Base de Maybelline
- Ben Nye Banana Powder
- Polvo banana de Ben Nye
- Cream Contour
- Contorno en crema
- Silver illuminator
- Iluminador plateado
- Brightness
- Brillo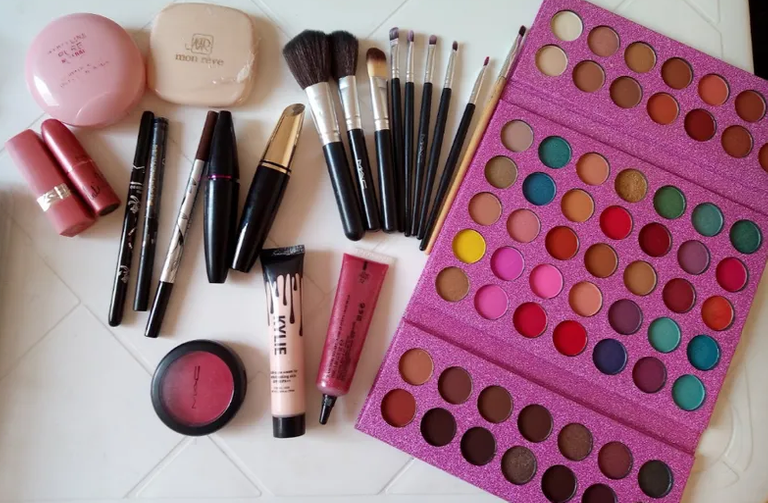 ---
STEP BY STEP
PASO A PASO
📌 First, I prepared my face with the hyaluronic acid, then, I applied the concealer on my eyelids, blending it with a sponge in small touches.
📌 Primero, preparé mi rostro con el ácido hialurónico, luego, apliqué el corrector en mis párpados, la misma la difuminé con una esponja a pequeños toques.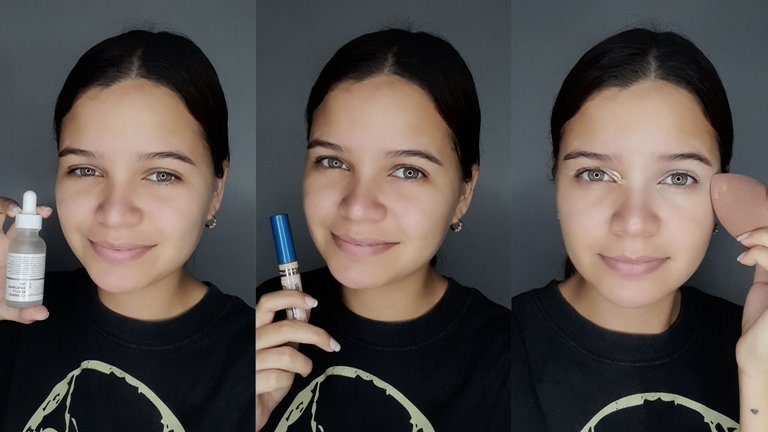 📌 I also proceeded to prep my face with foundation and then contour my face with contouring.
📌 Asimismo, procedí a preparar mi rostro con la base y luego perfilar mi rostro con el contorno.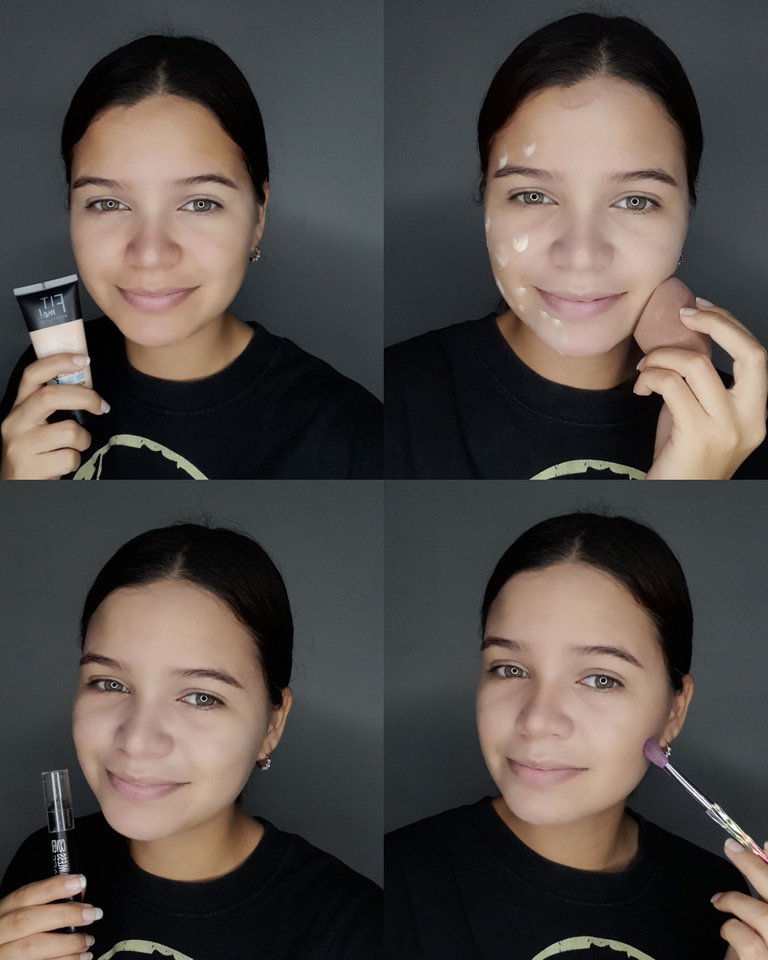 📌 So, I started by applying a super light shadow above my crease, then I added the red shadow, and to create some depth I applied brown shadow on the outer part of my eyelid.
📌 De esta manera, comencé aplicando una sombra súper clara por encima de mi pliegue, luego, agregué la sombra roja, asimismo para crear un poco de profundidad apliqué sombra marrón en la parte externa de mi párpado.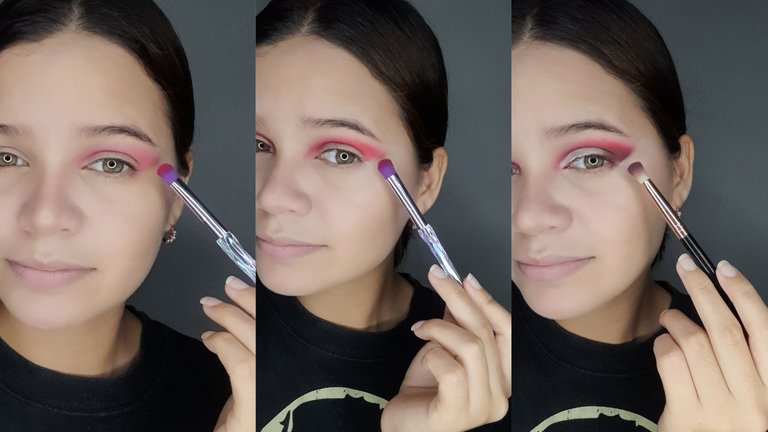 📌 Next, I applied concealer from my tear trough to the brown shadow to add the gold shadow. I proceeded with the application of red shadow on the lower part of my eye.
📌 Lo siguiente, es aplicar corrector desde mi lagrimal hasta la sombra marrón, para así añadir la sombra dorada. Procedí con la aplicación de sombra roja en la parte inferior de mi ojo.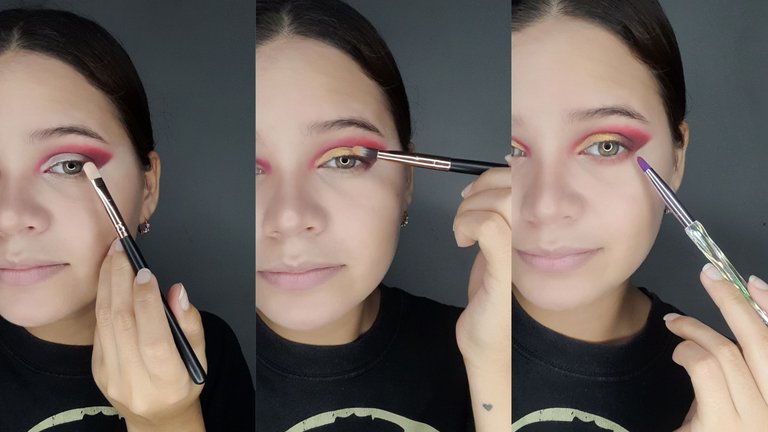 📌 Finally, I applied highlighter on the eyelids, mascara and finally the gloss, ready, let's shine!
📌 Por último, apliqué iluminador en el lagrimal, hice uso del rimel y finalmente el brillo, ¡listo! ¡a brillar!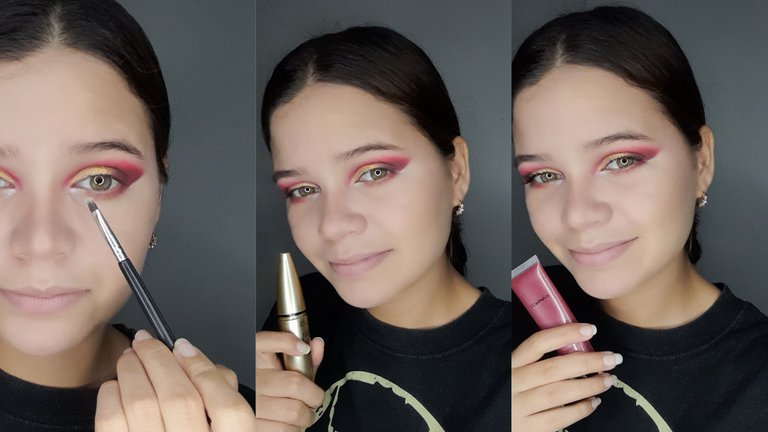 ---
Make-up result / Resultado del maquillaje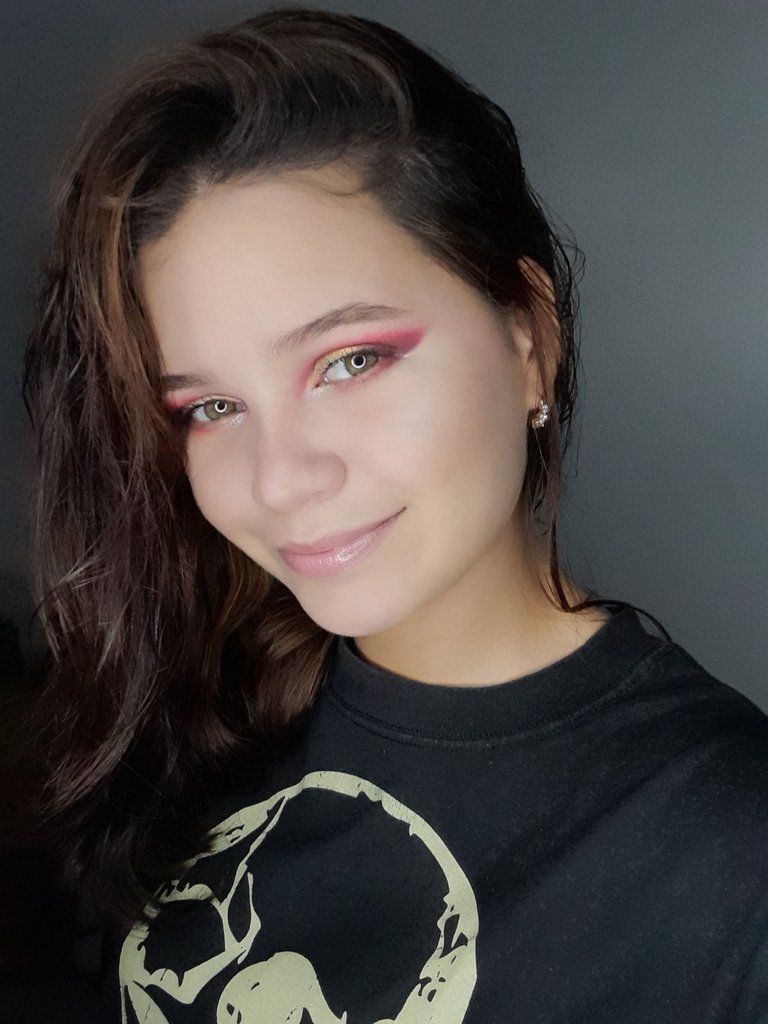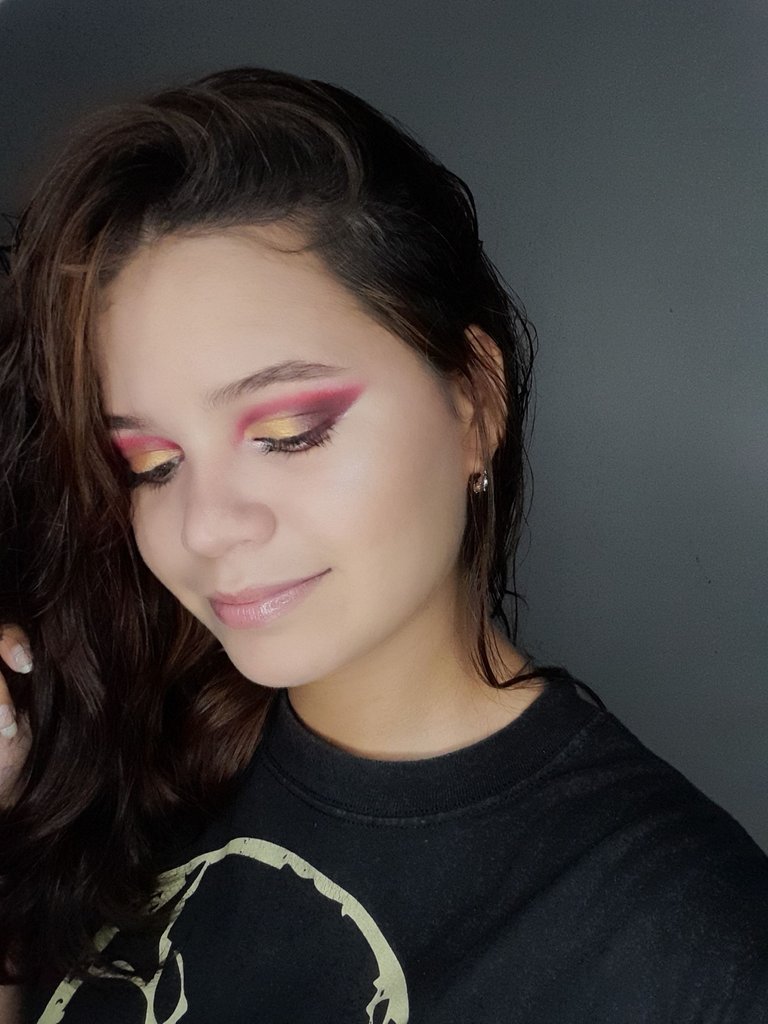 Without further ado, thank you for making it this far, see you next time!/ Sin más que agregar, gracias por llegar hasta aquí, ¡nos vemos en una próxima oportunidad!.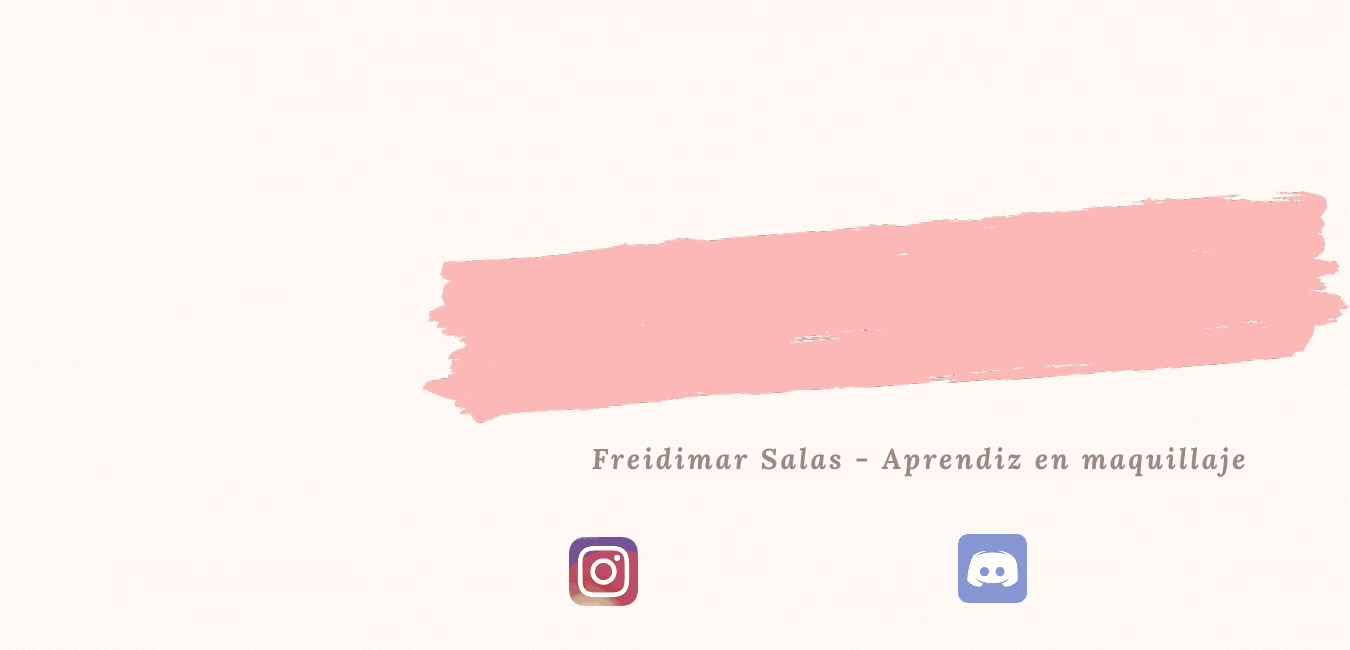 Fuentes importantes/ Important sources:
✎ Translator / Traductor: Deepl
✄Text separators / Separador de textos: Visit here
All pictures were taken with my Samsung Galaxy A12 phone /
📷Todas las fotografías fueron tomadas con mi télefono Samsung Galaxy A12 📲
---
---