Makeup in shades of green - STEP BY STEP || Maquillaje en tonos verdes — PASO A PASO [ENG-ESP]
Happy Sunday to the entire MakeUp Power community!
¡Feliz día domingo a toda la comunidad de MakeUp Power!
---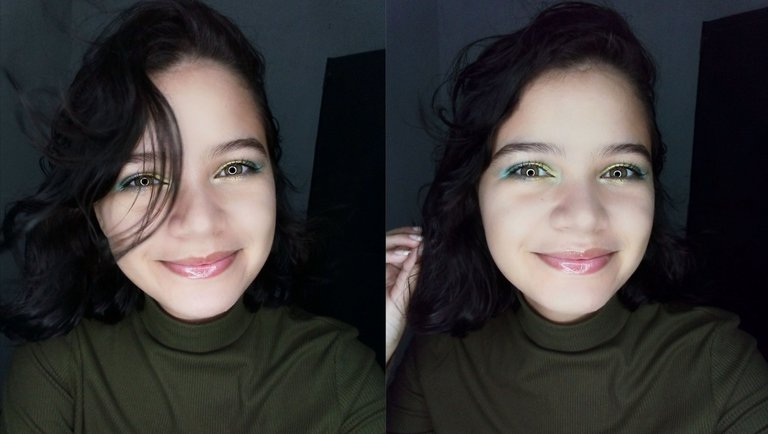 ---
Today I come with new content, so, this time I wanted to be inspired by the shades of gray, dark green and light green shadows, I really liked to do it, besides that as I had an olive green turtleneck blouse I wanted to combine it with the same and so it would be in balance makeup with clothing, I hope you like it. Without further ado, I invite you to continue watching and reading :)
Hoy he venido con nuevo contenido, por lo que, en ésta ocasión quise inspirarme en los tonos de sombras gris, verdes oscuro y claro, realmente me gustó muchísimo realizarlo, aparte de que como tenía una blusa cuello alto verde oliva quise combinarla con la misma y asi estaría en equilibrio el maquillaje con la vestimenta, espero y les guste. Sin más que agregar, te invito a que continúes viendo y leyendo :)
---
Cosmetics to be used
Cosméticos a utilizar:
- Proofreader
-Corrector de Maybelline
-Gray, yellow-green and emerald green shades
-Sombra gris, verde amarillo y verde esmeralda
-Base
-Base
-Mac brand gloss
-Brillo de la marca Mac
Among others
Entre otros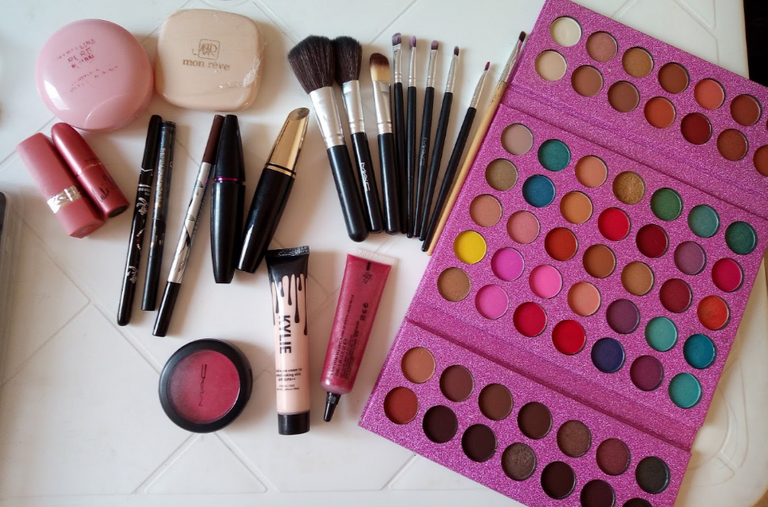 ---
How did I do it?
¿Cómo lo realicé?
The first step was based on the preparation of our face, so, in my case I only used the serum of the brand The Ordinary (Hyaluronic Acid 2% + B5), I applied a few drops on the forehead and cheekbones, to expand them with my fingers throughout the face, except the eye area (IMPORTANT: Next, I prepared my mobile eyelid with the application of Maybelline concealer, I blended it in small touches with my ring finger, and then, I applied shadow or powder in the area where we applied concealer.
El primer paso se basó en la preparación de nuestro rostro, por lo que, en mi caso solo utilicé el sérum de la marca The Ordinary (Ácido hialurónico 2%)+ B5), apliqué unas goticas en la frente y pómulos, para así expandirlos con mi dedos en todo el rostro, excepto los el área de los ojos (IMPORTANTE: tener nuestras manos limpias) Seguidamente, preparé mi párpado móvil con la aplicación de corrector de Maybelline, esto lo difuminé en toquesitos con mi dedo anular, para después, aplicar sombra o polvo en la zona donde aplicamos corrector.
---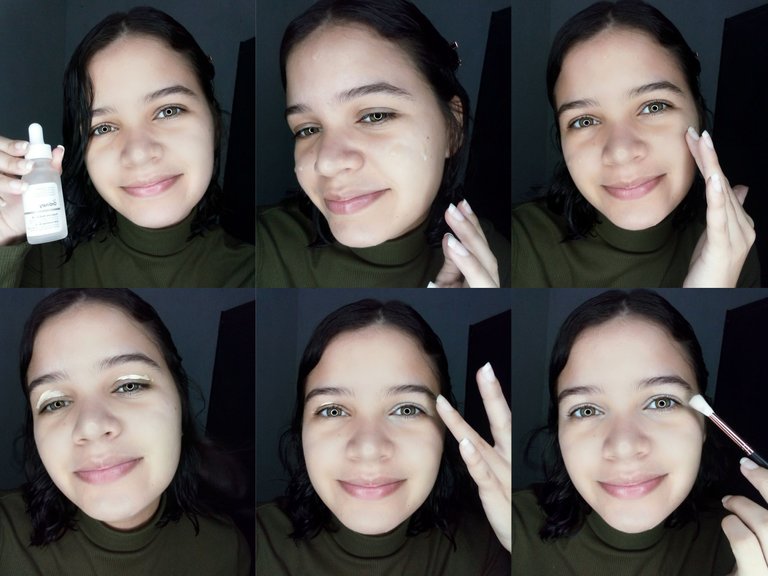 ---
Then, I proceeded with the application of the gray shadow above my eye socket, once applied, I blended it with a blending brush. In this way, on the outer part of the eye, I applied the emerald green shadow and blended it until I obtained the desired result. Once this step was done, I expanded the shadow on just the corner of the lower lash line, as shown in the picture.
Luego, procedí con la aplicación de la sombra gris por encima de la cuenca de mi ojo, una vez aplicada la difuminé con una brocha difuminadora, valga la redundancia. De esta forma, en la parte externa del ojo, deposité la sombra verde esmeralda, la misma la difuminé hasta obtener el resultado deseado. Una vez realizado este paso expandí la sombra en solo el esquinal de la línea inferior de las pestañas, tal cual como se ve reflejado en la fotografía.
---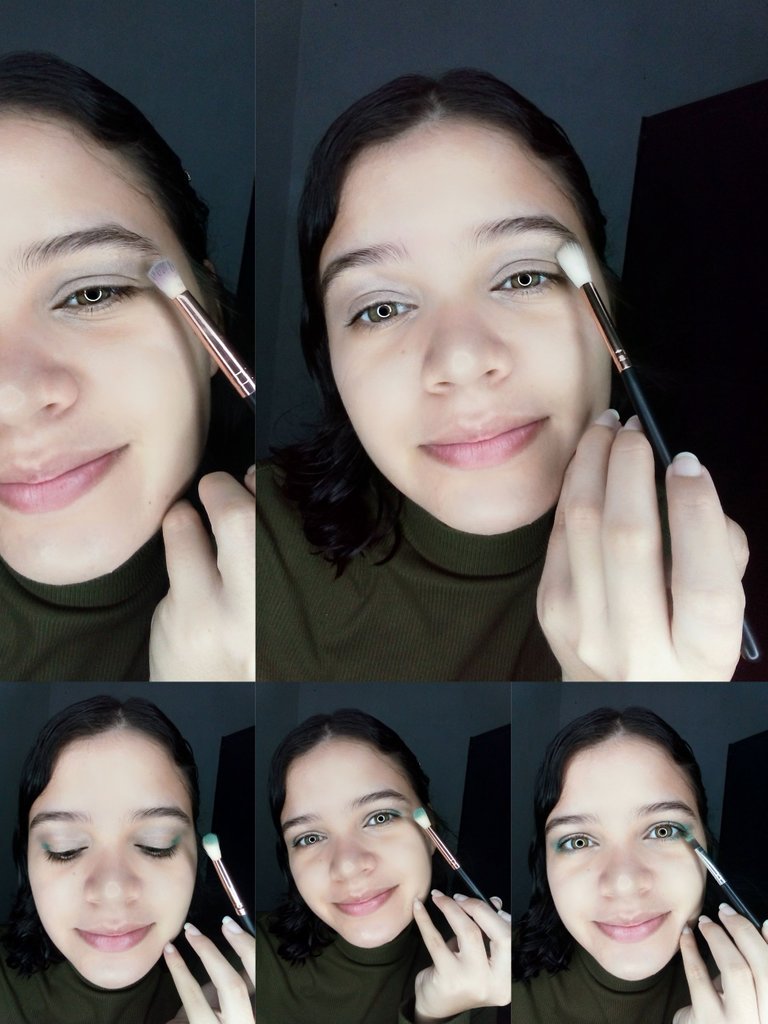 ---
Continuing, I applied concealer in the middle of my mobile eyelid. After that, I expanded it with my ring finger, and then, using a flat brush, I applied the shadow with yellow green, so that our shadow would pigment on the first try, I applied make-up fixer and so we avoid doing so many retouches. After this step, with a fine brush, I applied light yellow shadow on the eyelid and on a part of the lower lash line.
Continuando, apliqué corrector en la mitad de mi párpado móvil. Después de ello, lo expandí con mi dedo anular, para luego, utilizar una brocha plana, depositar la sombra con verde amarillo, así que para que nuestra sombra pigmente en el primer intento, le coloqué fijador de maquillaje y así evitamos hacer tanto retoques. Realizado este paso, con una brocha fina apliqué sombra amarillo claro en el lagrimal y en una parte de la línea inferior de las pestañas.
---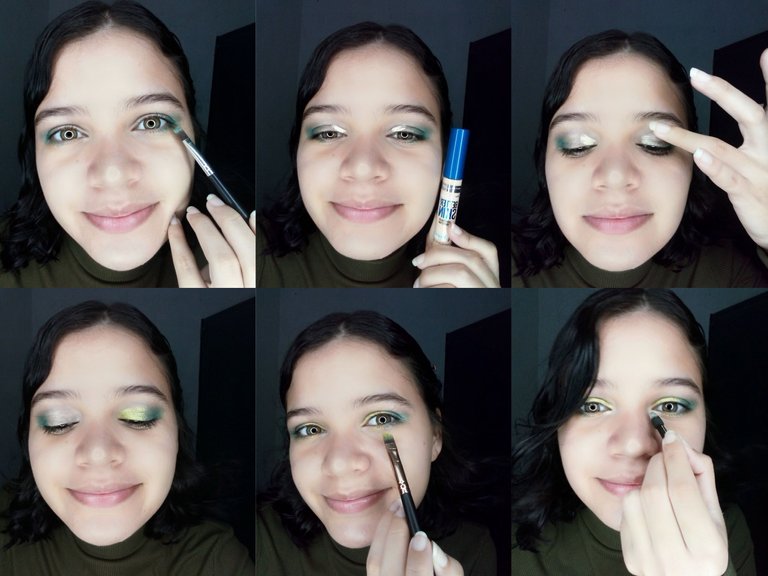 ---
It won't be long now! After all these steps, I applied concealer on the nose, forehead and cheekbones and then blended with a sponge. Finally, I then cemented with pressed powder, then I made use of mascara to give life to the makeup. After that, I used a little gloss, and set the makeup.
¡Ya falta poco!, después de haber realizado todo estos pasos, apliqué corrector en la nariz, frente y pómulos, para luego difuminar con una esponjita. Finalmente, cellé con polvo compacto, después hice uso de la máscara de pestañas para darle vida al maquillaje. Después de ello, utilicé un poco el brillo, y fijé el maquillaje.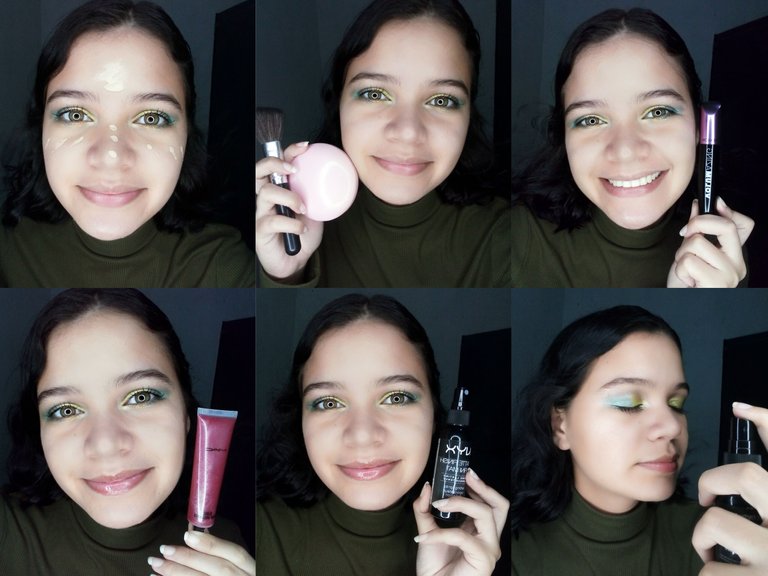 ---
Makeup completed! | ¡Completado el maquillaje!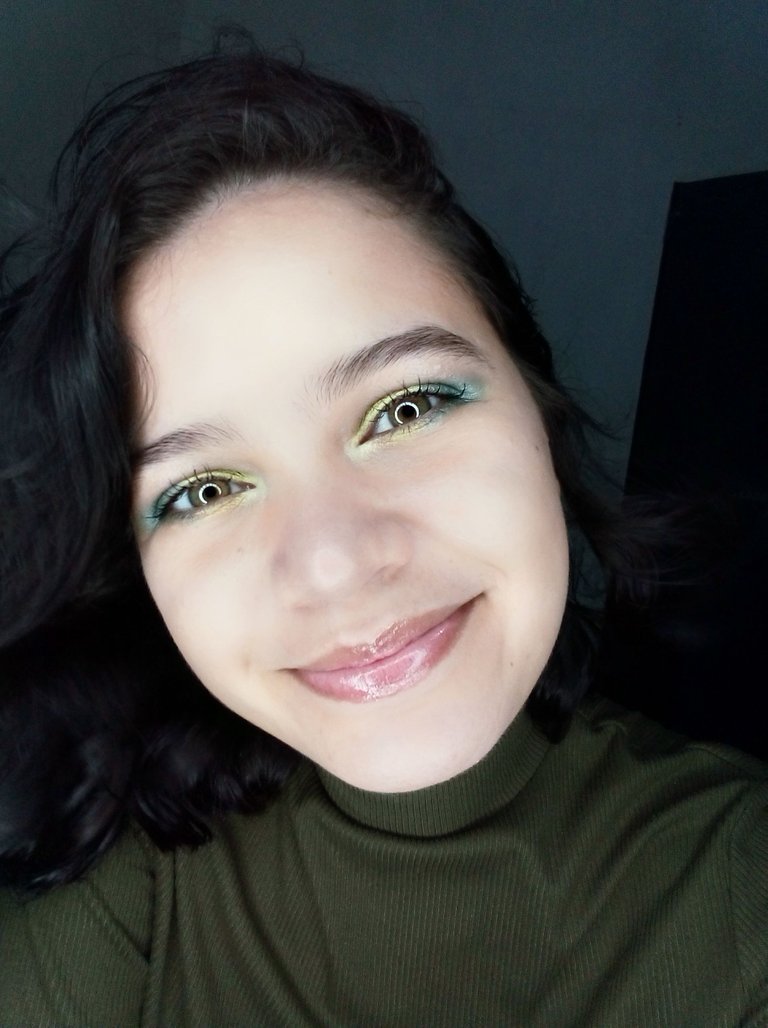 ---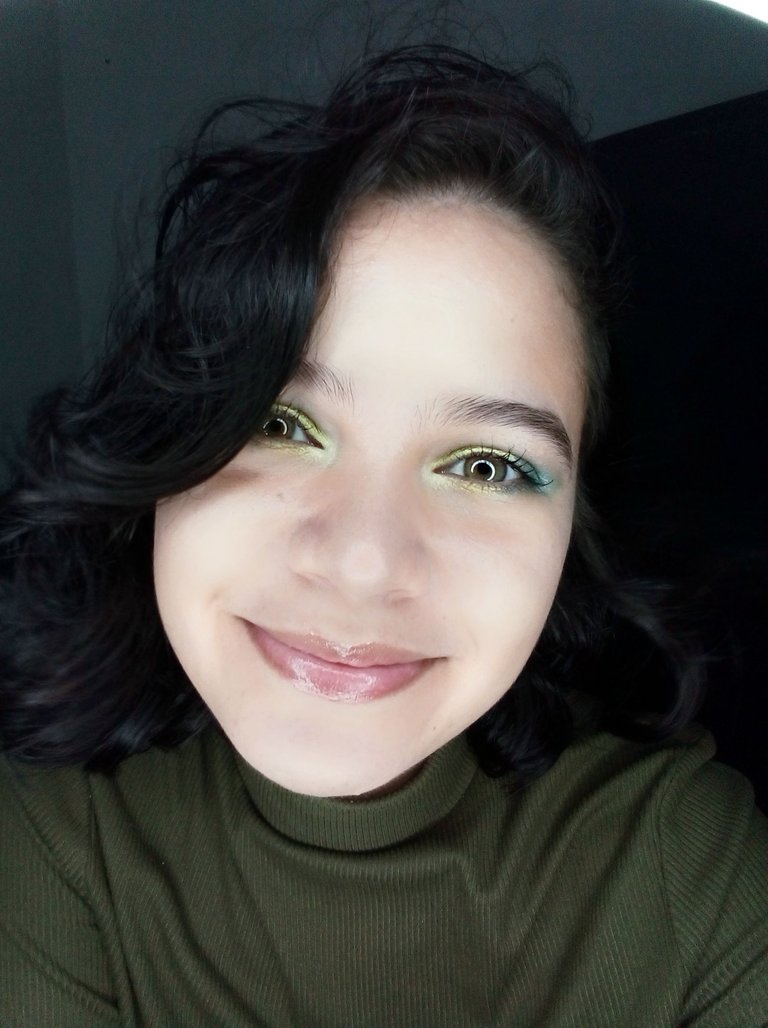 ---
Without further ado, thank you for making it this far, see you next time!/ Sin más que agregar, gracias por llegar hasta aquí, ¡nos vemos en una próxima oportunidad!.
---
Fuentes importantes/ Important sources:
|First image edited in Canva / Primera imagen editada en Canva |
✎Translator / Traductor
|The rest of the pictures were taken from my phone / El resto de las fotografías fueron tomadas desde mi teléfono|
---
---