[March HivePUD] A new 5,000 Hive Power UP 🥂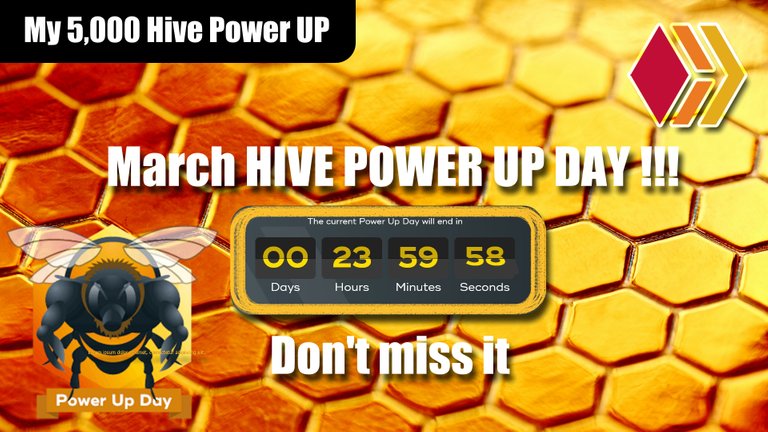 ---
@traciyork : ANNOUNCEMENT POST - Hive Power Up Day, March 1st 2021
---
This month again, the #HivePUD has something special for me. I could have sold my 5,000 HIVE instead of Power UP them and made a 30% profit since the price has gone up so much since I bought them on Bittrex!
But when I see the time invested by the 71 Core Developers and the dApp developers to take us a long way from what the STEEM era was, I have no doubt about the future of #HIVE. 👍
Ce mois-ci encore un #HivePUD spécial. J'aurais très bien pu revendre mes 5,000 HIVE au lieu de les Power UP et faire une plus value de 30% vu la hausse depuis que je les ai achetés sur Bittrex!
Mais quand je vois le temps investi par 71 Core Developpeurs et développeur de dApp pour nous emmener très loin de ce qu'était l'ère STEEM je n'ai aucun doute quant à l'avenir de #HIVE. 👍
---
https://gitlab.syncad.com/hive/hive/-/graphs/master/charts
---
Moreover, I'm not hiding the fact that I want to become an Orca in the future, in order to complete my collection of badges. 😂
De plus, je ne vous cache une certaine envie de devenir Orca dans le futur, histoire de compléter ma collection de badges. 😂
---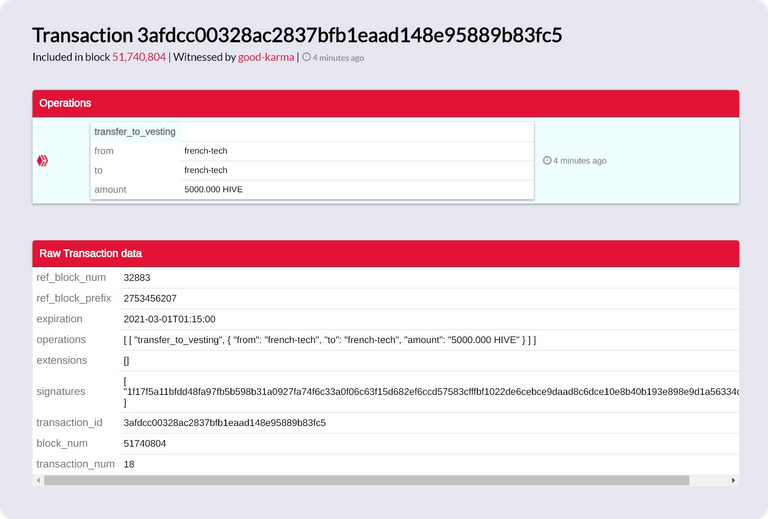 ---
Thanks @good-karma for recording the transaction of my Power UP in the blockchain even though it would have been funnier if it had been my own @mintrawa witness.
Reminder: You have 30 votes to choose your witnesses (which only cost you a little of your time), so it would be nice to use them (even if not all of them) as a show of support for those who work in the shadows to make the #HIVE blockchain work smoothly. 😉
Merci @good-karma d'avoir enregistré la transaction de mon Power UP dans la blockchain même si cela aurait été plus drôle si cela avait été mon witness @mintrawa.
Petit rappel: Vous avez 30 votes pour choisir vos témoins (qui ne vous coûtent qu'un peu de temps), ce serait donc bien de les utiliser (même si ce n'est pas tous) en soutiens à ceux qui travail à ce que la blockchain #HIVE fonctionne correctement. 😉
---
https://wallet.hive.blog/~witnesses
---

If you like my work, consider voting for my witness
it will only cost you 30 seconds of your time 😉

My witness presentation: @mintrawa a Gen X - Geek 🤓 Gamer 🎮 Traveler ⛩️ Witness
Upvote for my witness: click here via HiveSigner
---

Si vous aimez mon travail, pensez à voter pour mon témoin
cela ne vous coûtera que 30 secondes de votre temps 😉

présentation en tant que témoin: @mintrawa: Witness FR - Génération X - Geek 🤓 Gamer 🎮 voyageur ⛩️
Upvoter pour mon witness: click here via HiveSigner


MERCI 🙂

La ruche: Rassemblement de la communauté francophone sur HIVE : https://peakd.com/c/hive-196396/created
---
---