Witness 🤓 Equilibrium (HF) 🍻 HivePUD 🥳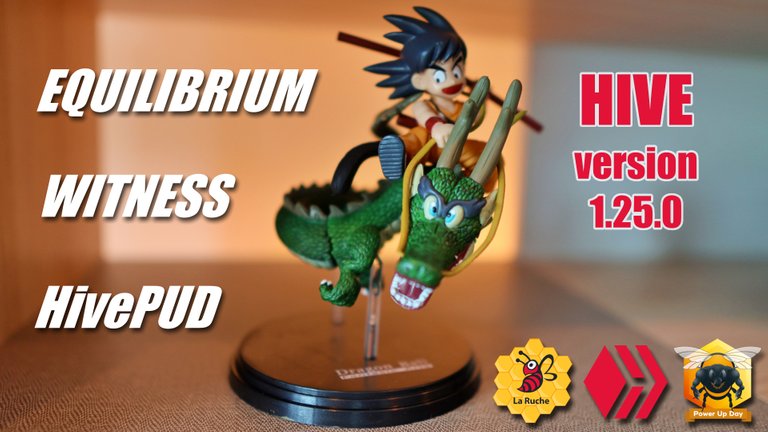 ---
23 hours have already passed since HIVE entered the era of Equilibrium via the HardFork 25.
Il y a 23 Heures maintenant HIVE est passé sous l'ère Equilibrium via la misen en place du HardFork 25.
---
Witness
---
Since the HardFork, my main Witness server has produced 2 blocks in the HIVE blockchain version 1.25.0. Ranked at the 83rd position of active Witnesses, it produces a block every 8 hours.
The upgrade went wonderfully well! A big thank you to the 100 Developers & Maintainers working on the HIVE Open Source project and to the 77 Witnesses who updated to the version 1.25.0!
Depuis le HardFork, mon serveur Witness principal a enregistré 2 blocks dans la blockchain HIVE version 1.25.0. A la 83ème position des Witness actif celui produit 1 block/8 heures.
La mise à jour c'est admirablement bien passé, un grand merci aux 100 Developeurs & Maintaineurs travaillant sur le code Open Source HIVE ainsi qu'aux 77 Witness ayant procédé à la mis à jour!
---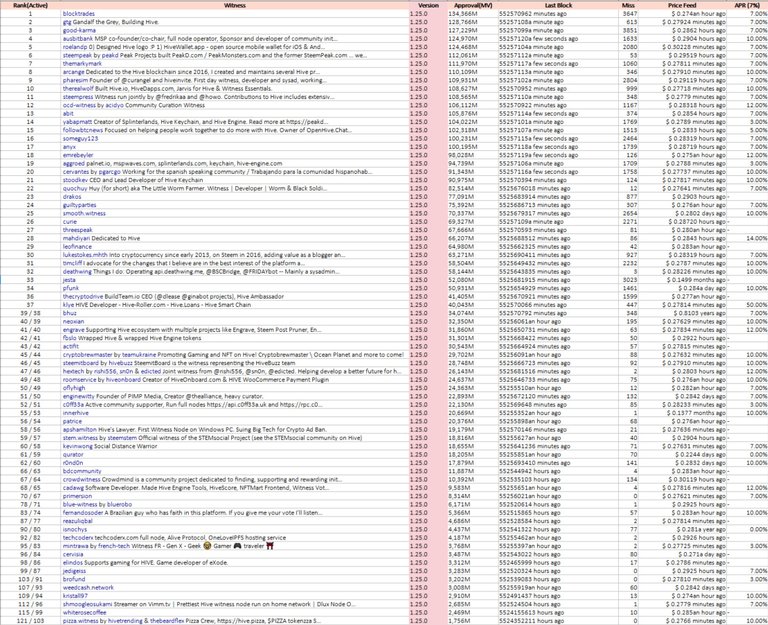 1.25 Witness - source: https://peakd.com/me/witnesses
---
In "few" hours (witness private joke 😉) it will be the turn of my Backup server that I had left in version 1.24 just in case to go to version 1.25.0 (as mentioned on my last post under my @mintrawa witness account)
D'ici quelques heures cela va être au tour de mon serveur de Backup que j'avais laissé en version 1.24 au cas où de passer lui aussi en version 1.25.0 (comme mentionné dans mon dernier post)
---
Equilibrium features
---
The interest paid on the HBD (currently 7%) will be calculated only on those in the saving

Recurring payment (already available on https://peakd.com, see below)
Les intérêts payé sur les HBD (actuellement 7%) ne seront calculé que sur ceux dans le saving

Paiement récurrent (déjà disponible sur https://peakd.com, cf ci-dessous)
---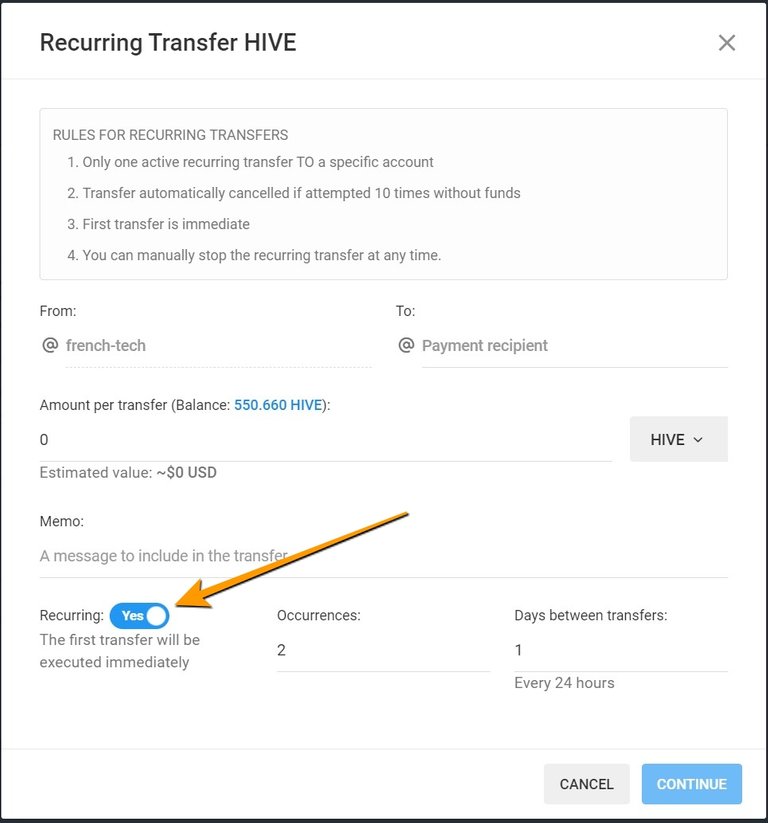 ---
Reactivation of upvotes on posts older than 7 days

HIVE -> HBD conversion (see below)
Réactivation des upvotes sur les post plus vieux que 7 jours

Conversion HIVE -> HBD (cf ci-dessous)
---

---
Witness & Proposition upvotes expire after 1 year if no governance vote (Witness & Proposition) is made during that period (for example for my account the expiration date is currently set to 2022-12-25 14:14:15, source: https://hiveblocks.com/@french-tech)

For the other features I suggest you to read this post
Expiration des votes sur les Witness & Proposition après 1 an si aucun vote de gouvernance n'est fait durant cette période (par exemple pour mon compte la date d'expiration est actuellement fixé au 2022-12-25 14:14:15, source: https://hiveblocks.com/@french-tech)

Pour le reste des nouveauté je vous renvoi vers ce post
---
HIVE Power Up Day
---
What? It's the first day of the month! So today is #HivePUD day (the first one under the Equilibrium era) 🥳
As usual I'm posting links to the 2 posts explaining what this very special day is and what you can gain by participating (besides the satisfaction of having a fun day if you leave some comments on other participants' posts)
Mais voici que nous sommes le premier jour du mois et donc jour du #HivePUD (le premier sous l'ère Equilibrium) 🥳
Comme d'hab je vous mets les liens expliquant ce jour très spécial et ce que vous pouvez y gagner en y particpant (en plus de passer une journée amusante si vous laissez quelques commentaires sur les posts des autres participants)
---
Welcome to #HivePUD (Hive Power Up Day), July 1st 2021
Hive Power Up Day - July 1st 2021 - Hive Power Delegation
---
FR | Hive Power Up Day - 1er juillet 2021 - Délégation de Hive Power
---
As for me, it will be a modest participation (outside of the competition) this month with a Power Up of 550 HIVE to get an 8th badge for this account (14th if I count my accounts @imtase and @mintrawa)
Pour ma part, ce sera une modeste participation (hors compétition) avec un Power Up de 550 HIVE pour l'obtention d'un 8ème badge (14ème si je pends en compte mes comptes @imtase et @mintrawa)
---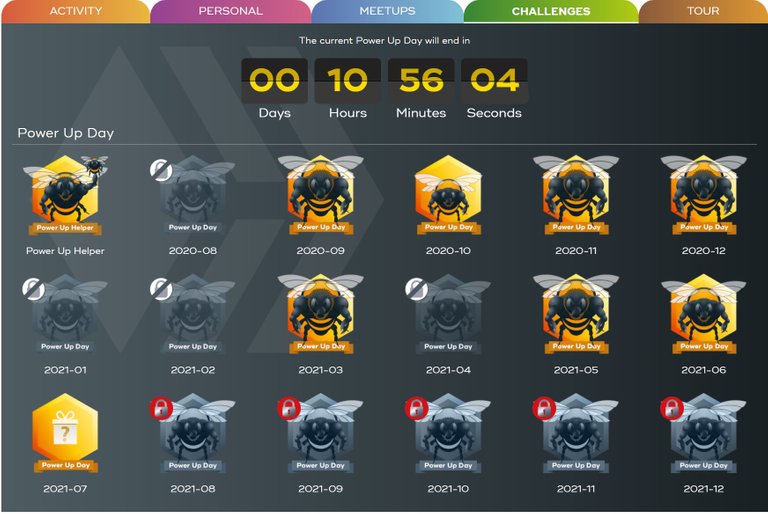 ---
As I write this post we are halfway through this HivePUD and nearly 200 Hivians have already done their Power Up. 🎉
Au moment où j'écris ce post ce sont déjà quasiment 200 Hivians qui ont déjà effectué leur Power Up 🎉
---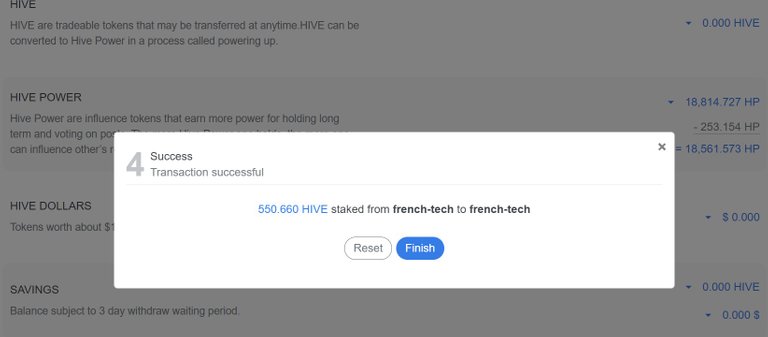 ---
Cover image of the post taken in my office with my Canon EOS M6 Mark II - Sigma 16mm f/1.4 DC DN Contemporary
---

Thanks to the 81 Hivians who already support my HIVE Witness
@mintrawa
by their vote
for those interested and wanting to know more:
My HIVE Witness (active rank 83) introduction post

Vote for my witness: click here (via HiveSigner)

---
Merci aux 81 Hivians qui soutiennent déjà mon Witness HIVE
@mintrawa
par leur vote
pour ceux intéressés et voulant en savoir plus:
Mon post d'introduction de Witness HIVE (active rank 83)

Voter pour mon witness: cliquez ici (via HiveSigner)



MERCI 🙂

La ruche: Rassemblement de la communauté francophone sur HIVE : https://peakd.com/c/hive-196396/created
---
---