My top 80s films
I love 80s films- who doesn't?!
Todays hive post is going to be my favourite 80s films!!!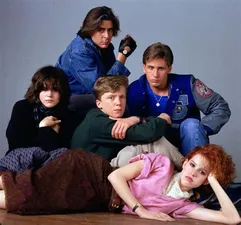 The Breakfast Club
Here we have my all time favourite film, The Breakfast Club. I have loved this film for ages now. My favourite is Allison Reynolds, the emo lol. I love this film so much because of the vibe of it and the atmosphere and plot. although I must add that Allison's "makeover" was SO uncalled for. Anyone who has watched the film will know what I am talking about!

Ferris Bueller's day off
This one is a classic and is so far fetched but that is what makes it good in my eyes. As if any of that would happen in real life haha! But I love Matthew Broderick though I never really see much from him anymore. My favourite character would definitely be Sloane.

ET
This one is also one of my all time favs and was my childhood favourite film for sure. So much so that my pet budgie (who surprisingly is still alive today at almost 13 years old!!) is named after the main character Elliott. That movie definitely holds a special place in my heart forever even if ET himself used to TERRIFY me as a kid😂

Dirty Dancing
I was raised on this film. This is a family favourite and the dancing just mesmerises me, it is ethereal. I love Patrick Swayze and he is probably my favourite character. I love the outfits and scenery of the film as a whole, also learning about the behind the scenes and that the times Patrick Swayze got frustrated with Jennifer Grey was REAL, and he actually didn't like her at first!

Heathers
Personally I am a massive fan of Winona Ryder and love the genres of film she plays in. I love her character in this and the difference between all the Heathers and her being a Veronica. It is such a captivating watch and I feel like not as many people know this one? I never hear anyone talk about it! Such a good watch.

Beetlejuice
Again, another Winona Ryder film, I love this genre of film and how surreal the film is as a whole. It is so poorly made now that graphics have improved since then and it is just comedic instead of horrifying nowadays. I love the character of Lydia Deetz and think she has such a twisted and interesting persona, again another good watch which I recommend watching.

St. Elmo's Fire
Another one I have never heard anyone talk about. This one is SO good, which is biased because I am a massive Ally Sheedy fan (also plays Allison Reynolds in The Breakfast Club) so I personally enjoyed this film and remember watching it every single day last year as well as TBC. This film has a lot of famous faces and I really enjoy it- shame I don't see more people talking about it.

The Goonies
Another one of my favourites and I feel like everyone either has seen or at least knows about this film. It has a familiar face for more younger viewers who don't take up their time watching older films and instead only watch newer releases. This film has Sean Astin who plays Bob Newby in stranger Things. I like his acting and The Goonies as a whole is so wholesome and familiar.

Labyrinth
Any David Bowie fan out there has 100% watched this and I think it is such a great film. I love the fantasy creatures within the plot and think they are such a good addition to the film. Again, for the age of the film the green screen is TERRIBLE and nowadays is comedic but the film as a whole is so good and I definitely recommend. It will keep you on edge when the main character Sarah tries to find her brother Toby after he is captured by King Jareth, played by David Bowie.

Jaws
Even though the first and second films were released in the late 70s, Jaws: The Revenge was released in 1987. This film has such bad graphics and you can see how badly made the shark is nowadays. Back in the day this was a HIT and people were deathly afraid to go in the open waters. This film in its day would have you on the edge of your seat and having you looking away but in the bold year of 2022, it doesn't seem to phase anyone as much as it used to.
That was my top 10 80s films and you reading this have probably watched all of the above already but if you haven't I 100% recommend. That is all from me and thank-you for reading until the end! Thank-you for all the votes😄
---
---