DashOutSunday- Dinner From My Neighbor on a Snowy Day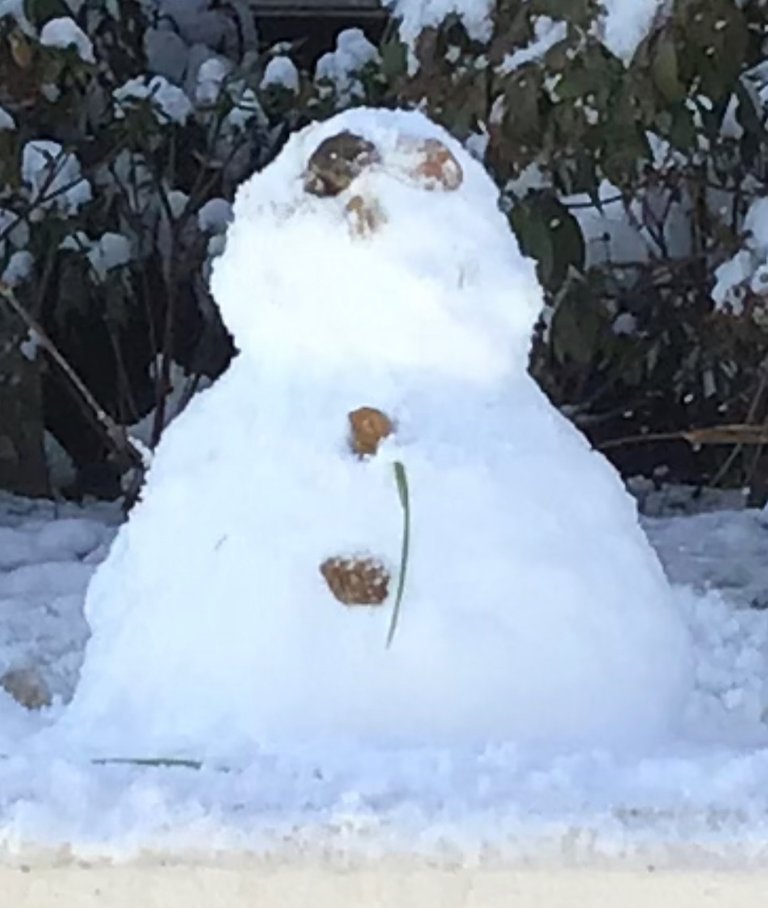 Snowman made by my sons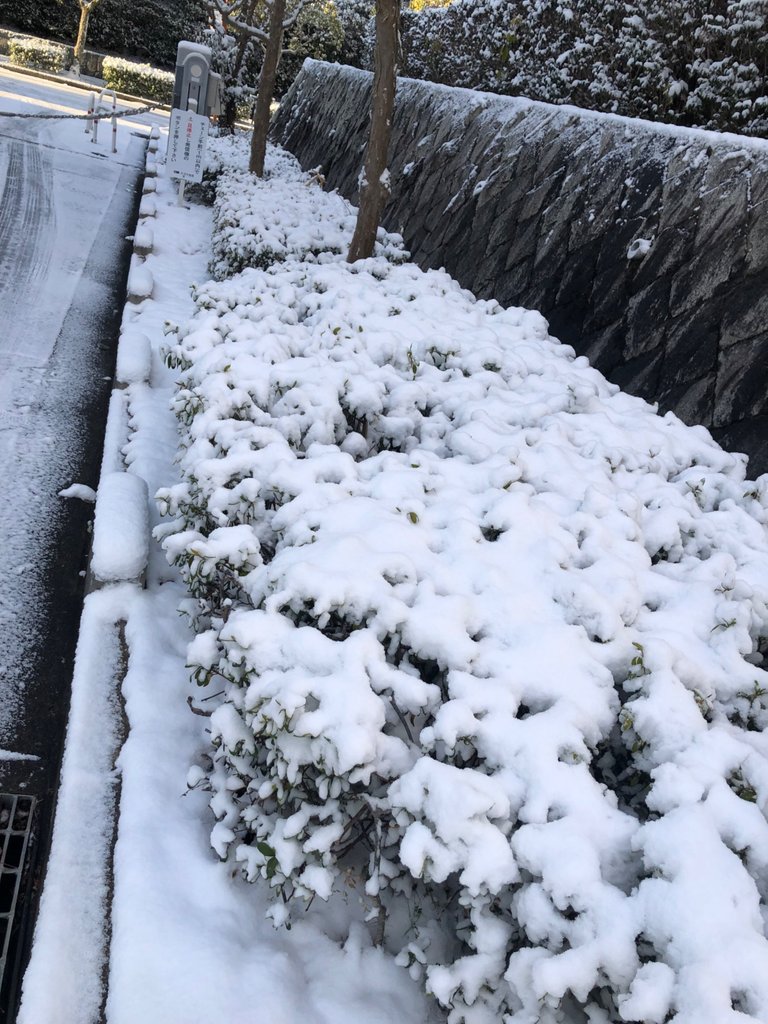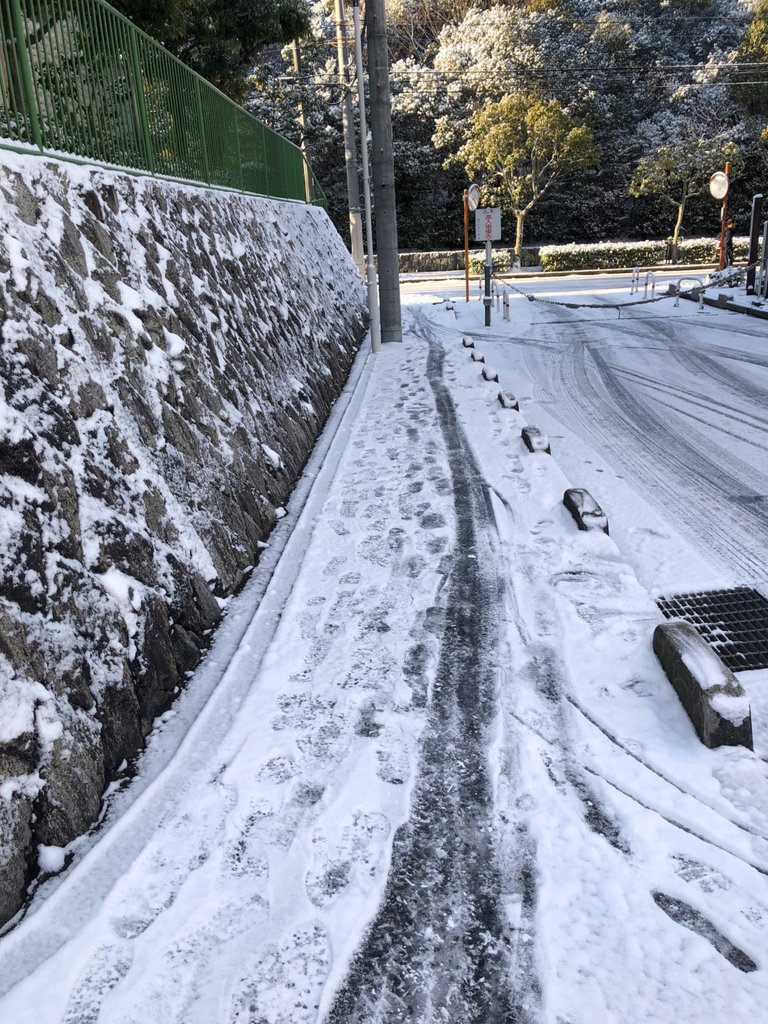 Hi hivers and fellow members of the @Reggaejahm community. In this post, I'm dashing out some snow from a very cold and white day in Kobe. I'm also dashing out some food I received from my neighbor.
"Dashing through the snow" took on a new meaning last week when we got unusually heavy snow in Kobe. Many schools canceled plans for at least a day. Several people got at least a day off from work as well. I went outside to look at the beautiful white but it was so cold, I basically had to dash back inside after a few minutes.
Surprise Meal From My Neighbor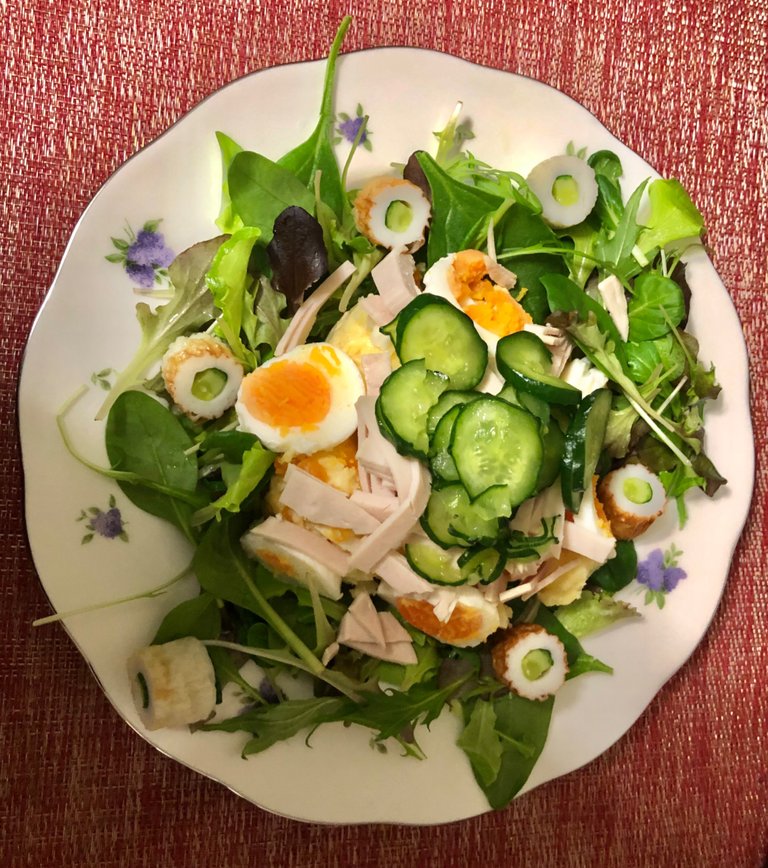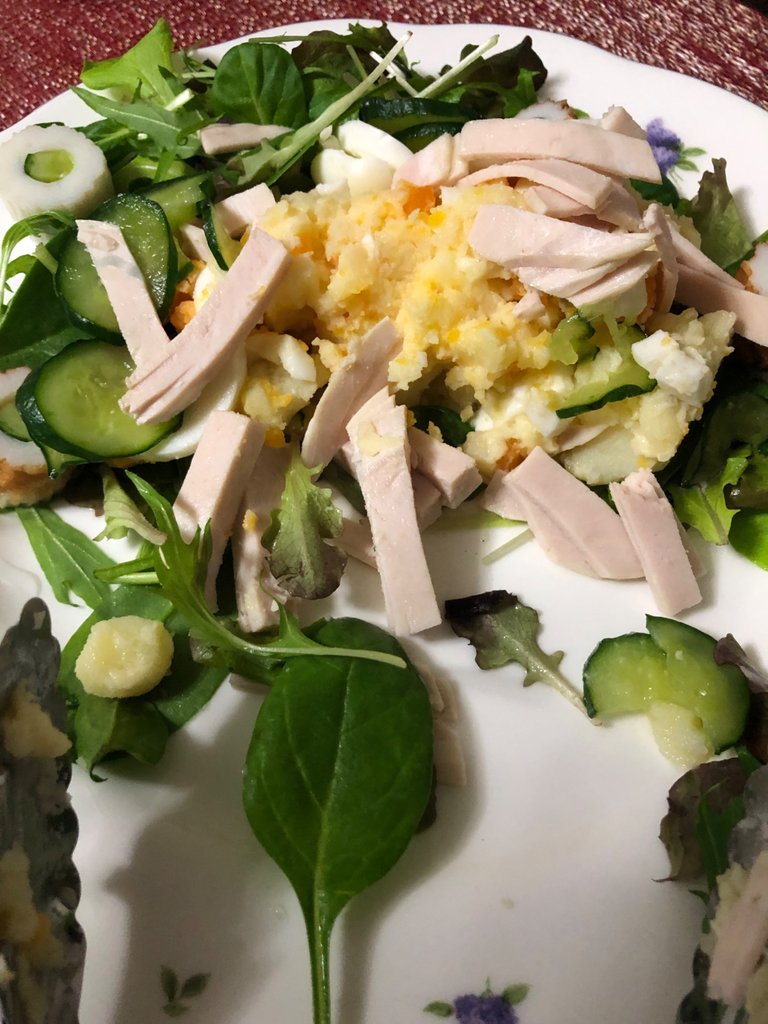 Potato salad with eggs, fish paste, greens, cucumber slices and bits of chicken.
Like all the other cars in the neighborhood, my neighbor's car was covered in snow. She's usually very busy and works long hours. She often travels out of town for business. To know whether she's in, I'd usually check to see if her car is around. Surely, hers and most cars were around due to the weather conditions. I messaged her a photo of the snowman my boys had made. She told me she'd look at it outside. I spent most of the day chilling inside and wasn't even sure what I'd be cooking.
Later on in the day, I heard my doorbell ring and it was my neighbor. She was dressed in her apron and made several trips to my door and presented my family with several platters of food. She said, "I'm always busy but today I'm free. I want you to relax. Here's food for you and the boys". We were really touched. We usually exchange food items but this time, she gave us "several courses". At one point, I basically had no words. It was a great way to enjoy a snowy day and motherly love from my Japanese neighbor. 🇯🇵
The experience took me back to my childhood days in Jamaica. 🇯🇲 Clearly we had no snow but on rainy weekends, my siblings and I would wrap ourselves in bed. My mom would "cook up a storm" (cook lots of food). Whenever she called us or tapped our room doors, we knew food was ready. We especially loved when she made fried dumplings.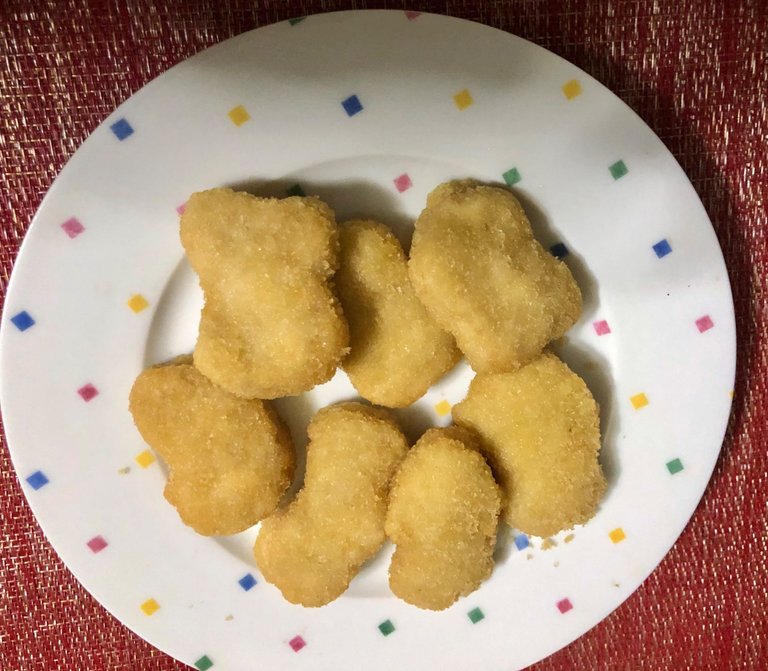 Chicken nuggets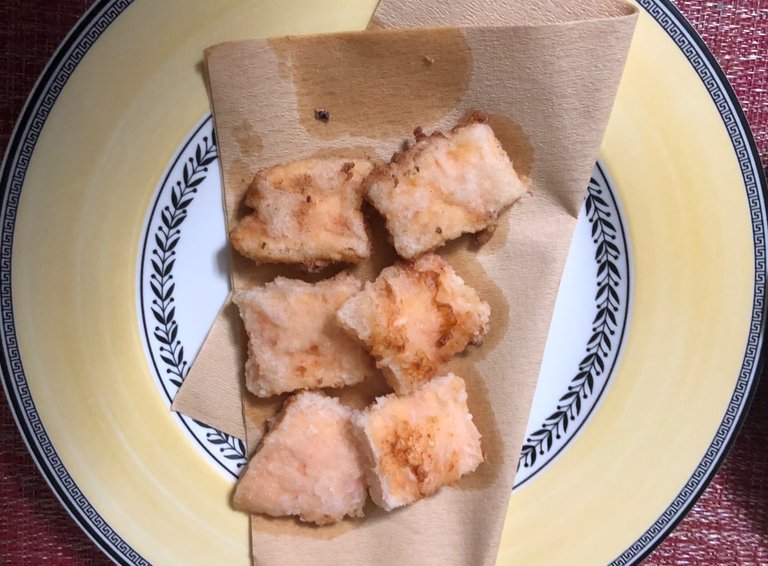 I don't know the name of this dish but it's made from shrimp.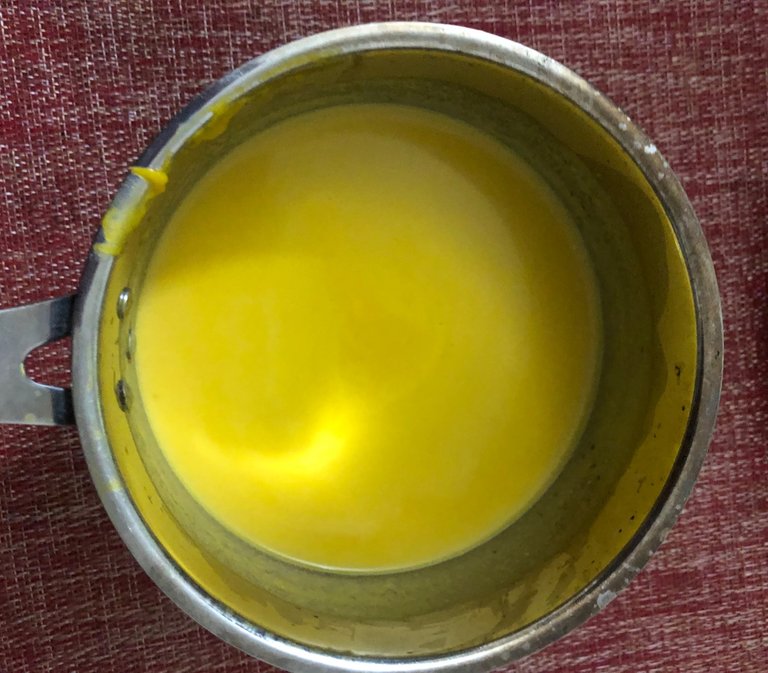 Pumpkin soup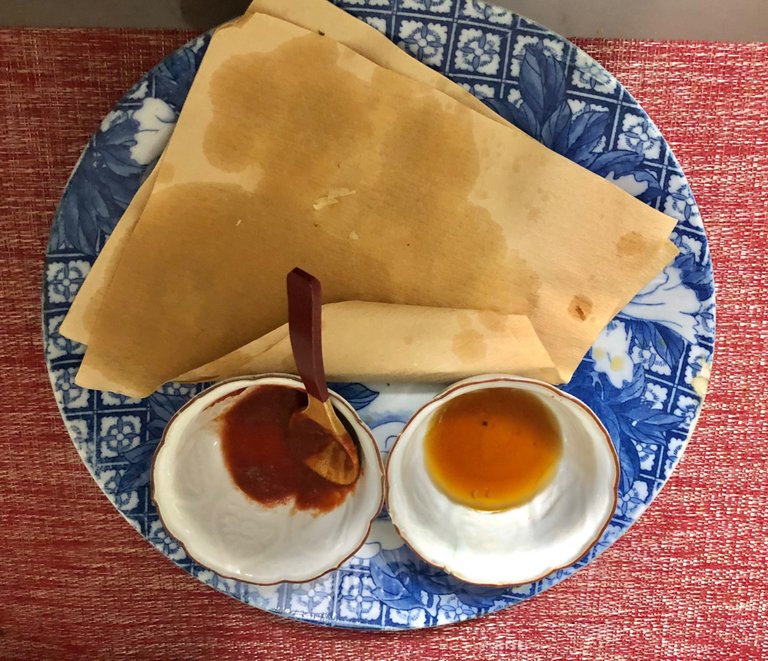 This platter had some vegetable tempura. It was the first one we received. They were so delicious. We had forgotten to take photos.
Our neighbor is really thoughtful. My sons told her she could open a restaurant. She smiled and said, "I'm happy to make you happy. Blessings to her.
This song goes way back! It's entitled "Neighbor" and was done by the group I-Three.
https://m.youtube.com/watch?v=riXKmKkmK7g
Anyone remembers the song?
The two words that got stuck in my head are "Mi neighbour". Lol! I can't even remember how old I was when I first heard it. Oldies but goodies.
Thank you for reading my post. Cheers to a lovely, fun and productive week. 😃
---
---