Fruity Center Pieces for Christmas 🎄 🍎 🍇 🫐 🍓


Fruity Christmas Tree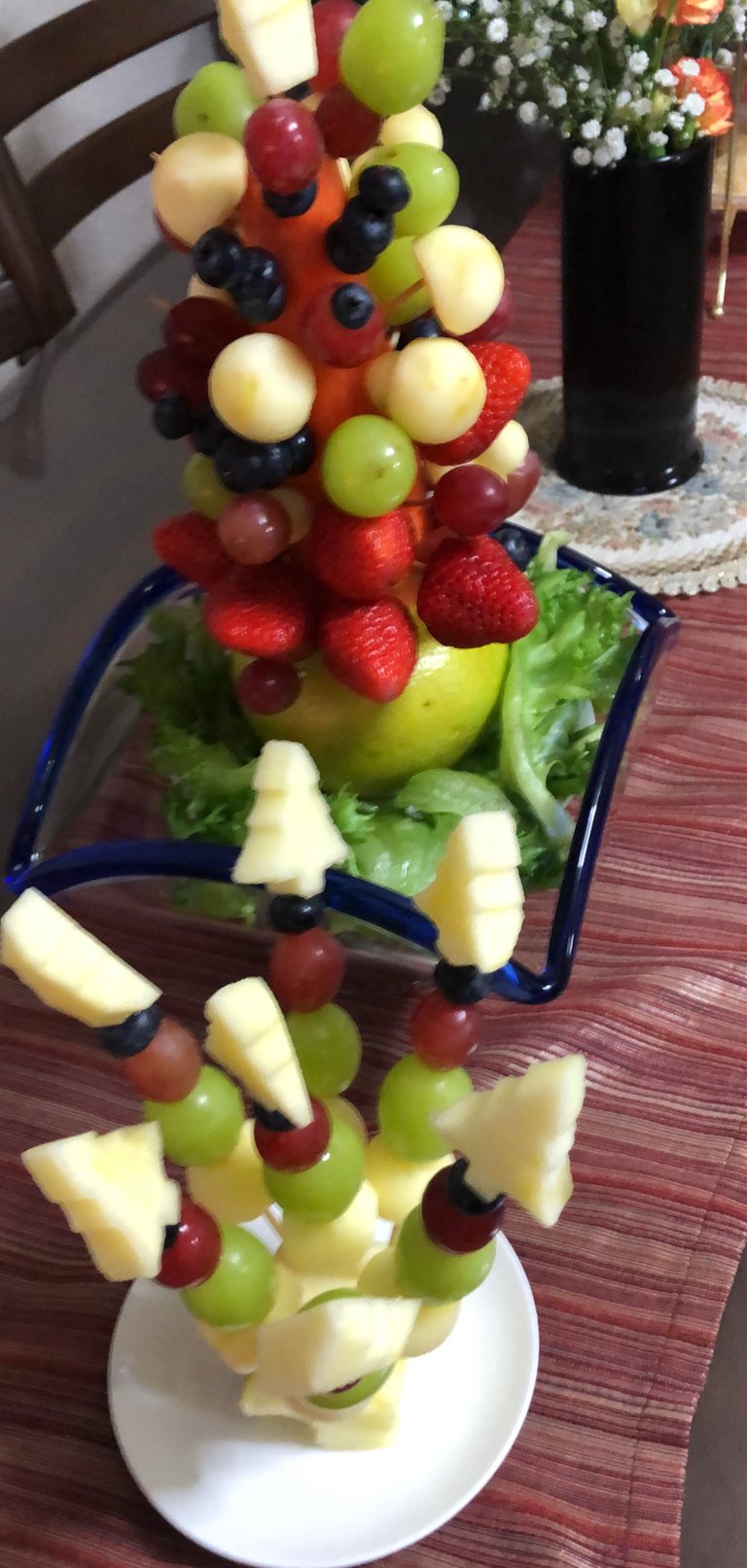 Fruity Christmas Kebabs and Fruity Christmas Tree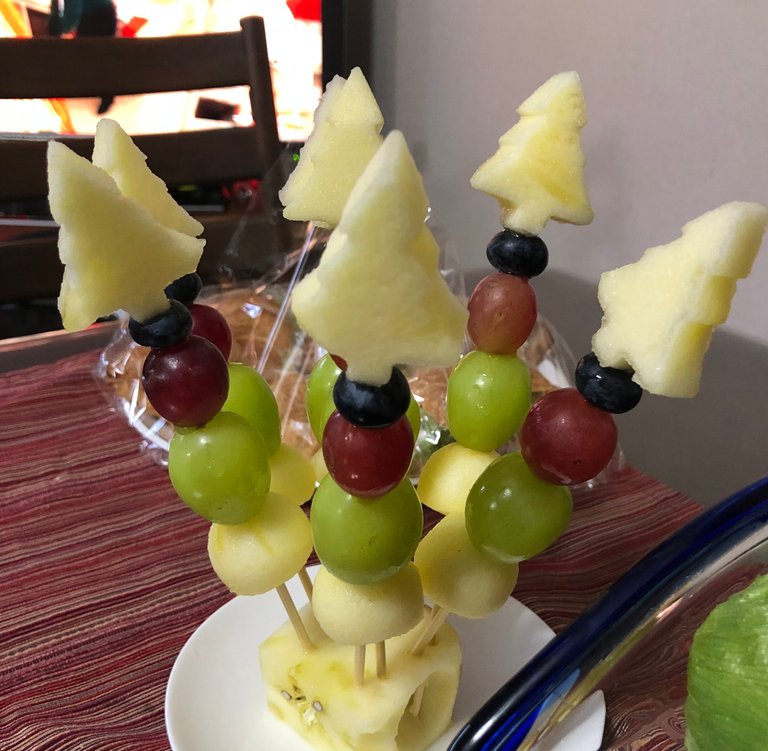 Fruity Christmas Kebabs
Happy Holidays fellow hivers and members of @FoodiesBeeHive. A great way to celebrate the holidays is to bring the festivities to the table.
At this time of year, many public areas and homes are decorated with lights and Christmas trees.
I thought that this year, I'd make a Fruity Christmas Tree and a set of Christmas Fruit Kebabs. My friends often send me videos of fruit arrangements because they know how much I love fruits and making stuff from or with them. I had watched about two videos with Christmas fruit arrangements.
After preparing the main Christmas dishes, I went ahead to make the fruit arrangements. I was a bit tired and thought I should have made them earlier when I had more energy. I however think they were fairly simple and so I'd like to share them with you. 😃
Making The Fruit Arrangements
Items needed: fruits (of your choice),a large carrot, lettuce, a grapefruit for the base (orange or apple could also be used), toothpicks (many), skewers (your preferred number), a Christmas cookie cutter (this could be a star ⭐️, bell 🔔,Christmas tree 🌲etc.)
A star cookie cutter works well for the top of the Christmas tree but I used a small "christmas tree" cutter.
Step 1 Gather your ingredients. You can use fruits of your choice. Fruits that can be simply washed and used as they are, work well and faster.
I used strawberries, green and red grapes, blueberries, apples, a grapefruit and a medium to large sized carrot.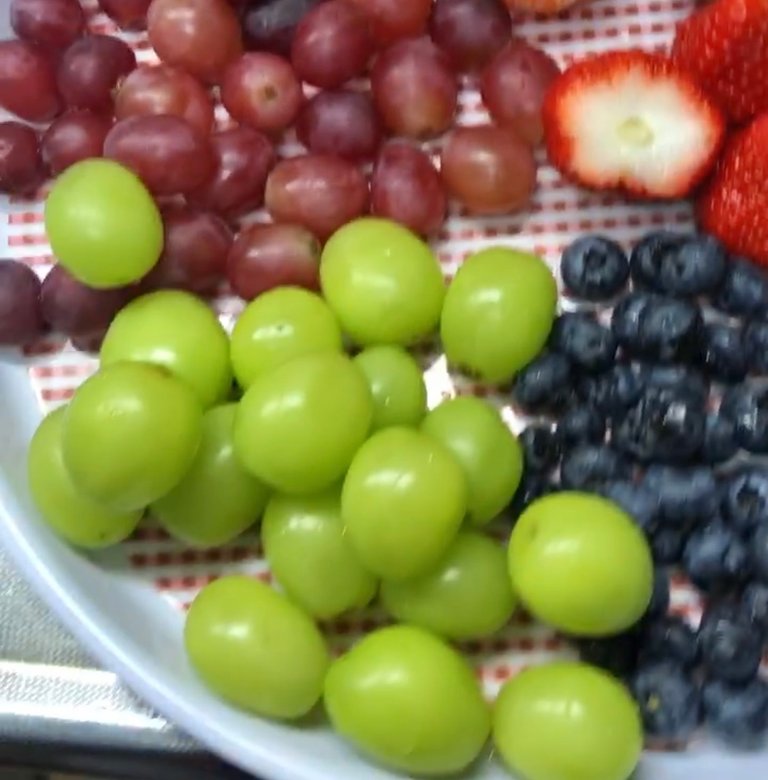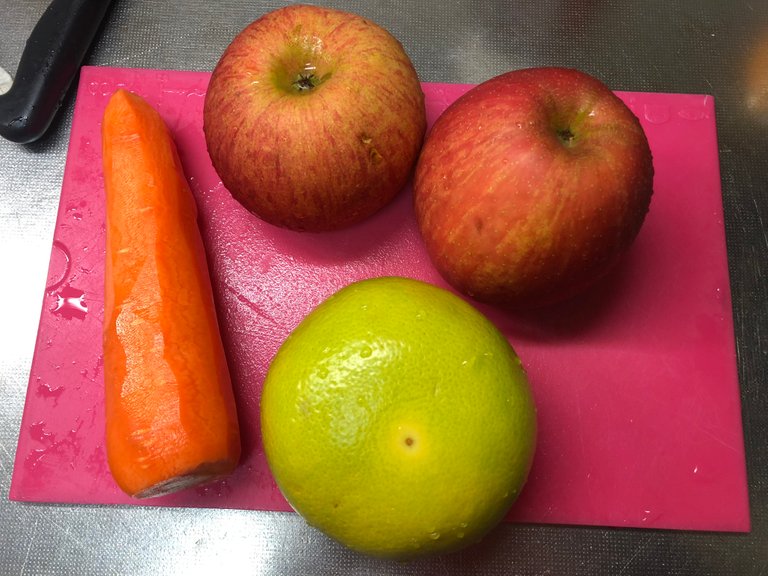 Step 2 Wash fruits, remove the leaves from top of the strawberries, wash and peel carrot, separate the grapes from the bunches, peel apple.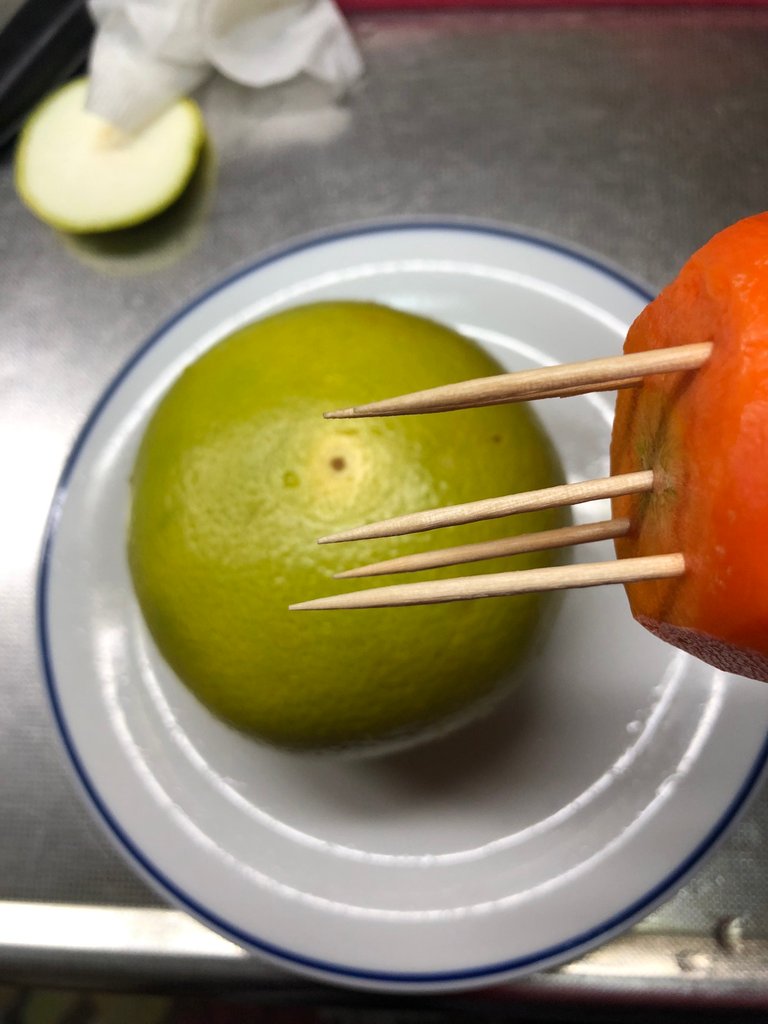 After attaching the carrot to the grapefruit, I thought it looked interesting but focused on the Christmas tree.
Step 3 On a plate, put the grapefruit on a flat base. Insert toothpicks at the thicker end of the carrot. Insert the base of the carrot on the top of the grapefruit. Insert toothpicks in the carrot. This is the base of the Christmas tree. Add the fruits to the tooth picks.
For balls of white, I used a fruit baller for the apple. For the white Christmas trees, I cut flat slices of apple and then used the cookie cutter.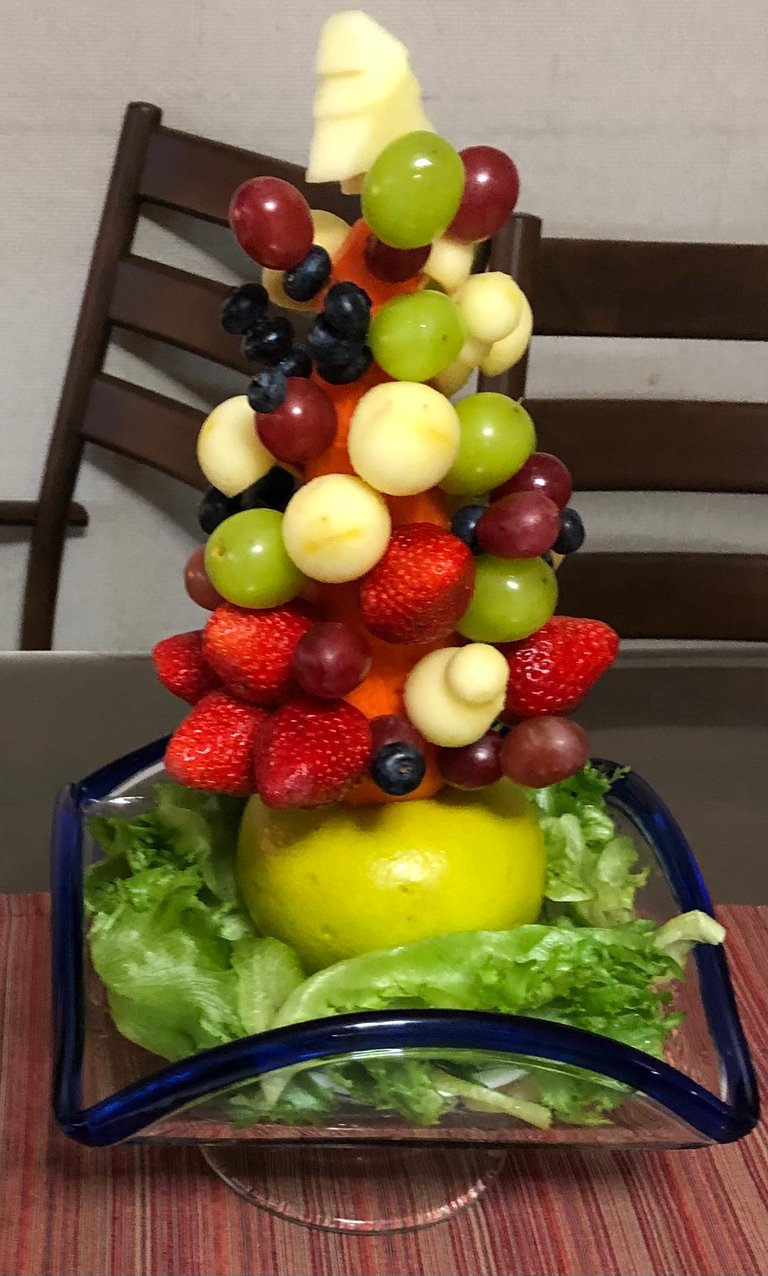 I added lettuce to the base. I think the arrangement would have looked better if the lettuce had covered the grapefruit. That was all the lettuce I had left.
The fun part is eating from the tree. Each family member took fruits of their choice. We discussed how interesting it would have been to have an actual tree with a variety of fruits. Lol!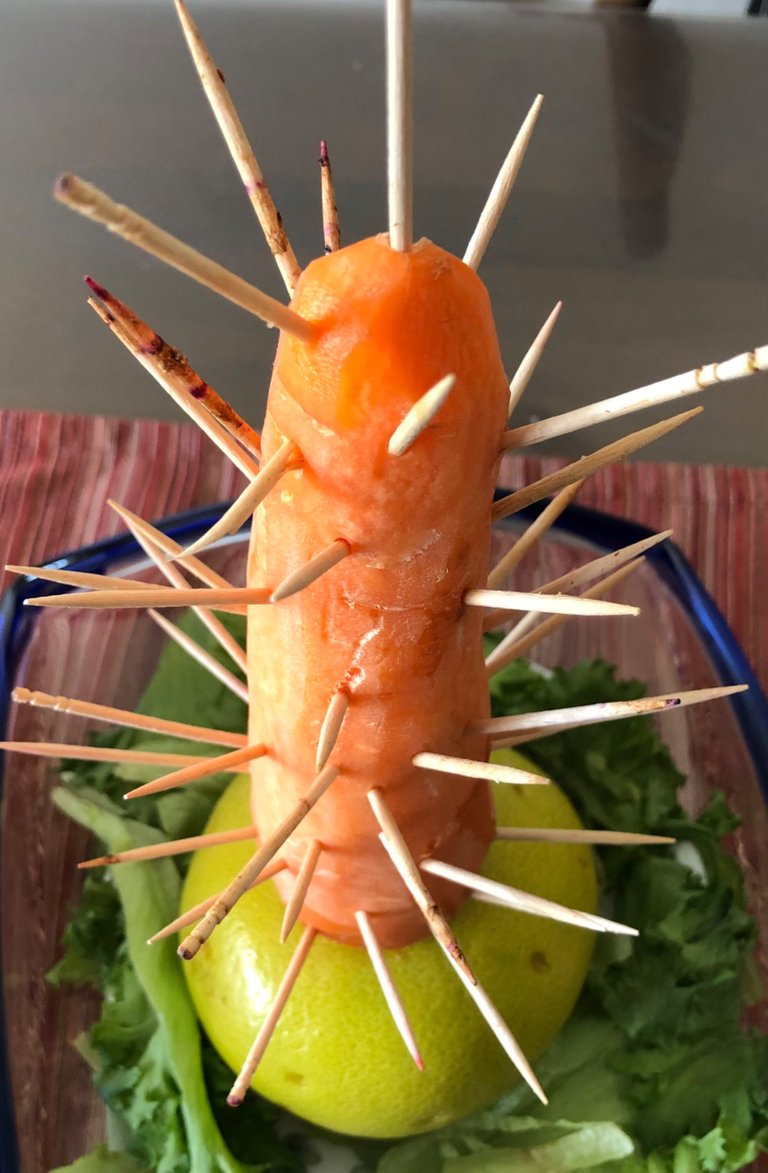 Little by little, the fruits all disappeared.
The Fruit Kebabs
I used a piece of leftover apple for the base for the kebabs. To the skewers added the apple, grapes and blueberries. At the top I placed the white "Christmas trees".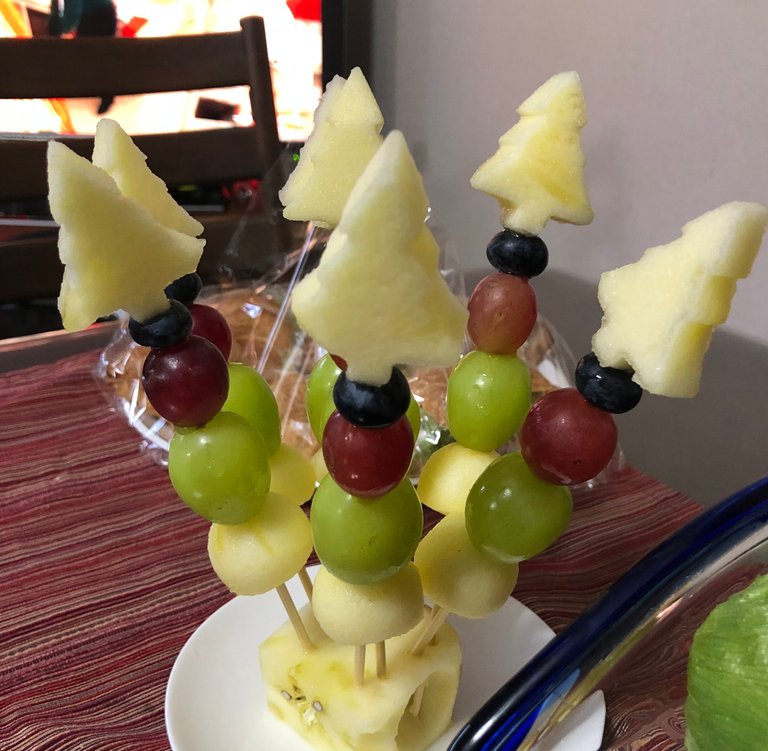 One of the challenges I experienced was the breaking of toothpicks. Some parts of the carrot were a bit hard so the picks sometimes broke. After inserting several picks, it also became more difficult to insert others without getting pricked.
😃Thank you for reading my post.
In what ways do you think these arrangements could have been improved?
All the best for the season. Happy holidays and wishing you a fruitful year ahead.
---
---