HP curation update!
Since the beginning of this year I have been recording my curation income on the Hive blockchain.
On one side to see how an account can grow by just curating posts, by the other side to see how the snowball effect does it work.
Don't expect anything fancy or extraordinary, but it is nice to have some insight.

As you can see the HP at the start of the month, almost did double during this year. I am still aiming on 10K HP before the year is over. To be exact the HP did increase with 83%. To bad my curation related income didn't follow the same line, here I only have an increase of 60%.
Too many mornings that my voting power was close to 100%, which never is a good idea. For sure in the weekend this happens frequently. In the weekend there are just less posts and I also spend less time on the hive blockchain.
This is also clearly visible if I do look at the average HP income per day of the week: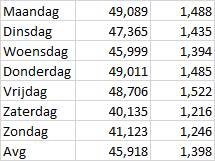 If I do look at the 7 days average, we do see a nice climb. I should be able to have a 7 days average of 2 Hive per day when the year is over.

August so far is on par. Not an increase compared to July and even a drop in the minimum HP curation related income. But luckily still above one.
Cheers,
Peter
---
---