The Effect of Canine Influenza on Dogs and Cats.
Hello friends and lovers of pets, welcome again to my page and thank you for consistently visiting, if this is your first time, you are also welcome. Today, I bring you a topic on Canine Influenza also known as Dog flu, there is a lot to learn about this topic and I hope that you completely enjoy reading and most importantly gain some valuable lessons along the line.
Canine influenza is a contagious respiratory disease that affects dogs, it is caused by a specific Type A influenza virus known to infect dogs, the virus is called ''canine influenza viruses'', In every case, pet owners must stay prepared and this is because some cases of dog flu could turn out to be fatal while others remain fatal.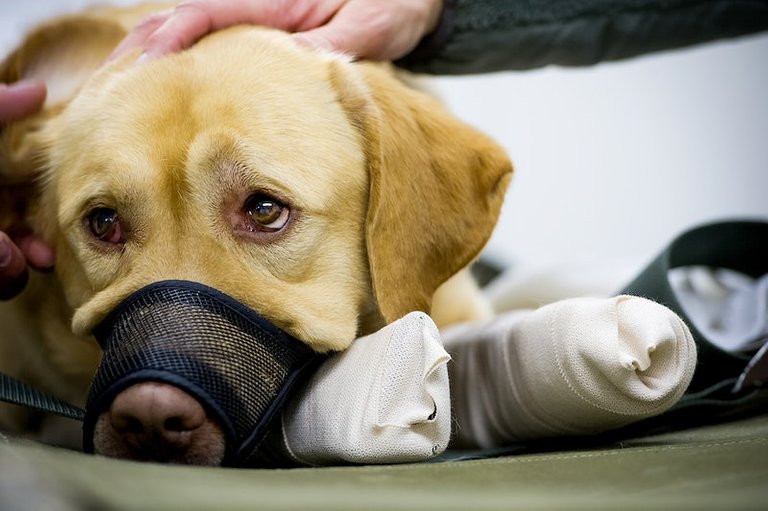 rawpixel.com
The influenza A virus that causes canine influenza is similar to the viral strains that cause influenza in humans. There are two major strains of dog flu found in the United States, namely; H3N8 and H3N2.
The H3N8 viral strain came out first in horses, the virus moved from horses to dogs and it became a canine influenza virus around 2004, the H3N2 influenza strain on the other hand, first originated in Asia, scientists believed that it started from birds and then moved to dogs, it is the virus responsible for the outbreaks of canine influenza in 2015-2016 and it continued to spread all through the United States.
Similar to the case of human influenza, dog influenza is likewise an airborne virus, respiratory secretions get escaped into the environment through barking, coughing, and sneezing, and it is at this point that they get inhaled by a new canine host. This dog flu also gets spread through contaminated environments and objects like collars, water bowls, and surfaces where there is close contact with an infected dog.
The incubation phase for canine influenza often takes about 2-4 days from the point of exposure to the dog flu virus, then viral shedding begins to decrease after the fourth day, but the dogs who have H3N8 viral infection remain contagious for like 10 days after there has been exposure, while H3N2, on the other hand, could remain contagious for up to 26 days. Almost all the dogs that come close to the disease regardless of the surface, will also contract it, however, not all dogs that are infected actually shows symptoms of the virus, but they can still spread the virus even without showing any physical/serious symptoms.
There are several symptoms to help pet owners identify if their pet has the flu or not, dog flue ranges from mild to severe, some of the symptoms of the flu are; sneezing, fever, runny eyes, lethargy, nasal discharge, coughing either dry or moist, difficulty breathing. The symptoms of dog flu are similar to that of kennel cough and the fact that you have a coughing dog does not necessarily mean the dog has canine influenza, so dog owners whose dogs are coughing have to make sure that the dog shows some other signs of respiratory disease and must ensure that the dog is not exposed to other dogs or cats.
Displayed clinical signs or symptoms cannot make us affirm that our pets have the virus, rather a trained veterinary would observe the pet within the first few days to check out for available clinical signs, a nasal swab for a polymerase chain reaction (PCR) test would be submitted to a veterinary laboratory. If the PCR test comes out positive, the dog is likely to have CIV after 4 days of being ill and at this point, blood testing for CIV antibodies has to be performed.
This type of testing is called serology, which involves comparing antibody levels 2-3 weeks away. If the rate of antibodies significantly increases within this period, it indicates the presence of a CIV nation. There is a CIV vaccine, and I just noticed now on presenting your eniolabuainess.
After a positive diagnosis, then treatment occurs, during the procedure, ensure that the pet is in a warm and dry place different from other dogs. It usually takes about 2-3 weeks for isolation and at that stage, if there is no development of respiratory signs, consulting a vet for the possible outcome is important.
According to the centers for disease control and prevention (CDC), CIV has no threat to humans, so if your pet has a canine infection, all you need do is to follow the instruction from the vet and you will be fine. Cats can also contract the influenza virus from dogs.
In a nutshell, preventing dog flu can be done with these easy steps;
Ensuring the vaccination of your dog.
Regularly wash your hands especially after touching a dog.
Isolating your dog.
References.
https://vcahospitals.com/know-your-pet/canine-influenza-the-dog-flu
https://vcahospitals.com/know-your-pet#f:topiccollection=[Preventive%20Care%20%26%20Wellness]
https://www.trudellanimalhealth.com/learn/further-reading/dog-flu-signs-symptoms-treatments
https://pets.webmd.com/dog-flu-symptoms-causes-treatment
https://www.today.com/pets/canine-influenza-facts-rcna62441
https://www.avma.org/resources/pet-owners/petcare/canine-influenza-pet-owners-guide
---
---