Hive Wallet Social Experiment - Team @hivegiftcard - SOLVED!
Greetings Hive Community,
Four days ago @geekgirl published an announcement post for the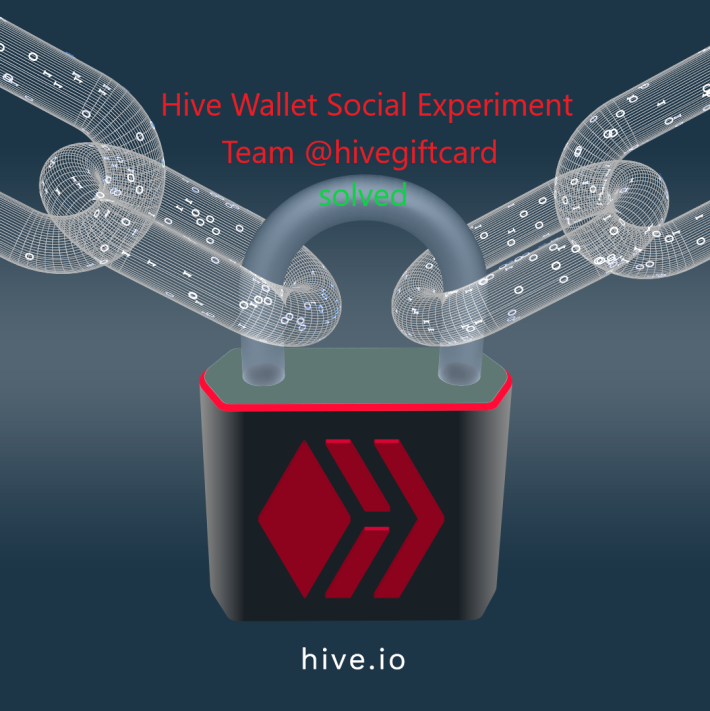 Image by @doze - Text added by @futuremind For Hive Wallet Social Experiment

---
To outline the details of this social experiment, I'll quote her words with how this would all work:
Let's play a game. I created a new account - @hivegiftcard, and sent 50 HBD to this wallet. I will split the private active key for this account into five equal length pieces. Then I will send them to five random people who agree to participate in this experiment. These participants will need to figure out a way to work together and put all the pieces back together to access the account and claim the 50 HBD.
The purpose of this experiment is to remind ourselves and discuss the powerful features of the Hive wallet, and have fun. There are no rules for the experiment. There are no expectations. Any outcome is good outcome. Even if one person figures out a way to trick the rest and keep all the funds to themselves, that is completely acceptable outcome too. Before I tell you more about the details of the experiment, let me tell you about the Hive wallet and awesome features.
I have created @hivegiftcard account and sent 50 HBD to this account. I will split the private active key for this account into five pieces of the equal length. I will send these five pieces of the key to five different accounts that agree to participate in this experiment.
These are the primary details of the experiment.
There was so much interest in the experiment that she decided to create even more hivegiftcard teams so that others would have an opportunity to participate and learn about Hive wallet keys. It's very important to learn the different authority levels of key encryption on the blockchain, so this was a great way to get people involved who might be lacking in their comprehension of how it all works.
I showed up to the party late and missed my seat at the table, but luck would have it that a spot opened up, and I was invited to partake in the first team created: @hivegiftcard.
The team members are @sanjeevm @adamada @dragokazo @kenechukwu97 and me @futuremind.
And we are proud to announce that we solved this key puzzle! A big congratulations to the rest of the team, you were all amazing!
The Process
Let's talk a little about what it took to solve it. I'm not going to give all of the secrets away, because I think there is at least one more team working on this still, and we don't want to make it too easy for them now do we? :)
The primary consideration was teamwork and trust amongst one another.
We knew that someone on the team, or all of us would need to have access to all of the keyparts.
So after a little back and forth chat between us, it was decided that there was no reason why we couldn't all share the keyparts, which would ultimately make solving this easier. (and a bit riskier if someone had intentions of running with the prize if they solved it first.)
Many of us expressed that our main goal was to solve this above the potentiality of winning a prize anyway, so this made it easier for us to come to a quick agreement.
There were some challenges that popped up right away.
I kept getting errors from improperly inputting keys and decided I might be able to apply my limited skills in a different manner.
I figured out a way to generate all of the possible key combinations and compile them with an algorithm. That is as much as I will say about that :D
I shared this compiling with the team and it wasn't long before @adamada cracked it!
She wasted no time in transferring of the funds, a great display of character on @adamada's part. Here is the proof of HBD transfers in a screenshot: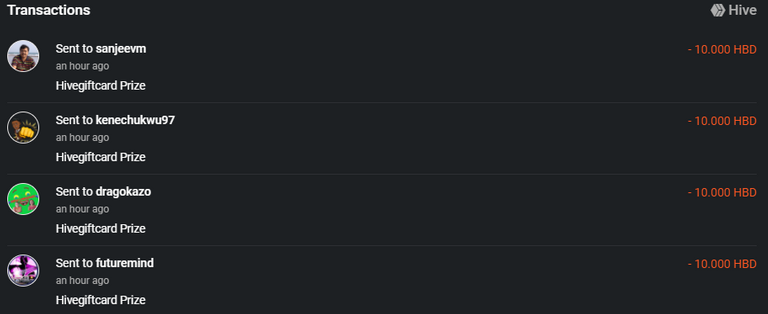 ---
At this current juncture, 17.5 Hive still sits in the wallet, as the team has not discussed what we're going to do with it. I have my own idea of what should be done with it, but we'll discuss that in private :)
Closing Thoughts
There were many variables to consider with our decisions in how we would work together, and much of this consideration was based on perception and trust.
Many things were discussed that could potentially happen and two major aspects to consider were:
What took precedence?
For us it was the win that took precedence.
If the prize was substantial, like a life changing amount of HBD, would the team have worked in the same fashion as we did? Willing to all share parts of the key, openly with one another?
In all respects, none of us know each other. We all live in different parts of the world, and all live different lives and lifestyles.
When working with an insignificant amount of HBD, it's easy to just say "I don't care what happens, I just want to win."
But I propose that if the stakes were raised, we would have been much more cautious with one another.
Perception vastly varies with how people think and psychoanalyze one another. With high stakes, it would not surprise me if people would want to meet face to face on video chat. I might even be first one proposing such a meeting, and imagine if one or two team members did not feel comfortable with a video chat, the kind of issues that could happen as a result of disagreement with a time deadline.
These are the kind of things that were rolling around in my mind while we did this, because after all, this is a social experiment with multiple layers of what it represented.
Education about wallet encryption and a fun way to engage and meet new people on the blockchain seems to be the ultimate goal with something like this, and in my opinion that's better than a version which could cause people to become enemies in this space.
We're all here with a common purpose for the most part, and so fun social experiments like this where no one will get their feelings hurt, is pretty cool to me :)
Thank you @geekgirl for organizing this experiment! We had a fun time with it, and learned some new things through this process.
Congratulations again to my team members @sanjeevm @adamada @dragokazo and @kenechukwu97. You were all very pleasant to work with, and I hope we will get to work together again in the future!
The rewards for this post will be set as beneficiary between all of the team members.
Thank you for stopping by, have a great day! -Team @hivegiftcard
---
---