The Investment That Nobody Is Talking About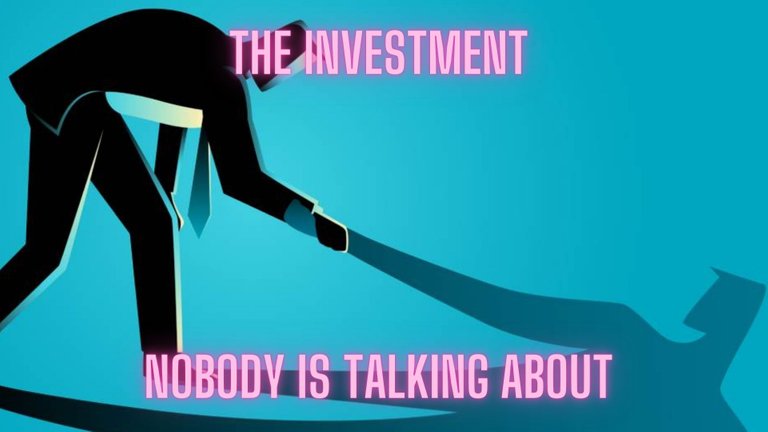 When it comes to investing there are a lot of ways to make your money or time get to work for you. There the obvious choices of assets that are very popular at the moment, like real estate, stocks, gold and the most recent one: crypto. All of these assets have a legitimate reason to be invested in but one asset seems to be forgotten more and more over time. In this article I will talk about this asset and show you what I think people could do to invest in it and what the major advantages could be.
The Asset That Everybody Forgets
Everybody who is reading it is probably wondering now: What is this great investment that people tend to overlook. Well, it is something that everybody should be aware of and everybody has. To not longer withhold it from you, I am talking about yourself! I know this comes with a surprise to most of the people but if you would think about it, it makes so much sense to invest in yourself. Sometimes it is even the best thing that you can do in uncertain times because it will almost all of the time does not lose money, but more on that later.
There are different ways to invest in yourself and I will name a few and show you some examples. The first way would be very obvious: your education. Here comes a lot of things to my head. The number one thing would be college. But I know that this is not the best choice that is why there are a number of other opportunities to educate yourself and learn a skill. First of all, it all depends what you are passionate about. If you like coding, why not start a course on coursera or codeacademy. Not only would you benefit from it in the long run but your next job interview could be much easier because of it. Another great way to educate yourself is learn a new language as it will come in handy for sure in the future. Most of the time this investment does not even need a capital investment but only requires your time.
Another way of investing in yourself would be to start a business. Yes, I agree that it might fall into another investing asset category but if you are running the business, it can be considered to be you. There is always the opportunity of renewing your equipment or invest into better tools. For example, if you are running a photography business, you can invest into better lenses so that your customers will get even greater pictures. This would definitely differentiate you from your competitors. Furthermore, you can invest into some editing software that would make your life easier and would scale your results faster. Most of the time this investment is better than any capital investment you can make because of the advantages I will point out in the next section.
Before we got to that, I want to mention a third option of investing into yourself and that would be really do something that is nice for you. Herby I mean things like a holiday or even a nice dinner. This way you could reenergize yourself and make your life better in the long run. This might look like just an expense on the first sight but it has to be considered that you are your greatest asset and if you don't pay attention to it, you will not get to enjoy all the other assets that you are thinking of.
Advantages
Now, why are you a better asset than other assets like real estate or crypto. The first argument would be the opportunity cost. While you invest in the future and hope for some returns in the long run when you are investing into the classical assets, you will get instant rewards and returns if you invest in yourself. Especially if we look at the last point I mentioned. It will not take half a year to make you feel better if you go on vacation and it also will not take a year to see first results if you are learning a new skill. Most of the time this skill can produce you more money than another asset could do in the same time frame, so it is always important to keep this in mind.
The other big advantage is that you are in control! How often were you wondering about somebody like Elon Musk to tweet something just to see your investments drop in value. With you as the asset you are in total control. Nobody but you can influence how you progress and if you choose to invest more you should get to see better results from your investment. Basically, you are the one who determines how your own stock price goes and I think that it is everybody's intention to make his own stock price grow.
Last but not least, there is no bad timing in investing into yourself. Are we in a pandemic and the stock market is crashing? Great, just invest into some new courses that always interested you! Are we in a bubble that is about to pop? Also good, just invest into a tool that makes you happy and will help you make a better job! In my opinion, investing in yourself is always a good choice, no matter the situation.
Conclusion
To sum up this article I really think that people tend to forget that they are their biggest asset and it is worth to invest into yourself every once in a while. It does not have to be monetary investments but the time you put in. With this being said I wish you all a merry Christmas and hope that you and your families are staying healthy and safe!
Published by ga38jem on
LeoFinance|Steemit
On 24th December 2021
Posted Using LeoFinance Beta
---
---