Calendario de adviento, tradición familiar || Advent calendar, family tradition.
Hola a todos queridos amigos de Hive.
Solo queda un día para que empiece el mes de diciembre y la verdad es que los días están pasando muy rápido, no hace mucho que se veía el blog con hermosas creaciones para Halloween y ahora todo se pinta de rojo y verde ya que solo queda un mes para que acabe este 2022.
Les quiero comentar de una linda tradición que tengo con mi familia desde hace unos tres años. Se trata del famoso calendario de adviento, les cuento un poco sobre ello; El calendario de adviento se trata de un calendario con 24 casillas, en las que se guarda una sorpresa o un regalo y cada día se abre una ventanita del calendario y se descubre la sorpresa. Es una forma de preparar a los niños para la llegada de la navidad. No obstante en mi casa ya no hay niños jaja pero igualmente me pareció una tradición muy bonita para compartir con mi familia amada.
Hello everyone dear friends of Hive, there is only one day left for the month of December and the truth is that the days are passing very fast, not long ago we saw the blog with beautiful creations for Halloween and now everything is painted in red and green as there is only one month left for the end of this 2022.
I want to tell you about a nice tradition that I have had with my family for about three years and it is the famous advent calendar, I tell you a little about it; The advent calendar is a calendar with 24 boxes, in which a surprise or a gift is kept and every day you open a little window of it and discover the surprise. It is a way to prepare children for the arrival of Christmas. However in my house there are no more children haha but I still found it a very nice tradition to share with my beloved family.
---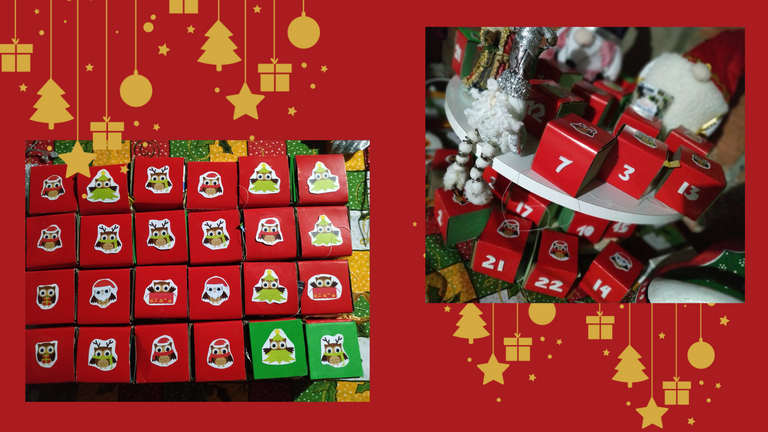 Editado en Canva || Edited in canva
---
Para crear este calendario hice fue unas cajitas de cartón y cartulina color verde y rojo, las decore con unos búhos de navidad y además les coloque unos hilos para poder guindarlas en el arbolito de navidad.
To create this calendar I made cardboard and cardboard boxes in green and red, I decorated them with some Christmas owls and I also put some threads to hang them on the Christmas tree.
---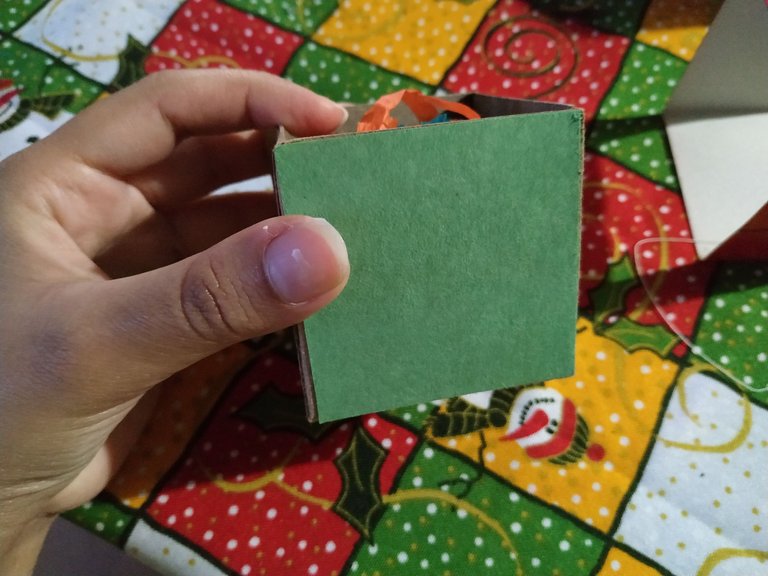 ---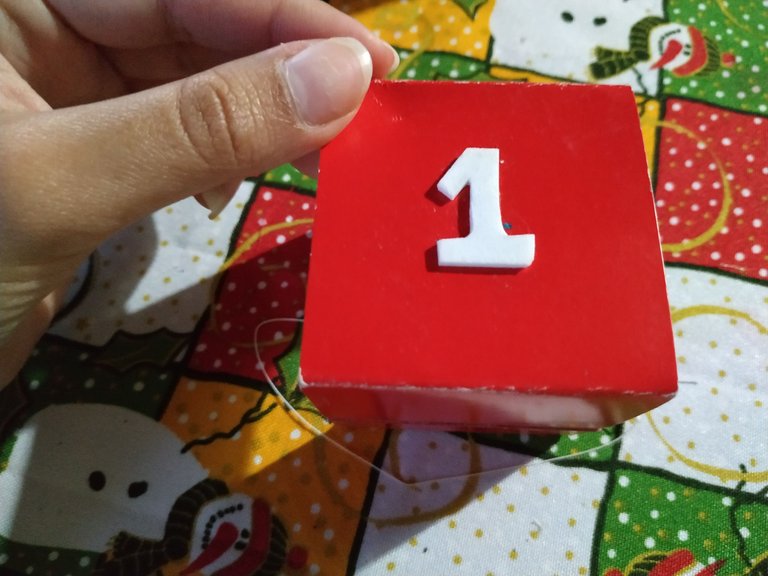 ---
Ya han pasado 3 años desde que hice estás así que tuve que hacerle unos retoques para tenerlas listas de nuevo.
It's been 3 years since I made these so I had to do some touch-ups to get them ready again.
---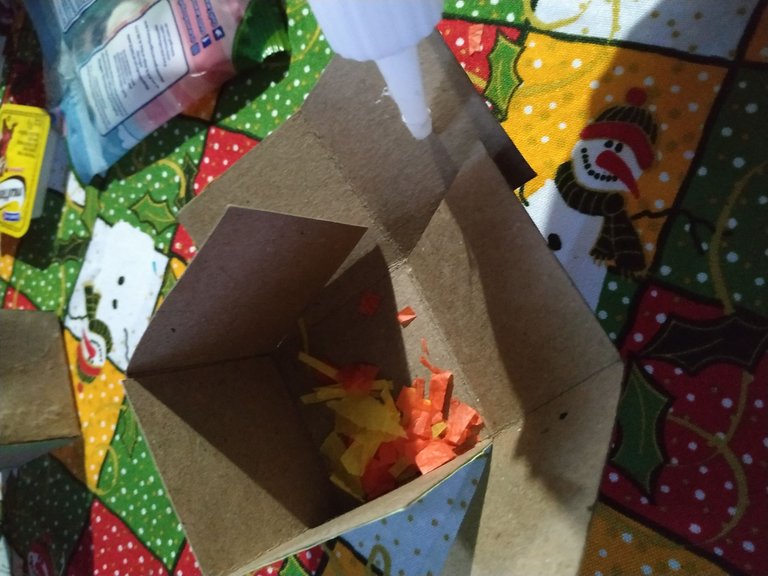 ---
La idea es que cada integrante de la familia abra una caja por día y luego repartir la sorpresa entre todos. Esto lo hacemos cada mañana al despertar.
Para este año compre muchas galletas, chocolates y dulces, siempre buscado empaques pequeños para que pudieran entrar en las cajas.
The idea is that each member of the family opens one box per day and then distributes the surprise among all of them. We do this every morning when we wake up.
For this year I bought a lot of cookies, chocolates and candies, always looking for small packages so they could fit in the boxes.
---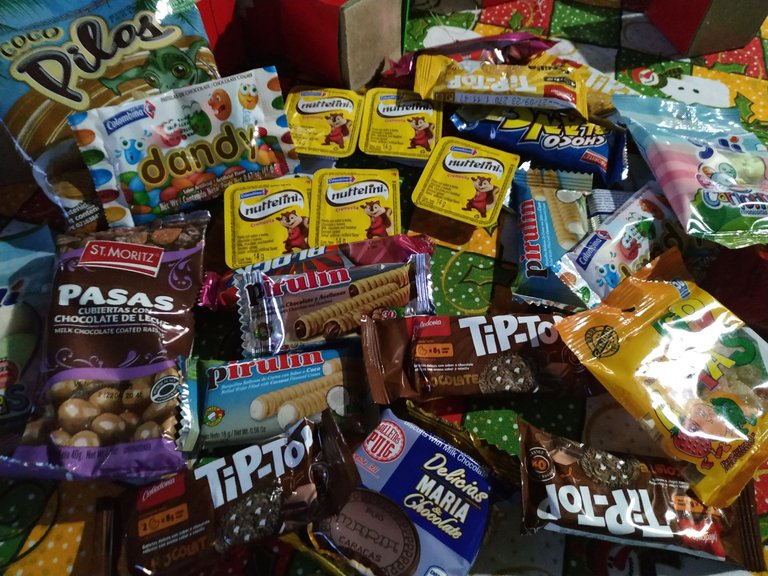 ---
Coloque cada golosina en las diferentes cajas.
Place each treat in the different boxes.
---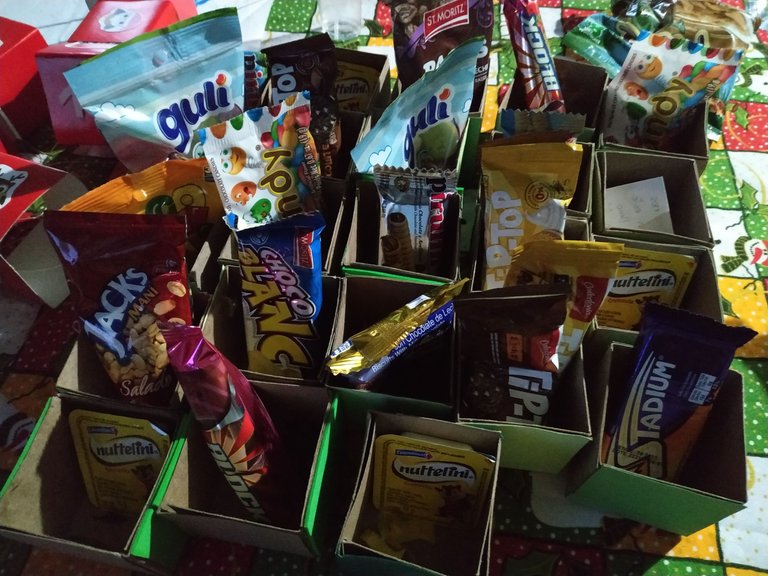 ---
No obstante las tapas de las mismas las tenía al revés para no saber que se encontraba en cada caja y así también tener un poco de sorpresa.
However, I had the lids of the boxes upside down so I wouldn't know what was in each box and so I could have a bit of a surprise.
---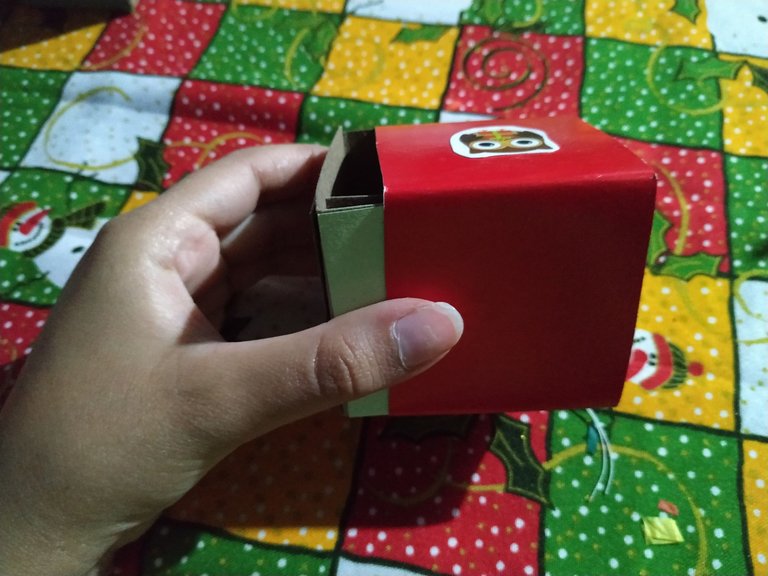 ---
Así quedaron al final.
This is how they ended up.
---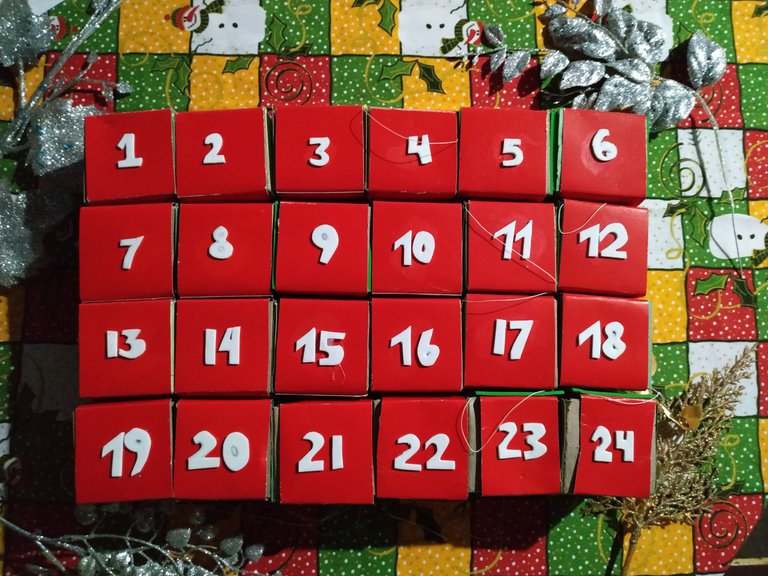 ---
Este no fue un tutorial pero quería mostrarles que no se necesita de mucho dinero para hacer este calendario ya que en su mayoría utilice materiales de reciclaje y que podemos hacer una linda tradición con cosas muy simples que van a crear recuerdos hermosos con nuestros seres queridos.
Muchas gracias por leer mi blog, les invito a dejar en los comentarios su opinión de mi publicación y además saber que tradiciones tienen en su familia para esas fiestas. Saludos y que Diosito les bendiga.
This was not a tutorial but I wanted to show you that you don't need a lot of money to make this calendar since I mostly used recycled materials. And that we can make a nice tradition with very simple things that will create beautiful memories with our loved ones.
Thank you very much for reading my blog, I invite you to leave in the comments your opinion of my publication and also to know what traditions you have in your family for the holidays. Greetings and God bless you.
---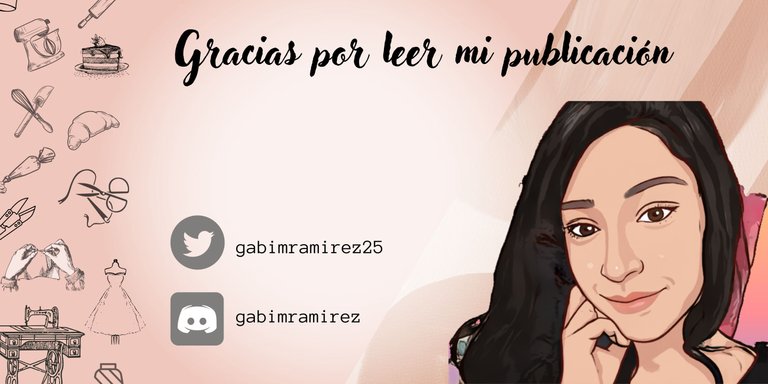 Editado en Canva || Edited in canva
---
Fotos tomadas de mi teléfono Xiaomi Redmi Note 6 Pro || Photos taken from my Xiaomi Redmi Note 6 Pro phone.
Fuente del editor de imágenes || Image editor source
---
---