Cojín para silla || Chair Pads

---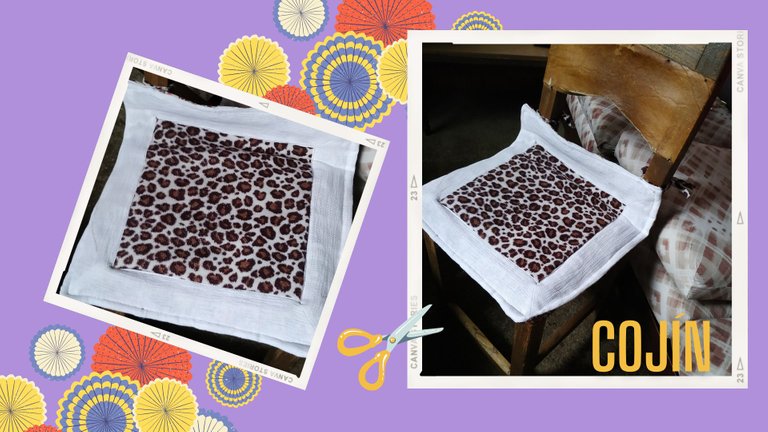 Editado en Canva || Edited in canva
---

---
Hola a todos queridos amigos de Hive, feliz lunes y feliz inicio de semana para todos ustedes amantes de la costura. Hoy para la #needleworkmonday les traigo el cómo elaborar un bello cojín para sillas.
Las sillas de mi casa son de madera y estar mucho tiempo sentado en ellas hace que sea un poco cansado, es por ello que me gusta hacer cojines que combinen con los demás elementos de mi hogar, de hecho hace un tiempo les compartí como elaborar unos cojines en forma de cuadros y hoy les traigo otro diseño.
Esta idea me vino a la mente gracias a un vídeo que conseguí por la red social de Facebook, aquí les dejo el link del vídeo por si quieren ir a verlo.
Hello everyone dear Hive friends, happy Monday and happy start of the week to all of you sewing lovers. Today for #needleworkmonday I bring you how to make a beautiful chair cushion.
The chairs in my house are made of wood and sitting on them for a long time makes it a bit tiring, that's why I like to make cushions that combine with the other elements of my home, in fact some time ago I shared with you how to make some cushions in the shape of squares and today I bring you another design.
This idea came to my mind thanks to a video that I got through the social network Facebook, here I leave the link to the video if you want to go see it.
---
Vídeo de referencia - Reference video
---

---
Tela rígida blanca.
Tela con estampado de animal print.
Tela gruesa para la base.
Guata o relleno.
Tijeras.
Alfileres, agujas.
Cinta métrica.
Lápiz.
White rigid fabric.
Animal print fabric.
Thick fabric for the base.
Wadding or stuffing.
Scissors.
Pins, needles.
Tape measure.
Pencil.
---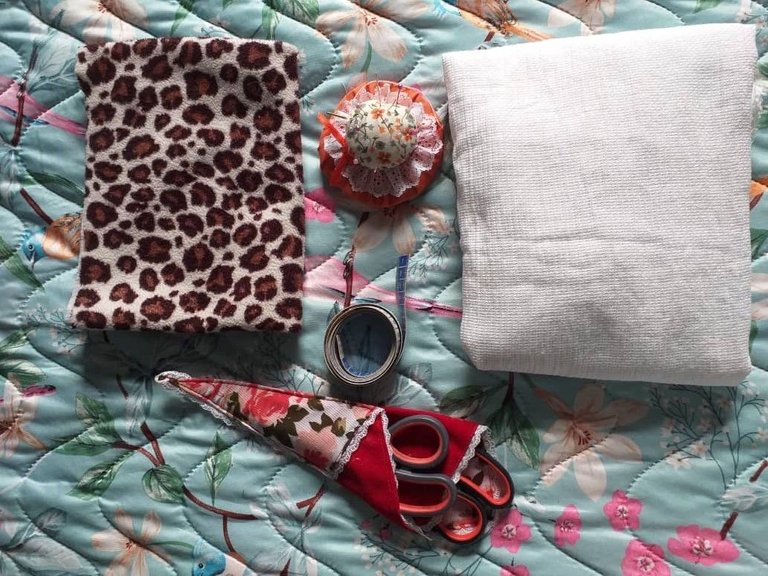 ---

---
Vamos a utilizar tres tipos de tela para este diseño, con la tela blanca recorte cuatro rectángulos de 46 centímetros de largo por 10 centímetros de ancho y con la tela estampada un único rectángulo de 36 centímetros por 31 centímetros. La otra se las enseñaré más adelante.
We are going to use three types of fabric for this design, with the white fabric I cut out four rectangles of 46 centimeters long by 10 centimeters wide and with the printed fabric a single rectangle of 36 centimeters by 31 centimeters. I will show you the other one later.
---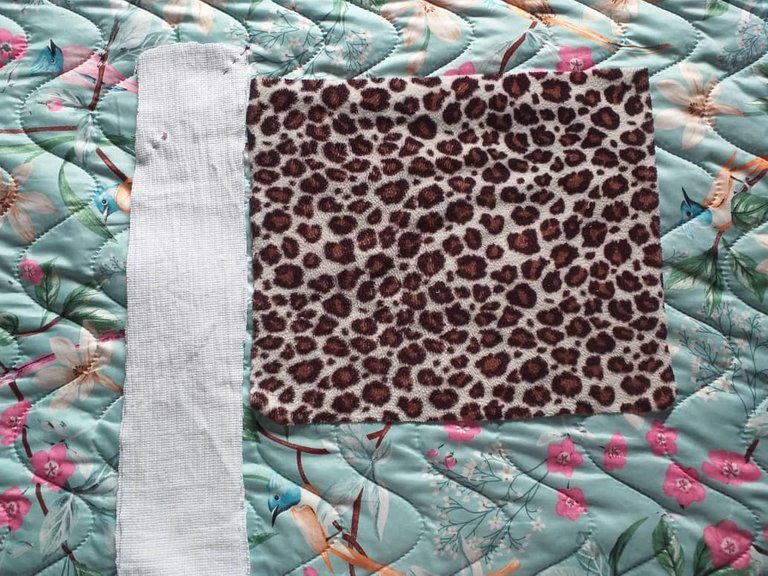 ---

---
Dejamos a un lado la tela estampada y unimos las cuatro tiras de esta forma para que nos quede como el marco de un cuadro, como ven al lado superior derecho se ve como se nos van a sobreponer las telas, lo que debemos hacer con ellas es unirlas y se nos formara una diagonal la cual le colocaremos alfileres. Luego recortamos los excedentes, pasamos un hilvanado y nos quedará como se ve del lado superior izquierdo.
We leave aside the printed fabric and join the four strips in this way so that it looks like the frame of a picture, as you can see on the upper right side you can see how the fabrics will be superimposed, what we must do with them is to join them and we will form a diagonal which we will place pins. Then we cut the excess, pass a basting and we will be as seen on the upper left side.
---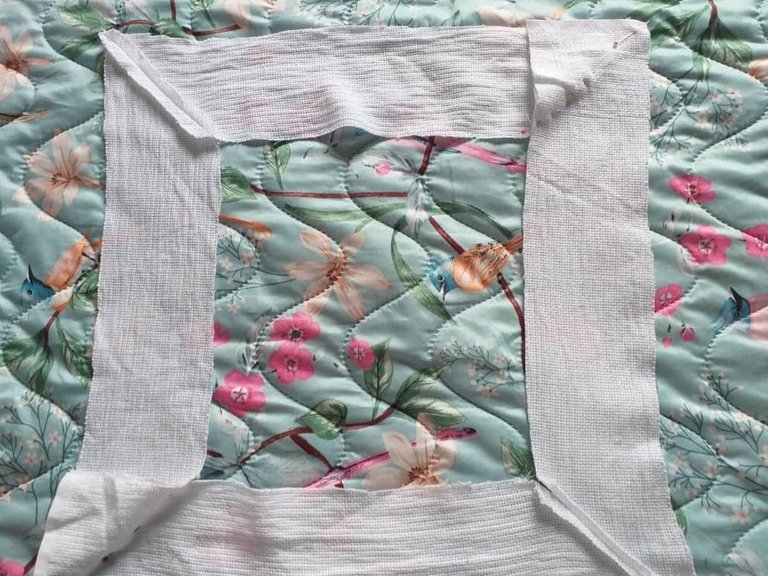 ---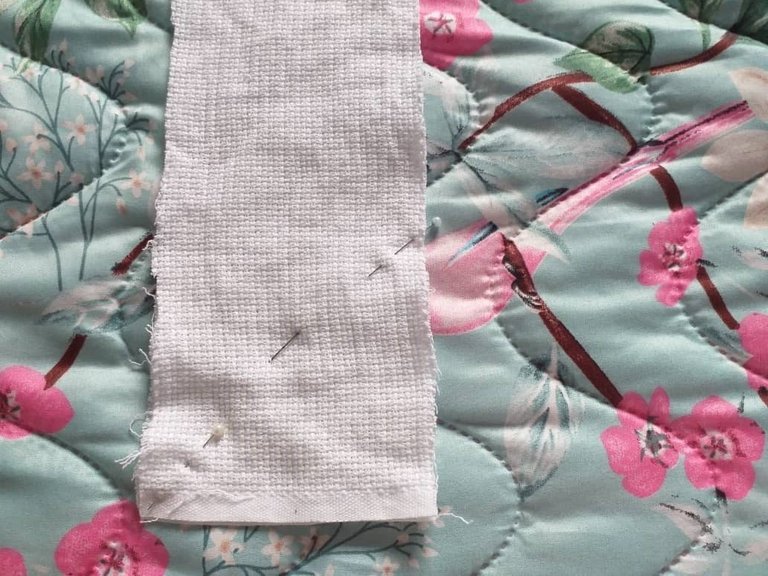 ---

---
Colocamos el rectángulo estampado en el centro el marco blanco que acabamos de hacer, lo fijamos con unos alfileres y pasamos costura por todo el contorno para que nos quede de esta manera.
We place the stamped rectangle in the center of the white frame we have just made, we fix it with pins and we sew all around the contour so that it looks like this.
---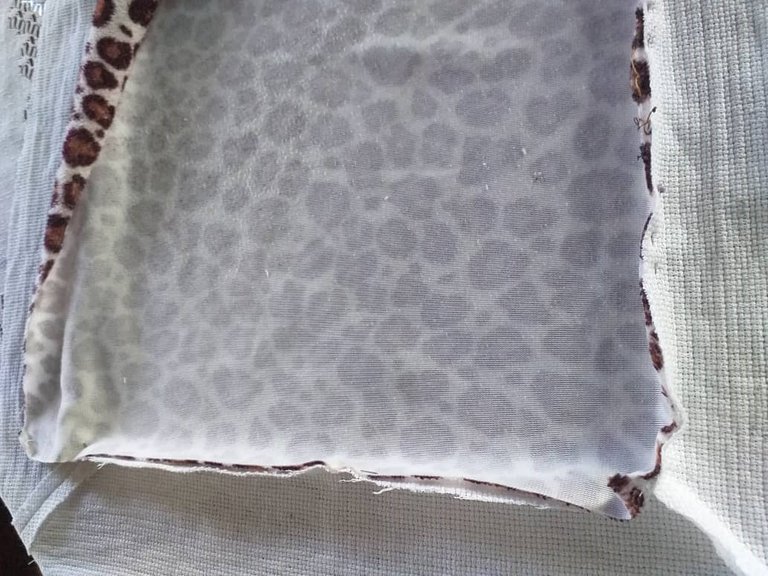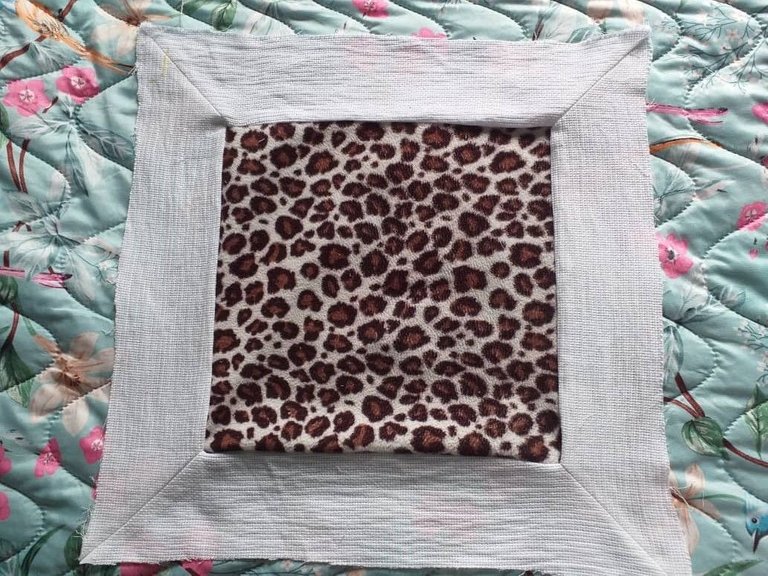 ---

---
Tomamos de referencia el cuadrado que nos acaba de quedar y hacemos un cuadrado del mismo tamaño con una tela gruesa, en este caso recicle una tela de un edredón viejo que tenía guardado, no importa si no combina con lo demás ya que esta va a ser la base del cojín y no se notará la diferencia ya que lo que queremos es una tela gruesa para que vaya tomando forma el cojín; No obstante, si consigues una igual o que combine con las otras telas del cojín es mucho mejor.
We take as a reference the square that we have just left and make a square of the same size with a thick fabric, in this case recycle a fabric from an old quilt that I had saved, it does not matter if it does not combine with the rest as this will be the base of the cushion and will not be noticed difference since what we want is a thick fabric for the cushion to take shape; however, if you get a fabric that matches or combines with the other fabrics of the cushion, it is much better.
---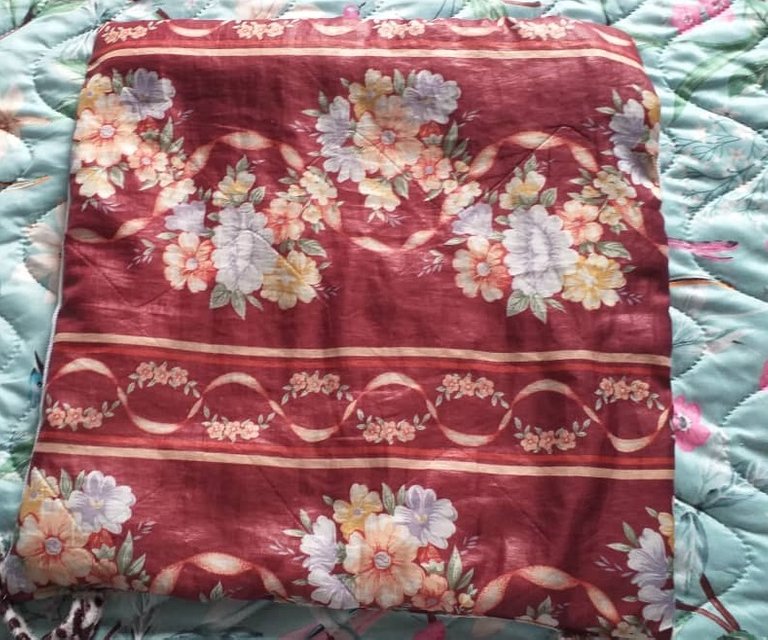 ---

---
Vamos a colocar la tela que va en la parte posterior, arriba de ella colocamos un cuadrado de tela guata del grosor deseado y colocamos el cuadrado que hicimos (la parte superior del cojín) con el derecho hacia adentro. Se hilvana para asegurar la guata y cosemos por todo el contorno a excepción de uno de los lados.
We are going to place the fabric that goes on the back, on top of it we place a square of wadding fabric of the desired thickness and we place the square we made (the top of the cushion) with the right side facing in. We baste to secure the wadding and sew all the way around except for one of the sides.
---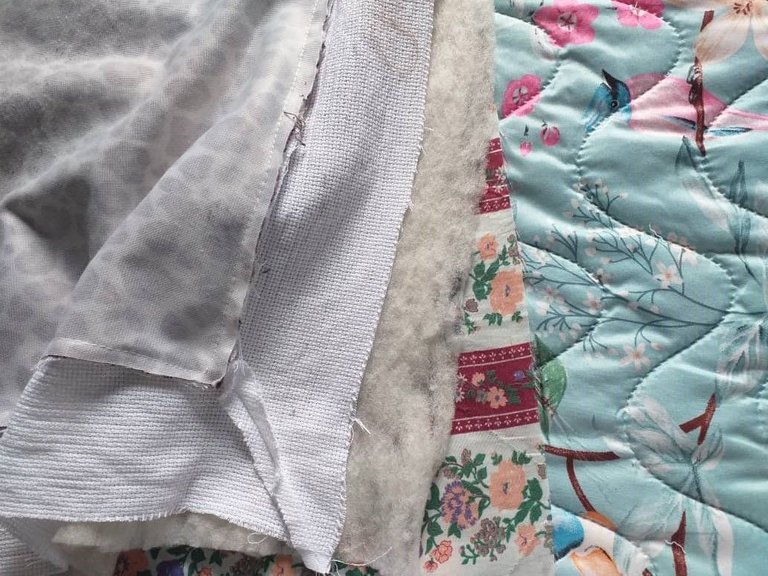 ---

---
Hacemos cuatro tiras de 35 centímetros de largo por 2 centímetros de ancho, y antes de cerrar el lado que falta del cojín ubicamos a 3 centímetros de los laterales las tiras (dos por cada lado).
We make four strips of 35 centimeters long by 2 centimeters wide, and before closing the missing side of the cushion we place the strips 3 centimeters from the sides (two on each side).
---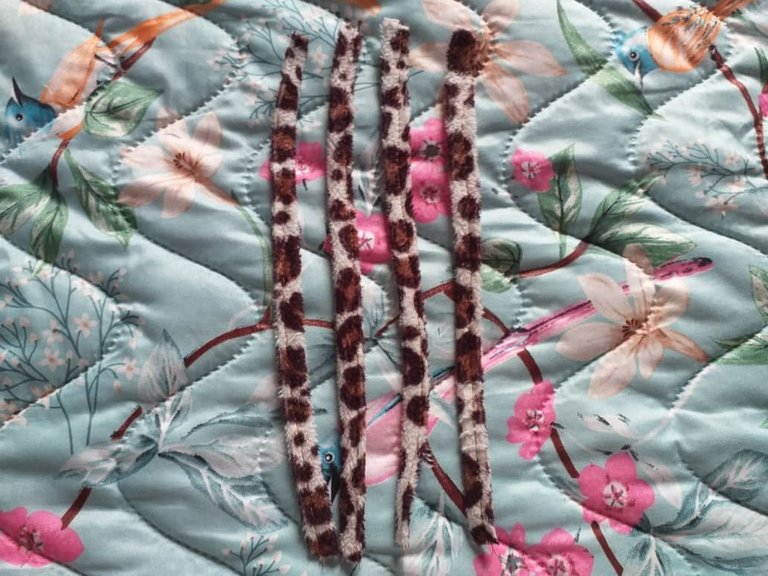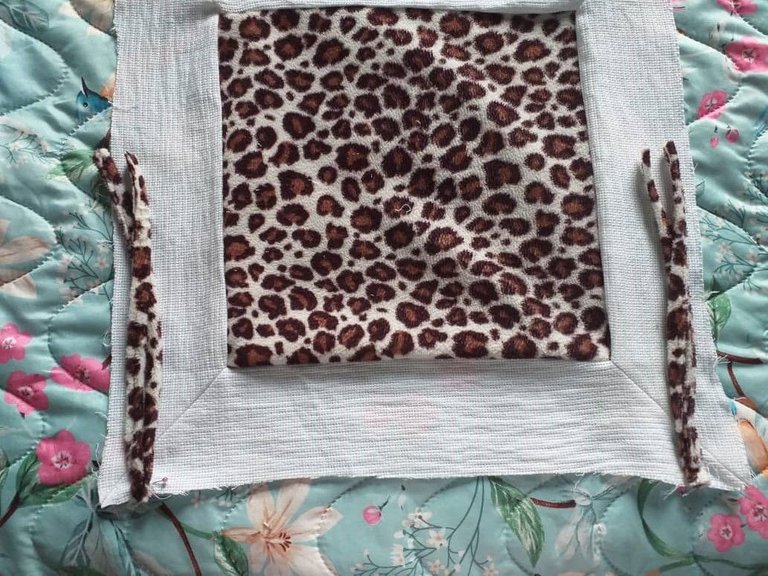 ---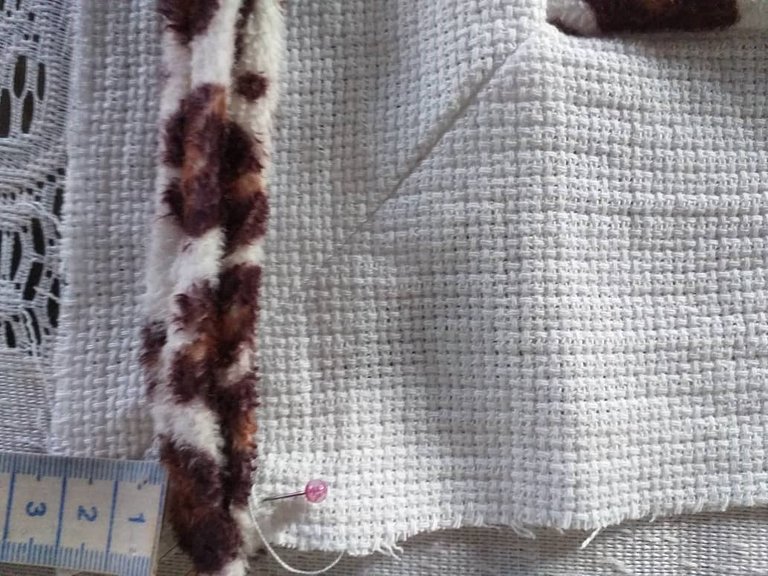 ---

---
Terminamos de pasar costura y luego pasamos costura por el centro del cuadrado y por todo el contorno para que quede con un mejor acabado.
We finish sewing and then we sew through the center of the square and all around the contour for a better finish.
---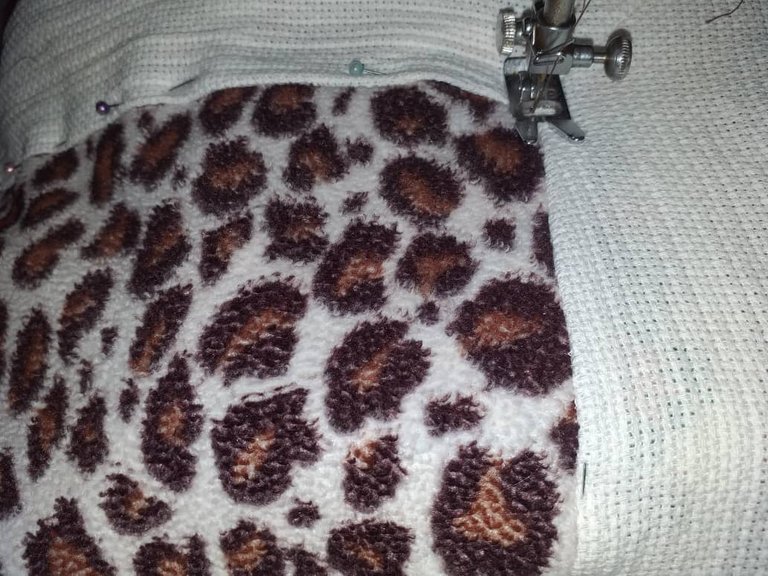 ---
Y con esto tendremos listo este bonito y funcional cojín.
And with this we will have ready this nice and functional cushion.
---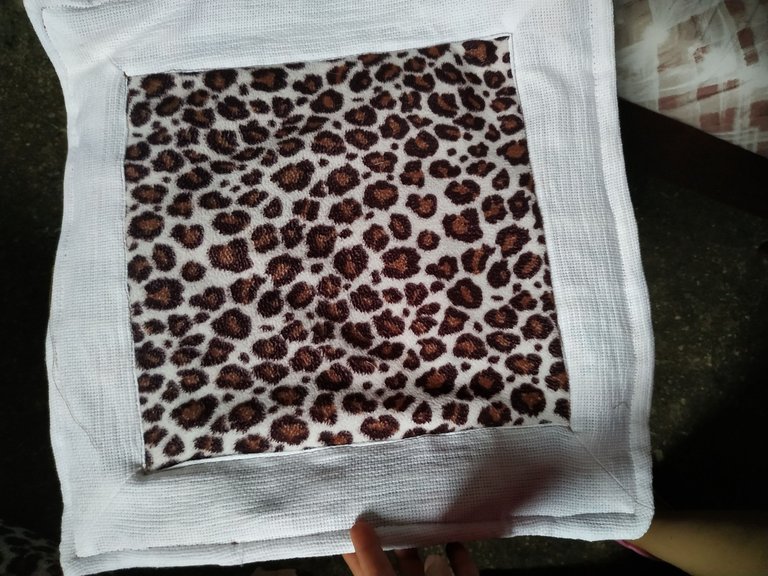 ---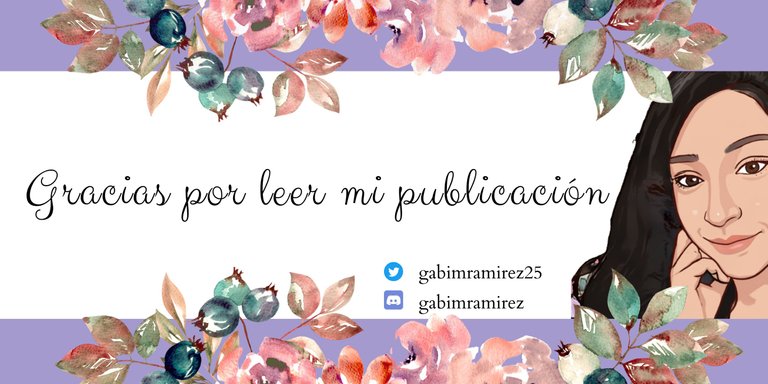 Editado en Canva || Edited in canva
---
Fotos tomadas de mi teléfono Xiaomi Redmi Note 6 Pro y mi teléfono Samsung J4 plus || Photos taken from my Xiaomi Redmi Note 6 Pro pone and my Samsung J4 plus phone.
Fuente del editor de imágenes || Image editor source
---
---