Concurso/El Emprendedor que Está en Mí || Contest/The Entrepreneur in Me
Hola a todos, primero que nada quiero felicitarlos por la creación de esta nueva comunidad de Be Entrepreneur y agadecer a @bluevibes ❤️ por la invitación a esta iniciativa, estoy muy emocionada por contar mi historia y aún más luego de leer testimonios tan inspiradores y bonitos que han compartido los últimos días.
Hello everyone, first of all I want to congratulate you for the creation of this new Be Entrepreneur community and thank @bluevibes ❤️ for the invitation to this initiative, I am very excited to tell my story and even more after reading such inspiring and beautiful testimonials that you have shared the last days.
---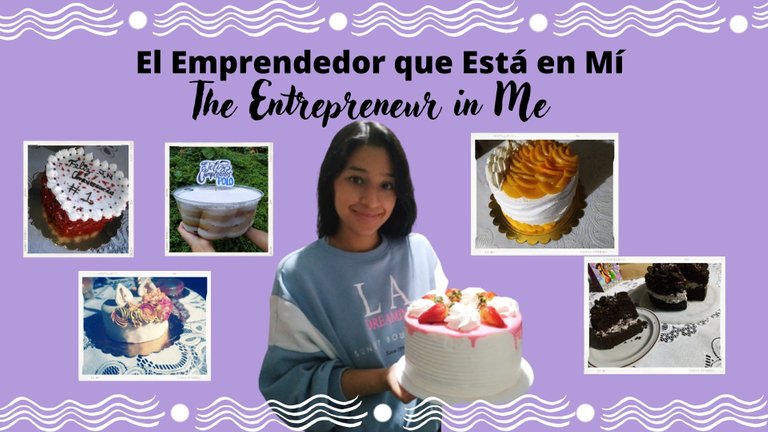 Editado en Canva || Edited in canva

Desde que estaba pequeña me llamó mucho la atención la repostería, a mi mamá le gusta mucho preparar torta tres leches y las hacía muy seguido, así que desde los catorce años más o menos empecé a preparar tortas o galletas muy sencillas que no me quedaban del todo bien (para nada buenas jeje) pero aun así seguí intentándolo.
Para cuando estaba la universidad con 18 años ya había mejorado mucho en la cocina así que comencé a hacer cursos de gastronomía y repostería en mis tiempos libres algunos pagos y otros gratis y en ellos aprendí muchísimo.
El curso que más me gusto fue uno que hice para el año 2018 que duró varios meses, allí aprendí a hacer panes, tortas, postres, entradas de comida, pasapalos y más; Esta fue una experiencia muy bonita en la cual mejore mucho mis habilidades. No obstante, para ese entonces no había pensado en convertir este arte en un negocio porque los postres que realizaba era para mí y mi familia, además que yo ya tenía un trabajo fijo mientras cursaba mis estudios en la universidad.
Since I was little I was very interested in baking, my mom likes to prepare tres leches cakes and she made them very often, so from the age of fourteen or so I started to prepare very simple cakes or cookies that were not quite right (not good at all hehe) but still I kept trying.
By the time I was in college with 18 years old I had already improved a lot in the kitchen so I started to take culinary and pastry courses in my free time, some paid and some free, and I learned a lot.
The course that I liked the most was one that I did for the year 2018 that lasted several months, there I learned to make breads, cakes, desserts, food entrees, pasapalos and more; This was a very nice experience in which I improved my skills a lot. However, by that time I had not thought about turning this art into a business because the desserts I made were for me and my family, plus I already had a steady job while I was studying at the university.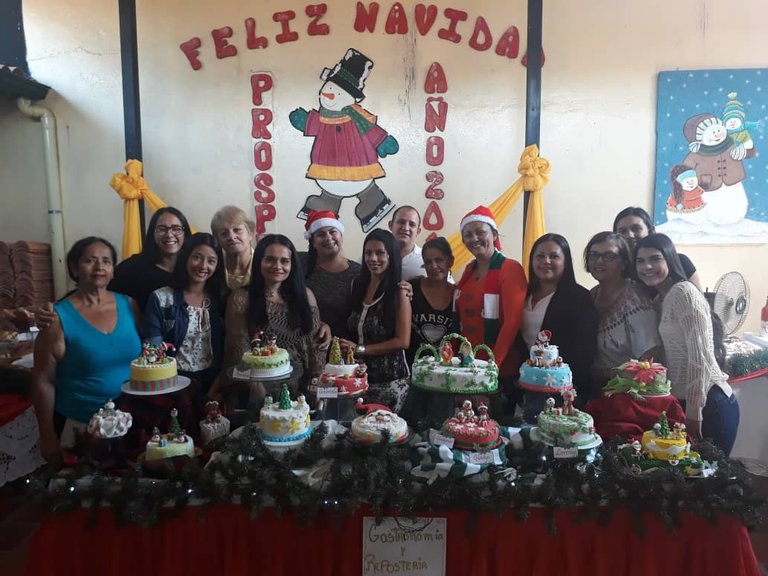 Para la llegada del 2020 estaba cursando mi último semestre cuando llegó la pandemia, las clases se suspendieron y para ese entonces ya no tenía trabajo. Mi papá era el único que estaba generando ingresos para la casa y no era suficiente así que decidí empezar a vender postres.
Los vendía por vía whatsapp, a mis contactos y luego ingrese a un grupo donde estaban agregados las personas del sector donde vivo, (alrededor de 150 personas) el cual tuvo aceptación ya que trataba de hacerlos para los días domingo con delivery gratis, también porque trataba de vender postres diferentes cada fin de semana.
By the arrival of 2020 I was in my last semester when the pandemic hit, classes were suspended and by then I no longer had a job. My dad was the only one generating income for the house and it wasn't enough so I decided to start selling desserts.
I sold them via whatsapp, to my contacts and then I joined a group where people from the area where I live were added (about 150 people) which had very good acceptance because I tried to make them for Sundays and made free delivery, also because I tried to sell different desserts every weekend.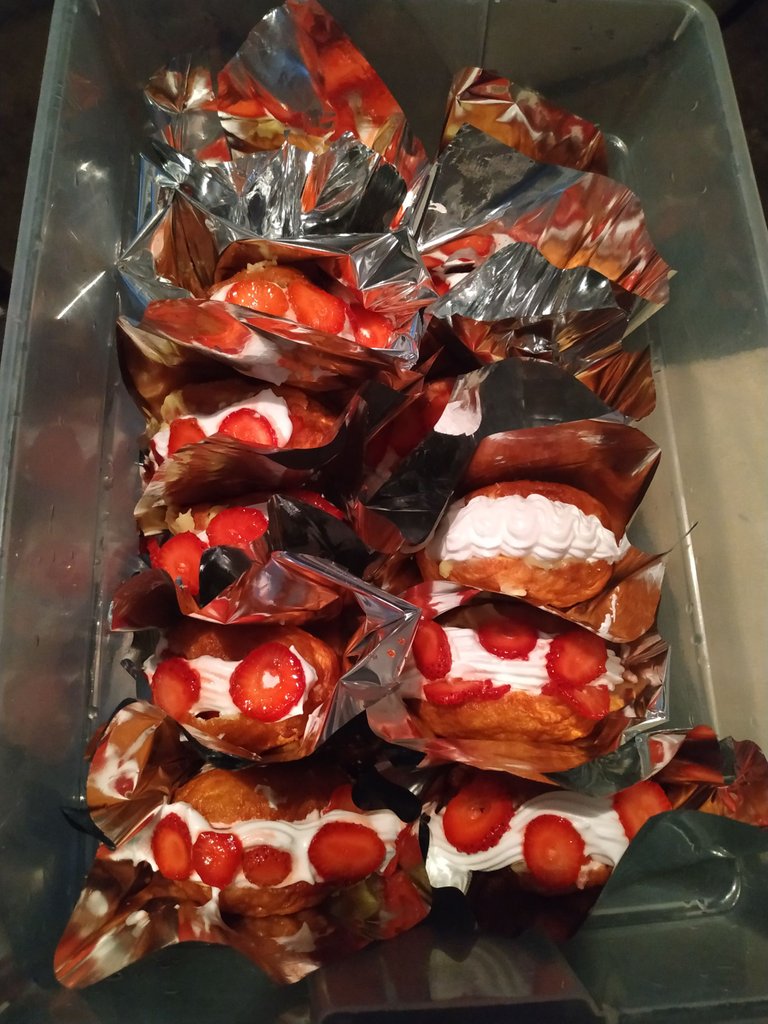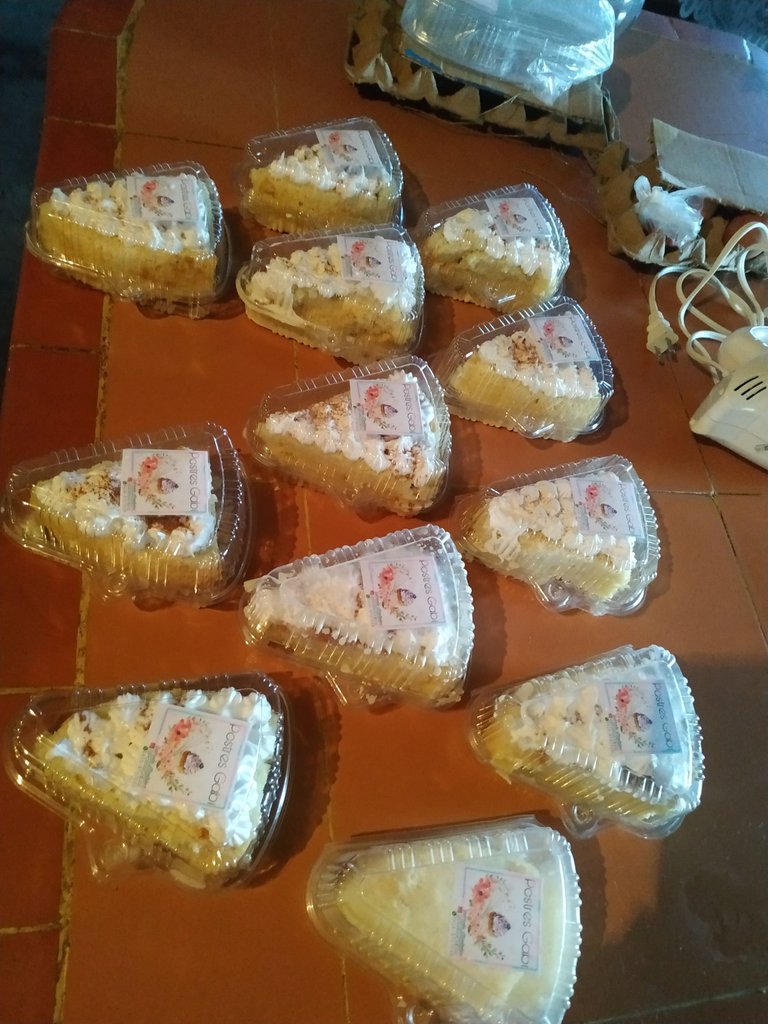 Con esto cree mi propio logo y marca a la cual llamé Postres Gabi.
With this I created my own logo and brand which I called "Postres Gabi".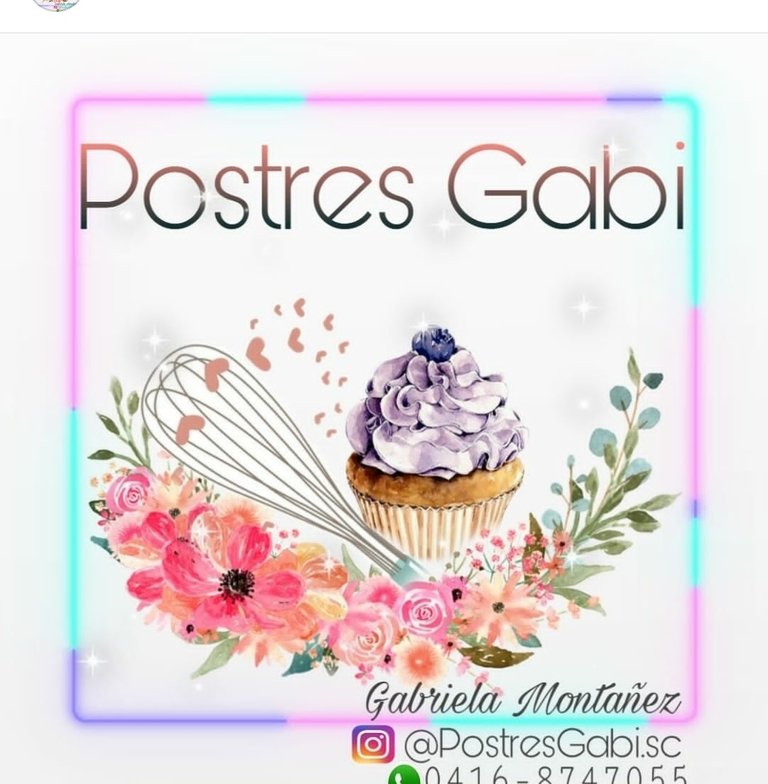 Preparaba bombas rellenas de fresa, donas con arequipe, golfeados, porciones de tortas, alfajores.
She prepared strawberry-filled bombs, doughnuts with arequipe, golfeados, cake portions, alfajores.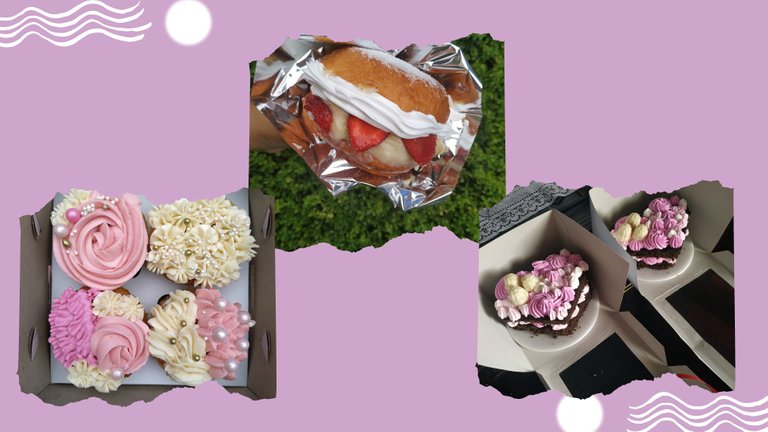 Editado en Canva || Edited in canva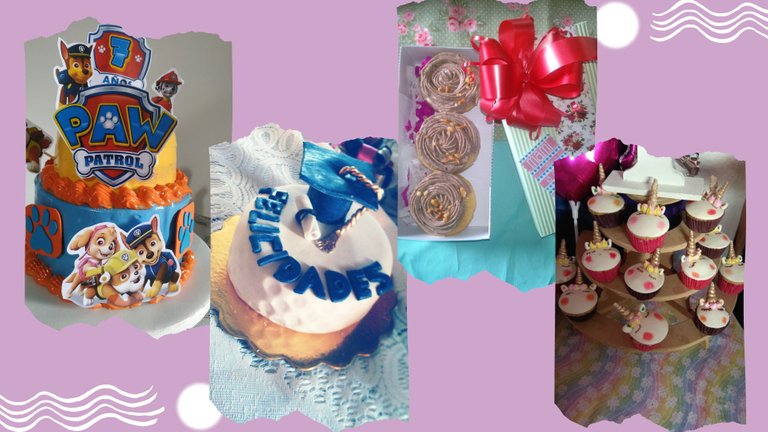 Editado en Canva || Edited in canva

Pasó unos meses y las ventas no fueron igual, ya que no era la única que había empezado con mi emprendimiento por la zona así que cree mi cuenta de Instagram para llegar a más personas, no obstante aquí las ventas eran muy buenas para festividades, es decir día de la madre o del padre, navidad y año nuevo y uno que otro cumpleaños.
Quiere decir que no era una entrada constante de dinero ya que muchas veces no pude competir con precios de locales ya establecidos donde sus productos eran más económicos ya que ellos adquieren su materia prima al mayor.
A few months passed and sales were not the same, since I was not the only one who had started my business in the area so I created my Instagram account to reach more people, however here sales were very good for holidays, ie mother's or father's day, Christmas and new year and the occasional birthday.
This means that it was not a constant source of income since I often could not compete with the prices of established stores where their products were cheaper since they purchased their raw materials wholesale.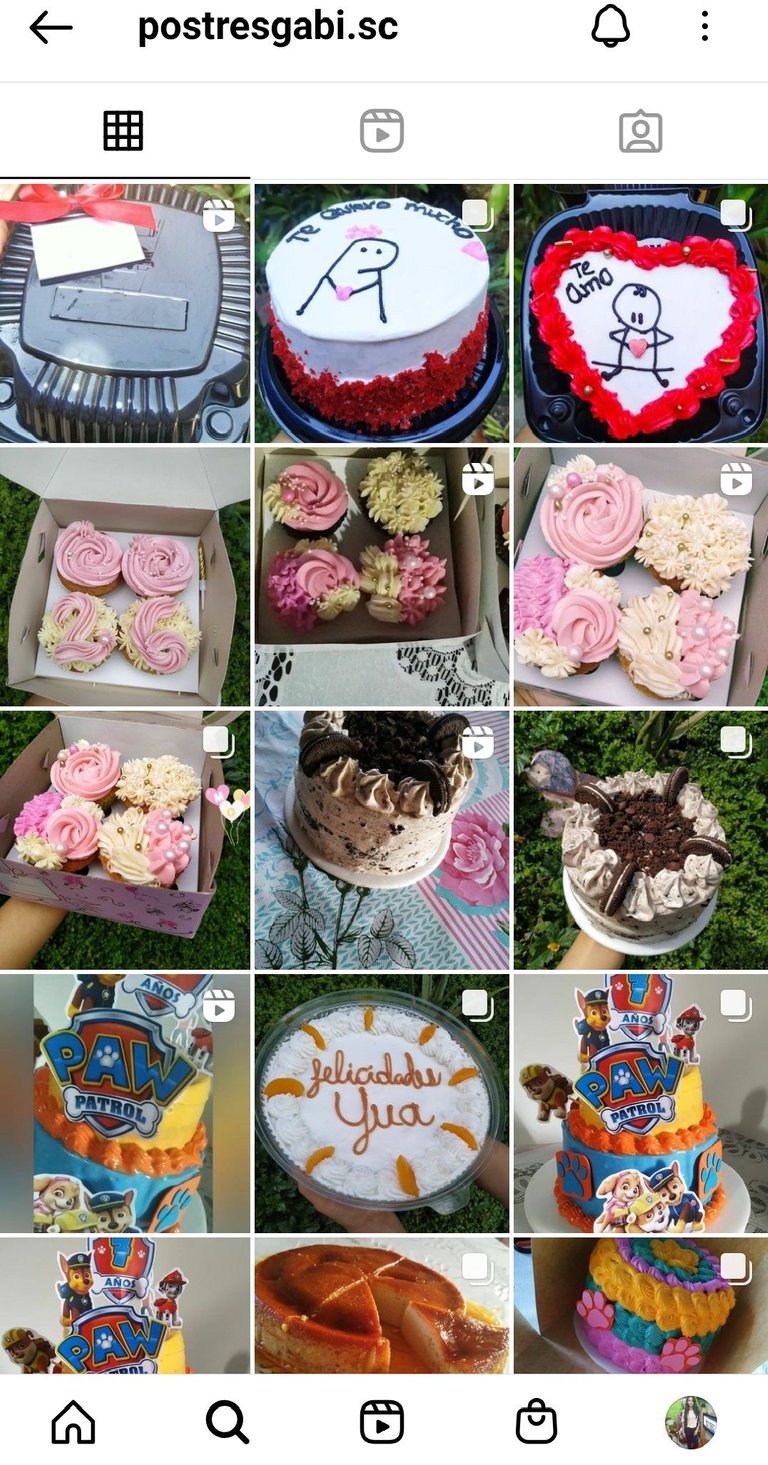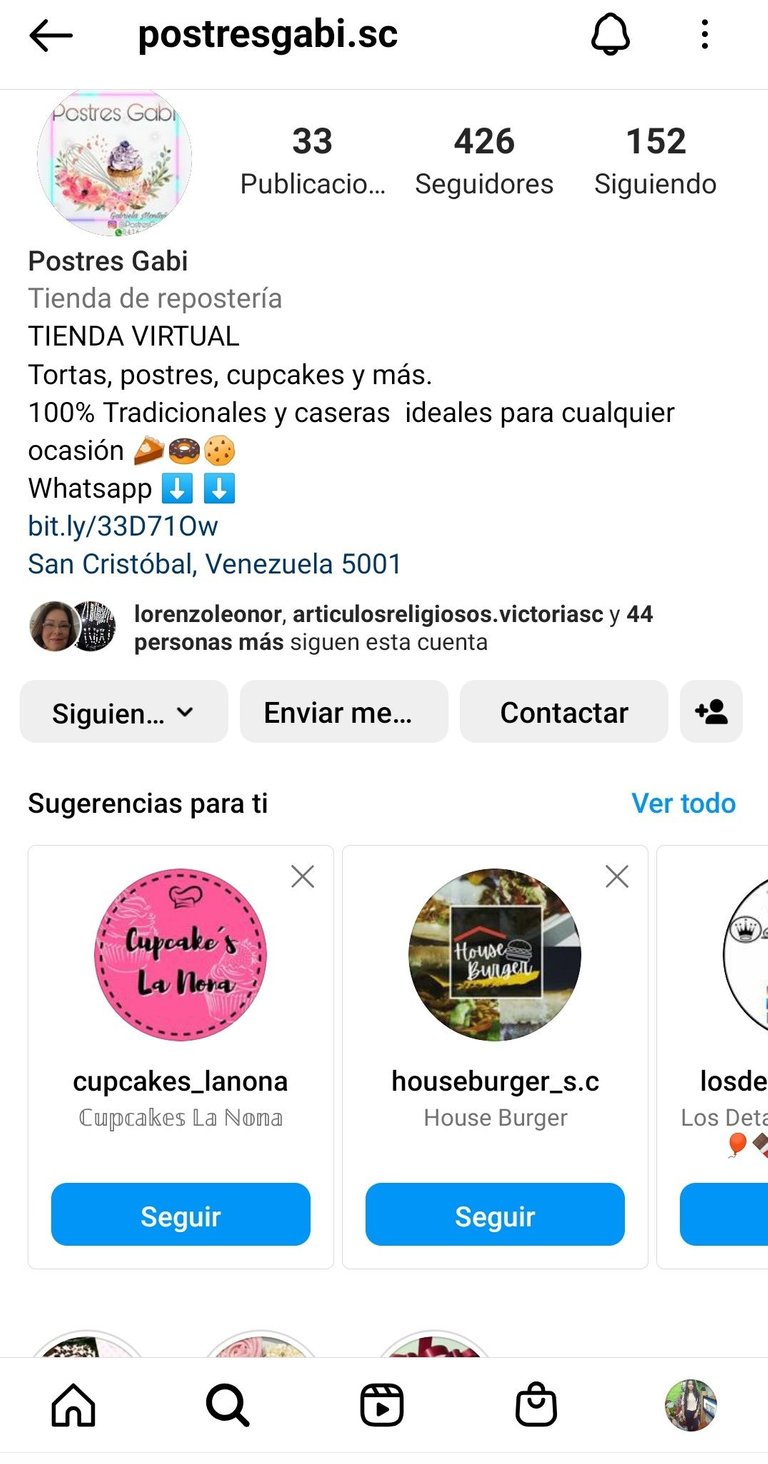 Las ventas de mis postres no eran muchas y decidí dejarlo ya que necesitaba generar dinero de alguna manera, a raíz de eso empecé a trabajar de nuevo, esta vez en un supermercado el cual no me dejaba mucho tiempo libre, allí dure unos meses hasta que gracias a @jennyzer conocí #Hive y aquí es donde comparto toda la creatividad que tengo tanto en la cocina como manualidades y costura.
Aún sigo con mi página de Instagram activa pero ya no ofrezco mis productos; Y aunque la repostería es algo que me apasiona, ya no está en mi futuro abrir mi propio local o mantenerme solo de vender postres, cosa que si planeaba hace unos años.
Mi manera de pensar ha cambiado mucho este último año, he pasado por acontecimientos que me hicieron crecer como persona y ahora estoy enfocada en seguir mejorando mis habilidades en el mundo digital que sé que me abrirá nuevas puertas y seguir siempre pensando en nuevos proyectos.
Si hay algo que cambiaría con mi emprendimiento fallido seria el ser más constante e innovadora, creo que eso me habría ayudado mucho en su momento.
The sales of my desserts were not many and I decided to quit since I needed to generate money somehow, after that I started working again, this time in a supermarket which did not leave me much free time, there I lasted a few months until thanks to @jennyzer I met #Hive and this is where I share all the creativity I have both in the kitchen and crafts and sewing.
I still have my Instagram page active but I no longer offer my products; And although baking is something that I am passionate about, it is no longer in my future to open my own shop or support myself just selling desserts, something I was planning to do a few years ago.
My way of thinking has changed a lot this last year, I have gone through events that made me grow as a person and now I am focused on continuing to improve my skills in the digital world that I know will open new doors and always keep thinking about new projects.
If there is something I would change with my failed venture it would be to be more consistent and innovative, I think that would have helped me a lot at the time.

Así que quiero invitar a mis amigas @genice @jennyzer @mavis16 a participar en esta iniciativa y leer sus historias y opiniones.
Para finalizar quiero decirles que hay algo que siempre he tenido claro y es que el sol día a día brilla para TODOS y no importa si compites contra una o mil personas, todos tenemos nuestro lugar en el mundo y nuestra esencia y dedicación es lo que nos hará resaltar en todo lo que hagamos sin desmeritar el trabajo de los demás.
Y si no se te da algún proyecto es porque Dios y la vida te tienen algo mejor para ti, así que siempre que podamos apoyemos a aquel amigo o conocido que está empezando con algún emprendimiento, porque las personas que ya pasamos por esto sabemos los difícil que es empezar y el apoyo que le puedas brindar va a ser muy valioso.
So I want to invite my friends @genice @jennyzer @mavis16 to participate in this initiative and read their stories and opinions.
Finally I want to tell you that there is something I have always been clear about and that is that the sun shines day by day for ALL and it does not matter if you compete against one or a thousand people, we all have our place in the world and our essence and dedication is what will make us stand out in everything we do without detracting from the work of others.
And if you are not given a project it is because God and life have something better for you, so whenever we can we support that friend or acquaintance who is starting a business, because those of us who have already been through this know how difficult it is to start and the support you can provide will be very valuable.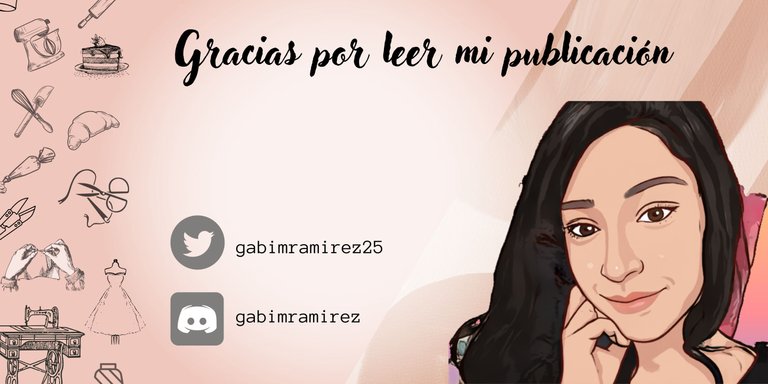 Editado en Canva || Edited in canva

Fotos tomadas de mi teléfono Xiaomi Redmi Note 6 Pro || Photos taken from my Xiaomi Redmi Note 6 Pro phone.
Fuente del editor de imágenes || Image editor source
---
---