Panty Sofy [ESP - ENG]
---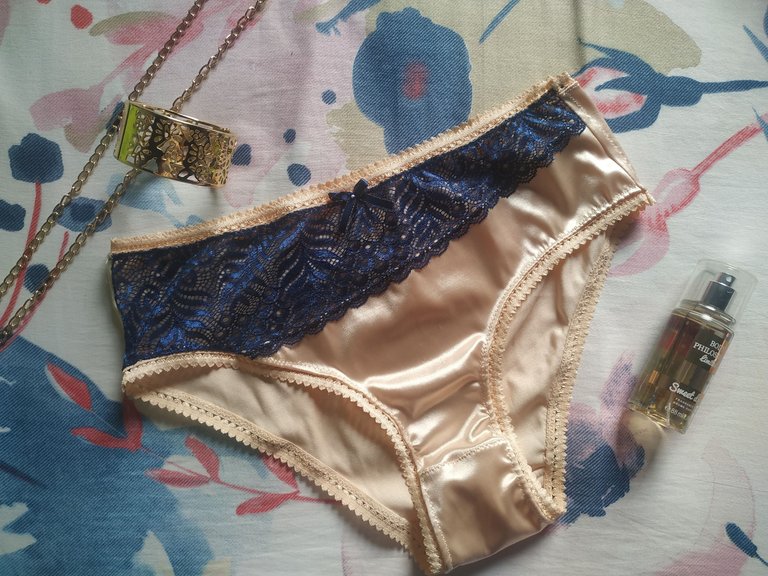 ---
Hola a todos amigos de Hive, feliz lunes y feliz inicio de semana.
El día de hoy les traigo el paso a paso de como elaborar una hermosa y elegante panty de dama, la cual me enseñaron a hacer en un pequeño curso que hice hace unas semanas, el proceso es sencillo y el resultado muy bonito.
Para poder elaborarla vas a necesitar:
Hello all Hive friends, happy Monday and happy start of the week.
Today I bring you the step by step of how to make a beautiful and elegant lady panty, which I was taught to do in a small course I did a few weeks ago, the process is simple and the result is very nice. To make it you will need:
---

---
Tela Charmeuse.
Encaje elástico.
Tela de algodón.
Elástico o Morita.
Tijeras.
Aguja y alfileres.
Cinta métrica.
Moldes.
Charmeuse fabric.
Elastic lace.
Cotton fabric.
Elastic or Morita.
Scissors.
Needle and pins.
Measuring tape.
Molds.
---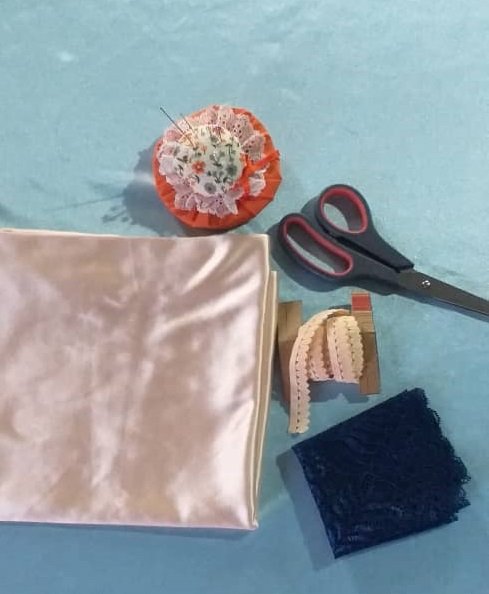 ---

---
Debemos tener cuatro moldes para elaborar está panty, dos delanteros, trasero y entrepierna.
We must have four molds to make this panty, two front, back and crotch.
---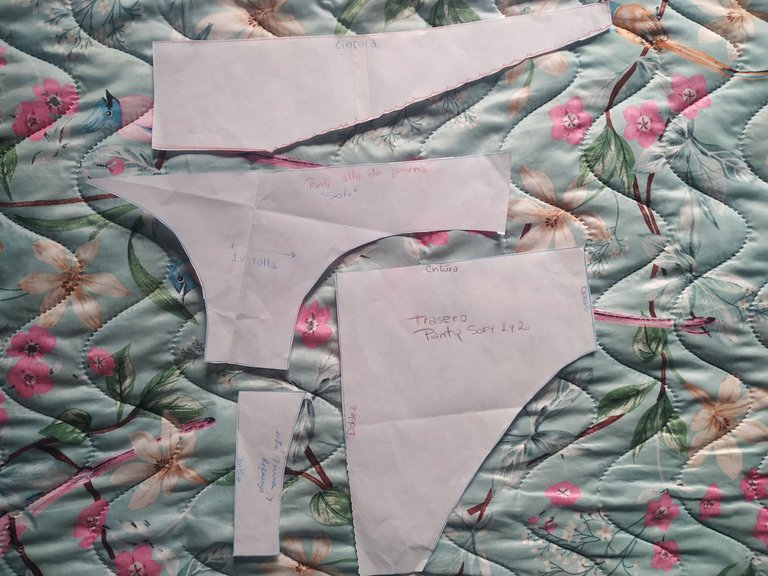 ---

---
Colocamos sobre el encaje elástico el molde delantero de la cintura, de manera que las ondas que tiene el encaje queden en la parte inferior del molde. Cómo puede apreciarse, sobre el molde coloco unos pequeños aros que ayudan a que la tela no se mueva o cambie de posición mientras recorto la pieza, esto es recomendable en piezas pequeñas.
---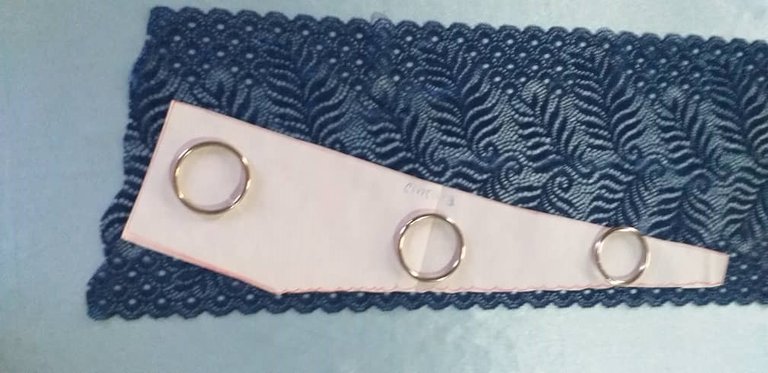 ---

---
Con la tela de Charmeuse hacemos la parte delantera y trasera de la panty.
With the Charmeuse fabric we make the front and back of the panty.
---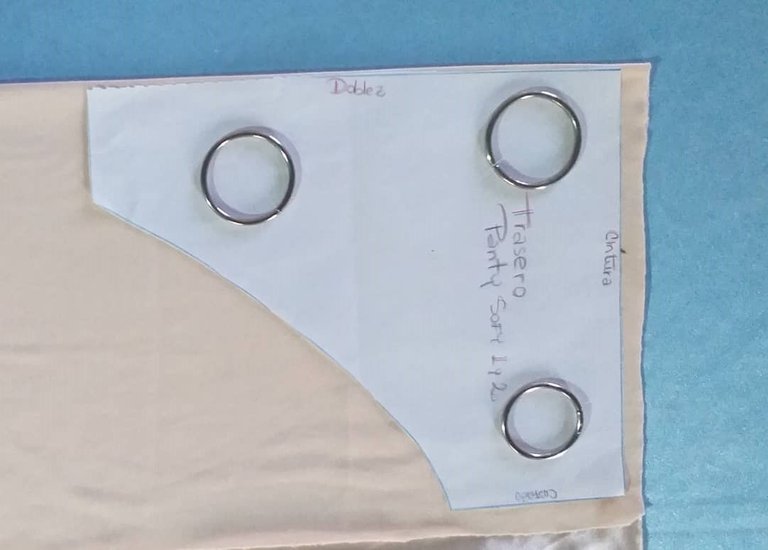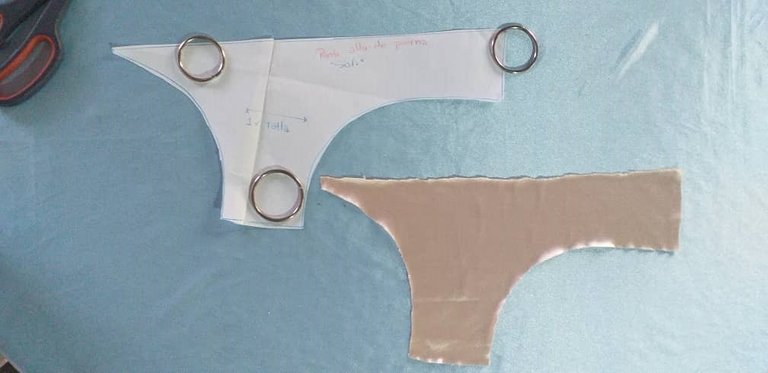 ---

---
Y para la entrepierna vamos a utilizar una tela de 100% algodón que combine con las otras (en mi caso, beige), y recortamos dos piezas iguales.
And for the crotch we are going to use a 100% cotton fabric that matches the others (in my case, beige), and cut out two equal pieces.
---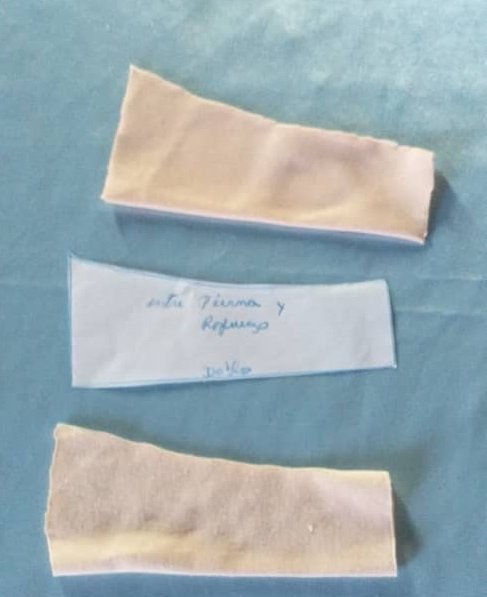 ---

---
Cuando tengamos todas las piezas, empezamos a armar la panty. Para la parte delantera unimos la pieza de la cintura con la inferior. Colocamos unos alfileres por todo el contorno de manera que las ondas del encaje queden delante de la tela beige. Pasamos costura y así nos debe de quedar.
When we have all the pieces, we start to assemble the panty. For the front we join the waist piece with the bottom piece. We place some pins all around so that the waves of the lace are in front of the beige fabric. We sew the seam and this is how it should look.
---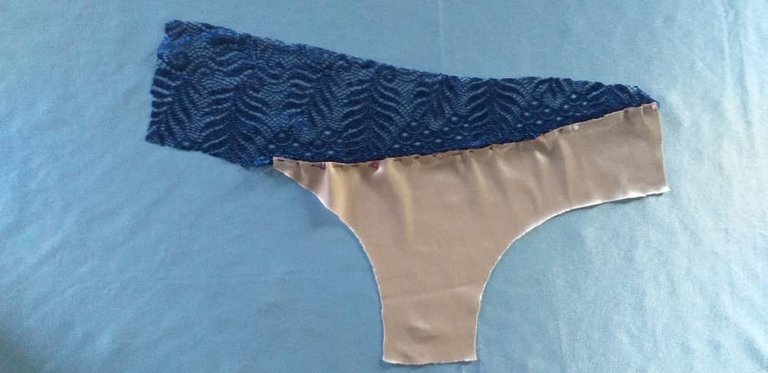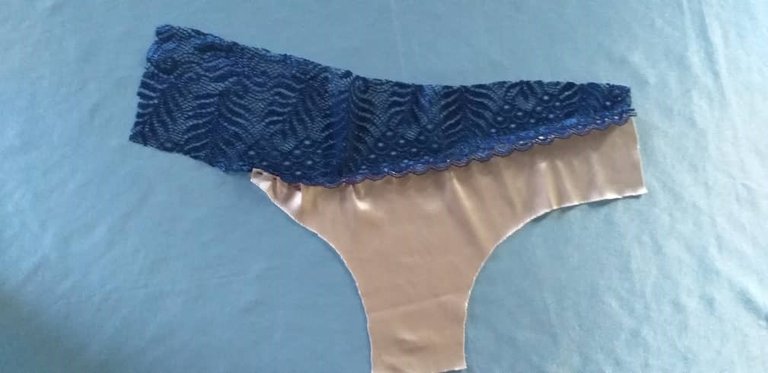 ---

---
A la pieza posterior o trasera, le vamos a unir la tela de entrepierna como se muestra en las fotos. Pasamos costura.
To the back piece, we are going to join the crotch fabric as shown in the pictures. We sew the seam.
---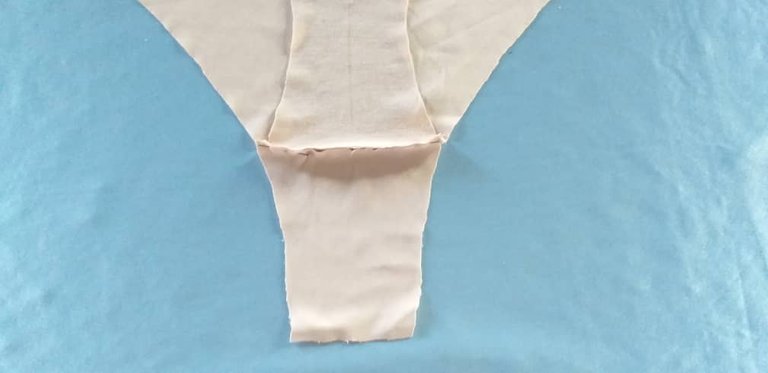 ---

---
Unimos a la pieza delantera, con costura de zig zag o costura tapada, de manera que quede el con el refuerzo.
We join to the front piece, with zig zag stitching or covered stitching, so that it is the with the reinforcement.
---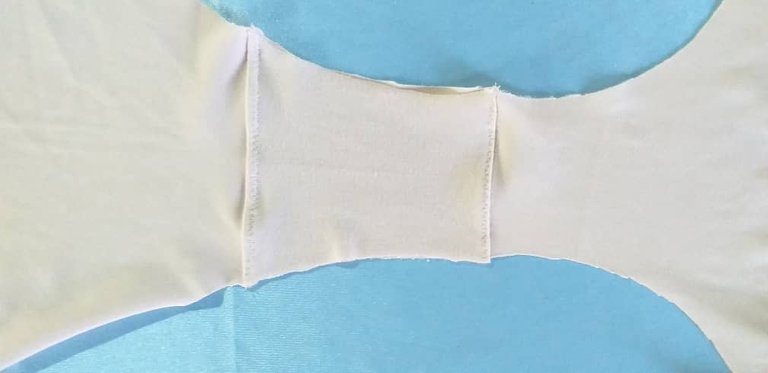 ---

---
Vamos a colocar todo el elástico o Morita por la pierna de la panty, nos ayudamos con unos alfileres y luego pasamos costura estirando de 5 a 7 y cuando pasemos por la entrepierna se estira de 5 a 6. Luego repetimos el proceso con la otra pierna.
We are going to place all the elastic or Morita by the leg of the panty, we help us with some pins and then we pass seam stretching from 5 to 7 and when we pass by the crotch it stretches from 5 to 6. Then we repeat the process with the other leg.
---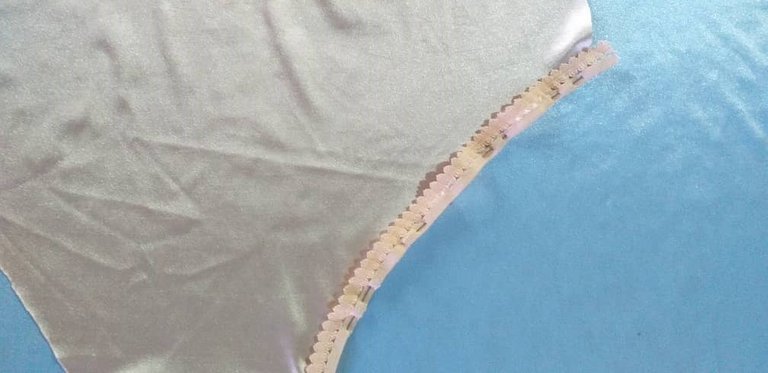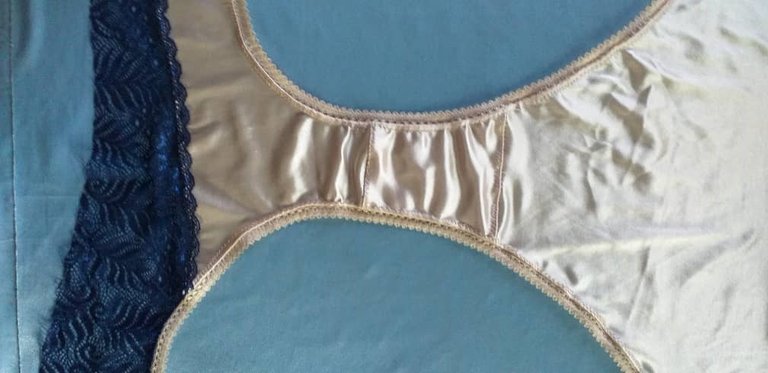 ---

---
Pasamos costura a uno de los laterales y luego colocamos la morita por toda la cintura de la panty. Cosemos el otro lateral y colocamos un lazo en la parte delantera para decorar.
We stitch one of the sides and then we place the morita all around the waistband of the panty. We sew the other side and place a bow on the front for decoration.
---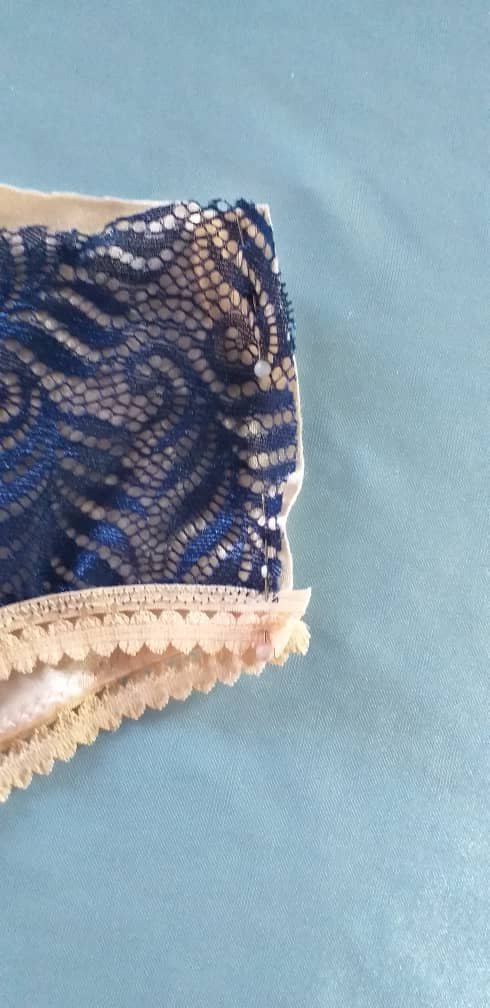 ---

---
---

---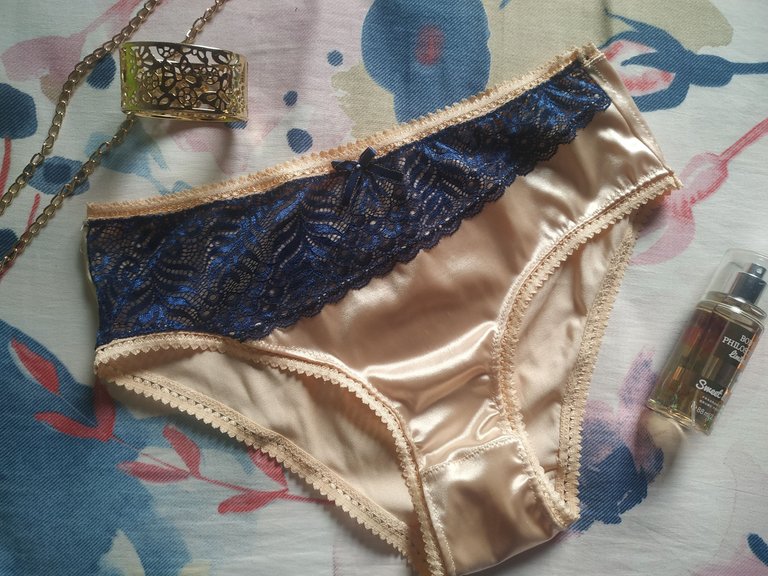 ---

---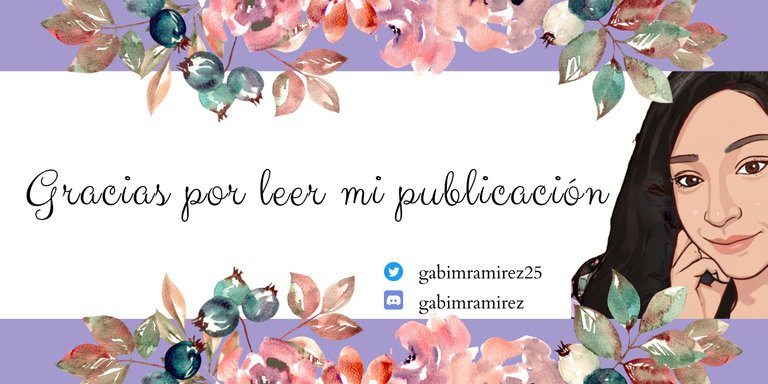 Editado en Canva || Edited in canva
---
Fotos tomadas de mi teléfono Xiaomi Redmi Note 6 Pro y mi teléfono Samsung J4 plus || Photos taken from my Xiaomi Redmi Note 6 Pro pone and my Samsung J4 plus phone.
Fuente del editor de imágenes || Image editor source
---
---