A MEDIO VIVIR. Ricky Martin- (Cover) @gabiotabalbas
---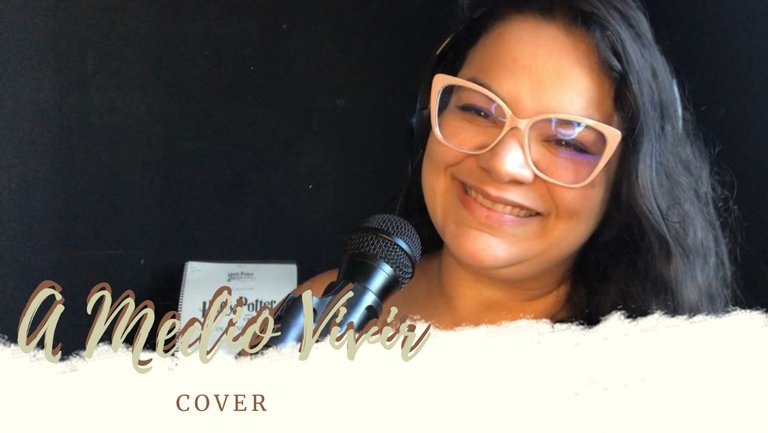 Hola HIVERS! Bienvenidos todos una vez más a este espacio que poco a poco se ha convertido en mi lugar. Han sido unos días de pasar de un estado de: "no sé que escribir" a el estado de "esto esta perfecto para HIVE" jejeje.
Hello HIVERS! Welcome everyone once again to this space that little by little has become my place. It's been a few days of going from a state of: "I don't know what to write" to the state of "this is perfect for HIVE" hehehehe.
En esta oportunidad les traigo un tema que es de mis favoritos, forma parte del soundtrack de mi vida. Alguna vez he estado muy enamorada y como ley de vida, de un gran amor viene un gran despecho jajaja. Tranquilos! Eso me ha dado material emocional para cantar las mejores canciones, canciones que otros escriben y que yo siento muy mías.
This time I bring you a song that is one of my favorites, it is part of the soundtrack of my life. Sometime I have been in love and as a law of life, from a great love comes a great spite hahaha. Calm down! That has given me emotional material to sing the best songs, songs that others write and that I feel very much mine.
A Medio Vivir es un tema del compositor Venezolano Franco de Vita, escrito para Ricky Martin para su album homónimo, que lanzó en la década de los 90. Yo no recuerdo en qué momento lo escuché, pero ha pasado a ser de mis canciones favoritas para cantar. Es un tema que a pesar de que parece fácil, resulta un desafío el cambio de registros de pecho a mixta y cabeza en frases cortas. Bueno, al menos para mí, sobretodo porque trato de incorporar los rif y melismas para tener mi humilde versión.
A Medio Vivir is a song by Venezuelan composer Franco de Vita, written for Ricky Martin for his album of the same name, which he released in the 90s. I don't remember when I heard it, but it has become one of my favorite songs to sing. It's a song that even though it sounds easy, it's a challenge to change registers from chest to mix and head in short phrases. Well, at least for me, mostly because I try to incorporate the riffs and melismas to have my humble version.
Ricky es de mis cantantes favoritos, junto con Alejandro Sanz. Así que esperen muchos más temas de él por mi parte. Acá les dejo el tema original también. Una joya!! Gracias por seguir conmigo en esta aventura HIVE
Ricky is one of my favorite singers, along with Alejandro Sanz. So expect a lot more of his songs from me. Here is the original song as well. A gem! Thank you for joining me in this HIVE adventure.
---
A medio vivir
Después de tanto tiempo que ha pasado
te parecerá mentira pero no me acostumbro.
Parece como hubiera sido ayer
Ese primer día que nos vimos desnudos
Y siempre pensé la vida debe de continuar
Pero sin ti todo se quedo por la mitad
A medio vivir
A medio sentir
Y se me pasa la vida
Y no encuentro salida sin ti
Después de tanto tiempo que ha pasado
Aun te espero como siempre en el mismo sitio
Aun así logro sentir
Tu pecho aprisionado con el mío y tus latidos
Y cada vez se me haré más difícil cada vez
Y es que sin ti todo se quedo por la mitad
A medio vivir
A medio sentir
Y se me pasa la vida
Y no encuentro salida sin ti
Llevamos mucho tiempo hablando
Y no te seguiré aburriendo más con mi discurso
Solo te llamaba por saber
Si por si acaso tu también necesitabas
No esta de más
Hablar de vez en cuando, no esta de más
Y es que sin ti respiro con un solo pulmón
Y es que sin ti todo se quedo por la mitad
A medio vivir, a medio vivir
---

Half lived
After so much time has passed
it may seem unbelievable but I can't get used to it.
It seems like yesterday
That first day we saw each other naked
And I always thought life must go on
But without you it's all in the middle
Half lived
Half-felt
And life is passing me by
And I can't find a way out without you
After so much time has passed
I'm still waiting for you as always in the same place
I still manage to feel
Your chest imprisoned with mine and your heartbeat
And each time it's getting harder and harder for me
And it's that without you everything is half gone
Half alive
Half-felt
And my life is passing me by
And I can't find a way out without you
We've been talking for a long time
And I won't bore you any longer with my speech
I was just calling you to find out
If just in case you needed it too
It's not superfluous
To talk from time to time, it's not superfluous
And it's that without you I breathe with only one lung
And it's that without you everything was left in the middle
Half alive, half alive


---
▶️ 3Speak
---
---