Bucky: Another family member [ENG/SPA]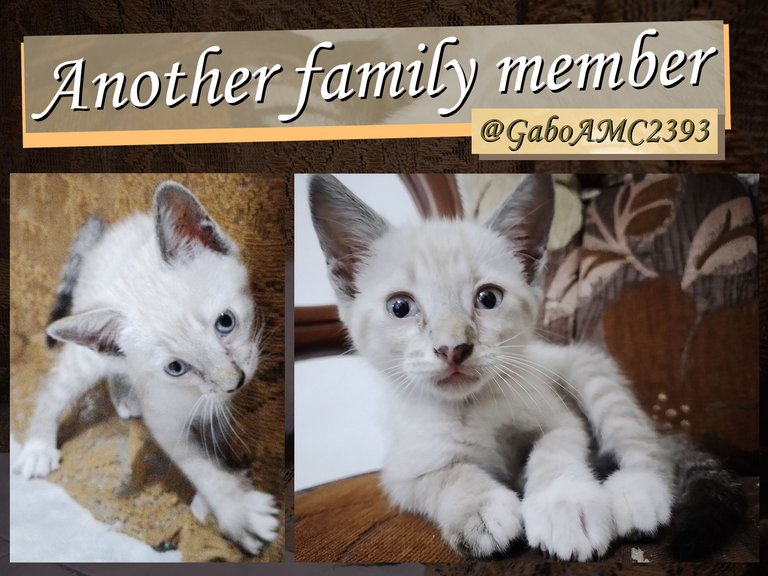 ---

Something that happens to me very often is that I find abandoned animals in the street. On many occasions I have found them on my way home, during my daily walks and they have even been left in front of my house.
Well, this time it happened again. When I was on my way home I found a little kitten with brindle fur and blue eyes.
The truth is I don't know if he was abandoned or escaped from home, because he looked chubby and well cared for, but I still took him home to take care of him, so he wouldn't stay in the street since there are many dogs in the community.

Algo que suele pasarme muy seguido es que encuentro animales abandonados en la calle. En muchas ocasiones los he encontrado en el camino a casa, durante mis caminatas diarias e incluso los han dejado frente a mi casa.
Pues bien, en esta ocasión volvió a pasar. Cuando iba camino a casa me encontré un pequeño gatito con pelaje atigrado y ojos azules.
La verdad no sé si fue abandonado o escapó de casa, porque se veía gordito y bien cuidado, pero igual lo llevé a la casa para cuidarlo, para que no se quedara en la calle ya que por la comunidad hay muchos perros.
---
| | |
| --- | --- |
---
I was waiting for someone to come and ask if they had seen a kitten with his description, but more than two days passed and no neighbor came, no one posted any whatsapp status or anything about the little kitten.
I usually rescue these little animals and look for a good owner who can adopt them, because I can't always take care of more than two cats.
I currently have only one, so if no one comes to claim him, I will certainly keep him.
Estaba esperando a que llegara alguno a preguntar si había visto un gatito con su descripción, pero pasaron más de dos días y ningún vecino vino, nadie publicó algún estado de whatsapp ni nada referente al pequeño gatito.
Normalmente rescato a estos animalitos y les busco un buen dueño que lo pueda adoptar, pues no siempre puedo cuidar más de dos gatos.
Actualmente tengo solo a una, así que si nadie viene a reclamarlo, con toda seguridad me lo quedaré.
---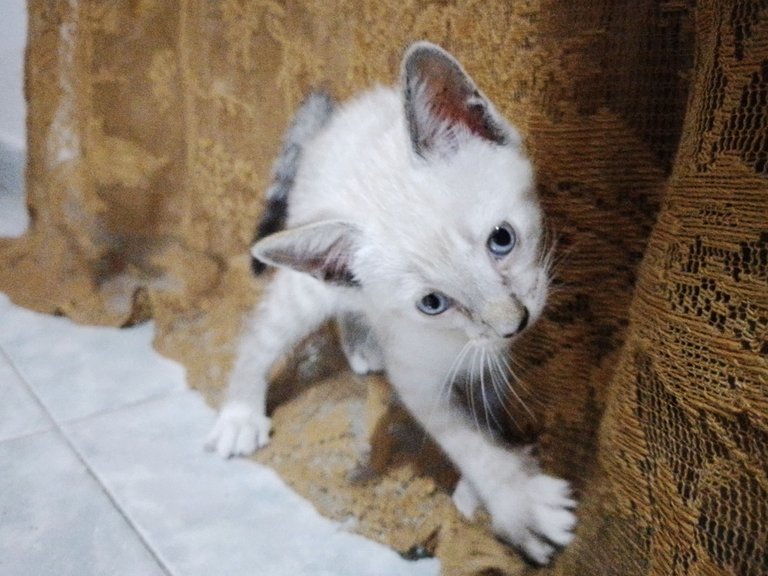 ---
During his explorations in my home, the kitten was enchanted with my curtains, this became his favorite place, to the point that he spends most of the day there, either sleeping under the curtains, playing with them or simply climbing through the thin fabric of the curtains.
Durante sus exploraciones en mi hogar, el gatito quedó encantado con mis cortinas, este se convirtió en su lugar favorito, al punto de que se la pasa la mayor parte del día allí, ya sea durmiendo debajo de las cortinas, jugando con ellas o simplemente tremando por la delgada tela de las mismas.
---
---
As with all animals, this kitten has a very outgoing and affectionate personality, because wherever I went, he followed me, whether I had eaten or not.
He would even climb on the furniture when I sat down. He would do whatever I did. In fact he still behaves like that.
Como sucede con todos los animales, este gatito tiene una personalidad muy extrovertida y cariñosa, pues a donde yo iba, él me seguía, hubiese comido o no.
Incluso se subía al mueble cuando yo me sentaba. Hacía lo que yo hacía. De hecho aún se comporta así.
---
---
Something that catches my attention is his eyes, because they are blue, but a very light blue, almost white.
A little detail they have is that the pupils are a little deviated.
I have seen many cats grow up and some of these deviated eyes usually straighten as they grow up, but many others keep them like that. We'll have to wait and see what happens with this kitten.
Algo que me llama mucho la atención son sus ojos, pues son azules, pero un azul muy claro, casi blanco.
Un detallito que tienen es que las pupilas se le ven un poco desviadas.
He visto crecer a muchos gatos y a algunos estos ojos desviados suelen enderezarse a medida que crecen, pero muchos otros los conservan así. Tocará esperar cómo sucede con este gatito.
---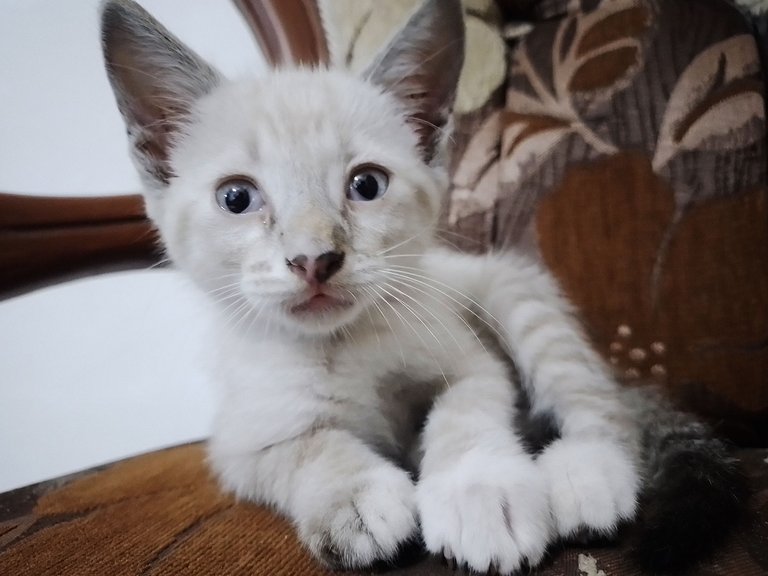 ---
As I told you, she got attached to me very quickly, so much so that she loves to sleep with me. She doesn't take up much space like Tchalla, my other black cat who is huge and furry.
Como les dije, se encariñó conmigo muy rápido, tanto que le encanta dormir conmigo. No ocupa mucho espacio como Tchalla, mi otra gata negra que es enorme y peluda.
---
---
For the first two nights I let him sleep with me, but there were times when Tchalla would also come to bed and see him.
As you well know, cats are territorial, so when Tchalla would see this little kitty taking up space on my bed, he would get angry and start fighting with him, luckily he didn't hurt him much on the two occasions he did.
Durante las dos primeras noches lo dejé dormir conmigo, pero hubo ocasiones en que Tchalla llegaba también a la cama y lo veía.
Como bien saben, los gatos son territoriales, así que cuando Tchalla veía a este pequeño gatito ocupando un espacio en mi cama, se enojaba y comenzaba a pelear con él, por suerte no lo lastimó mucho en las dos ocasiones en que lo hizo.
---
| | |
| --- | --- |
---
In view of this I did not allow him to sleep with me anymore, but on the furniture, to avoid fights between cats....
Soon I decided that I was going to keep him, so I asked myself.... What name am I going to give him? Well, my black cat is called Tchalla, after the King of Wakanda (Black Panther, from Marvel). She is a black kitty that looks like a panther, so I decided to give her that name.
This kitty is white and reminded me of Bucky Barnes, a character who for a time lived in Wakanda. He is also known as the Winter Soldier, a character that appeared in the Marvel movie Captain America and the Winter Soldier.
Because of this I decided to call him Bucky.
En vista de esto no le permití dormir más conmigo, sino en los muebles, para evitar peleas entre gatos...
En poco tiempo decidí que me lo iba a queda así que me pregunté... ¿Qué nombre le voy a poner? Pues bien, mi gata negra se llama Tchalla, como el Rey de Wakanda (Black Panther, de Marvel). Es una gatita negra que parece una pantera, así que decidí darle ese nombre.
Este gatito es blanco y me recordó a Bucky Barnes, un personaje que por un tiempo vivió en Wakanda. También es conocido como Winter Soldier, un personaje que apareció en la película de Marvel Capitán América y el soldado del invierno.
Debido a esto decidí llamarlo Bucky.
---
---
This kitten had the good fortune that I found him. I hope he behaves well with Tchalla and they don't fight too much. For my part I will try to give him as much love and care as I can, as it is the least I can do with these furry four-legged blessings.
Este gatito tuvo la buena suerte de que yo lo encontrara. Espero que se comporte bien con Tchalla y no peleen mucho. Por mi parte trataré de darle el cariño y cuidado que pueda, pues es lo menos que puedo hacer con estas bendiciones peludas de cuatro patas.
---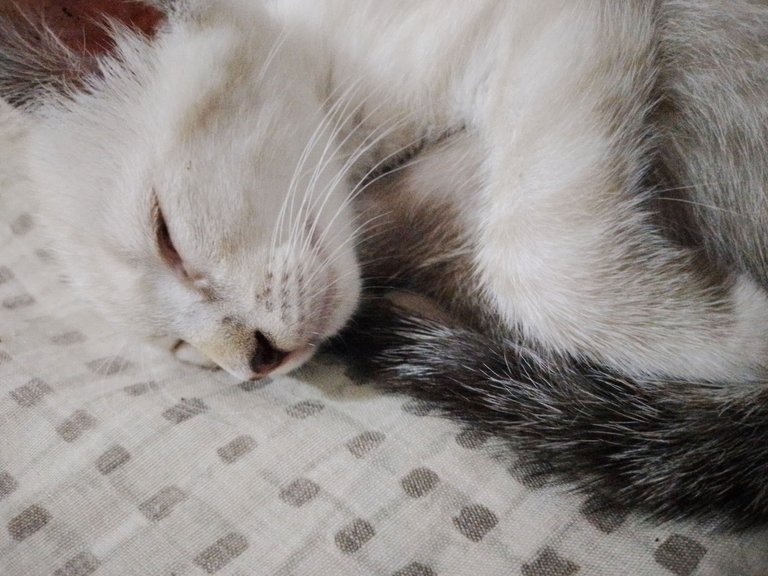 ---
Well folks, that's it as far as introducing another family member.
I have already introduced you to other kittens, but as I said some I end up giving them up for adoption to other families who get attached to them when they come to visit me.
Tchalla is the only one that has stayed with me for years and I will have her with me for many years to come, I hope it will be the same with Bucky.
I sincerely hope you liked my publication. I invite you to leave your opinions below in the comments, as always I will be happy to read them. With nothing more to add, I'll say goodbye then...
See you next time!
Bien amigos, esto ha sido todo en cuanto a la presentación de otro miembro de la familia.
Ya les he presentado a otros gatitos, pero como dije algunos termino dándolos en adopción a otras familias que se encariñan con ellos cuando van a visitarme.
Tchalla es la única que ha permanecido conmigo durante años y la tendré conmigo por muchos años, espero que con Bucky suceda igual.
De corazón espero que mi publicación les haya gustado. Los invito a dejar sus opiniones abajo en los comentarios, como siempre estaré encantado de leerlos. Sin más que agregar, me despido entonces...
¡Hasta la próxima!
---


---
---