Gabo Ensalada [ENG/SPA]
English
Since the last recipe I shared in the community, someone commented to me privately that my recipes looked very tasty but didn't seem healthy at all, and it's true; my recipes have fat, sauces, flavor, color, everything we like but also much of what is harmful to us if eaten in excess.
Faced with this comment I felt the need to share with you a recipe a little healthier, a salad that I make from time to time at home. So, I present to you... The Gabo Salad!
Español
Desde la última receta que compartí en la comunidad, alguien me comentó por privado que mis recetas se veían muy ricas pero no parecían del todo saludables, y es verdad; mis recetas tiene grasa, salsas, sabor, color, todo lo que nos gusta pero también mucho de lo que nos hace daño si se come en exceso.
Ante este comentario sentí la necesidad de compartir con ustedes una receta un poco más saludable, una ensalada que hago de vez en cuando en casa. Así pues, les presento… ¡La Gabo Ensalada!
---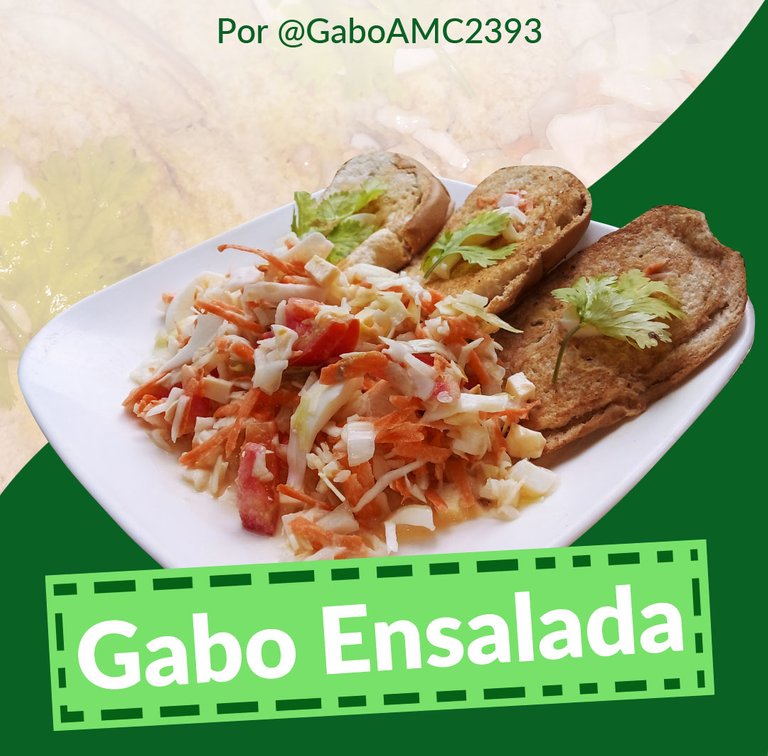 ---
What are the ingredients? Well, they are the ones that are almost always used in some salads; tomato, onion, cabbage and carrot. Now, to this salad I like to add some cheese and a boiled egg, plus mustard, mayonnaise, salt and sugar?
What did you think? All my recipes have some fat in them?
¿Cuáles son los ingredientes? Pues son los que casi siempre se usan en algunas ensaladas; tomate, cebolla, repollo y zanahoria. Ahora bien, a esta ensalada a mí me gusta agregarle un poco de queso y un huevo hervido, además de mostaza, mayonesa, sal y azúcar…
¿Qué creían? Todas mis recetas tienen algo de grasa…
---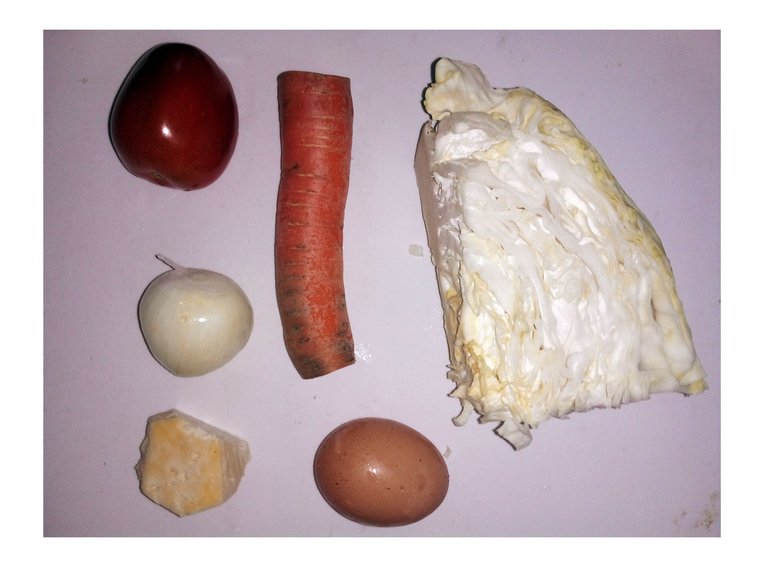 ---
How do we prepare it? Well, preparing a salad is one of the easiest things there is, although not everyone knows how to do it well.
The first thing to do is to wash the vegetables very well and then cut them.
Let's look at the onion and tomato. I used a small tomato and an onion of a similar size. Some people don't like onions, so this is optional.
This type of salad can easily be prepared with just cabbage and carrots, but I do like onion and tomato, so I cut them into small pieces, which sit when eating the salad.
¿Cómo la preparamos? Pues preparar una ensalada es una de las cosas más sencillas que hay, aunque no todos sepan hacerla bien.
Lo primero que hace que hacer es lavar muy bien los vegetales y luego cortarlos.
Veamos la cebolla y el tomate. Yo usé un tomate pequeño y una cebolla de un tamaño similar. Hay personas a las que no les gusta la cebolla, así que esto es opcional.
Este tipo de ensalada tranquilamente se puede preparar solamente con repollo y zanahoria, pero a mí sí me gusta la cebolla y el tomate, así que los corté en pequeños trocitos, que se sientan al comer la ensalada.
---
| | |
| --- | --- |
---
As I said, this type of salad is very good with just cabbage, carrots and mayonnaise. For the cabbage I cut it into small strips and those strips into small squares. Some people like to grate it, but I prefer to cut it.
I did grate the carrot, I used a whole carrot for this recipe; on the other hand, I used a small piece of cabbage.
It should be noted that I soaked the cabbage for about 20 minutes in water with vinegar.
Como dije, este tipo de ensalada queda muy bien con solo repollo, zanahoria y la mayonesa. Para el repollo lo corté en pequeñas tiras y esas tiras en pequeños cuadritos. Hay quien le gusta rallarlo, yo prefiero cortarlo.
La zanahoria sí la rallé, utilicé una completa para esta receta; por el contrario, utilicé un pequeño trozo de repollo.
Cabe destacar, que en el caso del repollo lo remojé por unos 20 minutos en agua con vinagre.
---
---
The last solid ingredients of the recipe are the cheese and the boiled egg. It is very simple in the case of these two ingredients; just cut them into small squares, in the case of the cheese, and into long strips in the case of the egg.
Los últimos ingredientes sólidos de la receta es el queso y el huevo hervido. Es muy simple el caso de estos dos ingredientes; solo hay que cortarlo en cuadritos, en el caso del queso, y en tiras largas en el caso del huevo.
---
---
Once all the ingredients have been washed and chopped, it is a matter of mixing everything in a sufficiently large container.
Una vez lavados y cortados todos los ingredientes, es cuestión de mezclar todo en un envase lo suficientemente grande.
---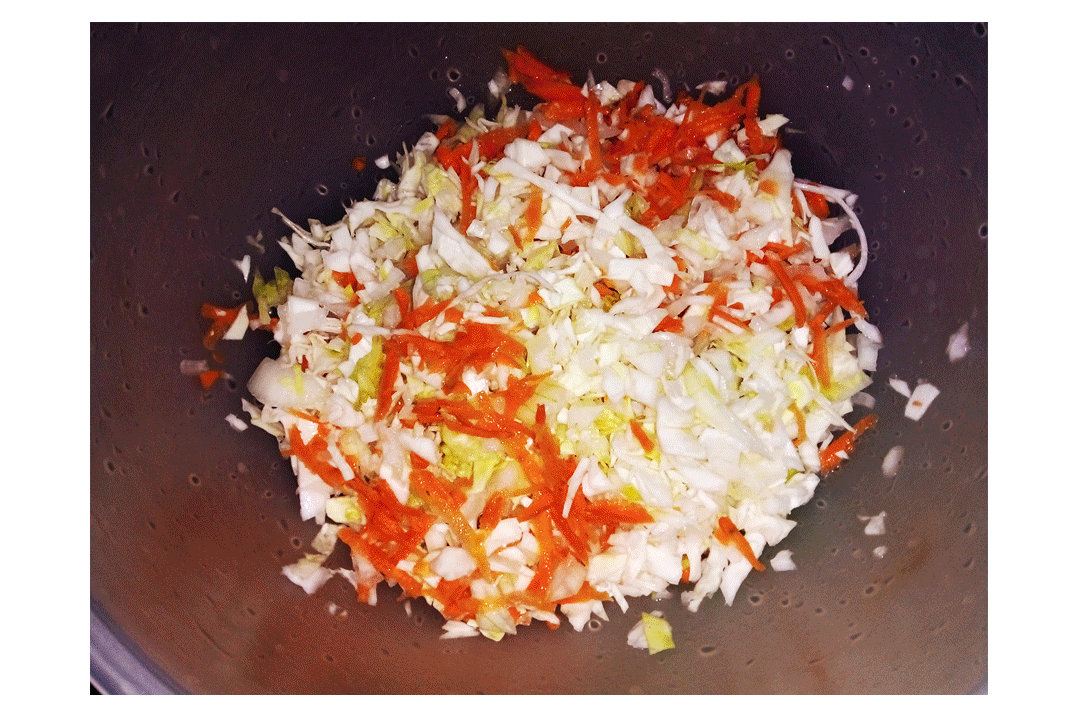 ---
Now, in terms of flavor, the mayonnaise and mustard give a much richer taste to the salad. I added salt and sugar to balance the flavors; also, a splash of oil and vinegar...
Ahora, en cuanto a sabor, la mayonesa y la mostaza dan un gusto mucho más rico a la ensalada. Yo agregué sal y azúcar para balancear los sabores; además, un chorrito de aceite y vinagre...
---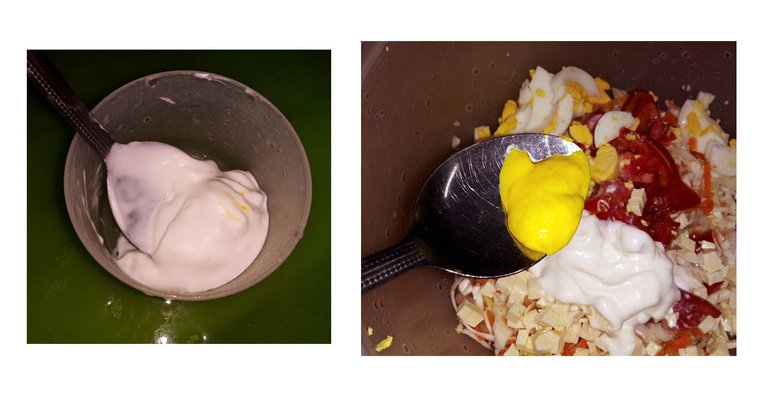 ---
Normally the salad is a side dish, but it can easily be a main dish for those of us who are on a diet.
In this case I decided to accompany it with three slices of toasted bread. I simply put them on the grill without anything else, no butter or margarine, nothing, just toasted grilled bread.
Normalmente la ensalada es un plantillo que sirve para acompañante, pero tranquilamente puede ser un plantillo principal para los que estamos a dieta.
En este caso yo decidí acompañarla con tres rebanadas de pan tostado. Simplemente los puse a la plancha sin nada màs, ni mantequilla ni margarina, nada, solo pan tostado a la plancha.
---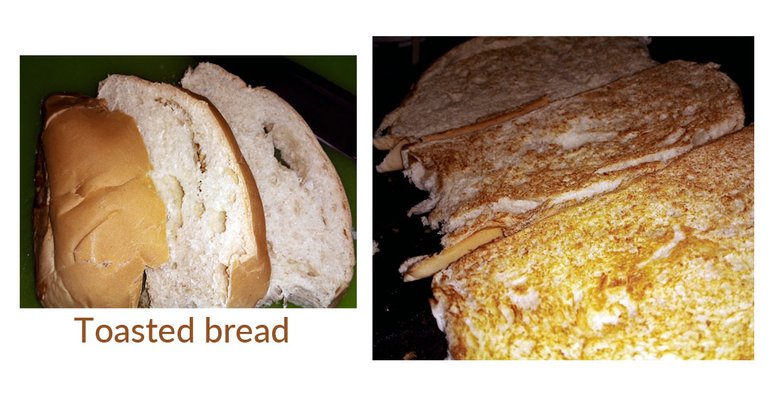 ---
It's time to serve! To do this, we take a plate, place the slices of toasted bread at one end and the salad in the center of the plate. We can use the same egg strips or cilantro leaves to decorate.
¡Llegó la hora de servir! Para esto, tomamos un planto, colocamos las rebanadas de pan tostado en uno de los extremos y la ensalada en el centro del plato. Podemos usar las mismas tiras de huevo o hojitas de cilantro para decorar.
---
---
This way the salad was ready. Here are some pictures of the final result:
De esta manera quedó lista la ensalada. A continuación les dejo una serie de fotografías del resultado final:
---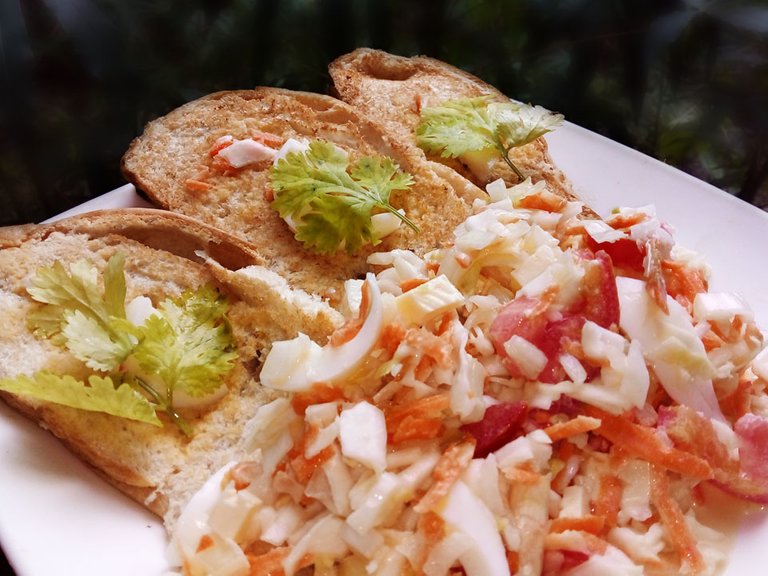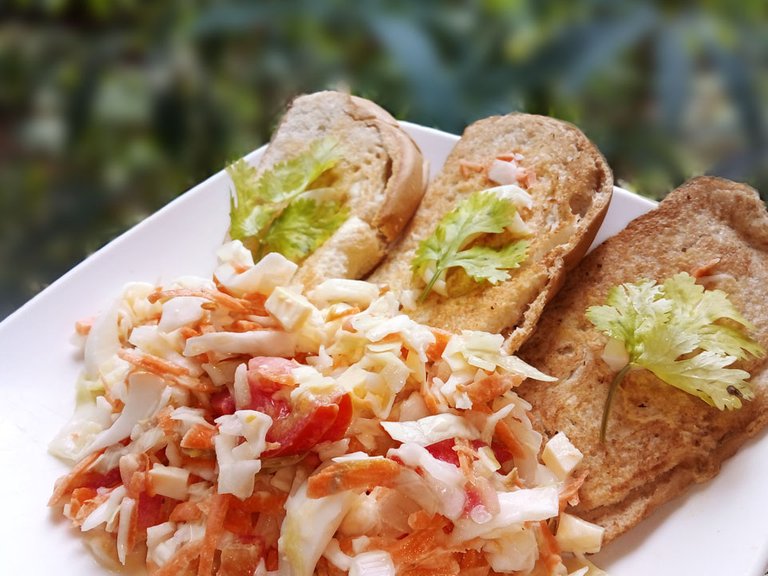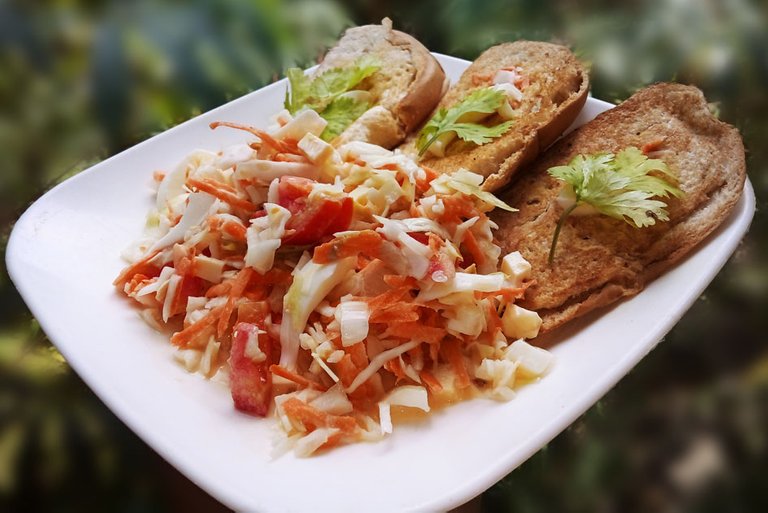 ---
Well friends, this has been all for now. A little healthier recipe if I compare it with the others I have shared, because we are on a diet.
I invite you to leave your opinions below in the comments, as always I will be happy to read them. With nothing more to add, I bid you farewell then...
See you next time!
Bien amigos, esto ha sido todo por ahora. Una receta un poco más saludable si la comparo con las otras que he compartido, porque estamos a dieta.
Los invito a dejar sus opiniones abajo en los comentarios, como siempre estaré encantado de leerlos. Sin más que agregar, me despido entonces...
¡Hasta la próxima!
---
---

Traducido con DeepL
Últimos tres post/Last three posts:
Rising Star: Buying And Selling
My new Wireless USB gadget
The Toymaker
---
---