Gabo Play: Maze Machina [ENG/SPA]

---
English
Greetings to all, fellow technology lovers. As I have mentioned in previous posts, I don't have a video game console but I do have a cell phone, so the only way I can play any video games is on the cell phone.
Are there any good games? Well, the truth is yes, there are games for all tastes and also for all pockets, as there are both paid and free games. In this case, I will tell you about another game that I downloaded and have been playing all day today, Maze Machina.
Español
Saludos a todos, compañeros amantes de la tecnología. Como ya he mencionado en publicaciones anteriores, no tengo una consola de video juego pero sí tengo un celular, así que la única manera en que puedo jugar algún video juego es en el celular.
¿Hay buenos juegos? Pues la verdad es que sí, hay para todos los gustos y también para todos los bolsillos, pues hay tanto juegos gratis como pagos. En este caso, les hablaré de otro juego que descargué y he estado jugando todo el día de hoy, Maze Machina.
---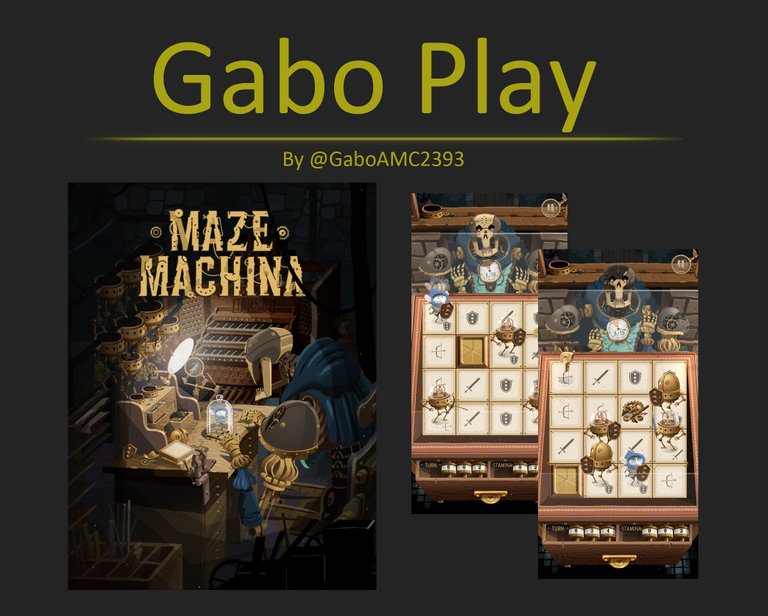 ---
What does the game consist of? Well, at the beginning there is a very brief intro that tells us the short story of the game. A guy made of metal has built some minions that he has called Machina. They are small robots to which he has given life and to test them he has created a maze.
As a test subject for his Machina, he captured a mouse, which is our main character, with whom we must play.
This is the theme of the game and the truth is that the gameplay is quite simple but very entertaining.
¿En qué consiste el juego? Pues bien, al comienzo tiene una intro muy breve que nos cuenta la corta historia del juego. Un sujeto hecho de metal ha construido unos secuaces a los que ha llamado Machina. Son pequeños robots a los que él les ha dado vida y para ponerlos a prueba ha creado un laberinto.
Como sujeto de prueba para sus Machina, capturó a un ratón, el cual es nuestro personaje principal, con el que debemos jugar.
Esta es la temática del juego y la verdad es que la jugabilidad es bastante sencilla pero muy entretenida.
---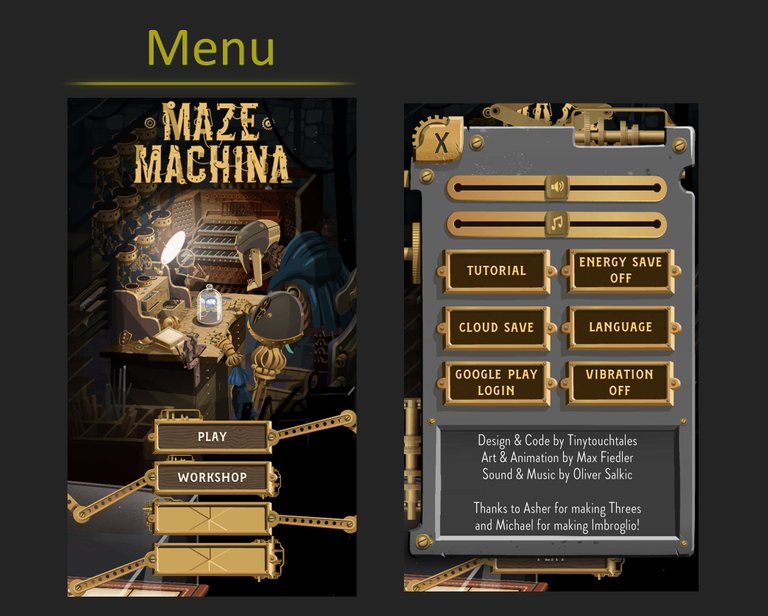 ---
What can be said about the game's interface? Well, it has a steampunk style with a bit dark and gloomy tones, something nice if we consider the look of the character that created the Machina.
On the other hand, the menu is quite simple to follow. You can see in the image above that it has a main menu with two unlocked options, Play, or play, and Workshop, or workshop. It also has a configuration menu to help make our experience with the game better.
In the image below you can see the languages handled by the game. The languages that are on screen are the ones supported, Spanish is not in the list.
¿Qué se puede decir de la interface del juego? Pues bien, tiene un estilo steampunk con tonos un poco oscuros y sombríos, algo agradable si consideramos el aspecto del personaje que creó a las Machina.
Por otra parte, el menú es bastante sencillo de seguir. Pueden ver en la imagen de arriba que tiene un menú principal con dos opciones desbloqueadas, Play, o jugar, y Workshop, o taller. También tiene un menú de configuración para ayudar a que nuestra experiencia con el juego sea mejor.
En la imagen de abajo se aprecia los lenguajes que maneja el juego. Los idiomas que estan en pantalla son los que soporta, español no está en la lista.
---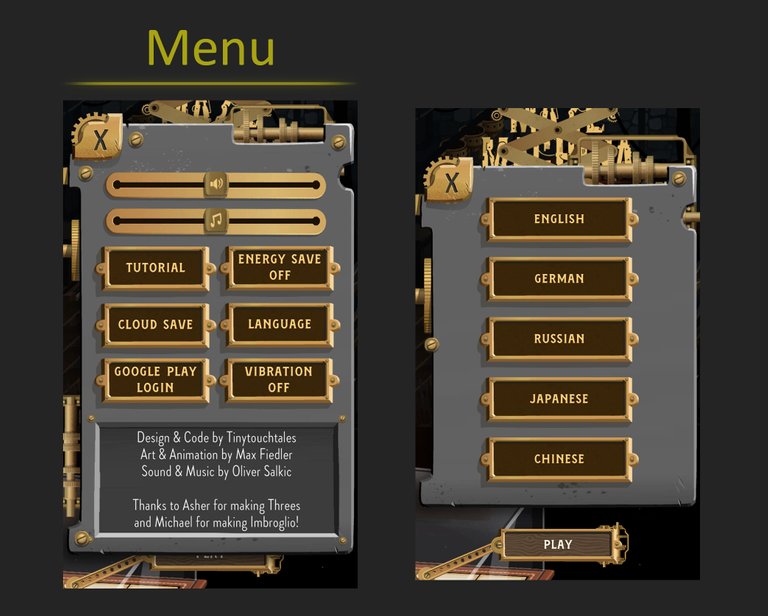 ---
As I mentioned in the theme at the beginning, there are three main characters in the game.
Mouse: is the test subject; that is, the character we control. Although we can control other objects in the maze in which we play, the truth is that the mouse is the only character we care about, because if he dies we lose.
Machina: are the small robots that we must face in the maze. The game has shown me two different styles of Machina, but it is likely that there will be other types of robots as you progress through the levels.
Automatron: as I understood in the intro of the game, this is the creator of the small robots called Machina, he is the creator of the maze.
Como les mencioné en la temática al comienzo, hay tres personajes principales en el juego.
Mouse: es el sujeto de pruebas; es decir, el personaje que controlamos. Aunque podemos controlar de cierta forma otros objetos en el laberinto en el que jugamos, lo cierto es que el ratón es el único personaje que nos importa, ya que si muere perdemos.
Machina: son los pequeños robots que debemos enfrentar en el laberinto. El juego me ha mostrado dos estilos distintos de Machina, pero es probable que haya otro tipo de robots conforme se avanza por los niveles.
Automatron: según entendí en la intro del juego, este es el creador de los pequeños robots llamados Machina, es el creador del laberinto.
---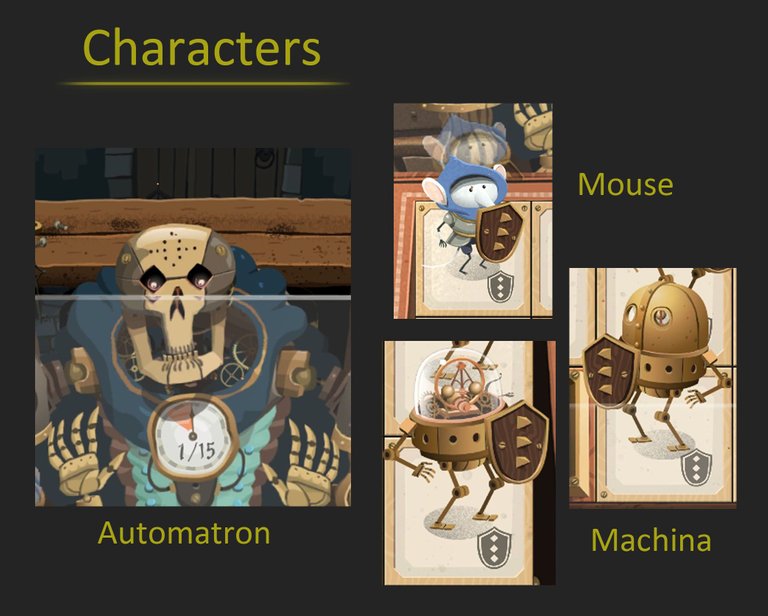 ---
As I said, the mouse is our character, with which we have to face the Machina in the maze, with what do we face these robots? Well, depending on where you are in the maze, you can use different types of weapons.
As you can see in the image below, at the beginning there are available a sword, a shield and an arrow bow; however, the game allows you to buy "scrap" to exchange it for more types of weapons.
Como dije, el ratón es nuestro personaje, con él que debemos enfrentar a las Machina en el laberinto. ¿Con qué enfrentamos a estor robots? Pues bien, dependiendo del lugar en el que estes en el laberinto, puedes usar distintos tipos de armas.
Como observan en la imagen a continuación, al comienzo estan disponibles una espada, un escudo y archo con flecha; sin embargo, el juego permite comprar "chatarra" para canjearla por más tipos de armas.
---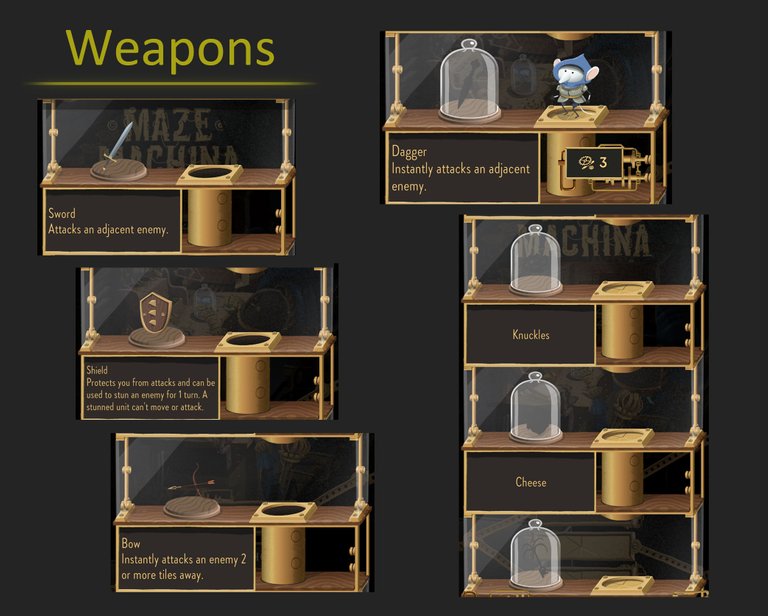 ---
Well, having explained all of the above, time to start with the game itself.
Like most video games, this one has an initial tutorial level, which explains in detail everything we can do. As I said it is in English so we may need a translator to play, in case we do not know English.
Even so, the game is intuitive and you can learn to play without a tutorial that explains it to you.
Bien, explicado todo lo anterior, hora de comenzar con el juego en sí.
Como la mayoría de los videojuegos, este trae un nivel inicial de tutorial, en el que nos explica con el más mínimo detalle todo lo que podemos hacer. Como ya dije está en inglés así que quizás necesitemos de un traductor para jugar, en caso de que no sepamos inglés.
Aún así, el juego es intuitivo y se puede aprender a jugar sin un tutorial que te lo explique.
---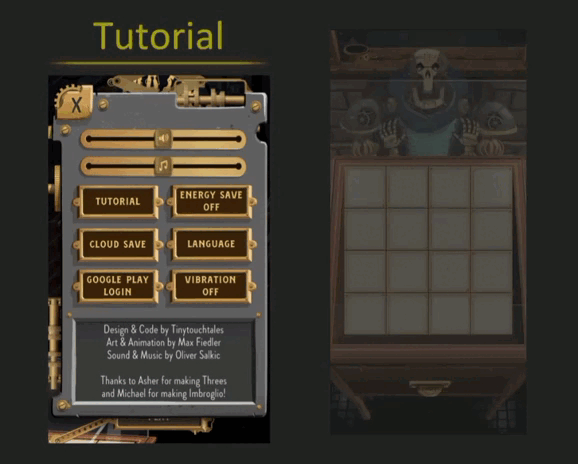 ---
Basically, you're in a "maze", which are more like panels on which each character stands, like chess. You can only move one square per move and only to the sides and up or down.
Básicamente, estás en un "laberinto", que más bien son paneles sobre los que cada personaje está, como ajedréz. Solo te puedes mover un cuadro por movimiento y solo a los lados y hacia arriba o abajo.
---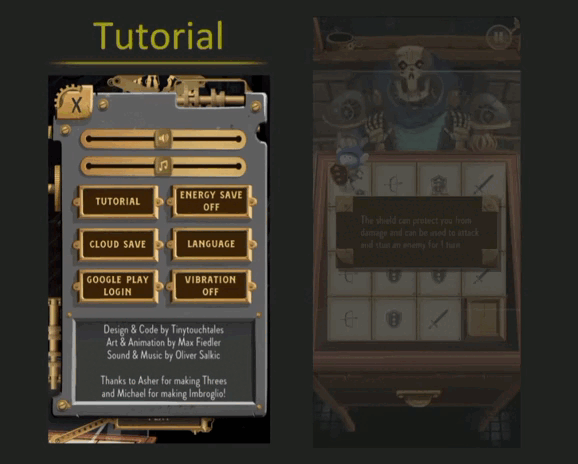 ---
Time to play, what do we have to do? Well, we appear in the labyrinth with the Machina. We have to advance frame by frame and get to the key that will open a gate that will be our way out.
Hora de jugar. ¿Qué hay que hacer? Pues bien, aparecemos en el laberinto junto a los Machina. Hay que avanzar cuadro a cuadro y llegar hasta la llave que abrirá una compuerta que será nuestra salida.
---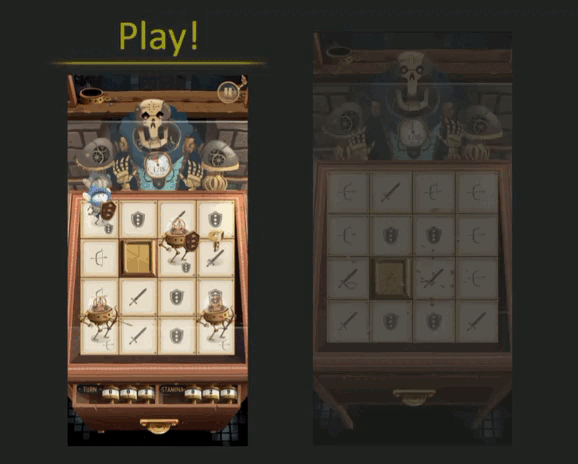 ---
It's a little more complicated than what I already mentioned, because if we move the mouse to the right, the Machina and the other objects in the maze also move to the right, also to all the positions we move. The Machina can also kill us with their weapons, but we can also attack and destroy them.
The point is that it is not as easy as it seems to reach our goal, which is to open the gate that will give us access to the next level.
Es un poco más complicado que lo que mencioné ya, porque si movemos el ratón a la derecha, los Machina y los demás objetos del laberinto también se mueven a la derecha, igualmente hacia todas las posiciones que nos movamos. También nos pueden matar los Machina con sus armas pero nosotros también los podemos atacar y destruir.
El punto es que no es tan sencillo como parece llegar a nuestra meta, que es abrir esa compuerta que nos dará acceso al siguiente nivel.
---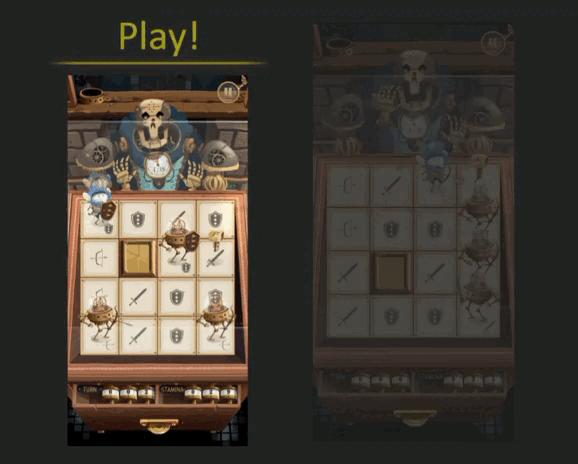 ---
However, there will be those who say that it seems simple, right? Of course, it's not simple at all, so what's the difficulty? Well, in addition to the Machina that will try to kill us, there is a move counter below, this is explained in the tutorial at the beginning.
We start with 30 moves and if we run out of moves, which is the energy (or stamina) of our mouse, it dies.
We can always restart the game, but no matter our progress, if the mouse dies we start from 0.
Sin embargo, habrá el que diga que parece simple ¿no? Sí claro, simple nada. ¿Cual es la dificultad entonces? Pues bien, además de los Machina que intentaran matarnos, abajo hay un contador de movimientos, esto lo explican en el tutorial del comienzo.
Comenzamos con 30 movimientos y si se acaban esos movimientos, que es la energía(o stamina) de nuestro ratón, este muere.
Siempre podemos reiniciar el juego, pero sin importar nuestro progreso, si el ratón muere comenzamos de 0.
---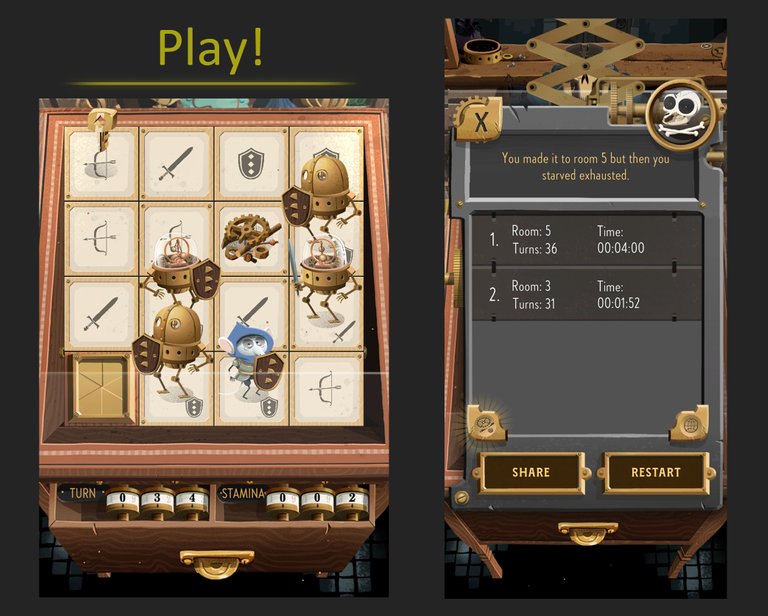 ---
Well friends, that's all for now. I hope you liked my post. If this game catches your attention you can download it for android directly from the playstore for free.
Bien amigos, esto ha sido todo por ahora. Espero que mi publicación les haya gustado. Si este juego les llama la atención pueden descargarlo para android directo desde la playstore completamente gratis.
---
Maze Machina: (Click to go to the PlayStore)
---
I'd love to know your opinions, you can leave them below in the comments and I'll be happy to read them. With nothing more to add, I'll say goodbye then...
See you next time!
Me gustaría saber sus opiniones, pueden dejarlas abajo en los comentarios y yo estaré encantado de leerlos. Sin más que agregar, me despido entonces...
¡Hasta la próxima!
---
---

Traducido con DeepL
Últimos tres post/Last three posts:
Gabo Play: Mekorama Story #2
Three good night verses
Continúa la historia: El carpintero
---
---