Rising Star: Buying And Selling [ENG/SPA]

English
I recently took on the task of selling some cards from my Rising Star collection. Previously I had invested a lot in the game, buying a lot of packs. The problem is that I didn't get any good cards and the investment was simply a failure in my opinion.
In spite of everything, I managed to get some good cards that I managed to sell to buy others, in the same market of the game. This is what I will talk about this time, the buying and selling in the internal market of the game.
Español
Hace poco me di a la tarea de vender algunas cartas de mi colección en Rising Star. Anteriormente había invertido bastante en el juego, comprando gran cantidad de paquetes. El problema es que no me habían salido cartas buenas y la inversión pues simplemente había sido un fracaso en mi opinión
A pesar de todo, logré conseguir unas cartas buenas que logré vender para comprar otras, en el mismo mercado del juego. De esto les hablaré en esta ocasión, de la compra y venta en el mercado interno del juego.
---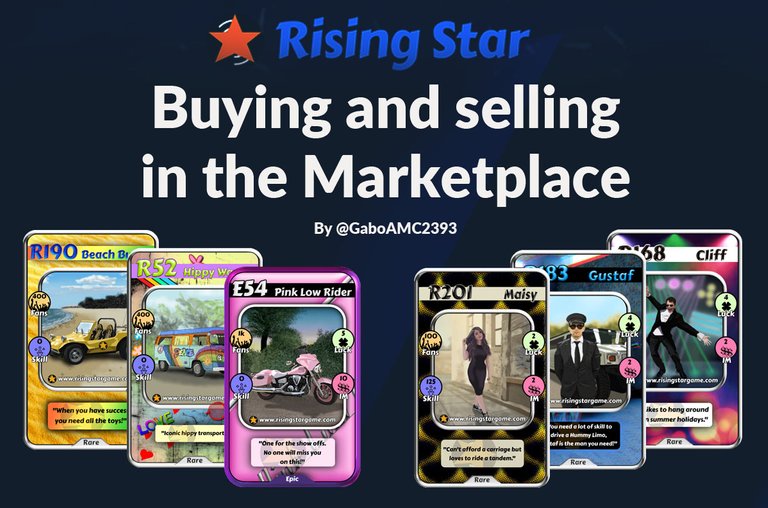 ---
Thanks to last month's seasonal missions, the Easter ones, I managed to get quite a few instrument cards, such as Chocolate Chimes and Rabbit Radio. I also managed to get S34 Pascala cards to trade for the limited edition animated S34a Pascala, which is much more valuable.
I did the same with the 10 Chocolate Chimes cards I got, exchanging them for one of the animated S35a Chocolate Chimes. I practically only had to do last season's quests and the prize was these cards, which on the market had a high price, as seen in the image below.
In the case of the chocolate chimes I had no use for it, so I offered it on the market but it took a while to sell but in the end I got it. The S34a Pascala did sell a little faster but the intention of selling it was to buy more cards with the starbits collected with these cards.
Gracias a las misiones de temporada del mes pasado, las de pascua, logré obtener bastantes cartas de instrumentos, como Chocolate Chimes y Rabbit Radio. También logré obtener cartas de S34 Pascala para cambiarlas por la edición limitada de S34a Pascala animada, que es mucho más valiosa.
Hice lo mismo con las 10 cartas de Chocolate Chimes que obtuve, las cambie por una de S35a Chocolate Chimes animada. Prácticamente solo tuve que hacer las misiones de la temporada pasada y el premio fueron estas cartas, que en el mercado tenían un precio alto, tal como se aprecia en la imagen de abajo.
En el caso de la chocolate chimes no me servía de nada, así que la ofrecí en el mercado pero tardó en venderse pero al final lo logré. La S34a Pascala si se vendió un poco más rápido pero la intención de venderla era la de comprar más cartas con los starbits reunidos con estas cartas.
---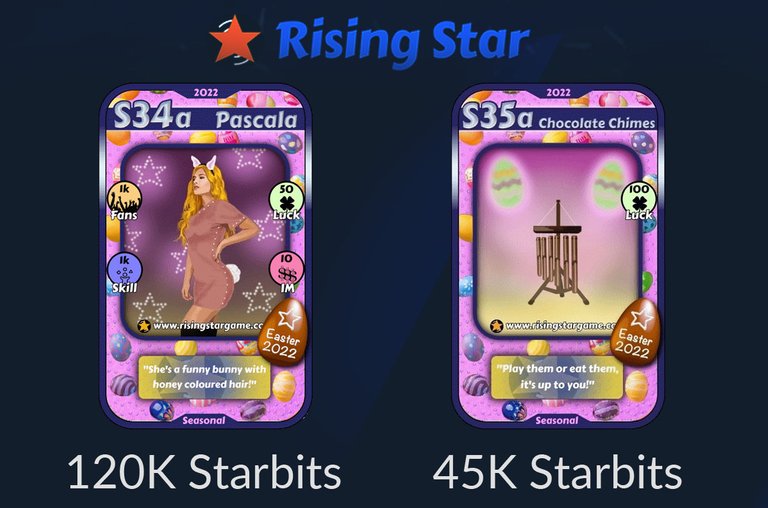 ---
You see, the S34a Pascala gives 1K fans and skill, so with the 120K of starbits I got with its sale I could buy many more cards that would give me many more fans, as there were several in the market; in addition, with the proceeds from the sale of the S35a Chocolate Chimes and a few Starbits I had in hive-engine, I managed to collect a little over 200K to buy several cards.
One of the first I bought was the E54 Pink Low Rider card, which cost 68K, just over half of what I made on the Pascala card (120K). It was a good purchase, as this motorcycle gives me the same amount of fans as Pascala's card.
On the other hand I bought two more vehicles at a very good price, as shown in the image below, the R190 Beach Buggy (400 Fans) and R52 Hippy Wagon (400 Fans). In total, 1,800 Fans for almost the same amount of starbits I got from selling the Pascala card.
Verán, la S34a Pascala otorga 1K fans y skill, así que con los 120K de starbits que obtuve con su venta lograría comprar muchas más cartas que me darían muchos más fans, pues habían varias en el mercado; además, con lo recaudado de la venta de la S35a Chocolate Chimes y unos cuantos Starbits que tenía en hive-engine, logré reunir poco más de 200K para comprar varias cartas.
Una de las primeras que compré fue la carta E54 Pink Low Rider, que costó 68K, poco más de la mitad de lo que gané con la carta de Pascala (120K). Fue una buena compra, pues esta motocibleta me otorga la misma cantidad de fans que la carta de Pascala.
Por otra parte compré dos vehículos más a muy buen precio, tal como se observa en la imagen de abajo, el R190 Beach Buggy (400 Fans) y R52 Hippy Wagon (400 Fans). En total, 1.800 Fans por casi la misma cantidad de starbits que obtuve al vender la carta Pascala.
---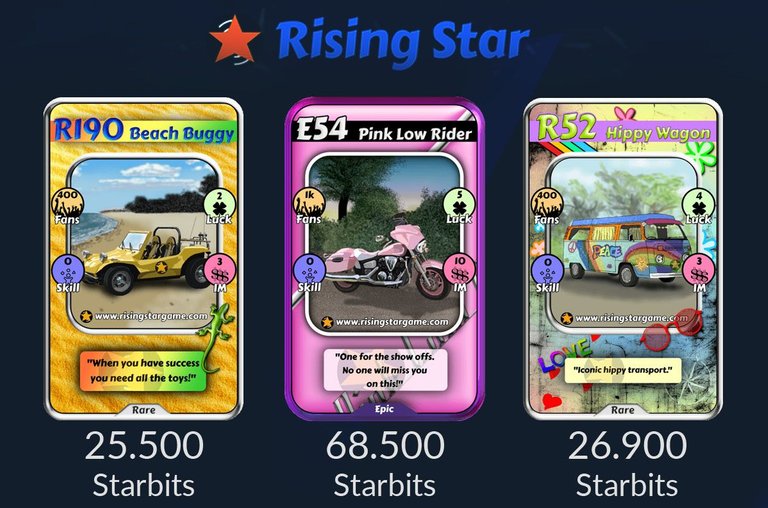 ---
With the starbits I earned by selling S35a Chocolate Chimes and what I had already collected from the same game, I managed to buy 14 cards at a very good price that added me, in total, 1,400 Fans.
Below you can see a series of images with information about the amount of cards I bought of each one, the price at which I bought it and the amount of fans and skill that each one adds up in total.
Con los starbits que gané al vender S35a Chocolate Chimes y lo que ya tenía reunido del mismo juego, logré comprar 14 cartas a muy buen precio que me sumaron, en total, 1.400 Fans.
A continuación pueden ver una serie de imágenes con información de la cantidad de cartas que compré de cada una, el precio al que la compré y la cantidad de fans y skill que cada una suma en total.
---
---
If you add it all up, it was a little more than 85K starbits, but it was not an external investment, I bought them with what I earned from the sale of cards and what I generated with the game itself. It was a good way to increase the number of fans with what I already had in the game.
Si se suma todo, fueron poco más de 85K de starbits, pero no fue inversión externa,sino que las compré con lo que gané en la venta de cartas y lo generado con el mismo juego. Fue una buena manera de aumentar la cantidad de fans con lo que ya tenía en el juego.
---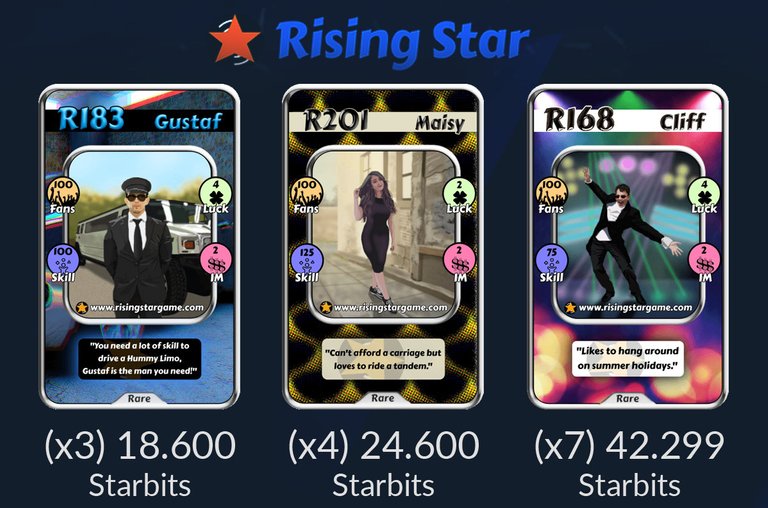 ---
This is how my stats are. I am currently level 43 and climbing. I managed to reach 16K Fans and 19K Skill, despite having sold a lot of cards I had in my inventory.
De esta manera quedaron mis estadisticas. Actualmente soy nivel 43 y subiendo. Logré llegar a 16K Fans y 19K Skill, a pesar de haber vendido un montón de cartas que tenía en mi inventario.
---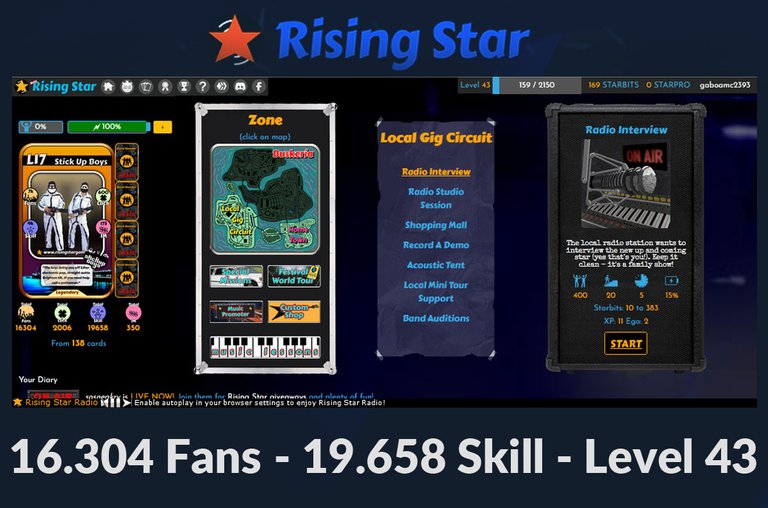 ---
Well friends, this has been all for now. The game is still fun to play and I've been playing it non-stop these days and I think it's been going well, I hope it's going better now that I have more fans.
I invite you to leave your opinions below in the comments, as always I will be happy to read them. With nothing more to add, I'll say goodbye then...
See you next time!
Bien amigos, esto ha sido todo por ahora. El juego sigue siendo entretenido de jugar y lo he estado haciendo sin parar en estos días y creo que me ha ido bien, espero me vaya mejor ahora que tengo más fans.
Los invito a dejar sus opiniones abajo en los comentarios, como siempre estaré encantado de leerlos. Sin más que agregar, me despido entonces...
¡Hasta la próxima!
---
---

Traducido con DeepL
Últimos tres post/Last three posts:
My new Wireless USB gadget
The Toymaker
Three good night poems
---
---