Let's travel together #205 - Biserica fortificată de la Cisnădioara (Cisnădioara Fortress)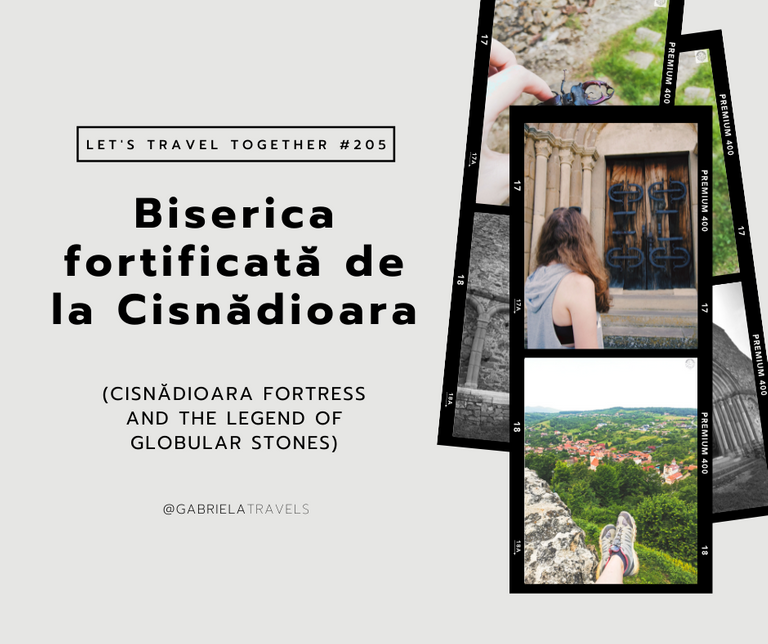 When you visit a historical place, you not only step back in time but also become part of its story, legend and mystery that is keeping everything alive even after more than 800 years since everything have started.

When we begin a new journey on the way to a historical monument or a place that was there for a while and seen lots of moments from the past, we make our steps with our hearts wide open, ready for new stories to be heard, legends to discover, places to see, and eager to add another memorable day on the book of our lives.
However, the day when we went to Cisnădioara Fortress felt different than any other citadel or medieval church we explored before, but more like stepping into a different world.
The funny part is that we were welcomed with a sign at the beginning of the trail with the same message and feelings we got back then, so what better way to confirm yourself that you are on the right way to reach a very mysterious place?
Anyway, while we began the day by visiting Frog's Stone which surprised us with the over 65 million years since it was dating, we wanted to explore Cisnadioara a little bit more and see what else it has to offer to the tourists.
The fortress was located just 1,6 km away from our first stop so we didn't spend too much time until we reached the next point of interest mainly called Biserica fortificată de la Cisnădioara because it's more of a church rather than a citadel, but due to its past and everything it has been through, people started calling it Cisnădioara Fortress.
| | |
| --- | --- |
There are quite a few signs on the road that will lead you to the foothills of the fortress which is located somewhere on the edge of the village, so it wasn't too hard to find it. However, after we left the car in the parking lot, we had to purchase a visiting ticket which cost 7 RON / 1.41 EUR per person and then we properly began our journey.
Cisnădioara Fortress is placed on an altitude of 50 m on top of a rocky hill called Mihail that offers a great view over the village and mountains.
Even though it was a hot day of the summer when we explored this place, most of the trail is through the forest so we kind of beared the heat easier, but as soon as you reach the citadel, you won't find any trees to hide yourself from the sun rays, because the citadel is pretty lonely and forgotten by everyone, even by nature.
The time we spent climbing the stairs to reach the gates that were going to introduce us to a different world was of 15 minutes, but you will find benches from time to time and even a panoramic view on the terrace of a restaurant, so you can take breaks as often as you need.
We found out that Biserica fortificată de la Cisnădioara was built between 1162-1223, which made us realize how many events this place was part of and that there is no doubt we will be overwhelmed by all the stories the fortress is looking forward to share with the tourists.
Unfortunately, as beautiful and rich in history the place is, as forgotten and neglected by people became, not being able to meet any other tourists during the period of 2 hours we spent there... which is kind of sad.
As soon as we did one last effort to climb a few more stairs and enter the gates, we were welcomed by a very sad landscape that made us feel like it was trying to share a lot more stories than what we could anticipate from what we were seeing in front of us.
The church was built in the style of a Romanesque basilica, making it one of the oldest such buildings from Transylvania.
However, as lonely as it seems, the church has a very good acoustic, which makes it being used from time to time for various exhibitions, performances, concerts and even sound recordings that are gathering more people in the same place and find out a little bit more about the past of Romania.
Biserica fortificată de la Cisnădioara is based on 3 naves and it's surrounded by all kind of fortifications and 4-6 meters height enclosure walls that back in the 12th century had a defensive role to protect both the religious place and the locals of the village that could be attacked anytime by foreign invasions.
What makes this place different by any other medieval church or citadels, is the thing that there were not too many interventions made with the purpose of renovating the building, due to the very well thought out plan in terms of how it was going to be built and last for so long.
The single intervention made was of rising 3 towers around the church for a better observation over the city and locals.
One of the most interesting part is that there is a total of 8 entrances into the walls that surround the historical place which could be entirely blocked from the inside and only opened to release huge boulders with the purpose of blocking the access of the invaders that were trying to make their way to the top of the hill.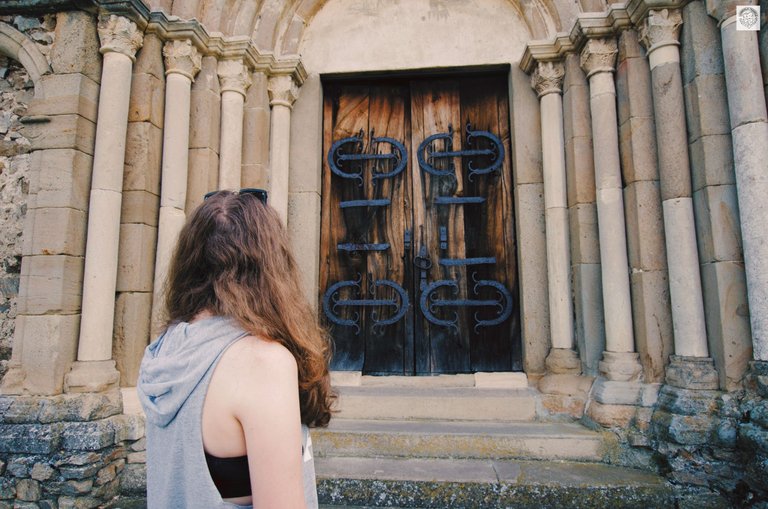 Anyway, talking about such a place, the legends couldn't be missing, and that's how there are rumours saying that whenever a couple wanted to divorce, they were locked in one of the church's rooms only with the bare minimum necessary items to survive and let them stay there until they were giving up on the thought of separation. If this was not going to happen, they were punished to stay there together until death.
Another legend is bringing in front of attention some boulders that caught our curiosity from the first moment we passed the gates, whose story is that every young man who was planning to marry a girl, had to carry one of those boulders from the bottom of the hill until he was reaching the main doors of the church in order to prove his ability to start a family.
A more realistic explanation is given by the church itself which shared the story of the boulders as they represent some of the rocks that were inside of the building ready to protect itself from invasions but which in the end there was no need to use them anymore so they were left as decorations in the yard of the religious place.
Though, the giant boulders were not the single stars of the church, but also a stag beetle we noticed on one of them.
At first, we were quite retained to approach it being scared by the strong and big claws that could be noticed even from the distance, but after a while, we realized that unfortunately, it was already dead. 😔
There were no signs of damage on his body or that it was killed by someone, so who knows what his story was, but we were still excited to meet such a big insect especially that we have never seen one before. I know they are kind of sacred creatures in some places out there, so I can only hope that it won't be the last time we see one.
As interesting as it was to discover the outside of the church, as important for us it was not to leave this place before exploring the interior as well, which even though it doesn't have too many elements, it still shares lots of stories and makes you feel like stepping back in history.
The architecture was the first surprise because there are no rules respected in this case, talking about circular and rectangular rooms depending on what they represented in the past, but the less solitude room we found is the one with the altar that is surrounded by lots of commemorative plaques.
There is a name written on each of the boards you see in the images which are representing the German and Austro-Hungarian officers and soldiers who died in the autumn of 1916 during the World War I.
A more emotional story is of a German tourist who visited the church in 2016 and while he was reading the names from the boards he found the uncle of his grandma about whom they had known nothing since he left the house back then.
It was both a shock and happiness to find out what happened with him because they never knew he was a soldier and the thing that they couldn't find him for so long it was a huge mystery for them but which, in the end, found some answers for their questions.
It's not the first time we get to see this kind of commemorative plaques because we have already visited a few cemeteries which are entirely dedicated to the people who died in WWI and WWII but it's impossible not to get a feeling of sadness seeing so many people who gave their lives trying to create a better future for their families and that today, in the 21st century, there are still lots who think that life is not fair with them and that what they are living is hard.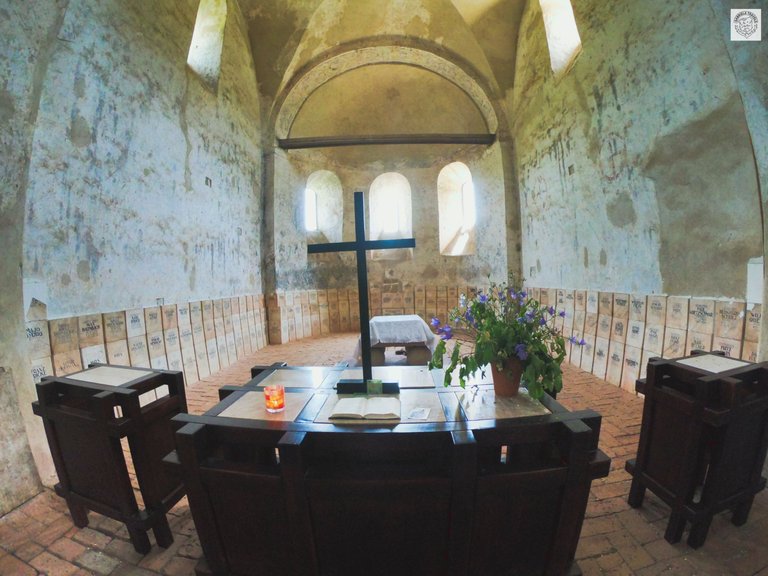 Visiting Schedule:
between November – February:
from Tuesday – Thursday only with prior appointment;
from Friday - Sunday between 10 A.M. – 3 P.M.

between March – May:
on Monday only with prior appointment;
from Tuesday - Sunday between 10 A.M. – 6 P.M.

between June - October:
daily between 10 A.M. – 6 P.M.

between 24th – 31st December:
daily between 10 A.M. – 3 P.M.
Before leaving Biserica fortificată de la Cisnădioara we decided to stop one more time and rest on one of the benches from the yard of the historical place that were encouraging us to stay a little bit more because who knows when they would be able to meet other tourists again.
We even discovered a fountain that most likely we passed a few times but were paying too much attention to the building rather than what is surrounding it as well, and we found inside of it some money which made us drop some too and make a wish for a better and safer future. I know there is this kind of fountains in more places out there where people are encouraged to share a wish while making a donation but I don't know how many of them are for real and how many are not. However, we still did it thinking that maybe those money would be collected by someone who needs them more than us.
Cisnădioara Fortress is located 2 km away from Cisnadie and 10 km away from Sibiu. This can be reached from Sibiu quite easily if you are following the road to Rasinari and then get on the left for 5 more kilometres until you arrive to Cisnadioara from where you can either use GPS, the road signs or even the church itself that can be seen up on the hill and followed to arrive at it.

SEE YOU IN THE NEXT TRIP! 🗾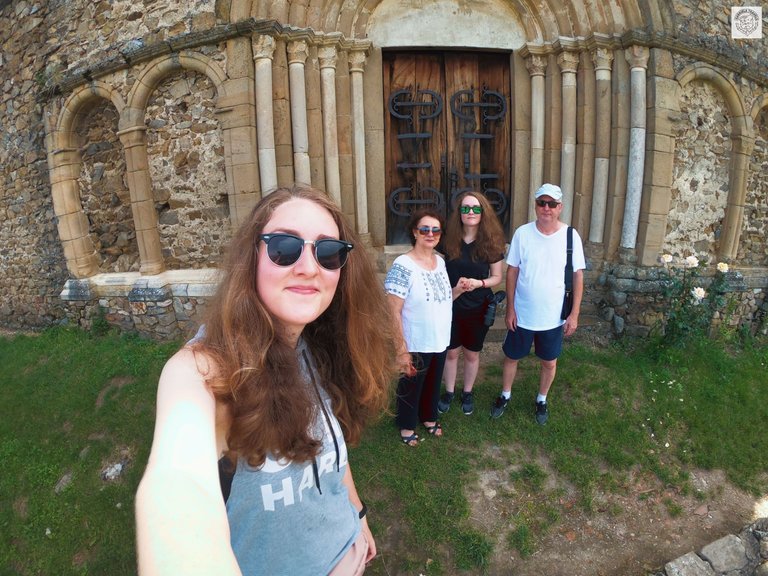 All rights reserved.

FIND ME ON:
↪ Blog: http://gabrielastravels.wordpress.com/
↪ Fiverr: https://www.fiverr.com/gabrielatv/
↪ YouTube: https://www.youtube.com/gabiivdesign
↪ Instagram: https://www.instagram.com/GabrielaTravels/
↪ TikTok: https://tiktok.com/@gabrielastravels/
↪ Discord: GabrielaTravels#0104
↪ Facebook: https://www.facebook.com/gabrielaistraveling/
↪ Twitter: https://twitter.com/GabrielaTravels
↪ PayPal/Contact: [email protected]
---
---