Let's travel together #207 - Canionul Mihăileni (Brod's Ravine)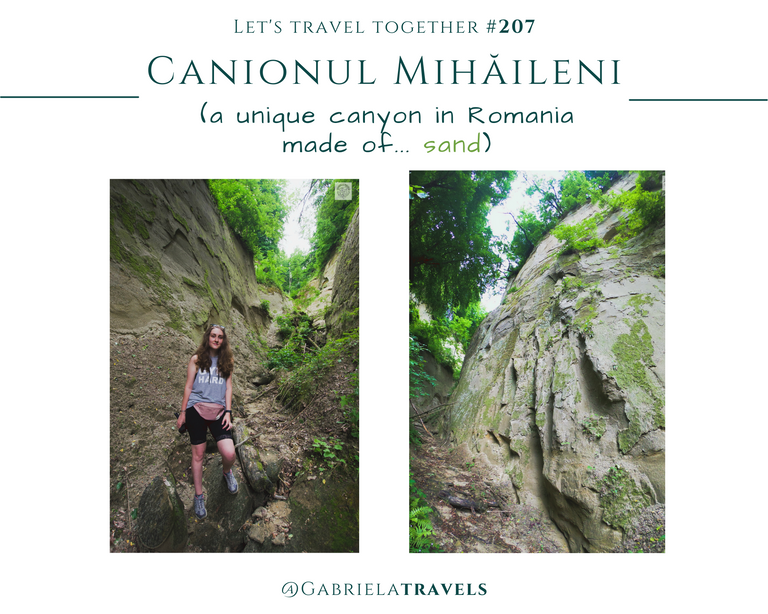 Visiting Mihăileni Canyon was the real proof that you mean nothing to nature and you are just a tiny human in front of its greatness that will never have enough time to discover everything it has to offer.

After so many great and unique discoveries I made in my home country, I always think that probably I've seen everything and there's not too much left to surprise me anymore, but then I ran into a place like Mihăileni Canyon which changed my perspective in a second and made me feel bad rushing to have an impression already when the possibilities of getting surprised by nature again are literally... endless.
And even if it was just one of the tens new discoveries we make yearly, it was enough to make me realize that maybe an entire life wouldn't be enough to at least cover all the interesting things you can see in Romania, so how many lives should I have to see the whole world?
What though this would be a full-time job seeing 3-4 new places daily?
Would that be enough?
I still don't think so, because there are very few people who do understand how tiny we are in front of nature and that no matter how many bad things we do to it thinking that we have control over everything, one day when the planet will get enough of people, will make everything end.
Because that's what nature represents - a great power impossible to be described in words or measurement units.
You just have to feel it and once you connect with its greatness you will understand that things are completely different from what you thought.
And the exact same thing happens when you find out that you don't have enough time to discover it entirely and what it has to offer. As a stone, a river, a waterfall, a canyon, a lake, a cave... is being formed, as easy can everything come to an end without even having time to react or take an action.
Click on the images to see them in full resolution
I know that not for a few times I mentioned that we are about to discover a really wild place... but then not too much time passed and we discovered another one that seemed wilder, and so on. That's because as I said, even after so many years since I and my family travel to incredible places that some aren't shown even on the map, we do still get surprised by nature and another place we get to explore.
I think you already guessed that the same thing applies on today's post too.
We did hike on unmarked trails many times and discovered things that were unknown even for the locals of that place, but what we saw at the Mihăileni Canyon is, without too many words, one step higher than anything.
Because it's not just a canyon with a boring name, but the deepest and wildest part of nature's heart.
It's true that Romania doesn't have too many canyons and especially not like those you see in Arizona, but the little we have, they always came with something unique.
From interesting formations that made us fall in love with the discovery from Banitei Gorges to the flooded canyons from Tamina and Crivadia.
Each of them represented a true adventure back then, but we were far from expecting the unexpected from Mihăileni Canyon.
However, we could only use the GPS until we reached the village with the same name (Mihăileni) where we found some kids playing football and asked them if they ever heard of this canyon.
There was a little girl very willing to help as and she offered us the directions we needed to follow the right path.
However, being a very wild place, it's quite hard to figure out what path you should follow because the vegetation is pretty big and that makes it a real challenge to find it.
Click on the images to see them in full resolution
Happily, some kind locals set up two small indicators showing the way you should follow, but which are almost useless because not being a place frequently visited by people, the path is always covered up by big grass and thistles so having short pants was definitely no one of the best ideas I had. 😂
We all have those memories of when we were kids and always looked into the grass for a four-leaf clover.
It looks like the two and a half decades I have of living weren't enough to find one until the day when I was heading to Mihăileni Canyon and made me realize that it's also a sign that we are on the right path to discover a great place which will make a nice article to share with you one day... and that day finally came!
The best part is that there's not too much trail into the forest and you will arrive at the beginning of the canyon pretty fast and you will easily forget about the fear of not following the correct path because the road itself will walk you through the canyon starting from that point.
That's how from constantly looking on our feet how to cross the one-meter high vegetation, we started starring at the huge sandy walls that were slowly embraced us more and more with every step made further.
The canyon is also known as Râpa lui Brod (EN: Brod's Ravine) and it represents a unique formation in Romania, also being considered a protected area of high national interest starting from 2000.
The imposing formations are covering a total surface of just 0,60 hectares and they are made of Pliocene sediments reaching an altitude of even 20-25 meters height.
Click on the images to see them in full resolution
If you are wondering what those sediments with an interesting name mean, they are part of an era that started around 5,3 million of years ago and ended almost 2,6 million years now, representing the 2nd era of Neogene times.
Even if you won't notice too many stones around this part of Transylvania, find out that all the sandy walls that are creating the canyon were formed after the erosion of the existing stones by washing them and little by little was accumulated after the rains that appeared yearly.
That's how, no matter how many times you will visit this place, you will never find it looking the same because the walls have no structure at their basis other than the tones of sand collected which are always changing their shape and structure after every rain, storm, or other natural events.
I gotta say that we were quite fascinated by everything that was surrounding us and I had to try with my own hand and convince that there is only sand, which was confirmed, but then I started thinking how fragile you can become if one day everything will fall. Just think about it for a moment.
More adrenaline can be felt if you are visiting this place during the winter or after some heavy rains and you will find a lot of mud and shaky walls, the whole landscape being completed by the few trees that fell in front of the way you should follow and which show you once again that you won't have any power in front of nature.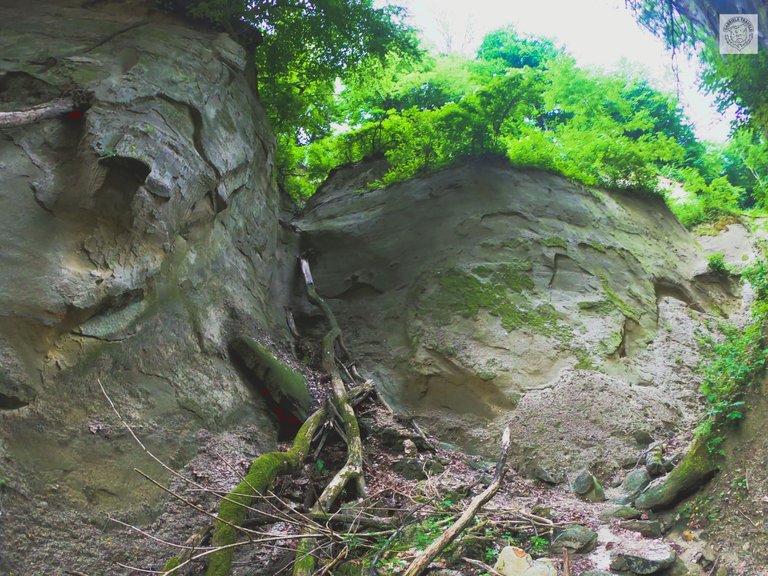 Click on the images to see them in full resolution
The difficulty level of exploring the canyon is pretty easy if you have the specific equipment to explore some wilder parts of nature, but what I'm trying to say is that you won't climb anything but just walk straight through the canyon.
The single obstacle we met was a tree that fell on the way we should follow but we passed that one pretty fast.
However, from what I understood, there might be another trail that takes you above the sandy walls and if you want to come down to the canyon you will have to descent one of those sandy walls which can become pretty challenging.
The same applies if, when you reach the end of the canyon, you want to see it from the top and have to climb the sandy walls.
As soon as reached the end of it, we decided to follow the same way back to where we left the car, without risking too much especially that we did hear some sounds in the forest and weren't too curious to find out what it was.
The rumours are saying that this little part of Transylvania is home to the biggest population of wolves from Romania, especially for the tiny ones which are hidden around the canyon while the adults go hunting.
Finding out these aspects, made a little bit more sense to me the sounds we heard from the forest, but se still didn't met any footprints of wolves on the ground.
Though, that could be caused by the fact that we explored Brod's Ravine on a rainy period and the ground was constantly changing its structure.
Anyway, if you are expecting to see a canyon like those from the famous Grand Canyon that perhaps everyone has on his bucket list, find out that we don't have such places in Romania, but Mihăileni Canyon is not less impressive due to being unique for the country and some sources are saying that it's the 2nd one discovered in Europe even if it barely became a protected area in 2000.
Though, the thing that is so hidden from the eyes of the curious ones with the help of the deep and dense vegetation, and that it takes you longer to find it rather than how much time you need to explore it, feels like the icing on the cake. But if you manage to find it, there is no doubt that you will create some memorable times out there that you won't ever forget.
However, even if we didn't see any wolves footprints, when we returned we did find a footprint of a baby bear and a little bit further a little tortoise which most likely was killed by a snake because a part of the trail before you enter the canyon is through a swampy path surrounded by tall vegetation which is quite the common place to find snakes and other reptiles.
Not too much time after we started the road back home, we noticed a bear running on the hills, so the presumption of the footprint we found and thought it's of a bear was confirmed. 😃
Click on the images to see them in full resolution
In order to reach the canyon you have to follow the national road DN14 from Sibiu to Şeica Mare which is about 32 km long, and then the county road DJ141A until you reach Mihăileni, so another 17 km to drive.
From there you have to get to the center of the village where you cross a bridge and get to the right on a narrow path with the forest on the right and some lands for agriculture activities on the left.
If you are lucky enough, you can still find the little wooden plate we saw showing the path to the canyon if it wasn't taken from the locals already. But if it's not there, just follow the same narrow path until you find a blue panel on the left that shows you to get down to the forest through the big vegetation. This will take you inside the canyon while the other trail will bring you above of it. Exploring the canyon takes around 30 minutes only. 💚

SEE YOU IN THE NEXT TRIP! 🗾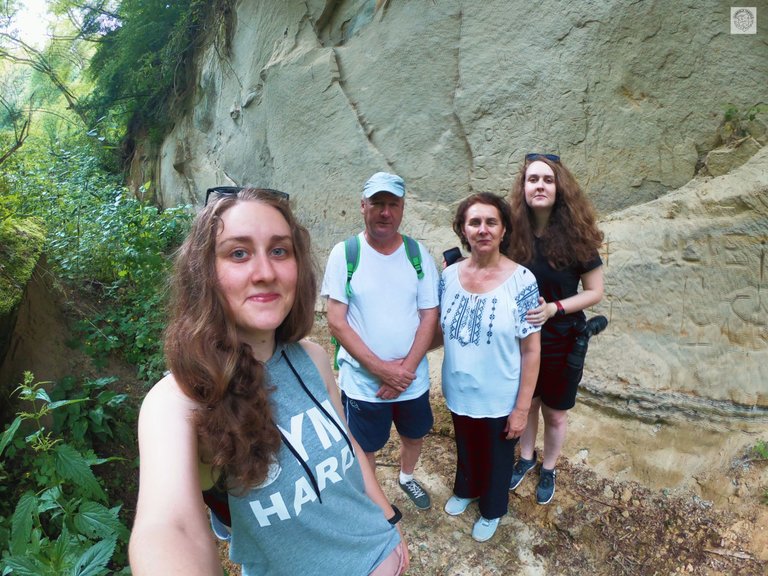 All rights reserved.

FIND ME ON:
↪ Blog: http://gabrielastravels.wordpress.com/
↪ Fiverr: https://www.fiverr.com/gabrielatv/
↪ YouTube: https://www.youtube.com/gabiivdesign
↪ Instagram: https://www.instagram.com/GabrielaTravels/
↪ TikTok: https://tiktok.com/@gabrielastravels/
↪ Discord: GabrielaTravels#0104
↪ Facebook: https://www.facebook.com/gabrielaistraveling/
↪ Twitter: https://twitter.com/GabrielaTravels
↪ PayPal/Contact: [email protected]
---
---