Live Summit - Cross Axle Hills [Let's Play Games #4]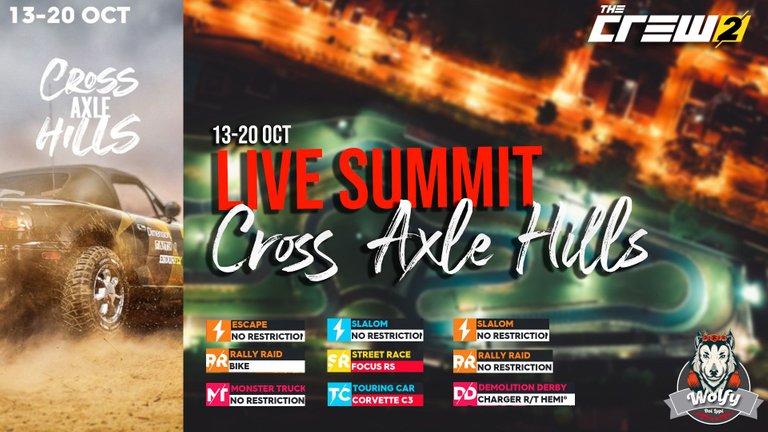 A new Wednesday means a new Live Summit released in The Crew 2, and a new gaming post in this sense.
Personally, Wednesdays represent one of the best days for me just because of the new events and missions added in two of my favourite games at the moment, namely The Crew 2 and Counter-Strike: Global Offensive. It's actually the day when I don't make any other plans because I know that it's dedicated to gaming to setting the stress free that was accumulated in the rest days of the week.
However, some missions that are usually completed in just a few minutes can't come without any cost, because being a competitive person I always repeat the missions until I get the desired results or at least get closer to them, so the races of the Cross Axle Hills Live Summit, took care of me and my moods once again while jumping from pure excitement to being annoyed of the wall that I just stopped in with the car and made me restart the race, lol.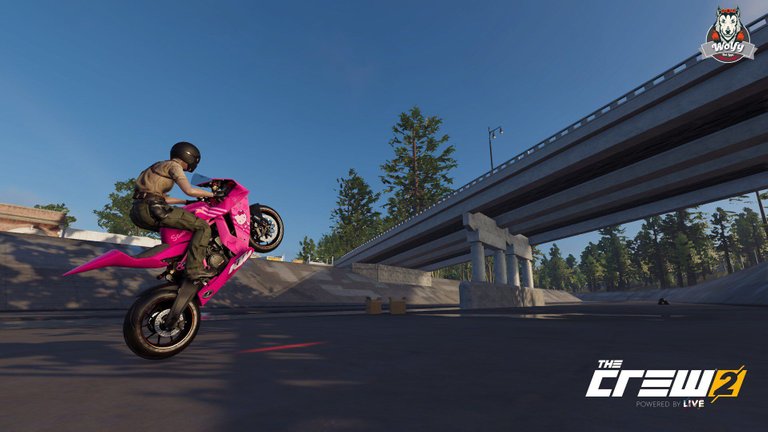 Anyway, as soon as I opened up the game and claimed the rewards from the past Live Summit, I decided to go tunning some of my vehicles which don't have the maximum level yet, and then jump into this week event, namely Cross Axle Hills, that will run from 13th to 20th October coming with the following challenges:
Escape- where you have to drive at least 1,500 meters away from the start off-road in order to complete the race. [No Restriction Race]
Slalom - which is something that some of you might have already experienced in real life too, being needed to make slalom between all kinds of obstacles placed on the ground as fast as possible. [No Restriction Race]
Slalom - similar to the precedent mission but where the slalom has to be made off-road. [No Restriction Race]
Rally Raid - another off-road race where you have to cross the finish line on the 1st place in order to be marked as completed. [A bike is required for this race]
Street - personally I consider this race one of the easiest you can enjoy in this game, especially if you have all parts adjusted to the maximum on your vehicle. You need to finish the race on the 1st position in order to be marked as completed. [Ford Focus RS required]
Rally Raid - since the event itself is an off-road one, most of the races have this theme so we have to complete one more race with an off-road vehicle. [No Restriction Race]
Monster Truck - this is a new race since I didn't have it in the previous summit event, but where the cars look a lot more imposing than they truly are. You need to score points to complete the race. [No Restriction Race]
Touring - a less off-road race but where you are needed to drive better than the rest of the players and cross the finish line on the 1st place. [Corvette C3 required]
Demolition Derby - another new race for some of you but which is quite satisfying if you are a Wreckfest series fan. You need to finish the race on the 1st position to have it completed. [Dodge Charger R/T Hemi required]
Just like the other event, I also had to purchase two more vehicles in order to play all missions available this week. Unfortunately, the lack of funds made me be able to buy only one of them today. Anyway, the things will look a lot different when the new season will be released because there will be 5 more missions to complete daily which will come with lots of money and a better help to afford all vehicles required during the weekly Live Summits.
On a final note, this week's summit came with a lot more action than the previous one and another bonus was that most of the races are off-road, which I absolutely love because there are no rules to be respected and you feel more adrenaline and freedom during the gaming hours.
A thing that seemed a little bit more challenging is for the 6 races (2x Rally Raid, Street Race, Monster Truck, Touring, Demolition Derby) because none of them was held on the paths they usually follow. For example:
the Rally Raid races were held on Rally Cross surfaces;
the Street race was held on the Touring circuit;
the Monster race was held on a Rally Raid path;
the Touring race was held on Street roads;
the Demolition Derby race was held on Drift area.
But I personally have nothing to complain about that because the diversity in this game is huge and I like how the developers always find a new way to make sure you are not getting bored while playing The Crew 2 and I can't wait to see what they bring in the following week Live Summit.
Level: 1566
Completion races: 8/9
Races with a score over 100,000: 5/9
Currently placed in the summit: 1,327/712,742
| Game | The Crew 2 |
| --- | --- |
| Release Date | 31st May 2018 |
| Played On | Steam + Ubisoft |
| Genre | Multiplayer |
| Hours Played | 251 hrs |

All rights reserved.

FIND ME ON:
↪ Blog: http://gabrielastravels.wordpress.com/
↪ Fiverr: https://www.fiverr.com/gabrielatv/
↪ Discord: GabrielaTravels#0104
↪ Facebook: https://www.facebook.com/gabrielaistraveling/
↪ YouTube: https://www.youtube.com/gabiivdesign
↪ Instagram: https://www.instagram.com/GabrielaTravels/
↪ Twitter: https://twitter.com/GabrielaTravels
↪ Patreon: https://www.patreon.com/GabrielaTravels
---
---