Riptide Operation - Week 2: Seal The Deal [Let's Play Games #3]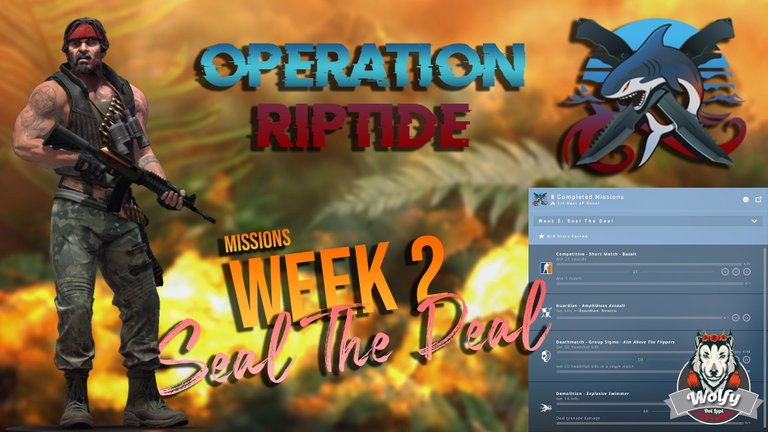 The new week not only begins with Monday that most of the people hate but also with a new set of missions completed in CS:GO, namely, those from the Week 2: Seal The Deal.
Comparing it with the first week released we have visibly fewer missions to be completed and stars to be earned which is a common thing when it comes to operations but let's say that the tasks from the 2nd week compensate at the level of difficulty of these which I felt a little bit more challenging than the previous one.
Honestly, all I'm interested in for the moment is to complete as many missions as possible to get more stars and then decide what I should spend them on, because on the operation before this one, I used to open all kinds of cases or capsules with stickers and I never was too lucky on getting expensive drops, but maybe the current operation will bring a pleasant surprise and a nice profit. We shall discover together!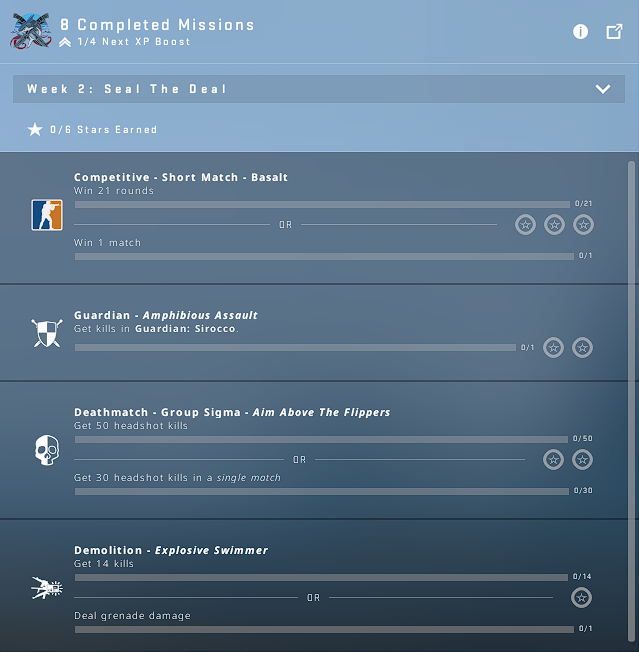 This week we have a total of 4 missions that can be completed for the total of 8 stars to be rewarded:
Competitive - Short Match - Basalt: where you have to either win one match or 21 rounds gathered from more matches to complete the mission [★★★]
Guardian - Amphibious Assault - Sirocco: being needed to make 25 kills with any weapon [★★]
Deathmatch - Group Sigma - Aim Above The Flippers: a more challenging task where you have to either kill 30 players with a headshot in a single match or a total of 50 headshots from more matches [★★]
Demolition - Explosive Swimmer: you must deal damage with grenades dropped towards the other players or get 14 kills [★]
As always, I begin with the missions that have to be completed on either the Casual or Deathmatch modes because they are a great warm-up before starting to play matchmaking or other modes. When I've seen that I have to kill 30 or 50 players with headshots I was a little bit scared because I don't get this kind of shot too easily, but the surprise came when I managed to get 40 such shots in a single match and I completed the mission faster than expected.
The next mission completed was the one on Demolition group which is similar to Arms Race mode that on Counter-Strike 1.6 was named gungame and I loved to play this one for a long while. Basically, all players begin the match with the same weapon and they are needed to make either one or two kills to level up and get a new weapon. The last level is to get a kill with a knife which is really hard especially if the other players still have guns and they can shoot you before you reach them (Arms Race mode). A similar situation is for the Demolition mode too because you still level up your weapon by getting at least one kill but the match ends with the first team that scores 6 rounds.
We continued the fun with the short match of Competitive which was a little bit more challenging for me since it's a new map and I still learn the positions and how everything works, but we got a nice team to play with even if we lost the first match. Since we didn't complete the mission we played one more match on the same map and everything seemed more familiar, ending with a win for our team!
As for the mission on Guardian, I decided to complete it as the last one because I really don't like the maps from Danger Zone which is a battle royale mode, but at least we got to play versus bots and we scored a better that expected result.
| Game | Counter-Strike: Global Offensive |
| --- | --- |
| Release Date | 21st August 2012 |
| Played On | Steam |
| Genre | Multiplayer |
| Hours Played | 4,661 hrs |

All rights reserved.

FIND ME ON:
↪ Blog: http://gabrielastravels.wordpress.com/
↪ Fiverr: https://www.fiverr.com/gabrielatv/
↪ YouTube: https://www.youtube.com/gabiivdesign
↪ Instagram: https://www.instagram.com/gabriela.tv/
↪ TikTok: https://tiktok.com/@gabrielastravels/
↪ Discord: GabrielaTravels#0104
↪ Facebook: https://www.facebook.com/gabrielaistraveling/
↪ Twitter: https://twitter.com/GabrielaTravels
↪ PayPal/Contact: [email protected]
---
---