Nerissa "AquaGirl", the powerful magician! - Weekly Battle Challenge
What's going on? Here I am back with another battle for the weekly challenge. This time the mighty Nerissa Tridawn, who looks like the superhero Aquaman but in a female version, is the protagonist.
---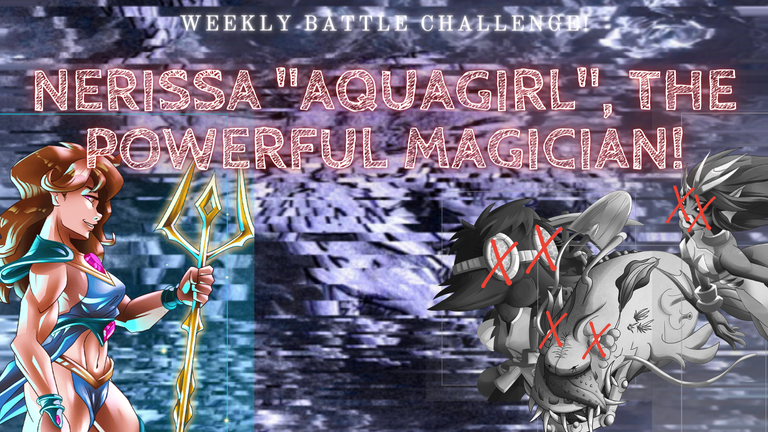 From Splinterlands and edited with CANVA
---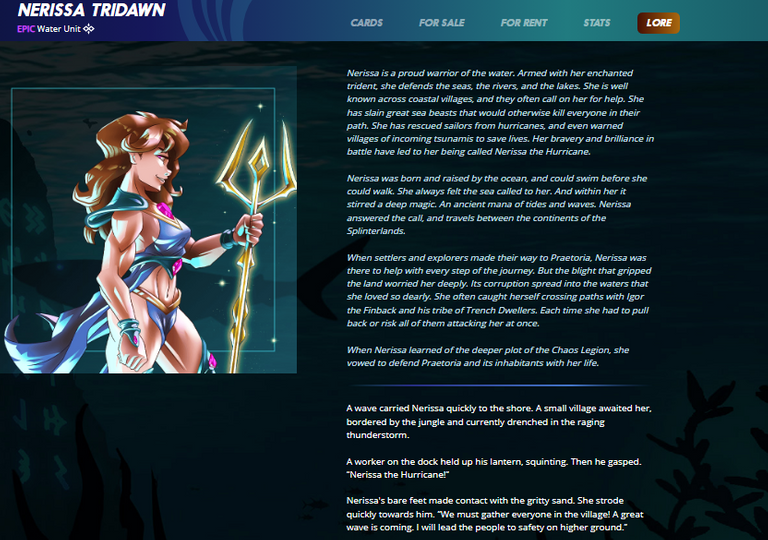 ---
In the first position Robo Dragon-Knight returns to tanking, since I used Delwyn, I took the opportunity to bring back some of my favorite legendaries. This card has Void and Divine Shield, plus an excellent 8 armor and 9 health.
In front of him, Djinn Oshannus is again with Void and a good amount of life to defend his team. In addition to this they both have "Amplify" and "Cripple" for the battle condition. Of these two, the second one was the one that was seen over and over again by the constant hits dealt.

For the second position, the epic card "Tide Biter" was my choice, with Reach it is able to attack from that place and since it has 2 points of damage and 4 of speed, it offers good stats for the few mana points it requires.
Despite this, the summoner buff that includes speed and extra armor added to Scavo Hireling's repair made Tide Biter miss 1 attack and the ones he managed to hit didn't do much good since they only broke the shield that was later restored.
However, "Cripple" affected Oshannus so the efforts of this Reach carrier were not totally in vain, they had their merit. This epic card fell at the hands of a DeepLurker hit, after the fall of Robo Dragon-Knight.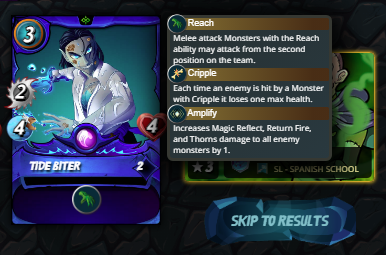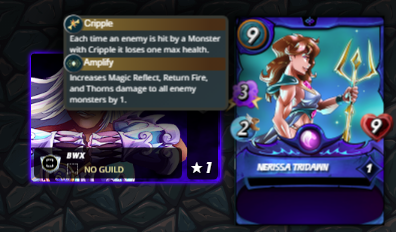 For the third position Void Dragon was to give the size, his magical power was boosted by my summoner and his great speed and ability "Flying" allowed him to dodge an attack of DeepLurker which gave him time to continue damaging the opponent. However, the opponent's healer restored vitality to the dreaded DeepLurker, leaving my team's Nerissa face to face against 4 enemy cards.
In the opposing lineup, DeepLurker was the one who occupied the third position, this dreaded beast was able to take down Ice Pixie, Merdaali Guardian and Void Dragon in my team. All in all it is a very powerful card despite its low rarity and mana requirement.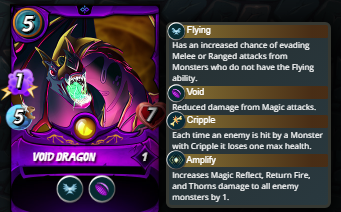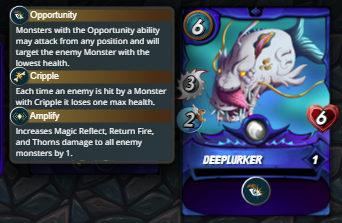 In the fourth position was Merdaali Guardian in the rival lineup, this healer was able to heal her allies several times, although "Cripple" limited this ability quite a lot.
For this place, in my team Nerissa Tridawn shined, this epic card that was also in the rival team shone with more strength in my battle lines because she was face to face against 4 rivals and won, securing the victory.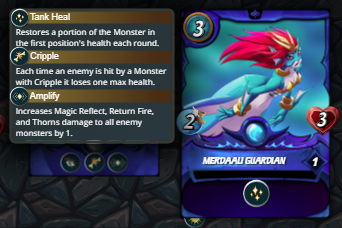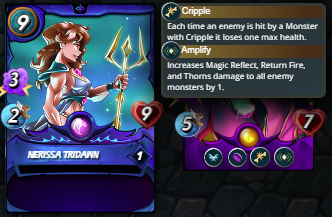 For the final position was Ice Pixie, this card that already has a good time in the game has been of great help in many of my battles, but this time the void of Oshannus did not allow him to do anything before DeepLurker knocked her down with a powerful blow with his ability "Opportunity".
Next to Ice Pixie was the healing guardian, but she didn't manage to do much because of the stalker's powerful blow that made so much slaughter in my team.
In enemy territory the repairman Scavo Hireling and the defensive mage Venari Wavesmith covered the rear. The repairman held the defense very well, but Nerissa finished him off in the end.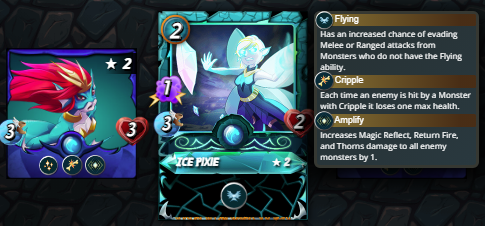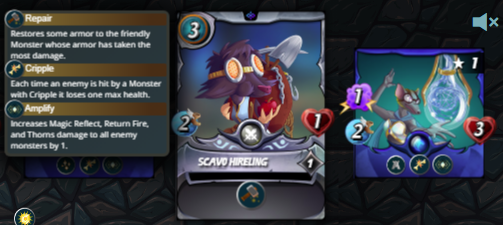 The complete alineation was: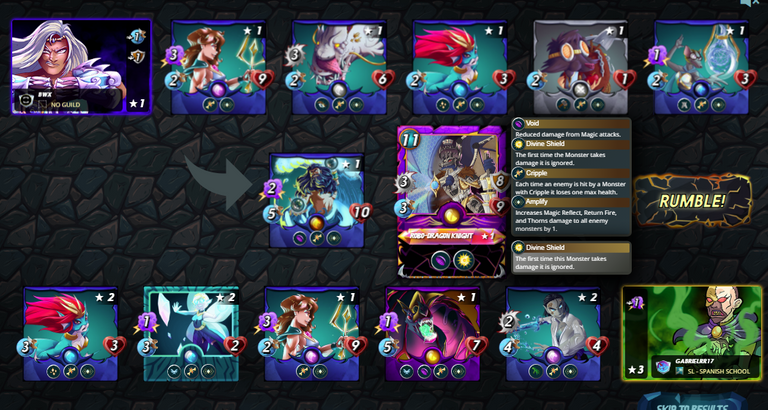 If you want to see the replay click here. For information to join in this challenge click here.
---
Curious facts:
Despite her slowness Nerissa was able to take down the remaining 4 in the battle, however, she was badly hurt. With a little less luck I would have lost, I would say that some instances of missed attacks by the opponent were part of the reason why I achieved victory. That and Delwyn's powerful magic Buff.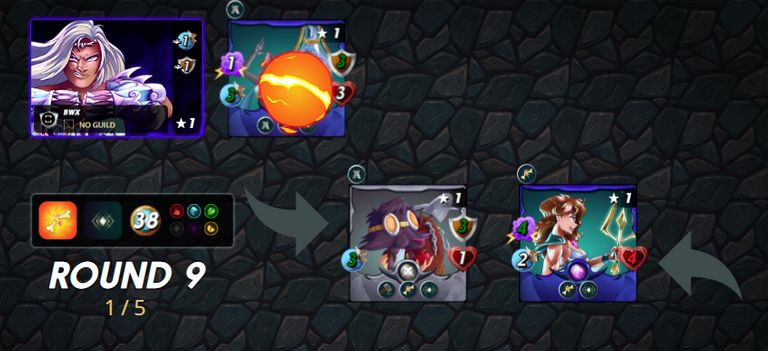 In the search for a good battle to share I also faced other players, in one of those occasions it was against one who used the Earth Splinter: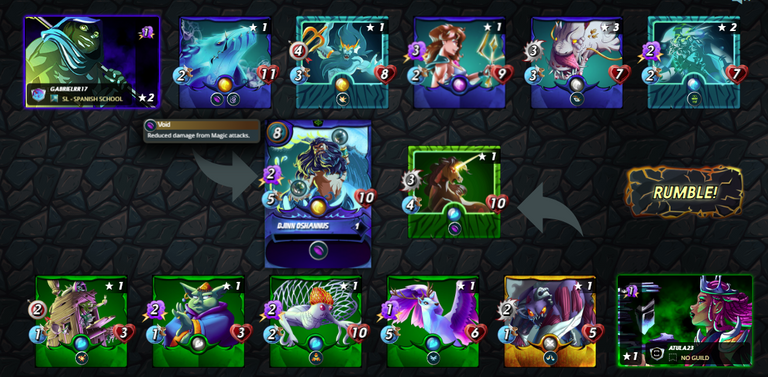 Click to see the reply
---
My opinion:
Despite having no abilities, his enormous magic power and life points are definitely appreciable in battle. Putting together a combo with Alric or Delwyn makes her a team-killing machine, although her slowness can complicate things.
---
If you want to join in the wonderful world of Splinterlands be my referal clicking here
---

---
---