An accident that cost many lives - Leon Campaign | Resident Evil 6 co-op #2

Watch on Youtube
---
In the previous episode of Resident Evil 6, we could see how was our start, we started in what would be the campus which was complete chaos where one of the members of the congress died at the hands of his daughter who tried to attack us after this fall infected. Proceeding to that in the escape route we had enough travel and ended at the bar where we agreed to continue the tour, as always, I bring you this summary of what happened in the video, so let's do it!
En el episodio anterior de Resident Evil 6 pudimos ver como fue nuestro inicio, empezamos en lo que sería el campus el cual fue un completo caos donde uno de los miembros del congreso muerto a manos de su hija quien nos intentó atacar luego de esta caer infectada. Procedente a eso en la ruta de escape tuvimos bastante recorrido y finalizamos en el bar donde quedamos en seguir el recorrido para terminar de escapar, como siempre les traigo este resumen de lo ocurrido en el vídeo y ¡Vamos a ello!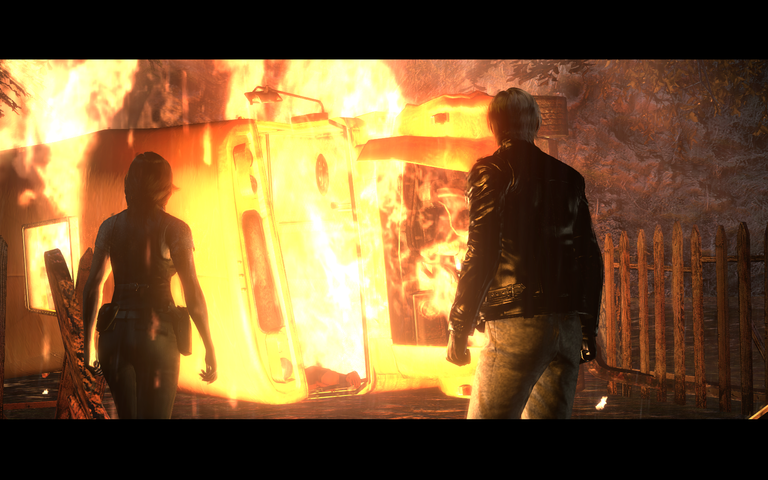 As always, together with @rishahp, we continue in this adventure, we start in the armory where we left off in the previous episode after passing through the chaos of the city. In it we try to recover a bit from the damage we suffered -especially Risha- and here we do not understand much why the game itself does not allow us to drop an item to the partner, only apply it if you are close, in case you have full HP simply your partner will have to play with that life, we started wrong.
Como siempre, junto a @rishahp seguimos en esta aventura, empezamos en la armería donde lo dejamos en el episodio anterior luego de pasar el caos de la ciudad. En ella tratamos de recuperarnos un poco del daño que sufrimos -especialmente risha- y aquí no entendemos mucho el por qué el juego en sí no permite dropear un item al compañero, sólo aplicarlo si se encuentra cerca, en caso de que tengas full HP simplemente tu compañero tendrá que jugar con esa vida, empezamos mal.
-
However, fortunately, we were able to loot further and continue without being at a point of dying -although it didn't matter much either, as you will see later several fails- , apparently the bar itself has a passage to jump to the other street, through a house where we observed a family that suffered the consequences of the city. In it, we find a sawed-off shotgun, a new weapon of the game that will serve us a lot, especially against a new type of enemy.
Sin embargo, afortunadamente pudimos lootear más adelante y proseguir sin estar a un punto de morir -aunque tampoco importase mucho, ya que verán más adelante varios fails- , al parecer el bar en sí tiene un pasadizo para poder saltar a la otra calle, mediante una casa dónde observamos una familia que sufrió las consecuencias de la ciudad. En ella encontramos una escopeta recortada, una nueva arma del juego que nos servirá mucho sobre todo contra un nuevo tipo de enemigo.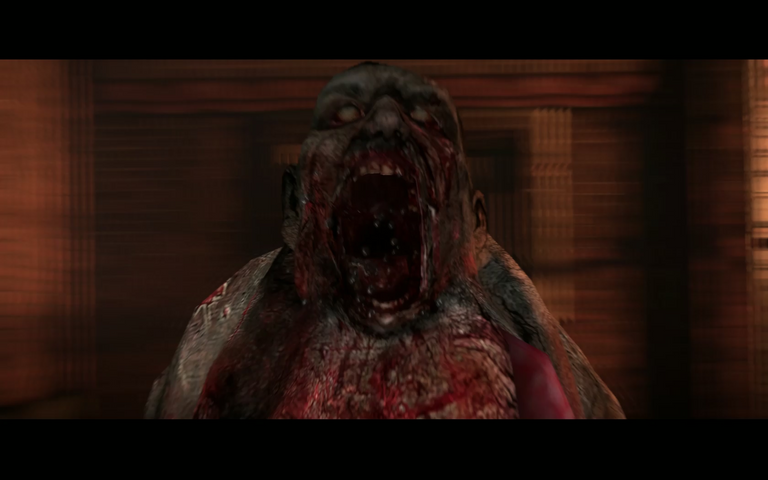 And it is that practically from the first moment we enter the house we have our first contact with him, it is an enemy that has much more endurance than any ordinary zombie. Its main strength is theoretically to deafen the masses and in turn that attracts many more waves of zombies to the ground or also wakes them up making everything complicated, fortunately, they have a weak point in the windpipe that we knew how to take advantage of to defeat him and not to make more noise.
Y es que prácticamente desde el primer momento que entramos a la casa tenemos nuestro primer contacto con él, se trata un enemigo que al parecer tiene mucho más aguante que cualquier zombi ordinario. Su principal fuerte es en teoría ensordecer a las masas y a su vez eso atrae a muchas más oleadas de zombis al terreno o también despertándolos haciendo que evidentemente todo se complique, afortunadamente tienen un punto débil en la tráquea que supimos aprovechar.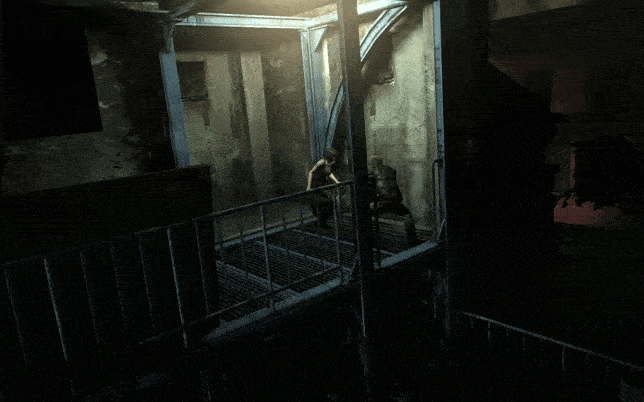 Then the path to the house was a piece of cake, some other waves, but with some cooperative puzzles, we were able to make our way opening doors to pass. Once we advanced with this route mentioned above we went to a fairly desolate bar which gives us access to another street, in it, we have a gas station and a group of survivors fighting with guns against waves of zombies that attack them, something that certainly is not very smart in itself.
Ya luego el trayecto de la casa fue pan comido, alguna que otra oleada, pero en sí con algunos puzles en cooperativo pudimos hacernos camino abriéndonos puertas para pasar. Una vez avanzamos con este trayecto anteriormente mencionado salimos a un bar bastante desolado en el cual nos da acceso a otra calle, en ella tenemos una gasolinera y un grupo de supervivientes luchando con armas contra las oleadas de zombis que los arremeten, algo que sin duda no es muy inteligente de por sí.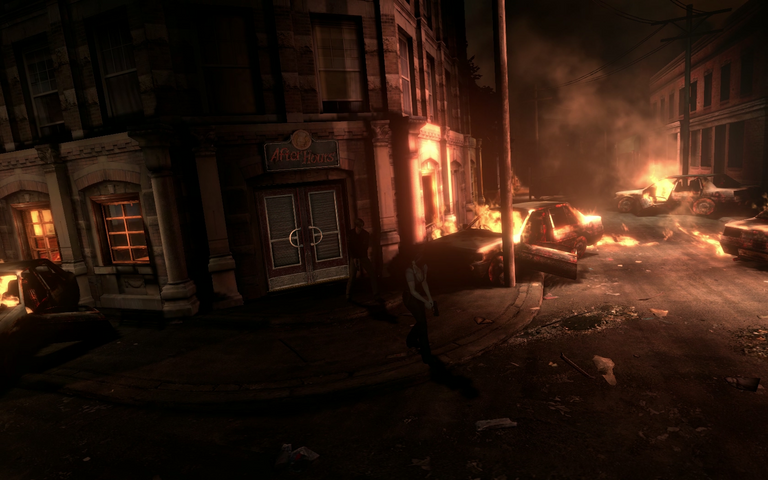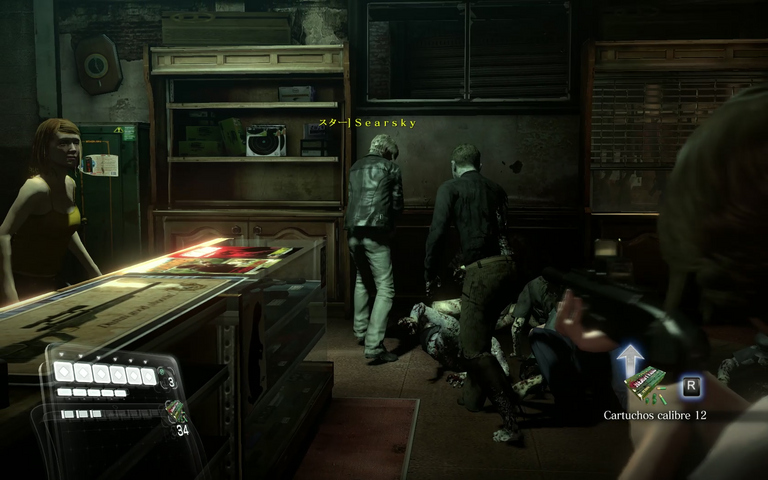 I won't lie to you, we died a lot of times on this specific route because the chaos on this specific route was something that abounded... Yes, basically. In it as you will see on many occasions the gas stations used to explode -idk how- and on several occasions, Risha fell to the ground having to heal him. After this, we have to explode the gas station with the zombies in it and once this is done we can access what would be the armory, a place in which we will resist until the bus looks for us.
En este trayecto no les mentiré, morimos un montón de veces ya que el caos en este trayecto en específico era algo que abundaba… Sí, básicamente. En él como verán en muchas ocasiones las gasolineras solían explotar -idk como- y en varias ocasiones risha caía al suelo teniendo que curarle. Luego de esto hay que explotar la gasolinera con los zombis en ella y una vez hecho esto podremos acceder a lo que sería la armería, un lugar en el cual resistiremos hasta que nos busque el autobús.
-
As I said then, the idea here will be to hold together with the survivors until the bus arrives, we will come waves and among them a new mutation of the enemy, a kind of superman who holds three times the normal. This one, in particular, made it difficult for us, and yes, as you guessed we died many times in the attempt to survive lol although not as many as the previous one we were also able to pass the phase and the armorer let us go to the top floor.
Como bien dije entonces, la idea aquí será aguantar junto con los supervivientes hasta que llegase el autobús, nos vendrán oleadas y entre ellas una nueva mutación de enemigo, una especie de superhombre que aguanta el triple de lo normal. Este en particular nos la puso difícil, y sí, como bien adivinaron morimos muchas veces en el intento de sobrevivir lol aunque no tantas como la anterior también pudimos pasar de fase y en ello el armero nos deja pasar al piso de arriba.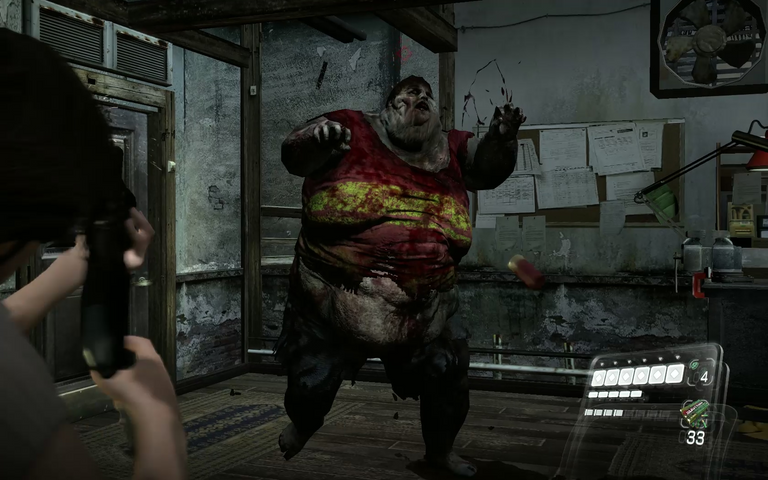 Here basically consisted of holding on, in this particular episode we already observed the different types of zombie mutations that exist and how they will complicate the game little by little the more we advance. This time for a change we get a kind of giant, similar to what would be a Boomer of the legendary Left 4 Dead, but unlike this is practically a tank that runs towards you so it will be very helpful to rely on the movement dashes to help us dodge when it tries to grab us to inflict damage.
Aquí básicamente consistió en aguantar, en este episodio en particular ya observamos los diferentes tipos de mutaciones de zombis que existen y cómo nos irán complicando la partida poco a poco mientras más avancemos. En esta ocasión para variar nos sale una especie de gigante, parecido a lo que sería un Boomer de el mítico Left 4 Dead, pero a diferencia de este es prácticamente un tanque que corre hacia ti por lo que será de muchísima ayuda apoyarse de los dashes de movimiento.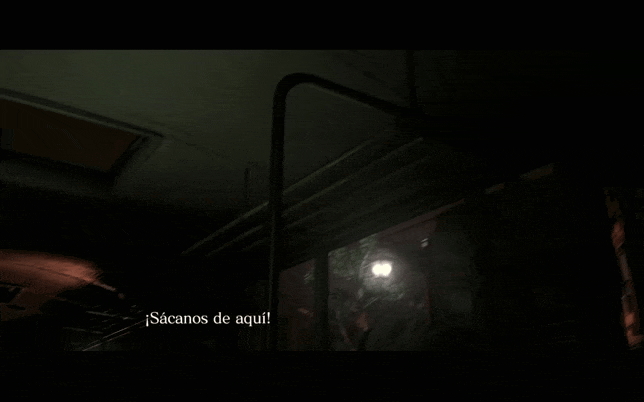 And from here you will see how this specific individual complicates our escape, we end up on a rooftop that for some reason was quite similar to the first map of L4d2, and in a few minutes, the bus arrives. However, a snorlax -that's what I'll call it from now on- is in charge of stopping it, while several zombies try to sneak into it, unfortunately, two of the survivors die on the way but the other hand, we manage to get the snorlax out of the way and escape.
Y a partir de acá verán como este individuo en específico nos complica el poder escapar, terminamos en un tejado que por alguna razón se me hizo bastante parecido al primer mapa de L4d2 y en breves minutos llega el autobús. Sin embargo, un snorlax -así le diré de ahora en adelante- se encarga de detenerlo, mientras varios zombis tratan de colarse en él, desafortunadamente dos de los sobrevivientes mueren en el camino pero por otro lado logramos quitar del camino al snorlax y escapar.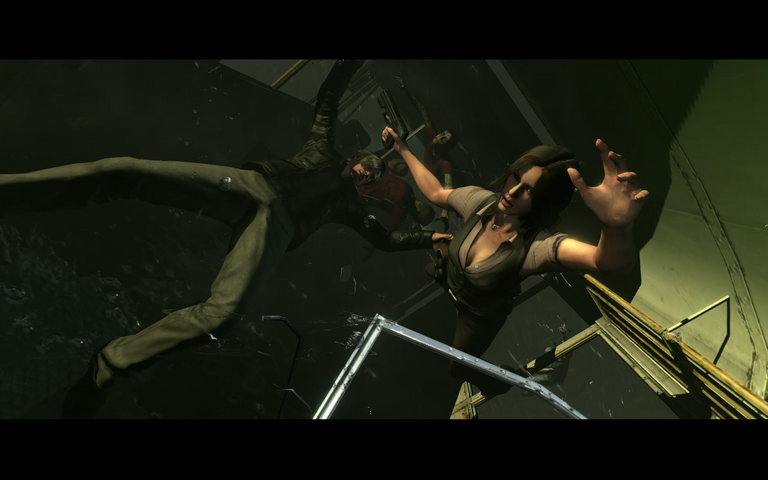 And here ends the first chapter of Leon's campaign, after this, we have at least 4 more to finish what would be the campaign itself. In it as mentioned above we are on our way to the cathedral which is where the second chapter will be, on the way the bus driver in a rather clever attempt -sarcasm- tries to hit a walker on the road, which destabilizes the bus and leaves us at the edge of the road, along with an army of zombies.
Y aquí finaliza el primer capítulo de la campaña de Leon, luego de esto nos faltan unos 4 más al menos para terminar lo que sería la campaña en sí. En él como se mencionó anteriormente vamos camino a la catedral que es donde será el segundo capítulo, en el camino el conductor del autobús en un intento bastante inteligente -sarcasmo- trata de chocar a un caminante en la vía, por lo cual desestabiliza el autobús y nos deja al borde de la carretera, junto con un ejército de zombis.
-
And as usual, there will be hordes trying to kill us, the few survivors left on the bus in what will be a pretty epic scene. Our companions, unfortunately, died for that decision of the driver and at the edge of the ledge while we fight a truck pushes the bus trying to get us out of the way, this honestly seemed to me quite a lot for a Resident Evil but I can not deny that it was something very epic jump.
Y como es de costumbre, en él existirán hordas tratando de matarnos, a los pocos sobrevivientes que quedan en el autobús en lo que será una escena bastante épica. Nuestros compañeros lamentablemente murieron por esa decisión del conductor y al borde de la corniza mientras luchamos un camión empuja el autobús tratando de sacarnos de camino, esto sinceramente me pareció bastante para ser un Resident Evil pero no puedo negar que fue algo muy épico el salto.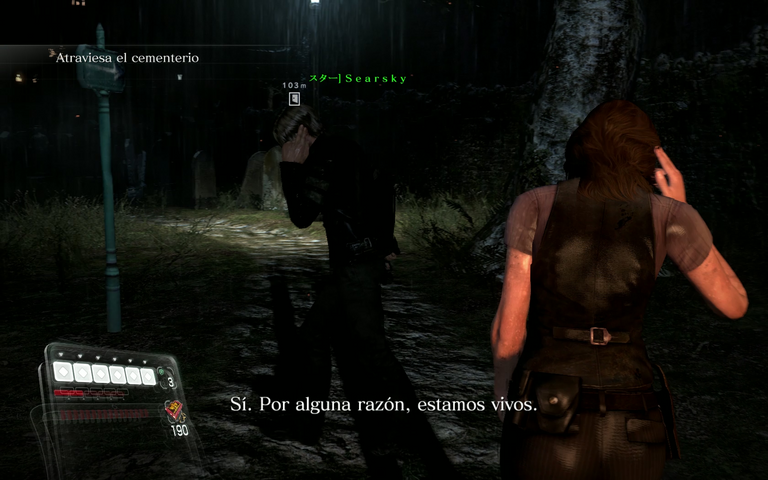 In the end, we fall into what is the cemetery which we will cross to get to the cathedral, or I think the beginning of it, we are at the beginning of what is the second chapter after this great introduction to it. I still have doubt about what is hidden in that cathedral as such, but I know that by the beginning of the cemetery that it will be something quite epic, anyway, we will know that in the next chapter. If you made it this far I thank you very much and I'll see you in the next one.
Al final caemos en lo que es el cementerio el cual atravesaremos para llegar a la catedral, o creo que el comienzo de ella, quedamos en el comienzo de lo que es el segundo capítulo luego de esta gran introducción para el mismo. Aún tengo por duda que se esconde en esa catedral como tal, pero sé que por el comienzo del cementerio que será algo bastante épico, de todas formas eso lo sabremos en el siguiente capítulo. Si llegaste hasta acá te agradezco muchísimo y nos vemos en la siguiente.
---
All pics in this post are screenshots taken by me directly from the game
-
The gifs were made by me from a direct recording of my gaming experience
---
---