Some Christmas memories in photos | Christmas tree wooden decorations
Since I remember, my family has always placed a tree as decoration for Christmas. It was a little odd at first because in my country the tradition is to assemble a huge manger in which to place baby Jesus on December 25th.
Nonetheless, my family actually started in Blackpool, England, and the tradition of a Christmas tree is strong there ever since one German queen brought the traditional decoration from her country. So, in a certain way, we have a little mix of that culture that is present during our Christmas.
Desde que recuerdo, mi familia siempre ha colocado un árbol como decoración para la Navidad. Al principio fue un poco extraño porque en mi país la tradición es armar un enorme pesebre en el que colocar al niño Jesús el 25 de diciembre.
No obstante, mi familia comenzó en Blackpool, Inglaterra, y la tradición de un árbol de Navidad es fuerte desde que una reina alemana trajo la decoración tradicional de su país. Entonces, de cierta manera, tenemos una pequeña mezcla de esa cultura que está presente durante nuestra Navidad.
---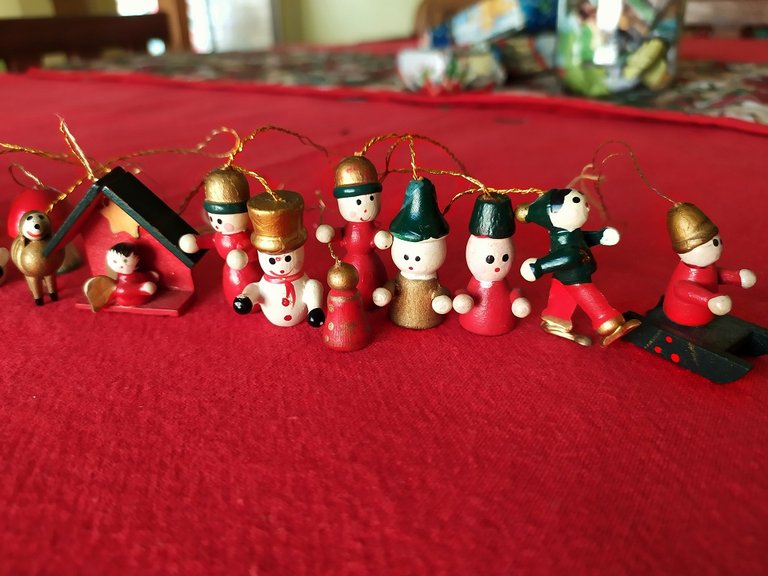 For this Christmas show theme, I wanted to photograph something that has been part of my Christmas for many many years, our wooden decorations for our Christmas tree. Something about them being made of wood, hand-painted, and showing red, green, and gold makes me feel warm and our family culture at its best.
Para el tema de este programa navideño, quería fotografiar algo que ha sido parte de mi Navidad durante muchos años, nuestras decoraciones de madera para nuestro árbol de Navidad. Algo acerca de ellos sobre que están hechos de madera, pintados a mano y que muestran rojo, verde y dorado me hace sentir cálidez y nuestra cultura familiar en su mejor expresión.
---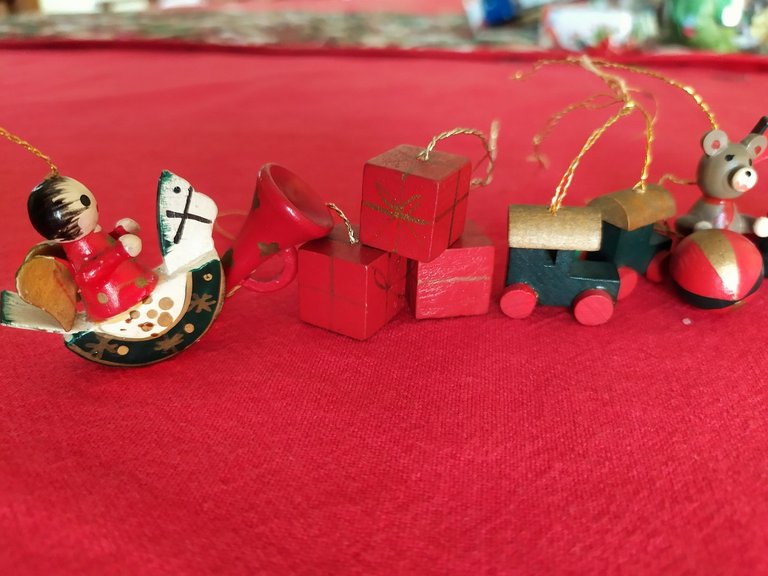 I remember when we bought them walking on the city streets during one Christmas. I played with them so many times as a child; the snowmen, the sheeps (only one survives) the teddy bear and specially the snow skaters!
The angel in the manger was always the special figure as it also resemble our country's tradition. Thus, I share with you the pictures of the remaining decorations of our Christmas tree. Those have survived decades and still give me the warm feeling of a traditional holiday.
Recuerdo cuando los compramos caminando por las calles de la ciudad durante una Navidad. Jugué con ellos tantas veces cuando era niño; los muñecos de nieve, las ovejas (solo una sobrevive) el osito de peluche y especialmente los patinadores de nieve!
El ángel en el pesebre fue siempre la figura especial ya que también se asemeja a la tradición de nuestro país. Así, les comparto las imágenes de las decoraciones restantes de nuestro árbol de Navidad. Esos han sobrevivido décadas y todavía me dan la cálida sensación de una fiesta tradicional.
---
---
---