"Nobody - The Turnaround" - First Impressions & Showcase

I've started playing "Nobody - The Turnaround"; the cover image of the game looked like a really gritty game, so i though i'd try it, and i must say that this can be a really gritty game when you're down on your luck. Dirty, injured, in a bad mental state, scrounging the streets for anything to make some money for food, avoiding the temptation to steal, people shunning you..can get real, real fast.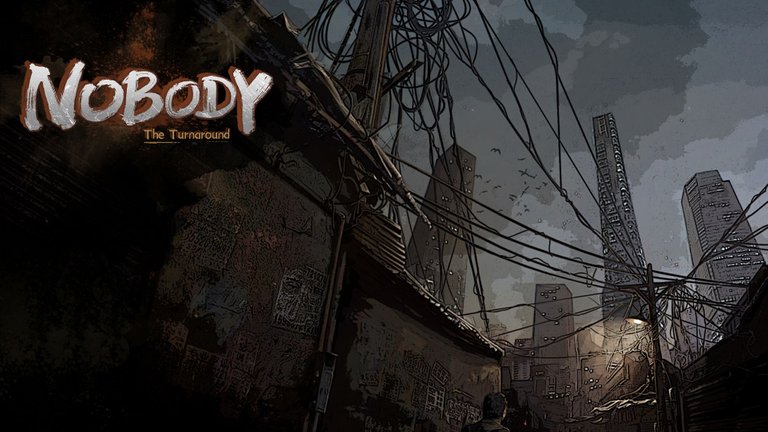 The game is an open-world, survival life simulator, focused on "making it big in life", by earning as much money as you can, divided into stories. Gives me strong "This War of Mine" vibes, which was a great game.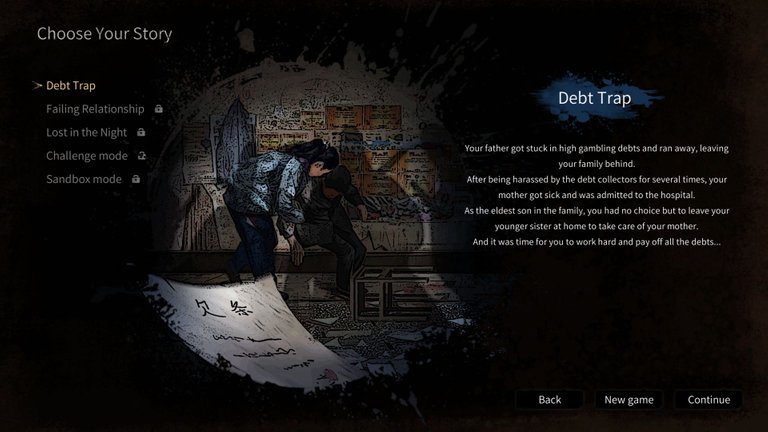 In the first story (the only one unlocked at the moment - possibly due to the game still being in Early Access), you play as a guy who's father has fled and left a gambling debt. Now you are targeted by debt collectors which have now passed the debt onto you, and over threat of hurting your family, expect you to pay the debt in 30 days.
So, you hit the streets with limited skills, doing whatever you can do to make money to survive and pay off the debt.
---
You start out as a "Sorryass" with access to low paying, low skill jobs, or even anything else that can make a buck or two, such as selling scrap to recyclers.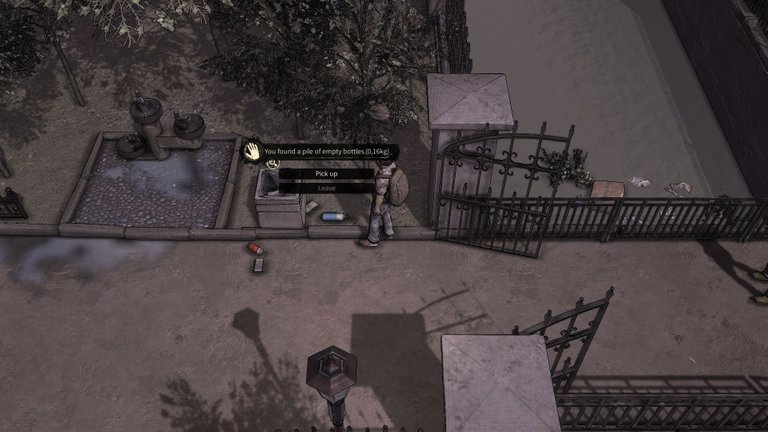 As you work any of these jobs, you gain skill points which you can use to improve some work related stats (better pay, less injury probability, etc).
But you can also use these skill points to access better paying jobs.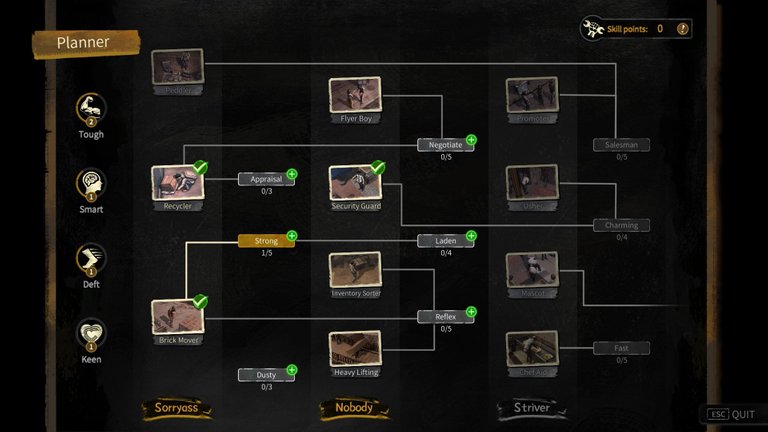 While you can unlock better paying jobs with skills points, you'll need a couple more things before being able to work them. One of the most important being unlocking Life Goals.
To unlock a Life Goal and access the jobs which require that specific Life Goal, you need to complete a couple of pre-requisite objectives first.
Take the Strive "Life Goal", for example:

A third requirement (for any job, really) is to have high enough stat levels (Tough, Smart, Deft and Keen - or TSDK, for short), which you can improve by also experiencing what the city has to offer, other than work - R&R mini-games, experiencing foods, improving relations with citizens, etc.
Take the Usher job, for example: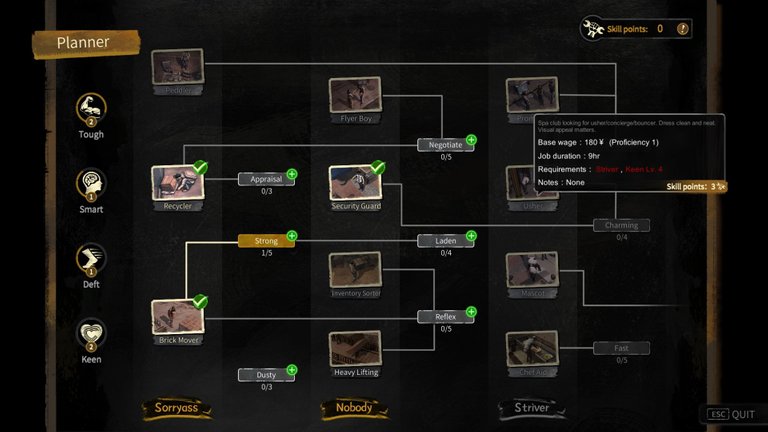 It needs you to have Level 4 of Keen.
---
To recap: to advance your career, by moving up your Life Goals, you need to earn skill points by working any job you can, so you can unlock other jobs. Then, you must unlock the Life Goal by completing the pre-requisite objectives. And finally, have enough TSDK stats for the job you want.
Changing Life Goals means you now have expectations about yourself; you need to maintain certain standards, so it's not just an easy "level up to access better jobs" kind of deal; there are caveats to maintaining the Life Goal. As an example, when moving to the "Nobody" Life Goal you'll need to maintain yourself clean, and not sleep out in a bench or sidewalk, somewhere.


I haven't played for long, but there seems to be a fair amount of progression through the Life Goals, and the jobs i've worked, i've worked them manually, which means that you actually do the jobs (kind of like playing mini-games). And that's pretty cool, as opposed to seeing a timer pass by. And there's dozens of jobs available, meaning dozens of different mini-games.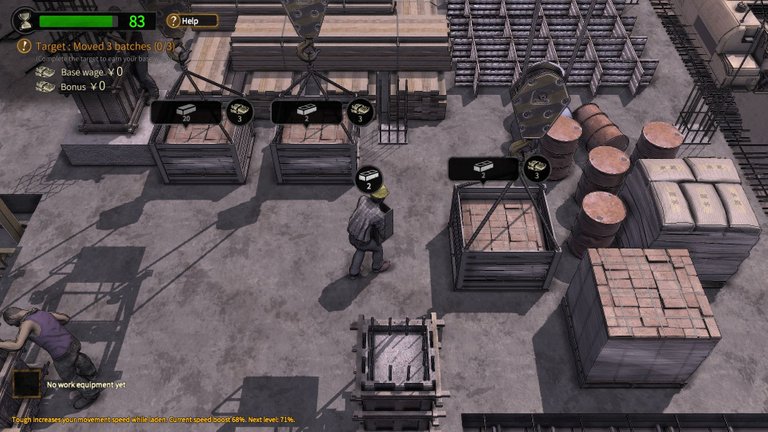 However, playing some jobs feels a bit cheesy, like playing flash games. But, the fact that you actually "play the job" heavily outweighs the bit of cheese they feel like.
But the jobs aren't bad compared to some of the recreational mini-game which you can find around town. Accompanied by cheesy music and with cheesy/weird graphics, these don't even seem to fit the game.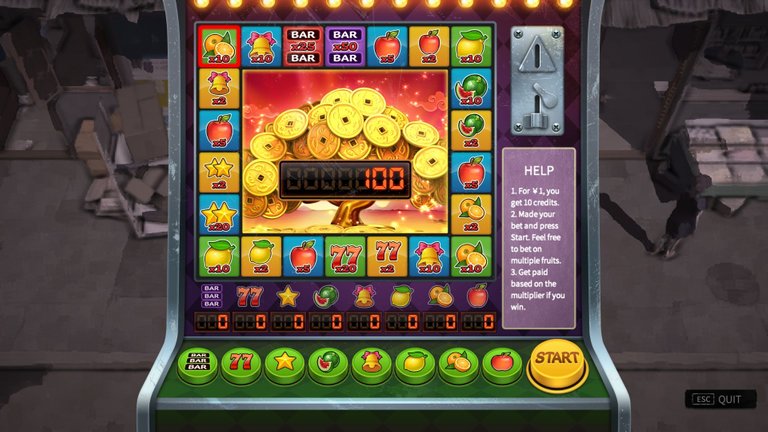 And it's kind of a turn-off when you play some of these.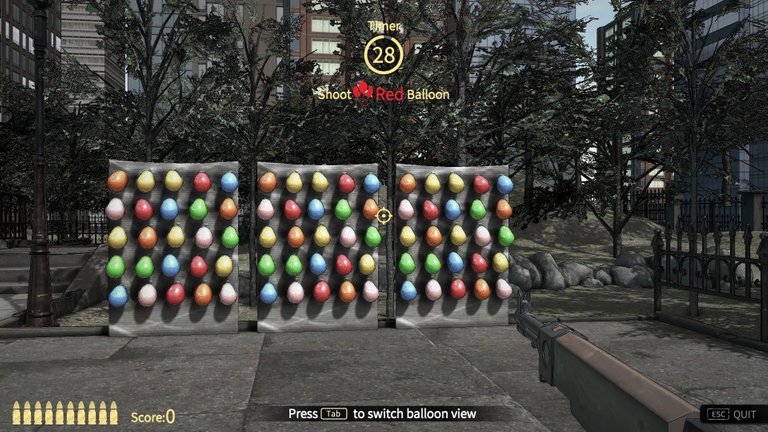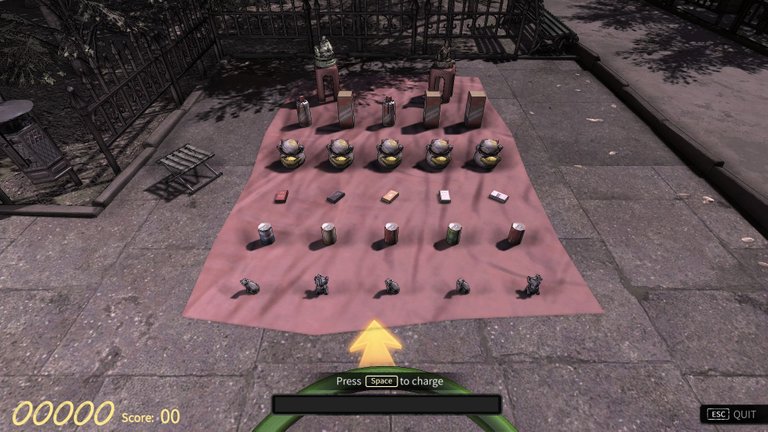 However, i'm willing to give a free pass to the cheese factor of the mini-games, as exploring the city has been a different and interesting experience.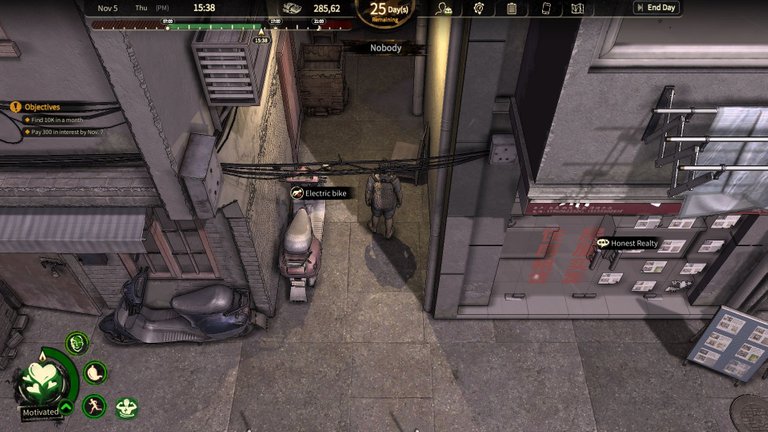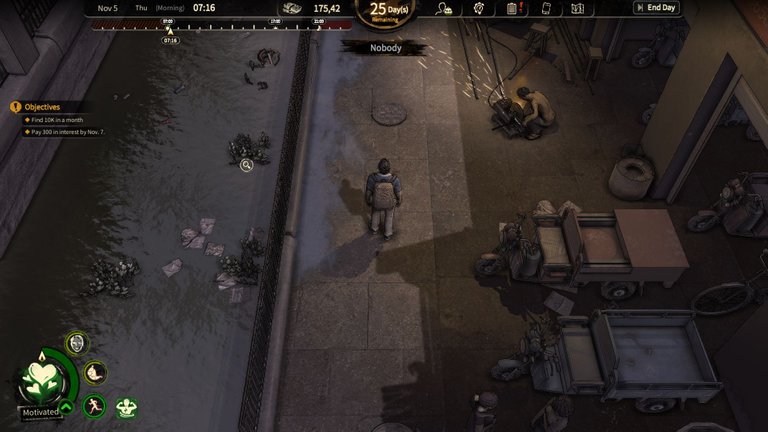 ---
Back to your character. Like in any survival game, you also have your basic needs stats, that ensure you can keep surviving.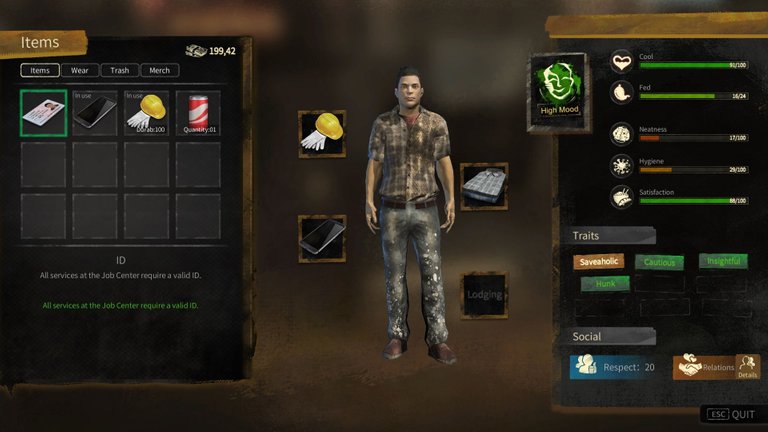 And plus a bunch of other systems, like Traits, Respect, Relations, Clothing; all which influence jobs and earnings.
And then there's the Mood panel which you need to cater to, mostly through the use of those recreational mini-games.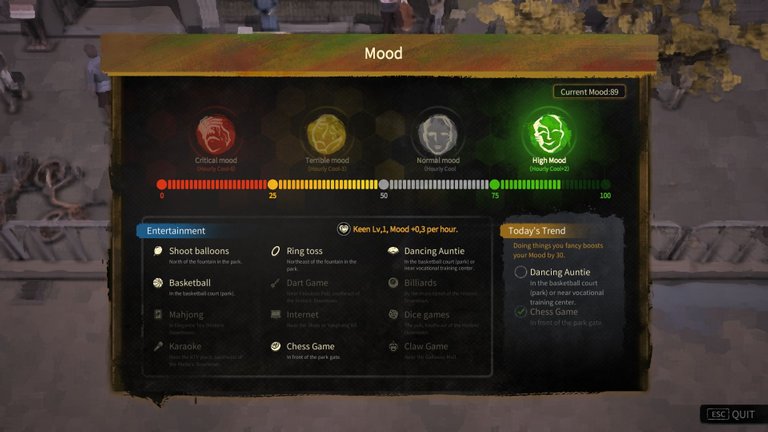 Like i said, i'm giving the cheese factor a pass as the city itself is interesting to explore.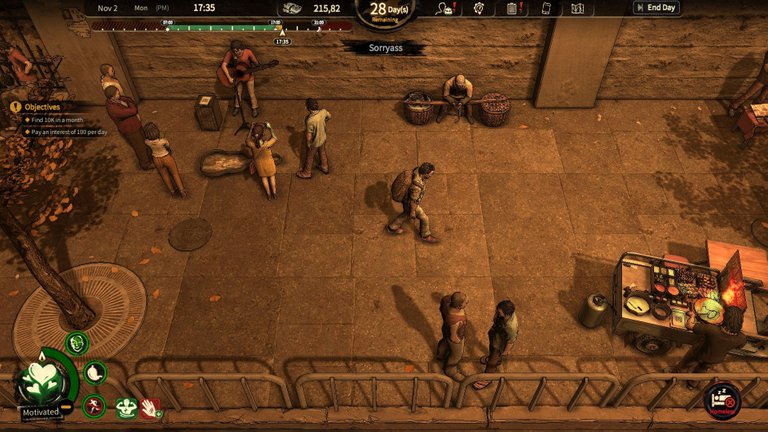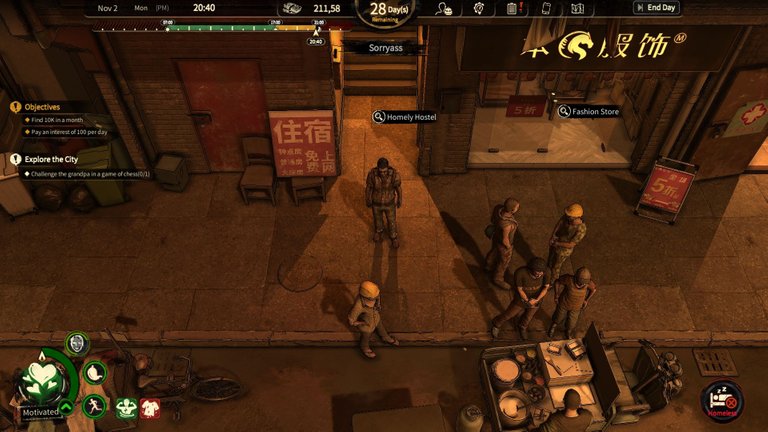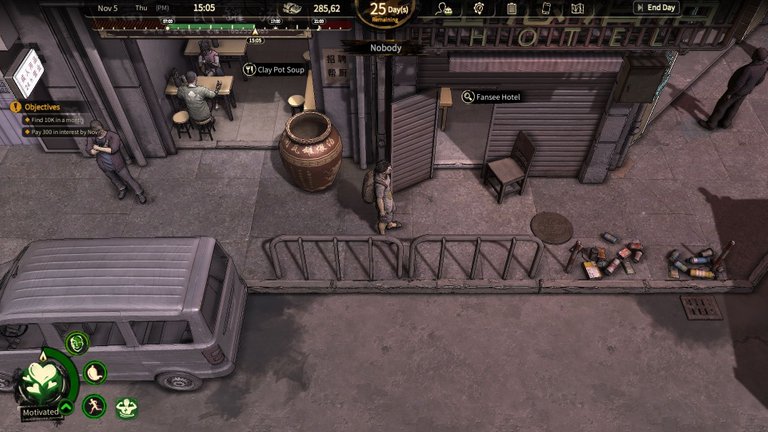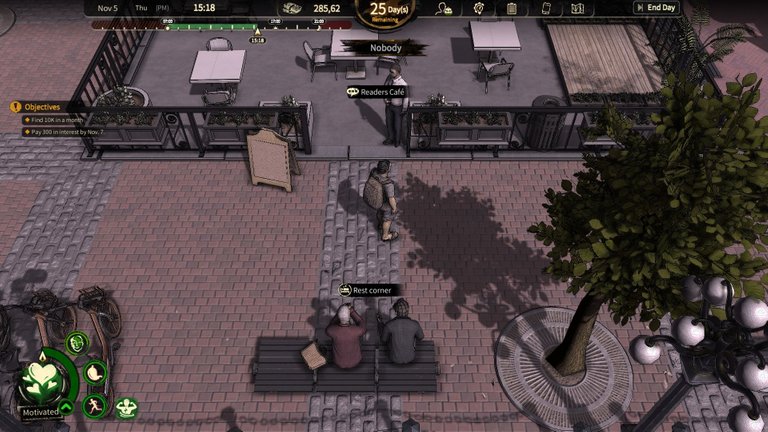 Map
The map seems quite large, with a ton of stuff to do.
District Map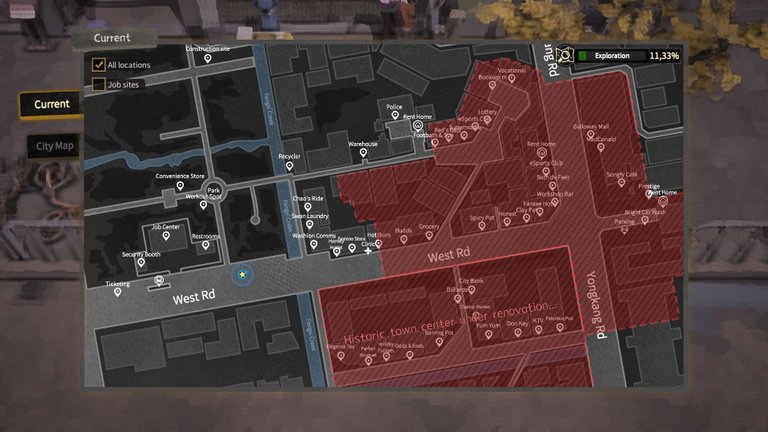 City Map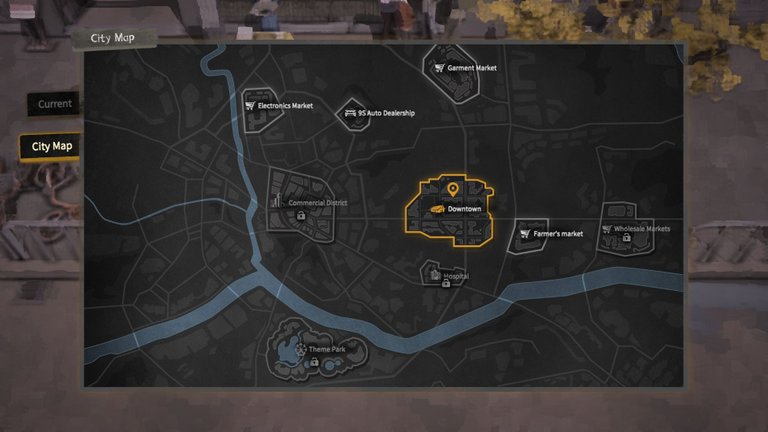 And while you can easily walk quite far per day and experience a lot of the city this way, you can always rent a bicycle to get around, or take a bus, or (whenever it is you get one) your own car, to move to other city locations. Remember that you need to spend time working to earn those game-bucks, so walking everywhere isn't always possible!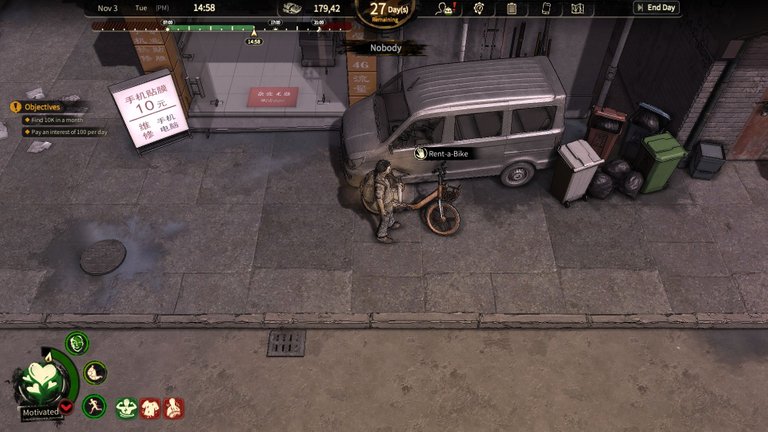 Playtime
I'm not sure how long a playthough can be as we only have 30 days to pay off the debt and then it's game over (plus, some jobs, if not all, can be done in "auto mode", meaning you won't have to actually do the job manually so it's quicker), but from what i've played there seems to be a lot of content, and different approaches to earning enough money to pay off the debt.
And that seems to spell replayability in capital letters.

Cultural Talk
I'm no expert in the Chinese culture, but i've heard enough, and this game is a recreation of the culture, or part of it. The game shows quite realistically (again, from what i know) aspects of the Chinese life, showcasing it's good and bad parts of it's culture, with short paragraphs about typical Chinese foods, for example, and also workplace abuse.
That said, i should mention that the game was on Steam for one day before being suspended for further sales. The dev's say it's because of installation issues with older operating systems, but knowing the Chinese government, i wouldn't put it past them of coming in and removing the game from Steam.
We can only hope this game comes back, as it's visible that the devs put a lot of love into the game.

Final Words
So, i've just scratched the surface of this Early Access game.
But there are a bunch of interesting systems which are all interconnected and are fun to explore and tweak. These all affect the amount of money you can make, which is, at the end of the day, the biggest reason to having to hit the streets in the first place; to pay off that debt!
And while the game does feel basic/cheesy in some areas, there's a lot of interesting things to explore in this game, which already has me addicted and bound to take more hours out of my life than i care to say!
Another note is that this game was made by a Chinese dev team. This to say that all the audio (voice acting) is in Chinese but it's 100% subtitled in English, and so is the UI (changed in the settings).

Post Post
Right off the bat, and to drive home the idea of just how survival this game is, just as soon as i start a new game, and move the character around for the first time to get the feel of how the character moves around, this happens: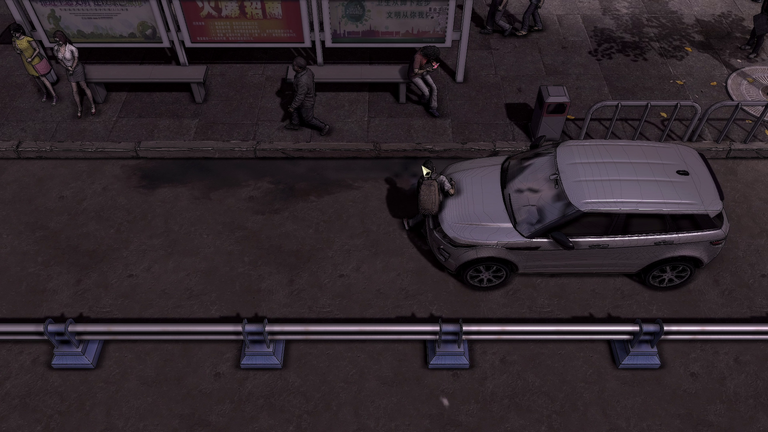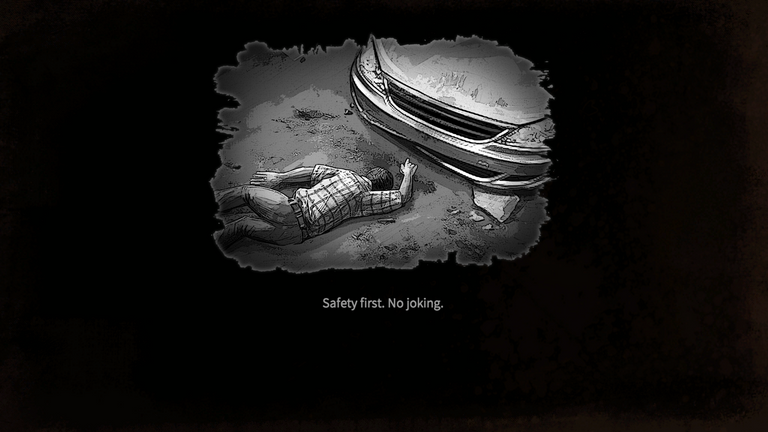 So yeah, no kidding with the "survival" game tag.
Oh, and, yeah. You can pet the dog!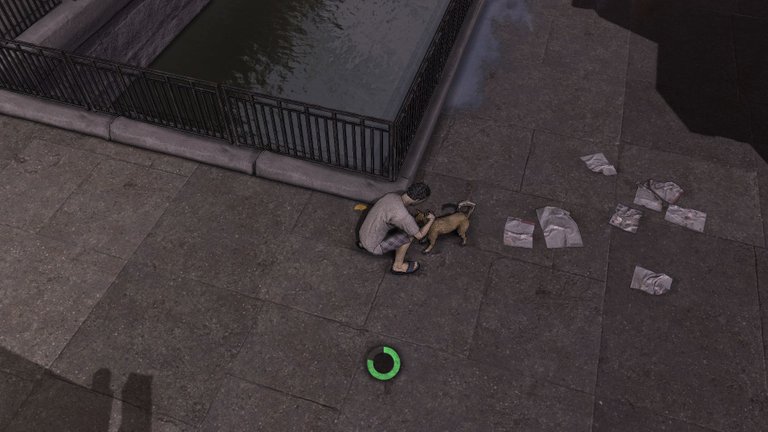 I'll be going back to my first day as a Security Guard now!
Thanks for reading!
---
---